Welcome to Week 14 of the NFL season, and with apologies to Jim Mora, we most definitely are talking about playoffs for fantasy football. Specifically, running back committees.
You know the drill by now: in this space, we're looking at under-the-radar running backs who are trending up or down in their respective backfield committees. Jeff Ratcliffe is your guy for waiver advice, while Scott Barrett helps with your start/sit conundrums for the week.
Here, the aim is to shed some light on less heralded names "before they're famous," if you will. Sure, Jaylen Samuels was this week's hot pickup that sent everyone scrambling to check their waiver priority or auction budgets. Of course, he's also a guy we featured prior to Week 11 as a worthy insurance policy to add before the rush.
Before we dig into the top three running backs who are trending up or down for Week 14, let's take a quick look at how things panned out for the players discussed last week.
Week 13 recap
5 trending up
Player
Snap%
Touches
PPR Points
Justin Jackson
22.2

11.3

53.9

9

3

20

15.2

0.2

12.5

5 trending down
Player
Snap%
Touches
PPR Points
James White
44.6

35.6

54.7

13

9

7

18.8

15.8

2.1
Notes: Jackson played only 14 snaps to Austin Ekeler's 49, but over the last two games he's turned 15 carries into 120 yards and a touchdown. Six of those runs have gone for 10-plus yards. Don't be surprised if the snap share evens out moving forward. … Miller is the league's leading rusher since Week 7. … White is the No. 8 PPR RB on the season and does not seem to care how many teammates he's sharing snaps with. … Peterson had nine touches, and one of them went for 90 of his 98 yards in another negative gamescript. … Coleman's breakout season has long been cancelled.
Below are three running backs trending up and three trending down in their respective backfield committees. If you are a PFF Elite subscriber, our Handcuff Index chart is a handy reference.
3 trending up
(Week 14 projection: RB54)
While rookie Samuels is the preferred back to own in Pittsburgh with James Conner sidelined – particularly with tight end eligibility on some fantasy sites — coach Mike Tomlin did say this week that his intent is to deploy a backfield committee. The case for adding Ridley is that Samuels has all of 12 career carries under his belt after playing a Swiss-Army hybrid role at NC State, where he logged double-digit carries twice in 50 career games.
Ridley hasn't gotten much in 2018, but when Conner landed on IR in December of last season, Tomlin called on Ridley, who turned 17 carries into 80 yards and a touchdown in the regular-season finale. We already know that Samuels will get the first series, Ridley will get the second, and they'll rotate from there. Samuels, a former tight end, gets the edge in PPR formats, but it would not be surprising if Ridley were to see more carries given his grasp of Pittsburgh's offense. The team also recently promoted Trey Edmunds from the practice squad to provide additional depth.
(Week 14 projection: N/A)
The first game of the post-Kareem Hunt era in Kansas City (it still feels weird to type that) was mostly a dud for Spencer Ware, save for a 1-yard touchdown. The matchup doesn't get any easier this week against Baltimore, and it's fair to wonder how long a leash Ware has here. The case for adding West is simple: he's an upside flier in case Andy Reid decides Ware is not the answer for a deep playoff push.
Granted, West's "heyday" was a nine-game stretch in 2015 when he averaged 61 yards per game on 15 carries (4.0 YPC), although last season he did catch 20-plus passes for the third straight year and scored four times in only 45 touches. While Ware has certainly proven capable of big fantasy outputs in the past, his recent history isn't overly convincing. During the final eight games of 2016, he averaged 3.6 YPC with two total touchdowns before missing all of 2017 with a torn PCL.
(Week 14 projection: RB26)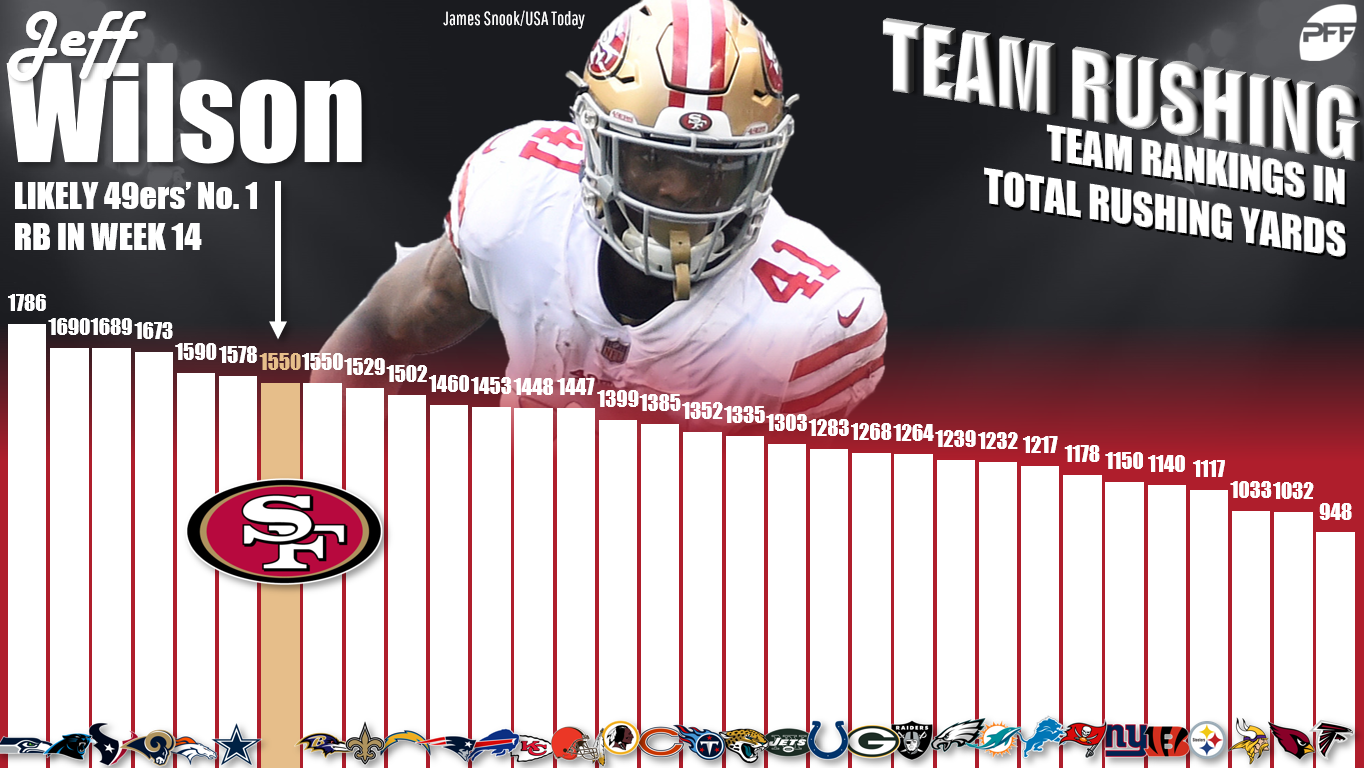 Yet another injury to Matt Breida's ankle opened the door for Wilson to play 72% of the 49ers' offensive snaps in Week 13. He certainly capitalized, finishing with 134 yards on 23 touches, including eight catches on nine targets. Wilson mostly got what was blocked, slipping only one tackle in those 23 touches. Then again, that's a big part of the appeal for a back with that kind of volume behind PFF's No. 2 run-blocking unit. Wilson saw his first game action in Week 12, and in two games he's averaging 4.3 yards on 22 carries, with three runs of 10-plus yards.
Alfred Morris has been a healthy scratch the last two weeks and Breida has already been ruled out for this week's game against Denver. Breida has remained productive despite battling a slew of ailments throughout the season, but really, Kyle Shanahan and his zone-blocking scheme deserve credit. Injuries have decimated the offense, and yet San Francisco ranks eighth in rushing. Breida is averaging 5.6, although he ranks only 37th in elusive rating, which tracks a running back's ability to create yards independent of blocking.
3 trending down
(Week 14 projection: RB43)
Johnson was the No. 11 fantasy RB in PPR scoring last season and, despite minimal usage throughout the early part of 2018, there was reason for optimism that he could return to 2017 production levels after Carlos Hyde was shipped to Jacksonville. However, it simply has not happened. At this point, it's fair to wonder whether his dynasty ship has sailed even after signing a three-year extension in June. Certainly, there isn't much of a reason he should still be rostered in over 60% of redraft leagues on ESPN.
In the seven weeks since Hyde's departure, Johnson ranks 35th in fantasy scoring. The tantalizing part to all of this is that he is second in fantasy points per touch in that span (1.97) and is 10th among all running backs in elusive rating this season. He is averaging 4.7 yards after contact and has forced a missed tackle on 20.3% of his touches. Five times this season Johnson has played 35 or more snaps, but over the last three games he's logged 17, 18 and 20 snaps. Meanwhile, Nick Chubb has been held below 4.0 YPC in four of his last five games.
(Week 14 projection: RB23)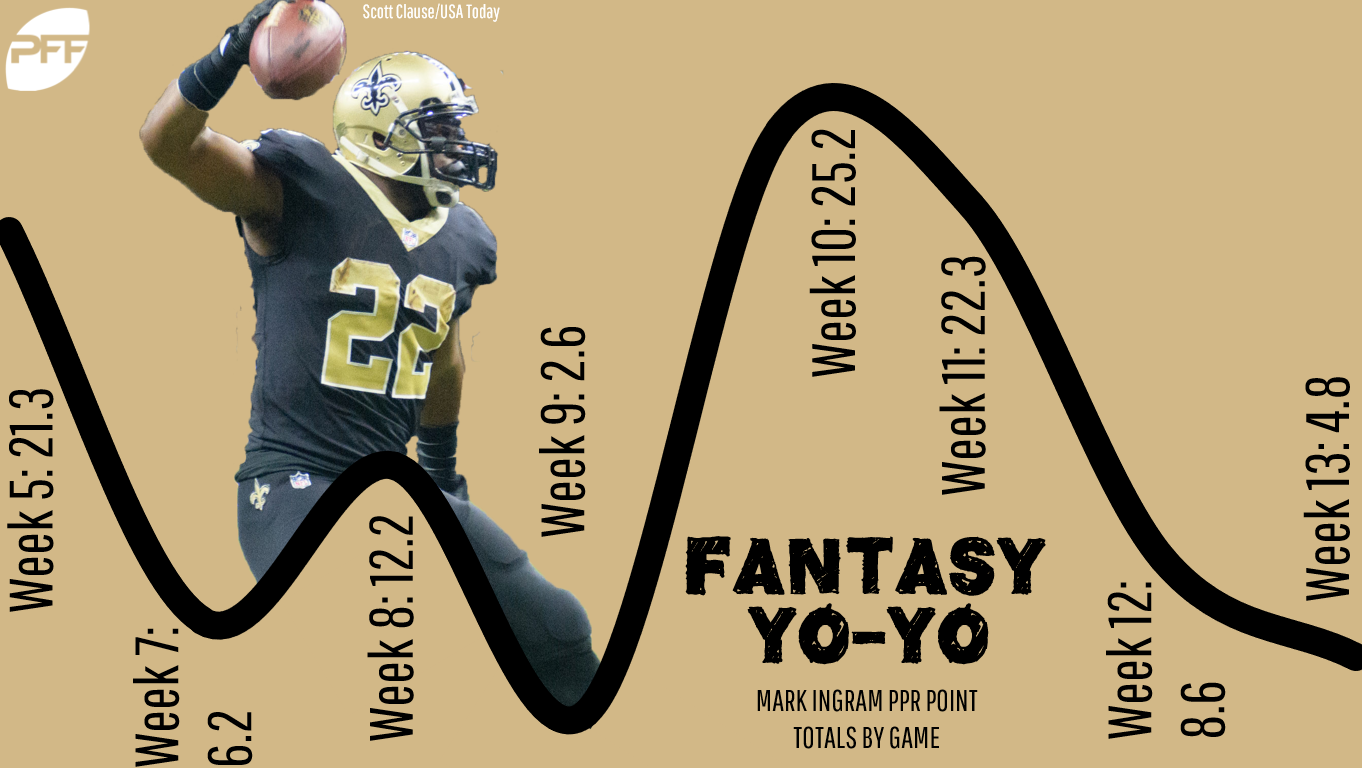 Another player seemingly skating by on last year's reputation is Ingram, who is owned in 96% of ESPN leagues and was started in more than 60% of lineups last week. Sure, he's been mostly effective on the ground, averaging 4.8 YPC with a couple of 100-yard games. However, his usage is tough to rely on as his fantasy production has come in bunches.
Three times this season, Ingram has finished top-12 in fantasy scoring. The other five games, he's been a complete dud. It's tough to point to game script, considering New Orleans has won seven of the eight games he's played. He also sits just two spots behind Alvin Kamara in elusive rating. Ultimately, to start Ingram in the fantasy playoffs is to bank on a touchdown, and that's a tough sell for a player averaging less than 50 scrimmage yards over his last two games.
(Week 14 projection: RB29)
Rex Burkhead got seven carries in his return from an eight-game absence, fullback James Develin vultured a pair of touchdowns, and James White played a position-high 33 snaps in a positive gamescript. In other words, everything Michel's fantasy owners feared wound up coming to fruition in Week 13. Look, Michel has pretty much been as advertised coming out of Georgia, averaging 4.5 YPC with three 100-yard games under his belt.
It may sound odd to say about a player with 17 or more carries in five of his last six healthy games, but Michel is a touchdown-dependent RB2. He's averaging less than a catch per game, and with Burkhead (and apparently now Develin) in the mix for short-yardage situations, there's just not much margin for error here. In five of Michel's nine games, he has failed to eclipse eight fantasy points.