The 2021 NFL free agent class is filled with superstar players, and their ultimate decisions will have a seismic impact on the fantasy football landscape. With the franchise tag deadline in the rearview, we now possess a near complete picture of which players will be on the move this offseason. PFF's free agent rankings list the top 200 NFL free agents with contract projections and detailed analysis for every player.
I decided to play matchmaker for many of the top skill-position free agents and selected their ideal teams for fantasy football purposes. Aaron Jones needs to get as many touches as possible. Kenny Golladay deserves 150 targets. Will Fuller should have a Hall-of-Fame quarterback launching rockets to him downfield. These would be dream fantasy football landing spots for key 2021 NFL free agents.
Subscribe to
The following are the best-case scenarios for 14 free agents who would become (or continue to be) fantasy football studs on the right team.
Projected contract: four years, $52M 
The Free Aaron Jones movement would rejoice if he went to a Seahawks team that has a hefty 42% run-play rate since 2018 (sixth-highest). Pete Carroll is the leader of the establish-the-run movement, and he undoubtedly has major remorse after his experiment with letting Russell Wilson cook failed in the second half of last season. Imagine a world where Jones is Carroll's bell cow.
Jones has exactly four career games with at least 25 touches. Chris Carson bested that in 2019 alone with five games with 25-plus touches — plus two more with 24 touches. The Seahawks eschewed giving Carson a true bell cow workload last season, but Carlos Hyde is expected to depart as a free agent and Seattle would presumably sign Jones to a lavish contract with the intention of using him in a featured role.
If Jones were to join the Seahawks, he would likely push into the first round of most fantasy drafts with serious top-five potential.
Projected contract: four years, $85M 
If the Colts are hoping to resuscitate Carson Wentz's career, they should give him something he never had during his entire Philadelphia tenure: a true alpha wide receiver. Indianapolis has the fourth-most cap space in the NFL — giving your slumping quarterback a legitimate downfield weapon can work wonders. Just ask Josh Allen and Stefon Diggs.
Golladay's ability to win in contested catch situations is unrivaled. His 96.7 PFF grade over the last two seasons is the highest in the NFL. The Frank Reich Colts offense is notorious for spreading the football around, but perhaps it would consolidate around Golladay and use him like the Cardinals peppered DeAndre Hopkins with 154 targets in his first season.
Golladay is a stud; don't let anyone convince you otherwise.
Friendly reminder that Kenny Golladay is an absolute baller pic.twitter.com/hTnudQBAbf

— Jarad Evans (@PFF_Jarad) March 9, 2021
Projected contract: five years, $87.5M
Aaron Rodgers needs more weapons and Fuller would be the perfect field-stretching outside wide receiver to complement Davante Adams. Fuller profiles best as a No. 2 where he is free to run downfield routes using his 4.3 burners to make splash plays. Do not let injury Twitter obfuscate the fact that Fuller is a certified baller — he averaged 17.2 PPR fantasy points per game last season (seventh-most among wide receivers) with an 86.2 PFF grade (10th).
Fuller is averaging a whopping 10.6 receiving yards per target in the last two seasons (fourth-most) and would become the beneficiary of Rodgers' pristine deep ball. Rodgers chucked it 20-plus yards downfield on 15% of pass attempts last season (third-most) while tossing 12 touchdowns (third).
The time for mourning the end of Will Fuller WR1 season is over, as he will be back to catching bombs in no time.
I'm not crying, you're crying pic.twitter.com/3gDWKOCzq7

— Jarad Evans (@PFF_Jarad) November 30, 2020
Projected contract: four years, $68M
Jalen Hurts QB1 season needs more weapons. Enter JuJu, who battled through early-season struggles to post the WR16 season as the league's top slot receiver with an 81-735-9 receiving line out of the slot. Eagles wide receivers had a lowly total of 628 slot receiving yards in 2020, worst in the NFL.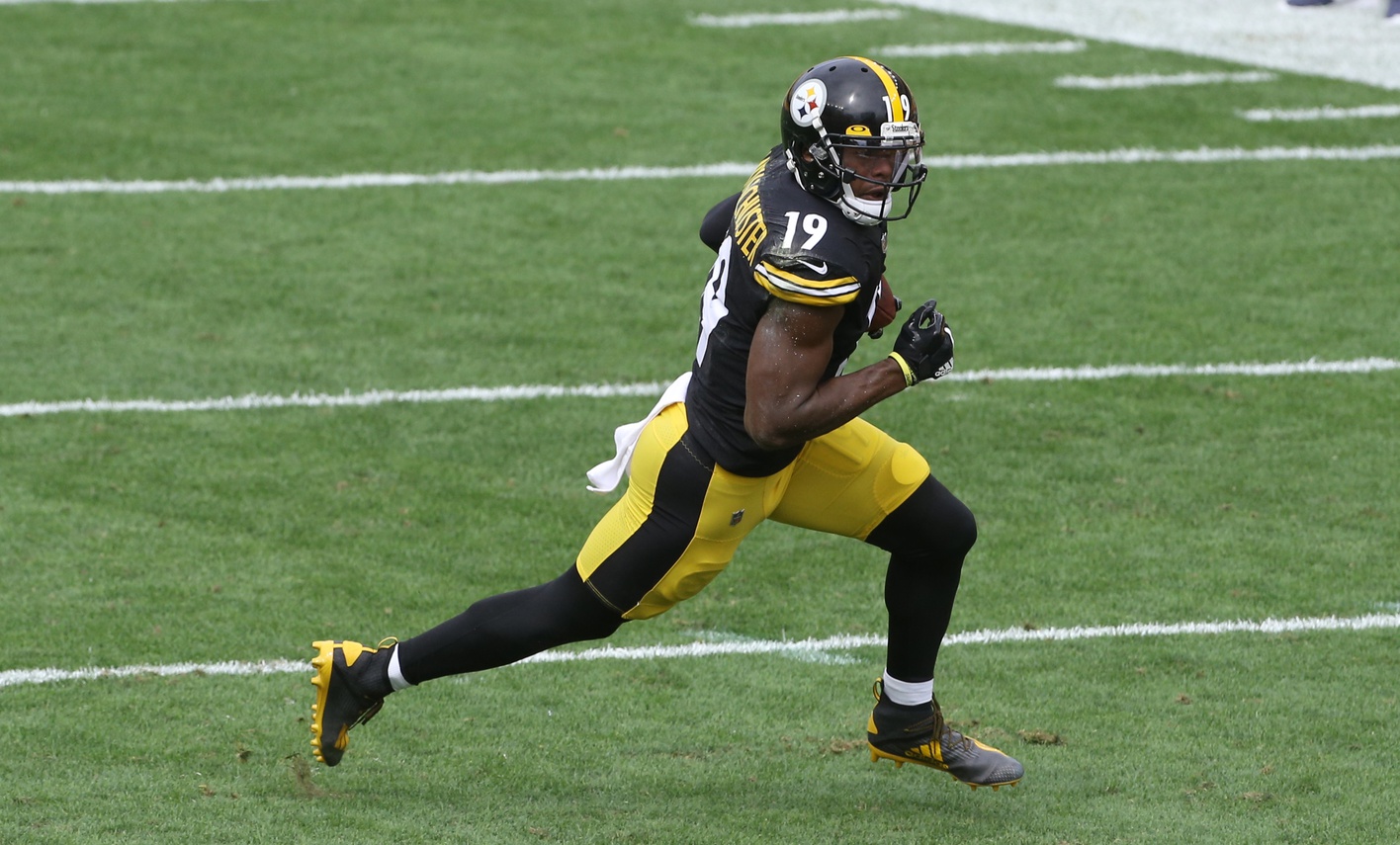 JuJu is only two years removed from a monster 111-1,426 season, and there is a chance he could rediscover that form with a tangible downfield role on the Eagles offense. JuJu maintained a pathetically low 6.0-yard average depth of target last season (lowest among all wide receivers with at least 50 targets). Circle back to his epic 2018 season when JuJu had a more reasonable 9.3-yard average depth of target. Hurts displayed a rocket arm last year with a 10.1-yard average depth of target (highest among all quarterbacks).
The Eagles could even double down on wide receiver with Ja'Marr Chase at the No. 6 overall pick in the NFL Draft. Chase and Smith-Schuster would be a wicked combination. There is no such thing as giving your quarterback too many receiving weapons.
Projected contract: four years, $65M
Lamar Jackson needs more talented pass catchers and Davis would be a fantastic fit alongside Marquise Brown and Mark Andrews. He's coming off a career-year, having registered an 86.9 PFF grade (eighth among wide receivers) and 65-984-5 receiving line en route to the WR29 fantasy finish (three spots ahead of Brown).
The Ravens offense is very run-centric and did not have a single player tally 100 targets last season. Despite setting career-highs across the receiving stat board, Davis failed to top 100 targets in 2020 — a mark he has failed to crack in three of his four seasons. He has proven that he can be a reliable fantasy contributor even without huge volume.
If Davis were to sign with the Ravens, there's a distinct possibility he would be featured as the true alpha, with Brown settling into a secondary field-stretching role. Davis was wildly efficient last season with 10.9 receiving yards per target (fourth-best) compared to Brown at 8.1 (62nd). Perhaps Davis could become the Ravens' first 1,000-yard pass catcher since Mike Wallace all the way back in 2016.
Projected contract: three years, $27.5M
The Bengals need to keep surrounding Joe Burrow with weapons, and Samuel would mesh beautifully with Tee Higgins and Tyler Boyd to give Burrow three talented pass catchers who can win in different ways: outside with physicality (Higgins), in the slot with crafty route-running (Body) and with pure speed and athleticism (Samuel).
Burrow surprisingly struggled with the deep ball in his rookie year, completing only nine passes. Conveniently, Samuel posted the league's best catch rate on throws 20-plus yards downfield at 77% last season.
Samuel is also electric as a runner — he hit defenses for 200 rushing yards on 41 carries at a clip of 4.9 yards per attempt. He would add a unique dimension to the Bengals offense that would also allow them to focus on building out the offensive line and defense through the draft. Penei Sewell at fifth overall, anyone?
Projected contract: three years, $27M
The Texans are going to be atrocious next season with or without Deshaun Watson. The roster is downright terrible from top to bottom (Watson notwithstanding) and needs a major overhaul. Houston fans should expect more of the same in 2021: lots of negative game scripts as the defense gives up points early, forcing the offense to air it out in chase mode. This is the perfect scenario for fantasy managers who decide to invest in the passing attack next season.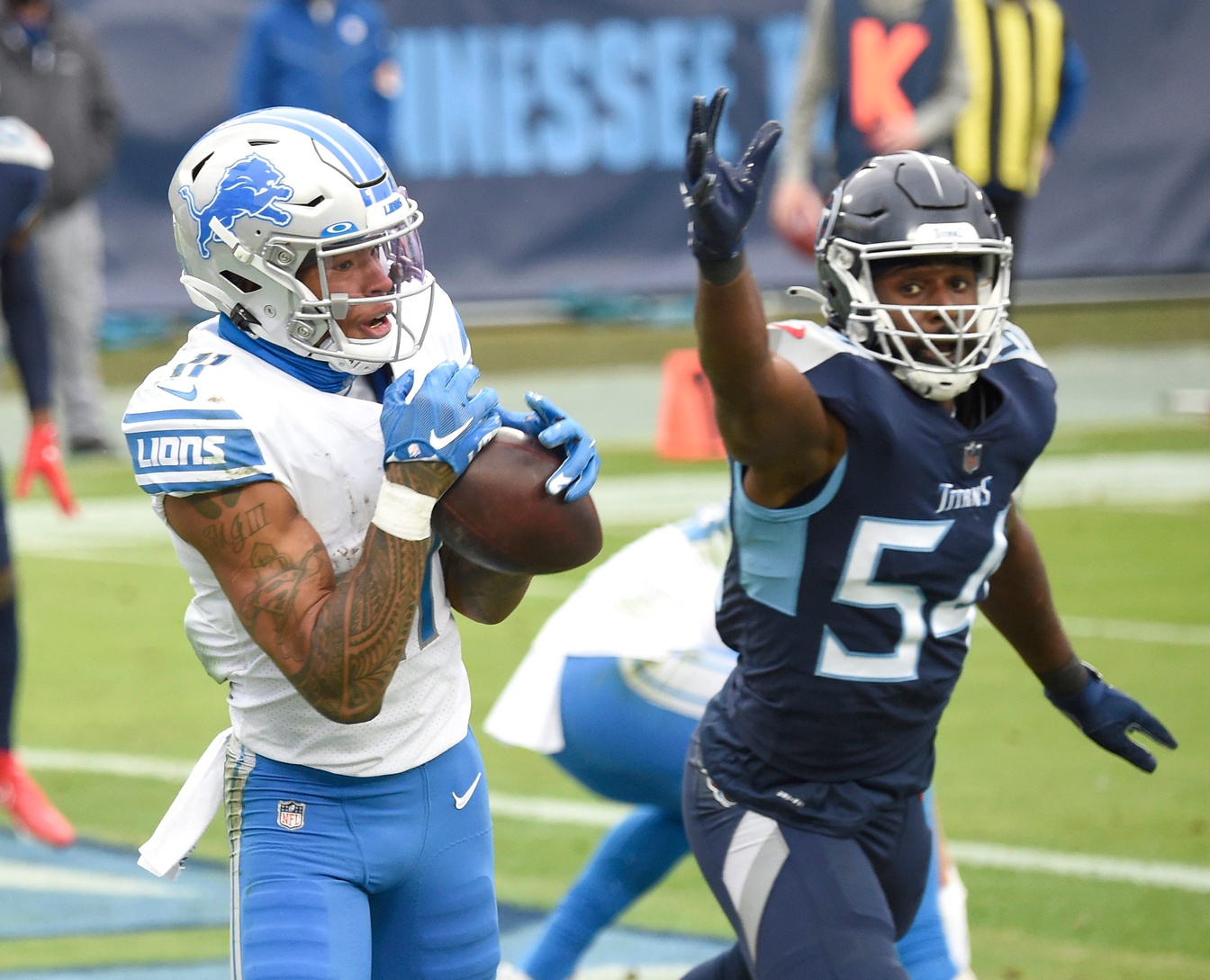 Having played with Matthew Stafford for the last five seasons, I can think of no better free agent wide receiver to capitalize on garbage time fantasy points than Jones. He had something of a renaissance last season with a 76-978-9 receiving line and the WR18 fantasy finish. Jones still has plenty of juice left at 31 years old and would slide in as the No. 2 option behind Brandin Cooks.
Projected contract: two years, $15M 
Agholor emerged as a bona fide downfield weapon in 2020 after posting a 48-896-8 receiving line while averaging a gargantuan 18.7 yards per catch (second-most). He did his damage beyond 20 yards downfield, pulling in 11 catches (ninth) for 444 yards (sixth) and six touchdowns (second). Daniel Jones was one of the league's best at uncorking deep balls — his 132.5 passer rating on throws 20-plus yards downfield led the entire NFL.
Jones enters a critical third season at a major crossroads, and the Giants need to surround him with talented pass catchers in order to truly determine whether he is their quarterback of the future. The Giants rank in the bottom tier in terms of available cap space and have significant work to do in order to simply get under the salary cap. Agholor would be a cheap option who could upgrade the receiving corps while providing Jones with another playmaker.
Projected contract: three years, $30M
Despite Kenyan Drake flopping in Arizona, the starting running back in the high-octane Cardinals offense has immense fantasy potential. Carson is an ideal early-down bruising running back and would be a perfect pairing as a one-two punch with Chase Edmonds. Despite what he has said in public, color me skeptical that Kliff Kingsbury is willing to deploy Edmonds as his bell cow — it would not be the first time Kingsbury has misled with offseason hyperbole.
Carson has racked up 2,290 rushing yards after contact since 2018 (fourth-most) and is one of the league's best at running through defenders. He averaged 4.8 yards per carry last season while tallying a 78.1 PFF grade (17th). Drake averaged just 4.0 yards per carry with a 66.9 PFF grade (55th). Carson would be a major upgrade over Drake and could return back-end RB1 value at a likely RB2 average draft position.
Projected contract: three years, $20M 
The Todd Gurley experiment was unsurprisingly a colossal failure, which means the Falcons have a gaping hole at the running back position. There is serious bell-cow potential here for whomever the Falcons acquire either via the draft or free agency.
I think Conner would be the perfect fit to lead the Falcons backfield. He has already demonstrated bell cow abilities from his time in Pittsburgh — his chief downside was the inability to stay healthy. Look no further than his epic 2018 season where he tallied 1,470 total yards and 13 touchdowns in only 13 games. Monster fantasy potential is clearly in his range of outcomes, health and opportunity notwithstanding.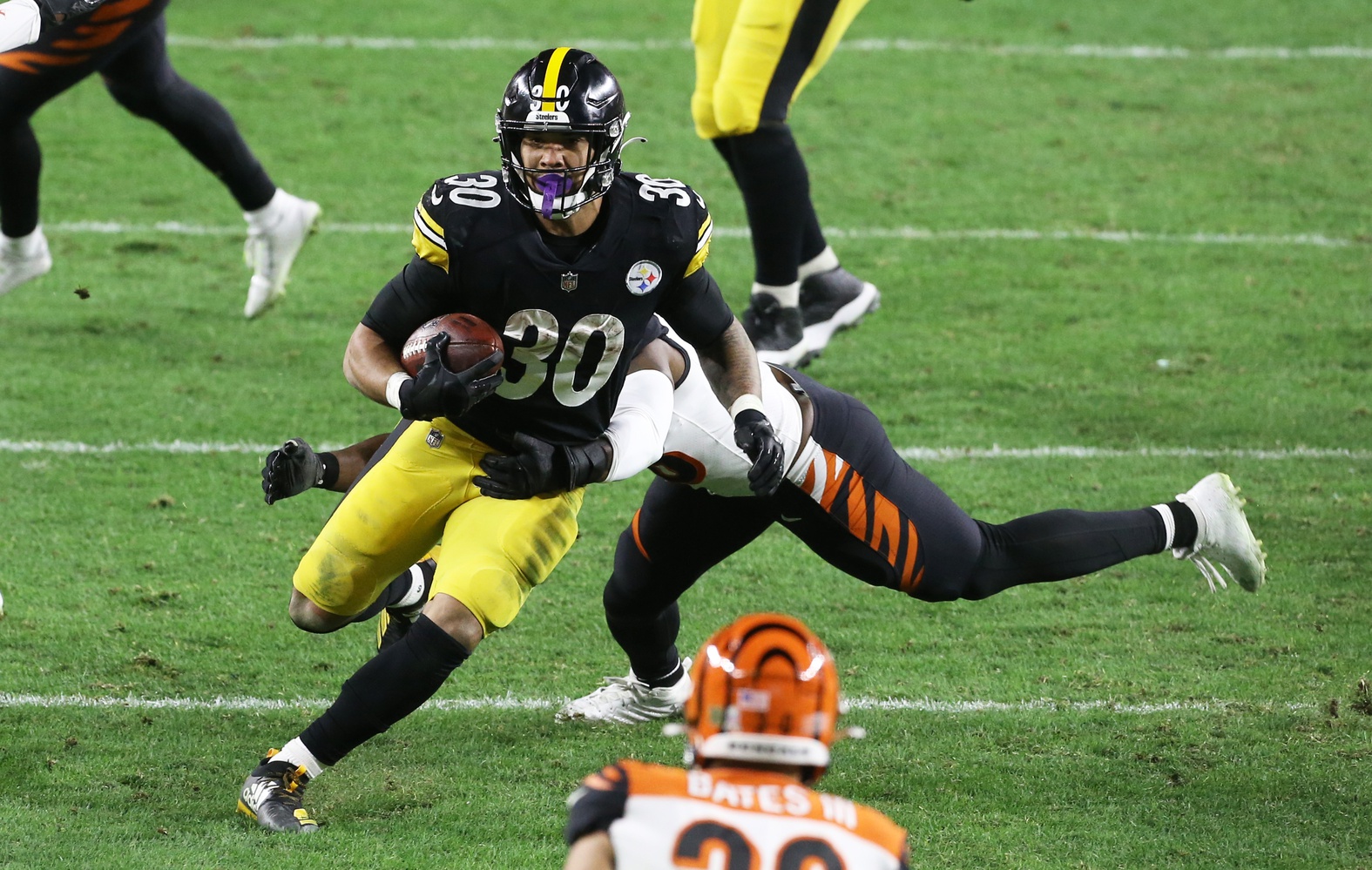 I never try to predict which players are going to stay healthy and who is going to get injured because there is enough uncertainty in the NFL as it is. Every injury-prone player gets hurt until the one year he does not, and then he fulfills his potential to become a fantasy beast (2020 Will Fuller is the latest example).
The Falcons have explosive playmakers across the offensive board and will undoubtedly be an upper echelon offense scoring lots of touchdowns in 2021. Conner could be a steal in the fourth round of fantasy drafts if he were to sign with Atlanta.
Projected contract: two years, $8.5M
Everyone is expecting the Steelers to spend an early-round pick on a running back, but I secretly am pushing for them to sign Davis to fill the old Le'Veon Bell-cow role. Davis was a superstar filling in for all-world running back Christian McCaffrey last season, ranking as the overall No. 12 running back in PPR scoring while posting a solid 75.1 PFF grade (21st). Davis demonstrated the ability to be a true three-down back after registering a 642-6 rushing line and 59-373 receiving line after taking over for McCaffrey in Week 3.
The Steelers essentially abandoned the run last season with a 35% run-play rate (seventh-lowest) that spiked all the way up to 71% from Week 9 on (most). That was insanely high for a playoff team that rarely found itself in negative game scripts. Davis can contribute in both the rushing and receiving game to be a factor in whichever version of the Steelers shows up in 2021. He will come at a cheap cost for the cash-strapped Steelers.
Projected contract: two years, $10M
This one feels almost too obvious, but a Tom Brady and James White reunion would be glorious for both real football and fantasy football alike. White was simply not the same player without Brady feeding him checkdowns. Here are his fantasy points per game over the last three seasons:
2020 – 8.3 (42nd)

2019 – 13.3 (18th

)

2018 – 17.3 (7th

)
Leonard Fournette (also known as Lombardi Lenny) was a phenomenal postseason hero story, but he is probably off to greener pastures with the Bucs spending all of their available cap space to keep Chris Godwin and the defense intact. Ronald Jones is entrenched as the early-down back; White could slide in seamlessly as the passing-down back just like old times in New England.
Even without a true pass-catching back for most of last season, Brady still targeted his running back a massive 113 times (third-most). Sign me up for White to Tampa Bay as a RB2.
Projected contract: four years, $48M
I have no idea how the Bills could muster the money required to land Henry, but we are dealing with dream scenarios here and I want to surround Josh Allen with another playmaker. Henry was a force at the tight end position in 2016 (83.0 PFF grade, sixth) and 2017 (87.2 PFF grade, second), but injuries have prevented him from blossoming into a true stud.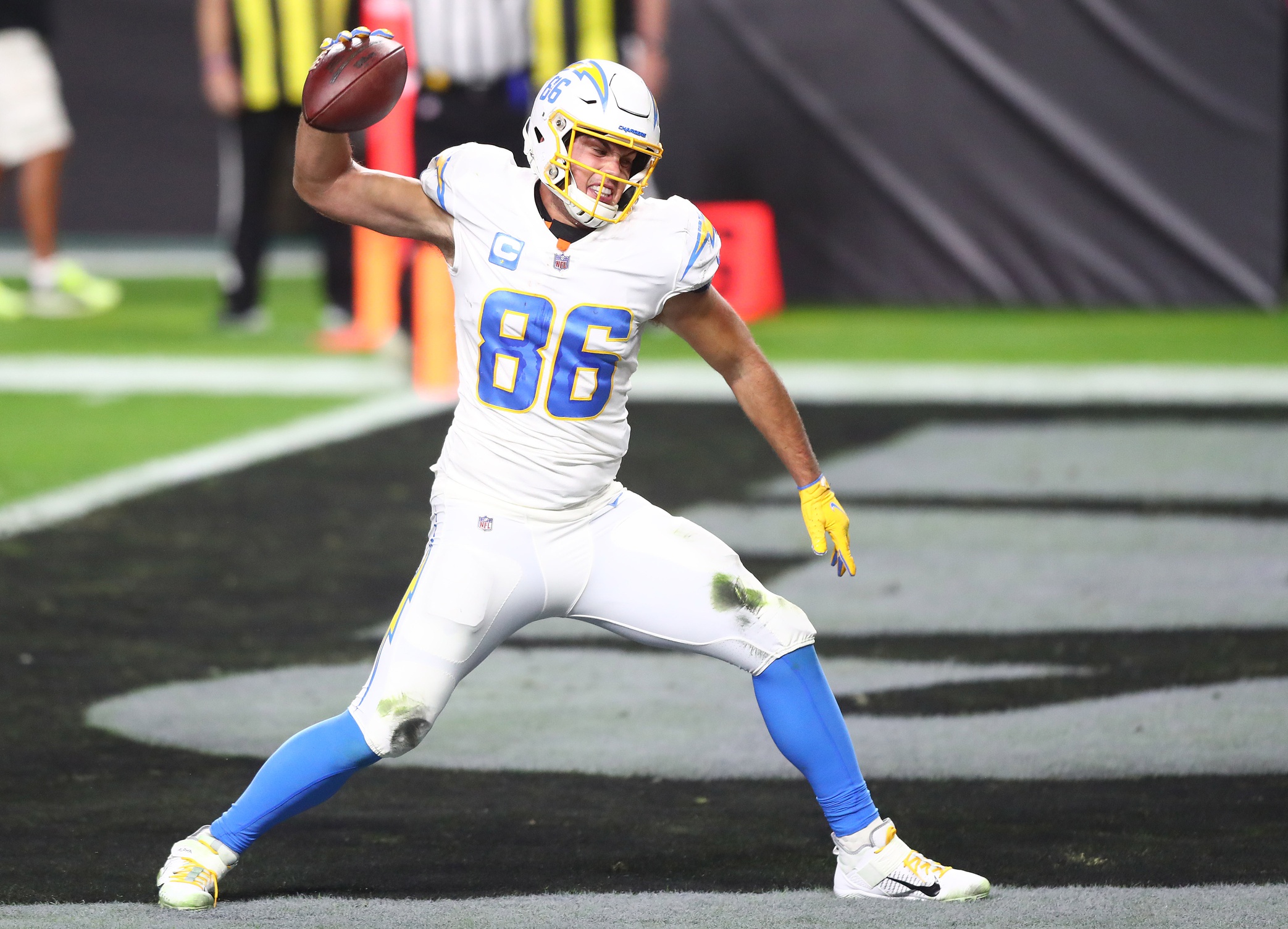 The Bills' sterling tight end quartet — Dawson Knox, Tyler Kroft, Lee Smith, and Reggie Gilliam — reeled in nine receiving touchdowns last season. I have zero doubt that Henry could exceed that mark on his own in an offense that leans on the tight end in the red zone. All nine of those touchdowns occurred in the red zone, fifth-most in the NFL by any tight end unit.
Henry would be a no-brainer top-five tight end on the Bills — sign me up for that.
Projected contract : four years, $38M
The Jaguars have money to burn with the most cap space in the NFL. They should open up the wallet for Jonnu and unleash him as the yards after catch machine that he is. Smith is averaging 7.3 yards after catch per reception since 2018 (third-most among tight ends).
Smith produced whenever called upon in Tennessee, but he was used more as a blocker than pass catcher — he has never topped 50 catches or 500 yards in a season in his career. Stunningly, Smith failed to crack the top 12 tight ends in PPR points last season despite hauling in a career-high eight touchdowns (fourth-most). He is a red zone dynamo who could become a top-five fantasy tight end with a featured role.
Urban Meyer's offenses at Ohio State feasted on yards after the catch. In his final year at OSU in 2018, Meyer's Buckeyes racked up a whopping 5,106 receiving yards (first) and 2,586 yards after catch (second).