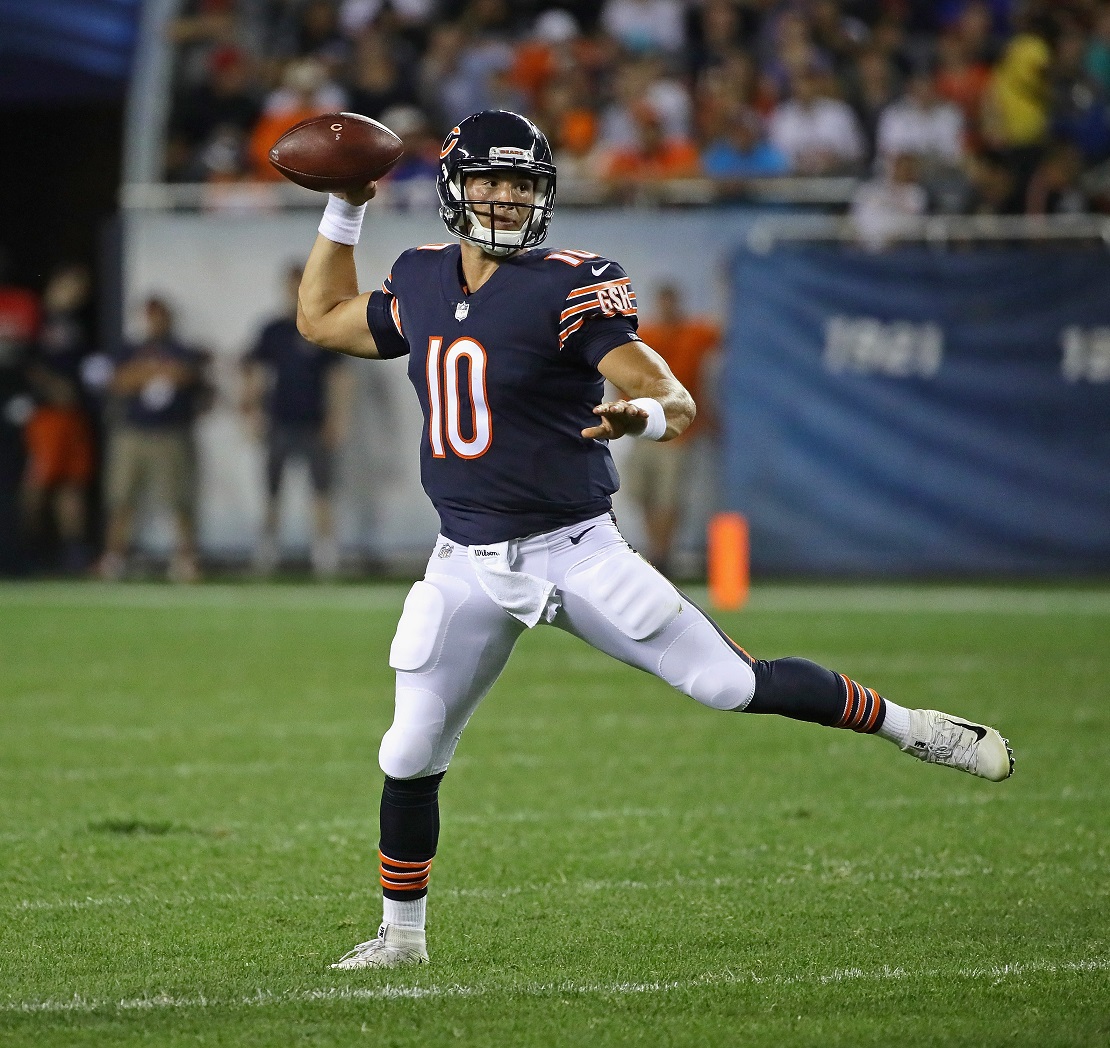 CHICAGO, IL - AUGUST 10: Mitchell Trubisky #10 of the Chicago Bears passes against the Denver Broncos during a preseason game at Soldier Field on August 10, 2017 in Chicago, Illinois. The Broncos defeated the Bears 24-17. (Photo by Jonathan Daniel/Getty Images)
(The Fantasy 5 is a quick-hit wrap-up of some of the biggest news topics of the day for fantasy football players, giving you advice you need to improve your team.)
After months of debating it, we finally did it. My roommate and I decided to buy another television, wall mount them both side-by-side, and bask in sports glory until Kingdom come. We did this back in April, and while the NBA playoffs were fun to watch for a while, we had to wait quite a bit for the true unveiling – football. Thursday night, we saw that dream come true. We had preseason games on both TVs and couldn't be happier.
We are now about half way through the first week of preseason games and there's always something going on worth reporting in the National Football League. Here's today's Fantasy 5:
1. Rookie quarterbacks off to hot starts
On Wednesday's island game, Deshaun Watson took center stage for all to critique. Watson delivered in a big way, completing 15-of-25 for 179 yards. He also tacked on 24 rushing yards on three carries with a rushing touchdown.
Deshaun Watson TD run pic.twitter.com/2GN8tGns5v

— Josh Norris (@JoshNorris) August 10, 2017
Mitch Trubisky surpassed expectations Thursday, completing 18-of-25 for 166 yards and a score in his debut for the Bears. The No. 2 overall pick looked sharp through his reads completing an array of pass attempts at differing depths. DeShone Kizer overcame a rocky start to shine in the fourth quarter against the Saints. Kizer completed 11-of-18 for 184 yards and a passing touchdown and has turned up the heat on the Browns' quarterback competition to start in Week 1. Next up, Patrick Mahomes makes his debut for the Chiefs Friday against the 49ers.

2. Bills' top passing tandem hitting their stride
Sammy Watkins and Tyrod Taylor showed little rust coming out of the gate, connecting on three-straight passes for 30 receiving yards to start the game. Watkins was routinely gaining separation and looked phenomenal against Minnesota in their first game back on the gridiron. If Watkins can remain healthy, he has the chance to put up some spectacular numbers. The Bills' new OC Rick Dennison will bring balance to a team that's been historically run-heavy, and with Watkins in a contract year, he'll need to perform in a big way. Watkins has done it over brief stretches of his career, and will now be heavily leaned on in his fourth season. Watkins has averaged a robust 16.1 yards per reception over his career and was top-five among all wideouts in yards per route run 2015 at 2.69. Watkins currently has an ADP of WR17 in PPR leagues, according to Fantasy Football Calculator.
3. Philadelphia's battle for the slot
We've heard rumored reports of Nelson Agholor looking to be used in the slot this year. Jordan Matthews has owned that positions since he was drafted and ran 67.1 percent of his routes there last year. Matthews was also routinely looked upon by Carson Wentz in the Eagles' preseason game against the Packers Thursday night, connecting on three-of-three targets, including a fourth-down conversion. Agholor on the other hand dropped a two-point conversion attempt that bounced off his hands. Wentz only played the opening series, so it's difficult to draw any hard conclusions in such limited playing time. That said, Agholor has graded as PFF's worst-ranked wide receiver each of his two years in the league. If a trade for Matthews isn't made, he'll likely retain his role in the slot.
4. Clarity on the Redskins running back situation?
Washington elected to go with veteran Rob Kelley to start the team's preseason game against Baltimore. Kelley ran with the first unit rushing three times for two yards and catching a pass. Samaje Perine didn't play until the second-team took the field. The rookie coughed up the ball on a carry but was able to recover. He netted just 15 rushing yards on six carries and had a dropped pass on third down. It's still early, but the edge has to be given to Kelley to take the starting gig at this point. Kelley is currently being drafted nearly a full round after Perine as the RB42. We'll continue to keep a close eye on this throughout the remained of the preseason.
5. Injury roundup