Fantasy football sleepers aren't what they used to be. A decade ago, you could show up at your draft armed with the top under-the-radar guys and clean house. But in today's era of social media and 24-hour football news feeds, sleepers are much harder to come by. That said, you can still find fantasy football sleepers in 2019 if you look in the right places. Here are the top fantasy football sleepers by position for your 2019 fantasy football drafts.
Quarterback
Last year was a season to forget for Winston. He started the season suspended and had to watch as Ryan Fitzpatrick worked his magic. But Winston regained his starting job and looked magical himself with a No. 1 finish in Week 6. He then lost the job to Fitzpatrick again, only to regain it down the stretch. Despite that bumpy ride, Winston was actually very solid from Week 11 on, ranking eighth among quarterbacks in fantasy scoring. That positive momentum is encouraging, as is the fact that Bruce Arians is in at head coach. Arians' vertical offense and the Bucs fleet of pass catching talent bode well for Winston.
We don't quite know what to expect out of the first overall selection in this year's draft, but Murray certainly comes with a lot of exciting potential. He was electrifying at Oklahoma last year, flashing game breaking speed as a runner and the ability to spin the ball as a passer. That Russell Wilson-esque combination of skills gives Murray mouthwatering fantasy potential, as does the prospects of Kliff Kingsbury's offense. However, the Cardinals still have a long way to go on the offensive side of the ball, especially along the offensive line. If things break the right way in Arizona, Murray has the skill set to be an instant top-12 fantasy quarterback.
No one is going to mistake Jackson for a traditional dropback passer, but he doesn't need to be one in order to have fantasy value. Despite not taking over starting duties until Week 11, Jackson led all quarterbacks in rushing yards (693) and attempts (148). He also ranked ninth at the position in fantasy scoring during that stretch. Of course, it's unreasonable to expect Jackson to continue to average 17-plus carries per game over the course of the 2019 season, but he's still going to run a lot. It's completely reasonable to expect 180-plus carries for the year. Jackson isn't the safest fantasy option, but his ability as a runner gives him QB1 upside.
Like Jackson, Allen got it done with his legs in 2018. The former first-rounder ranked second among quarterbacks in rushing yards (631) and led the position with a massive eight rushing scores. And that was in just 12 games. This rushing production led to absolute monster fantasy numbers out of Allen down the stretch, where he ranked second among signal callers in fantasy scoring from Weeks 12-17. We can't necessarily count on the touchdown productivity to stick, but Allen's legs offer the appeal of a modern fantasy quarterback. While he isn't the most consistent passers, he's also displayed some major upside in that department. He'll also have some veteran stability at wide receiver thanks to the Bills' offseason addition of John Brown. Allen is perhaps the riskiest of this bunch, but there's no denying his high fantasy ceiling.
Running back
NFL teams can't lie in the draft, and the Eagles selecting Sanders in the second round suggests they plan on using him fairly heavily in 2019 and beyond. The former Penn Stater spent a good chunk of his college career as Saquon Barkley's understudy. But Sanders put up strong production in 2018 and then blew up the combine with some of the best testing numbers of all the running backs invited. Sanders brings a three-down ability that meshes well with Doug Pederson's offense. Jordan Howard will likely see his share of the work in early downs, but Sanders clearly offers more fantasy upside even in a committee situation. He's a prime middle-round running back target.
Heading into last season, Penny looked like he had a chance to take control of the Seahawks backfield after Seattle selected him in the first round of the 2018 draft. But that wasn't the case, as Chris Carson held serve and went on to rack up 247 rushing attempts. Entering this year, Carson is still in the driver's seat, but there's plenty of meat on the bone for Penny in the extremely run-heavy Seahawks offense. He's also generated some positive offseason buzz for his conditioning. With Mike Davis now in Chicago, Penny is the clear No. 2 in the Seattle backfield, which is enough to give him fringe RB3 value, and he's positioned as one of the league's better handcuffs. If Carson went down with injury, Penny would be an instant RB2-plus.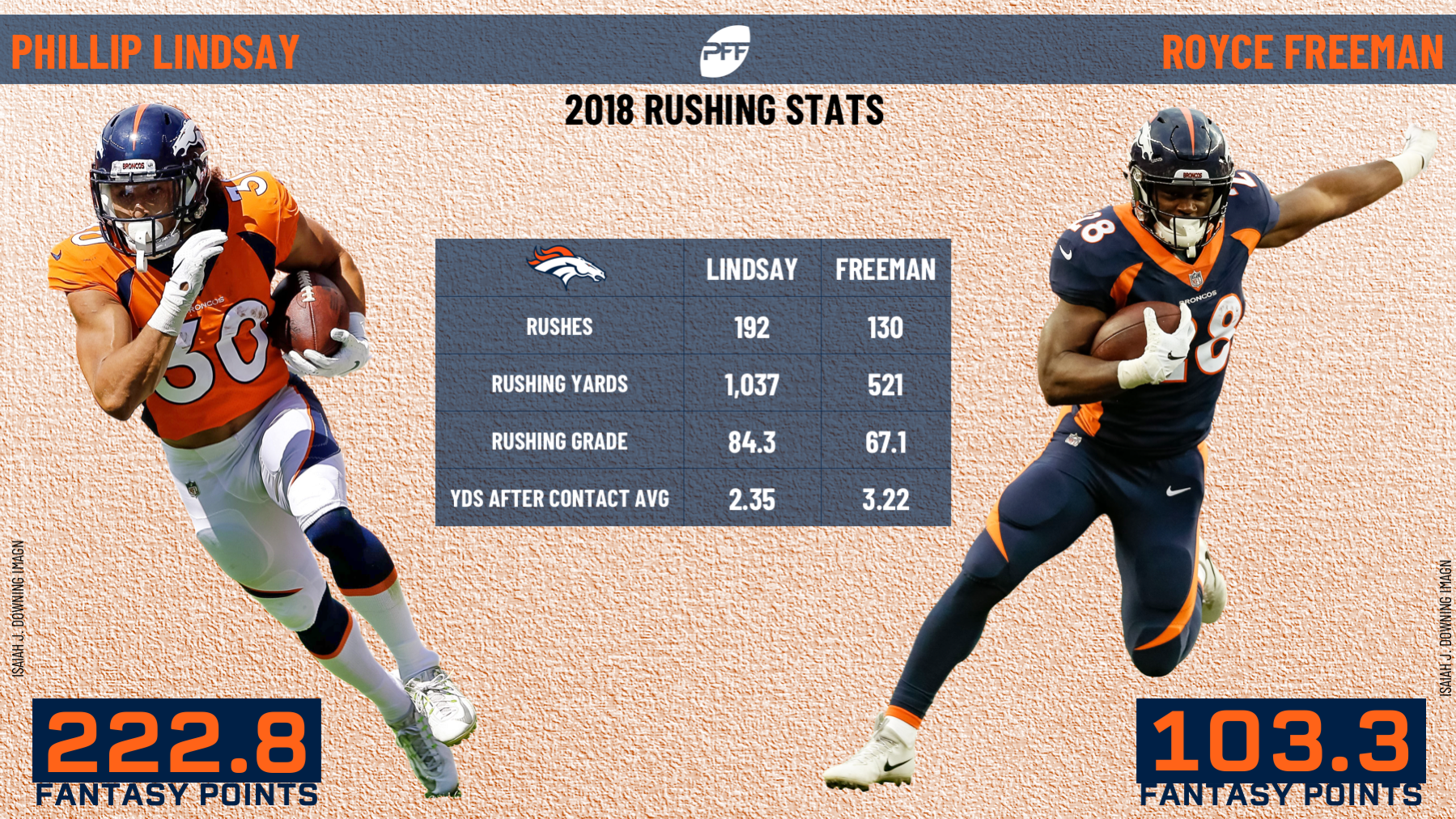 At this time last year, fantasy momentum started to build for Freeman, and he ended up going as high as the third round in drafts. Right backfield, wrong player, as Phillip Lindsay seemingly came out of nowhere and became one of the biggest fantasy surprises in recent memory. While 2018 was disappointing for those who spent a priority pick on Freeman, it isn't wise to completely write him off just yet. Freeman tended to face more base defense than Lindsay. He also flashed upside in Week 17, especially as a receiver, catching eight balls on 10 targets. Lindsay is still the preferred fantasy option in Denver, but Freeman offers handcuff-plus value at a discounted price.
A bruising back who is coming off a productive college career, Harris topped 1,000 rushing yards in sophomore and junior years despite being in a loaded Alabama backfield. His yards per carry dipped somewhat last year, but he still managed a respectable 5.8 mark. Harris was especially effective as a runner in the red zone, which contributed to his 20 rushing scores over the last two seasons. While his 4.57 40-yard dash time at the combine doesn't jump off the page, Harris did show explosion with a 37-inch vertical jump. The biggest question for Harris' fantasy value in 2019 is Sony Michel's health. If Michel is good to go, Harris will likely only be a complementary piece. That said, he has the potential to be much more right out of the gate for the Patriots.
Fantasy value can change quickly, especially at running back. Hyde was a top-10 fantasy finisher in 2017, and last year he barely cracked the top 50 at the position. Of course, he did so after being traded by the Browns to the Jaguars just six weeks into the season. But there's a new hope that Hyde can hold on to at least moderate fantasy value in the Kansas City backfield. Damien Williams seems to be locked in as the lead back, but a recent quote from Andy Reid suggests Kansas City could use a committee approach in their backfield. While Williams should open the season as the starter, Hyde is an interesting handcuff who would see a major boost in the potent Chiefs offense if Williams went down.
Wide receiver
He was one of the sexier picks in fantasy drafts last season, but rookie wideouts are notoriously fickle fantasy producers. Miller battled injury for a chunk of the season and saw just 15 targets through the first six weeks of the season. He was able to right the ship from there and notched 26 targets over his next four games. Miller finished the season a lackluster 60th among wideouts in fantasy scoring, but he did so while scoring an impressive seven touchdowns. That efficiency shouldn't go understated. Like the Bears offense as a whole, Miller is positioned well to take a step forward this year. Matt Nagy's second year at head coach along with Mitchell Trubisky's continued improvement bode well for that to happen. Miller screams upside in the late rounds.
He may not be getting the most attention out of the Pittsburgh receivers, but we shouldn't overlook Moncrief heading into this season. The veteran wideout has yet to put it altogether in his pro career but did flash potential in 2015 when he posted 733 yards and six scores on 64 catches. Injuries derailed Moncrief for big chunks of 2016 and 2017, and playing with Blake Bortles in Jacksonville last year did little to improve his fantasy outlook. But it's a new day for Moncrief in 2019. He has a legitimate shot at filling some of the void left by Antonio Brown. While Moncrief is far from a lock for No. 2 duties in Pittsburgh, he's the favorite to do so. Earning that job would likely mean WR3 production from Moncrief.
It's tough to get a complete handle on the 49ers wide receiver corps entering 2019, but if we are going to endorse one of their receivers for fantasy purposes it's Pettis. We didn't see much of him for the first 11 weeks of the season, but Pettis rattled off four straight weeks of top-25 fantasy production starting in Week 12. Over that span, he was the fantasy's No. 7 wide receiver. Of course, that's an extremely small sample size, but it does show what Pettis is capable of for fantasy purposes. He'll also be in a better situation to produce this season with Jimmy Garoppolo back under center for the 49ers. Pettis is far from a lock for fantasy production, but he is an intriguing upside option to consider at the back end of the WR3s.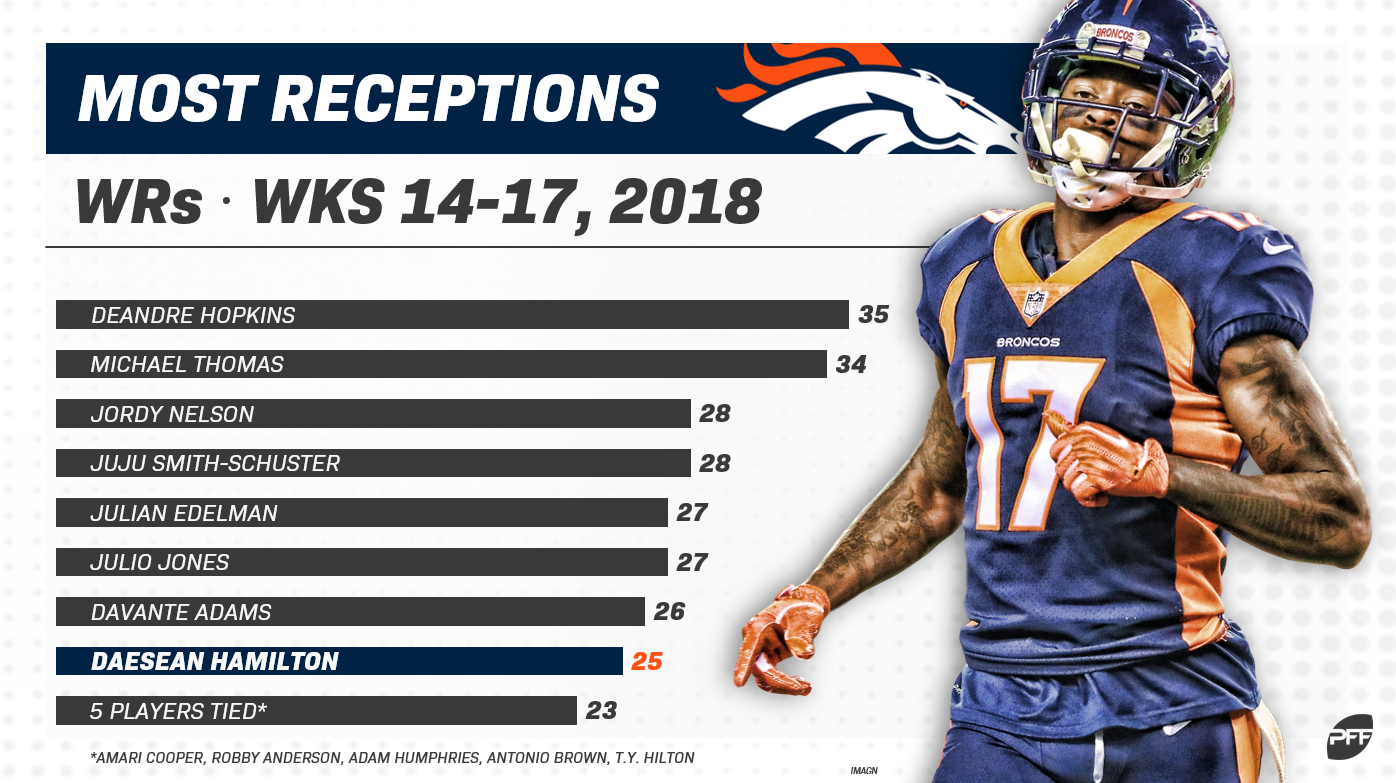 Buried on the Broncos depth chart for most of last season, Hamilton seized his opportunity after Emmanuel Sanders went down with injury. Over the final four weeks of the season, Hamilton racked up 25 catches — only seven wideouts had more over that span. More importantly, none of those seven was named Courtland Sutton. Hamilton's value is closely tied to Sanders' status. With it looking like Sanders will avoid the PUP, Hamilton will likely be buried yet again. But given the potential reward if he does see the field, Hamilton is well worth the risk in the late rounds.
Tight end
If you're looking for a late-round tight end dart who is likely to still be on the board at the very end of your drafts this year, Andrews just might be your guy. The second-year man quietly put up over 550 receiving yards last season. Yes, the Ravens do also have Hayden Hurst entering his second season, but Andrews is the superior receiving option of the two. Lamar Jackson's accuracy issues may be a reason to stay away from Baltimore's wide receivers in fantasy, but this shouldn't have as big of an impact on Andrews. In fact, Andrews had his best fantasy performance of the season last year with Jackson under center in Week 16. Andrews is a sneaky tight end sleeper to target at the end of your drafts.
The second-year man has been the talk of the town in Philly throughout the offseason into training camp. Goedert was lightly used last year, catching 33 balls for 334 yards and four scores, but his role is expected to expand this season. Of course, there's a Zach Ertz-sized elephant in the room. Ertz's presence in the Eagles' offense puts a cap on Goedert's fantasy upside. That said, Goedert would be an instant top-five fantasy option if Ertz went down with an injury.
Uber-athletic with an all-around game, Hockenson graded out as the No. 2 tight end in the nation last season. While his college numbers don't necessarily jump off the page, don't read too much into his stats. Splitting the workload with Noah Fant capped his numbers. That said, he still managed an impressive 760 yards on 49 catches last season. Hockenson went eighth overall in April's draft, and is on the fast track to lots of reps for the Lions this year. While rookie tight ends often don't post consistent fantasy production, Hockenson's major upside is worth a late-round dart in deeper leagues.
Noah Fant, Denver Broncos
Like Hockenson, Fant is athletic as all get up with size (6-4, 249) and speed – he ran a 4.50 40-yard dash at the combine. Fant tallied 18 touchdowns over the last two seasons despite splitting the workload with Hockenson. Given his overall profile, Fant enters the NFL with major fantasy upside. The Broncos tight ends room is a bit more crowded than what Hockenson is facing in Detroit, but he's still a deeper name to target in your fantasy drafts.
If you haven't heard of Waller, you aren't alone. The former Georgia Tech tight end has been in the NFL since 2015 but has just 18 career receptions to his name. So why are we pegging him as a sleeper? It really comes down to opportunity. With Jared Cook in New Orleans, Waller is in a prime position to produce for the Raiders this season. Derek Carr looked Cook's way often last season, so expect a good chunk of those targets to be funneled to Waller in 2019. He's far from a safe bet, but Waller's athletic profile and role in the Oakland offense make him an ultra-sneaky tight end sleeper.