We've been rolling through the top prospects in every conference in the FBS over the past couple of weeks, and now we turn our attention to the ACC.
While the conference has three prospects in the top 15 on the PFF draft board, they managed only five top-50 prospects. However, the ACC is very deep at quarterback with a bunch of prospects brimming with potential.
Check out even more in-depth prospect coverage in PFF's 2022 College Football Preview Magazine.
*Note: Notre Dame was included as well because of its close scheduling ties to the ACC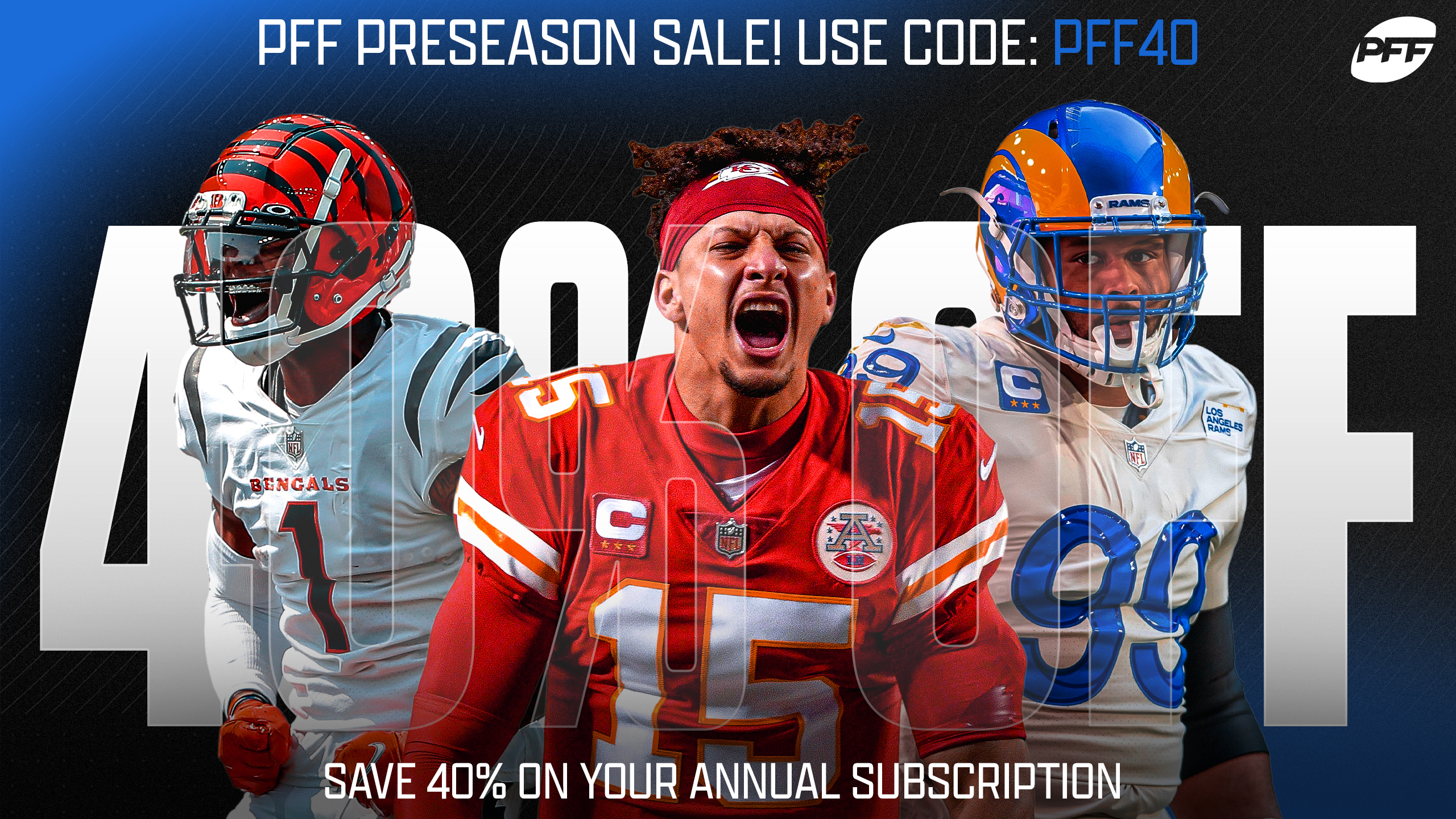 ---
You won't find too many true freshman defensive linemen who look physically capable of playing on an NFL field, but that was Murphy back in 2020. That season, he earned a 92.5 run-defense grade for the Tigers. For an encore, Murphy displayed marked improvement as a pass rusher in 2021 and finished with 28 pressures over his final six games. He still needs to add more pass-rushing moves to his toolbox, but you don't need to see more than a couple of long-arm moves from him to know his ability to generate power is special.
Myles Murphy using a long arm/club combo to win the arc and force the strip sack. pic.twitter.com/V2ZBiUv0np

— Full-Time Dame ???? (@DP_NFL) June 26, 2022
Bresee first broke onto the scene with some of the most dominant high school tape you'll ever see. That made him the consensus No. 1 overall recruit in the 2020 class, but his sheer physical dominance meant he came into college without having to refine his hand usage. We've seen that through two seasons at Clemson, as he's not quite the impact player his physical tools suggest. Still, at 6-foot-5 and 300 pounds, he moves like a player 30 pounds lighter. After tearing his ACL four games into 2021, he's due for a big bounce-back year in 2022. 
Bryan Bresee is a manchild pic.twitter.com/04pXfSfwT4

— Tiger Commenter (@TigerCommenter) December 20, 2020
Williams is a two-year starter with an all-around skill set. Man, zone, press, tackling — you name it, Williams can do it. It's why he checks in at 16th overall on the PFF preseason draft board. His 379 yards allowed last season aren't anything special, but his tape is full of underneath completions from off coverage. Williams could stand to add some muscle to his frame, and if he does, he could very well end up a first-rounder.
???? Syracuse's Garrett Williams pic.twitter.com/KMRt7XidyH

— Matt Minich (@CoachMinich) March 3, 2022
Foskey has endured a slow and steady climb into top prospect status. He played 54 snaps as a true freshman in 2019 and 282 snaps as a sophomore before breaking out as a junior on 564 snaps with an 80.7 overall grade. He's a long, power end who can reset the line of scrimmage in the run game and push the pocket as a pass rusher. He's explosive enough to be an every-down type of player in the NFL and could easily work his way into the first round with another incremental leap in performance. 
Notre Dame DE Isaiah Foskey (#7 right EDGE in this clip) is as good as any college player at the strip sack. He had six forced fumbles in 2021. Another great season in 2022 will help land him a spot in Round 1 of next year's NFL draft. pic.twitter.com/Z9vUxFVDOz

— Todd McShay (@McShay13) July 13, 2022
Simpson embodies the definition of a modern linebacker. He plays the overhang/slot role in Clemson's defense because he's so adept at maneuvering in space that he can match up with slot receivers. Even still, Simpson knows how to attack blocks with leverage and close to ball carriers. Listed at only 225 pounds, weight is no issue considering his play style. 
Clemson LB 22 Trenton Simpson reminds the LG that football is a game of leverage. @JonesN4mo pic.twitter.com/WTR0W0Q6OC

— Aaron Taylor (@AaronTaylorCFB) June 26, 2022
Joseph is tailor-made for the new wave of NFL defenses that treat safeties as coverage players first. At 6-foot-1 and 192 pounds, he isn't the guy you want as the add-on defender in the run game. He is, however, the guy you want staying on top of a post route or dropping down to cover the slot. In his two years starting at Northwestern before transferring to Notre Dame, he picked off nine of his 56 targets. That would be an excellent rate even if it were just pass breakups, yet Joseph has a knack for finding the football.
Brandon Joseph had 9 INTs over the last two seasons (led the Big 10)@NDFootball is adding a BALLHAWK ????pic.twitter.com/j38AzeU9j0

— PFF College (@PFF_College) May 12, 2022
While Nelson took his lumps early on, his career trajectory is what every coach dreams about. He went from a 46.8 pass-blocking grade as a true freshman in 2019, to 78.7 in 2020, to 85.3 last season. And he's done so with 2,296 of his 2,391 career snaps coming at left tackle. You won't find a more battle-tested tackle in the draft class. 
Tucker was the Syracuse offense for large chunks of 2021. He racked up 1,515 rushing yards in 12 games with nine 100-plus yard outings. He's got a rocked-up 210-pound build at 5-foot-10 with very little body fat on him. He possesses far more breakaway speed at that size than you'd expect and is one of the most dangerous home-run threats in the country.
Sean Tucker among ACC RBs in 2021:

???? 1,515 yards (1st)
???? 1,014 yards after contact (1st)
???? 66 forced missed tackles (1st)
???? 44 runs of 10+ yards (1st)pic.twitter.com/szEPJePQjI

— PFF College (@PFF_College) May 10, 2022
Duck had a tremendous freshman campaign back in 2019. He started the last nine games of the season and allowed only 25 catches on 47 targets for 295 yards that year. Since then, he's played just 436 snaps over the past two seasons due to injury. It's not as if he played bad football over that span, though, with only 17 catches allowed across 36 targets for 192 yards in those two seasons.
⛈️ STORM DUCK PICK SIX ????

The Tar Heels (-6) have busted this game wide open. ????pic.twitter.com/iXBGnVEHTj

— Action Network (@ActionNetworkHQ) December 27, 2019
A decade ago, a 5-foot-10, 171-pound wide receiver would have been an afterthought at the NFL level. Now, we've seen receivers in Downs' mold — Wan'Dale Robinson, Rondale Moore, K.J. Hamler — all go within the first 50 picks in recent years. He's a slot-only player for North Carolina, with 95.4% of his snaps there last season, and that's likely where he'll end up in the NFL. On his 101 catches in 2021, he averaged a whopping 7.5 yards after the catch per reception.
Most slot TD receptions among Power 5 WRs????

1. Josh Downs, North Carolina – 6
1. Jordan Addison, Pittsburgh – 6
3. Kyle Phillips, UCLA – 5
pic.twitter.com/Z0tJ7gRjiG

— PFF College (@PFF_College) October 6, 2021
Lole may very well have entered the 2021 NFL draft had Arizona State played a full season in 2020. He earned an 85.9 overall grade during that COVID-shortened, four-game schedule. Without enough tape to justify the leap, Lole returned to school but tore his triceps and missed all of 2021. He transferred to Louisville this spring, and we are expecting a big bounce back from the stout defensive tackle.
AzSt Jermayne Lole (90) is an active nose with low center of gravity to stand up doubles while also having the quickness and agility to get inside in a hurry, as he does here. Effective on twists, also has a knack for knocking down passes when unable to reach the QB. #SnapScout22 pic.twitter.com/DVleOchEfZ

— Chad Reuter (@chad_reuter) May 21, 2021
Unfortunately, we won't be seeing a snap of Mahogany in 2022 after he tore his ACL earlier this summer. He combined with Zion Johnson to form the best guard tandem in the country a season ago. He earned an 82.7 overall grade and allowed only seven pressures all year long.
Christian Mahogany (RG 73)… very strong lower body, explosive power through his hips. Easy movement on the combo and sufficient mover up to second level. It's over when he gets inside.

Side note: Myles Murphy is an animal. pic.twitter.com/m0LDjBxD6M

— Ryan Roberts (@RiseNDraft) June 9, 2022
Leary is a three-year starter with an NFL-caliber arm despite being a little on the shorter side at only 6-foot-1. That arm produced 31 big-time throws a season ago for the Wolfpack while making only nine turnover-worthy plays. He carries a borderline Day 2 grade at the moment.
DEVIN LEARY TO DEVIN CARTER, TOUCHDOWN WOLFPACK!!! NC STATE TAKES THE LEAD OVER CLEMSON. pic.twitter.com/25NtOMBpn7

— Zak (@CaramelPhd) September 25, 2021
Scott is still a big-time developmental project, but he has the kind of tools to make good on that. He's a two-year starter with experience at both left and right tackle. His 66.6 overall grade last season, however, shows just how far he has to go. Sadly, Florida State hasn't been a developmental powerhouse for offensive linemen of late.
It's a bit surprising that Chandler even returned to Louisville for his sixth year in the first place. He finished last season on a tear with only three pressures allowed and a 92.6 overall grade over his final eight games. That would have easily gotten him drafted had he declared. He is still a touch undersized for a guard at only 300 pounds and could be banking on a strong offseason in the weight room to boost his draft stock.
Stevenson spent two years at Georgia prior to transferring to Miami. In Athens, he was best known for his game-saving pass breakup in the Peach Bowl against Cincinnati. At Miami, he's known for being a brick wall at the line of scrimmage. The 6-foot-4, 214-pounder is a bully with a side advantage against almost every receiver he faces. It's a big reason why he allowed only 25 receptions all last season. 
TYRIQUE STEVENSON PLAY OF THE SEASON pic.twitter.com/caX8w4rQRT

— blakejmorgan (@blakejmorgan) January 1, 2021
Van Dyke played backup to D'Eriq King to start the 2021 season but quickly made that look like a mistake when he took over as the starter. He finished his redshirt freshman season with the second-highest big-time throw rate among Power Five starters (7.1%). He has the kind of arm talent to push way higher on this list, but the inconsistent accuracy we saw from him last season will have to improve if he's to do so. 
Drafted my 1st share of #MIA QB Tyler Van Dyke, rewatching a few games

A lot of arm talent, throws w/ power & touch. Deals with pressure well, not completely immobile but would like to see him step into throws more & navigate the pocket #Devy

Vs NC ST: 75%, 325 YD, 4 TD 0 INT⤵️ pic.twitter.com/8q6pWQw4p2

— Cory P. (@FF_Guitarist) July 18, 2022
Patterson could have easily been a Day 3 pick had he declared last season after three years as a starter, but he returned to work with legendary offensive line coach Harry Hiestand. Patterson isn't going to "wow" physically, but he's consistent with a versatile body type. At 6-foot-5 and 307 pounds, he has the build for all three interior positions.
Perry is one of the longest receivers in the country, measuring in at 6-foot-5 and 206 pounds. Long and lean isn't usually a great build when projecting receivers to the NFL, but Perry is sudden enough that it's not a death knell. He broke out in 2021 with 71 catches for 1,296 yards and 15 scores. He'll have to get stronger at the catch point, though, after hauling in only nine of 25 contested targets last season. 
A.T. Perry (Wake Forest WR 9) is super intriguing at 6'5 206 lbs. Seems to move well for his size. Had 71 receptions for 1293 yards & 15 TDs. Will be a Junior (RS).

Played basketball & competed in track & field in high school. PR in the high jump is listed at 5'7.75 (1.72m). pic.twitter.com/wLVOWRiu5o

— Russell Brown (@RussNFLDraft) July 10, 2022
Kancey is inarguably one of the most impactful defensive tackles in college football. The question is whether that production at 6-foot and 275 pounds will translate to the NFL. While he'll obviously draw comparisons to Aaron Donald at that size, Kancey isn't that caliber an athlete. No one is. It's why there's not a strong track record of defensive tackles that size outside of Donald. Kancey will have to add some weight to his frame to move up draft boards.
Calijah Kancey (DT #8)… flexibility pops on film. Hand strength is surprising for a player his size. Push pull, hip fluidity to transition. + upside as interior rusher. pic.twitter.com/oo4klQCgXc

— Ryan Roberts (@RiseNDraft) June 10, 2022
Davis looked like he was going to be a lock as a first-rounder after his freshman season in 2019. That year, he earned a 79.6 overall grade with 31 pressures — both very impressive figures for a first-year player. Unfortunately, that's still his career-high grade, and injuries have kept him from even matching that pressure total in the two years since combined. Hopefully he can get healthy again and live up to the promise he showed. 
First thing you should rewatch this morning is a no-brainer: 300-pound Clemson DT Tyler Davis nearly closing the gap on AT Perry.

The burst from the 30 to the 50 is insane. The fact that he holds within five yards til the 15 is amazing.

You all should be inspired now. pic.twitter.com/LqPjKx1kPw

— Jon Blau (@Jon_Blau) November 21, 2021
Wilson has a lengthy injury history, including a shoulder injury that ended his 2021 season and an ACL tear in his past. When on the field, he has a very NFL-translateable game at 6-foot-4, 230 pounds. Wilson has three-down size and athleticism but needs to stay healthy. He racked up 45 defensive stops in his only full season in 2020.
NC State's Payton Wilson is playing NFL Blitz with all these clothesline tackles pic.twitter.com/0bNONoUxa6

— Pick Six Previews (@PickSixPreviews) September 29, 2019
Bergeron has been starting ever since his freshman year in 2019, but he really didn't solidify his status as a real-deal NFL prospect until this past fall. In 2021, Bergeron allowed only 11 pressures on 378 pass-blocking snaps for an 85.4 pass-blocking grade.
#Syracuse LT Matthew Bergeron has a great rep here, QB inexplicably runs directly towards the blocked rusher though. pic.twitter.com/X3c94JVmIL

— ????????Mike Spencer Hrynyshyn???????? (@MikeHrynyshyn) May 7, 2022
Grimes represents the other half of one of the nation's top returning cornerback duos. He's a former five-star recruit who reclassified during COVID-19 after his high school season was canceled to play in college a year early. So it's not particularly fair to compare his tape to other draft-eligible cornerbacks, as it should have been his freshman year in 2021. All things considered, he was fairly impressive, allowing 32 catches on 60 targets for 435 yards.
TONY GRIMES SAID GIMME THAT!!! FIRST CAREER INTERCEPTION. pic.twitter.com/dNrpQH6POW

— Taylor Vippolis (@tvippolis) December 12, 2020
Thomas was supposed to be the next great Clemson defensive lineman after the 2019 draft class had three first-rounders. In his true freshman season alongside Clelin Ferrell, Dexter Lawrence and Christian Wilkins, Thomas earned an 84.2 pass-rushing grade with 26 pressures. Four years later, that's still his career-high pass-rushing grade.
Asked Dabo last night about Xavier Thomas who is 2 games back after missing 3 weeks with concussion. Said he's starting to hit his stride. Played well last night against a great LT and well-coached OL. A month from now, worth thinking about the additional progress he'll have made pic.twitter.com/y3rPosnUqG

— Anna Adams (@AnnaH247) November 17, 2019