Converting a college tackle to guard may be your best bet at getting an early impact player at the position in this class, as it's not near what we saw a season ago. Chris Lindstrom with his four pressures allowed this past season sits atop the guard class, but even we see him as more of a second-round value than a Day 1 pick. From a grading perspective, the Wisconsin duo of Beau Benzschawel and Michael Deiter offer a lot of intrigue. Benzschawel was the highest-graded guard in the draft class while Deiter has well-graded seasons at guard, tackle, and center for the Badgers.
The center class often gets conflated with the guard class as the skill sets needed can be so similar. The top of the center class, though, may be the rare players who teams want at center and center only. Mississippi State center Elgton Jenkins is our top interior line prospect, and the senior looked far more comfortable at the Senior Bowl when asked to play center rather than guard. NC State center Garrett Bradbury is next up on the board and at a shade over 300 pounds, doesn't have the frame to play anywhere other than center in most schemes.
[Editor's Note: To view all of Pro Football Focus' advanced stats and grades for draft-eligible players, check out our 2019 NFL Draft Guide. All EDGE and ELITE subscribers already have access to the guide, and for those who don't, you can get your copy for as low as $9.99!]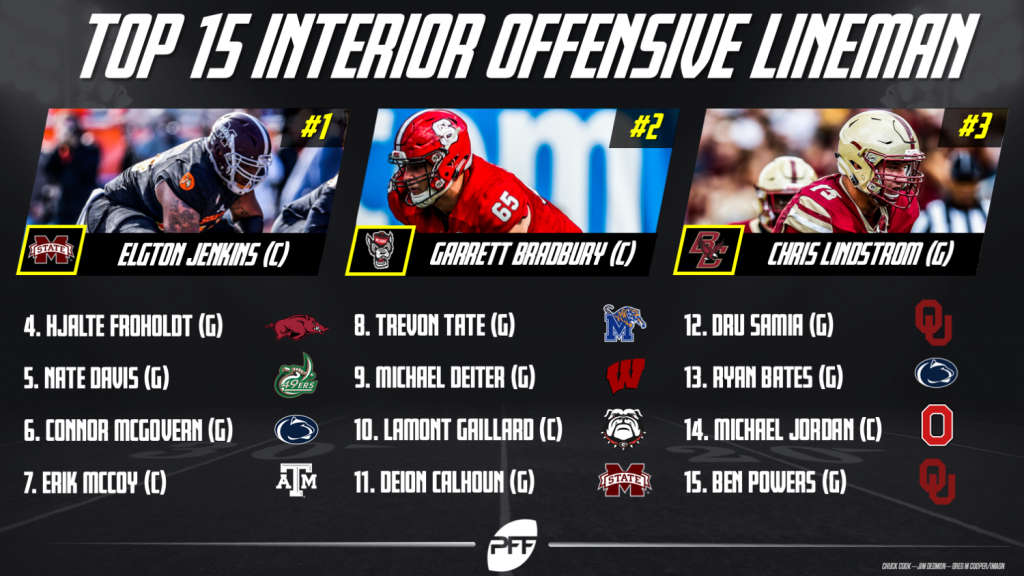 1. C Elgton Jenkins, Mississippi State
The Mississippi State center allowed all of five pressures this past season on 369 pass-blocking snaps.
2. C Garrett Bradbury, NC State
Bradbury was a top-five graded center each of the past two seasons and the highest-graded Power-5 center in this draft class both years as well.
Related Article: Center prospect Garrett Bradbury takes pride in his run blocking, athleticism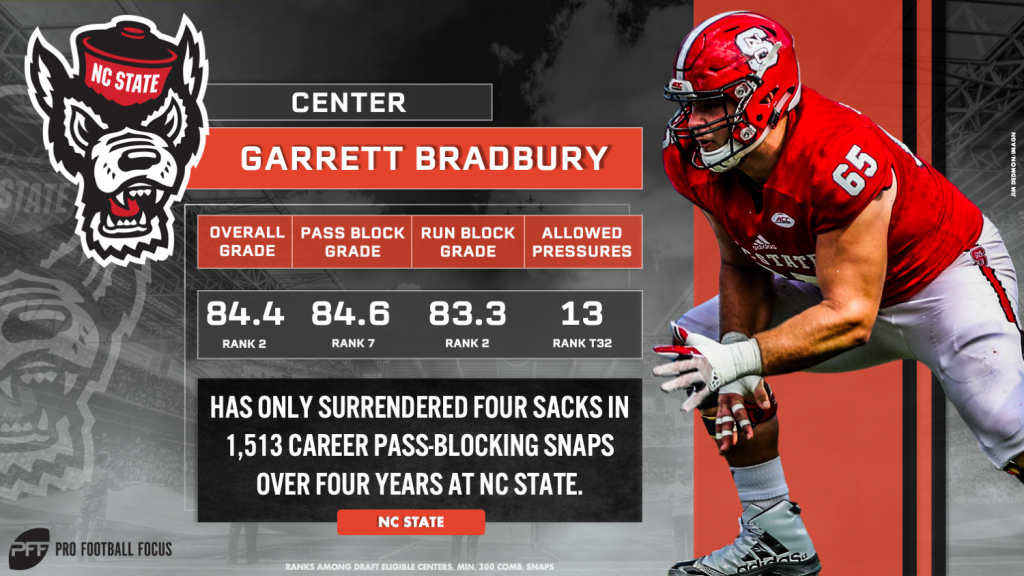 3. G Chris Lindstrom, Boston College
The former tackle kicked inside to guard this past season and allowed only four pressures all season long.
4. G Hjalte Froholdt, Arkansas
Froholdt played both center and guard during his tenure with the Razorbacks. This past season, he was one of the nation's best pass protectors, allowing five pressures all season long.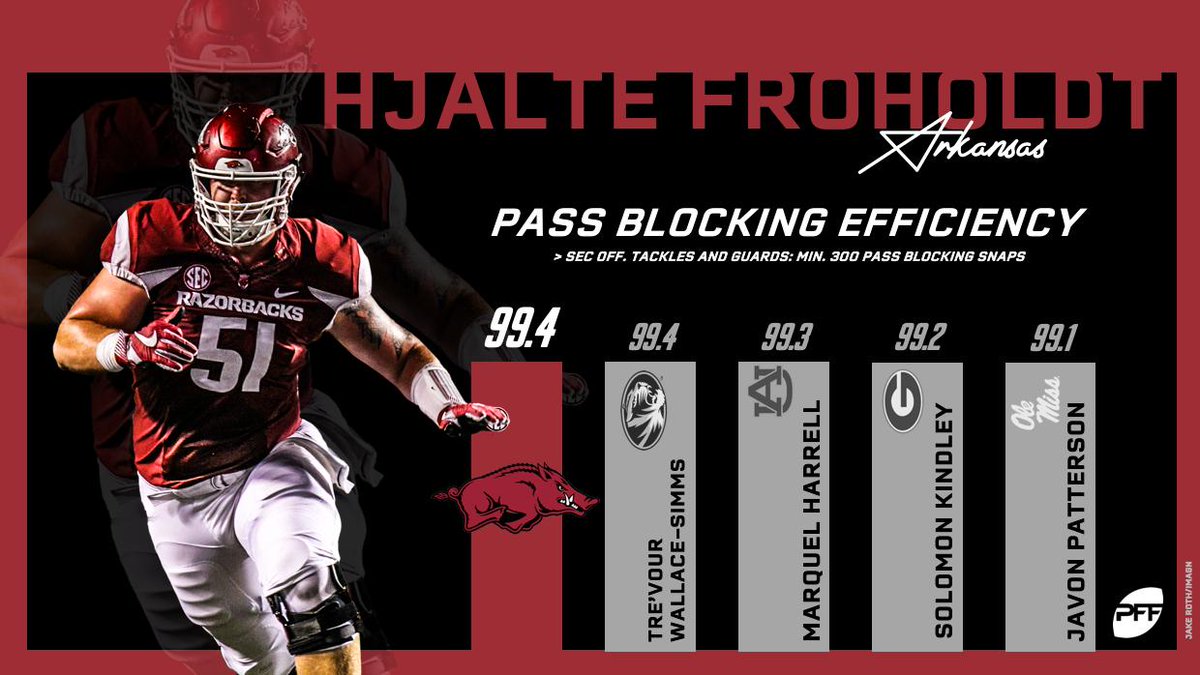 5. G Nate Davis, Charlotte
Davis allowed all of four pressures on 234 pass-blocking snaps this past season between tackle and guard. He'll end up at the latter in the pros.
6. G Connor McGovern, Penn State
McGovern played center in 2017 and guard in 2016 and 2018. He allowed only 15 pressures on 464 pass-blocking snaps this past year.
7. C Erik McCoy, Texas A&M
McCoy struggled a bit in the 1-on-1s at the Senior Bowl, winning only 21 percent of his pass pro reps. However, his tape suggests a player that is one of the most complete interior linemen in this class.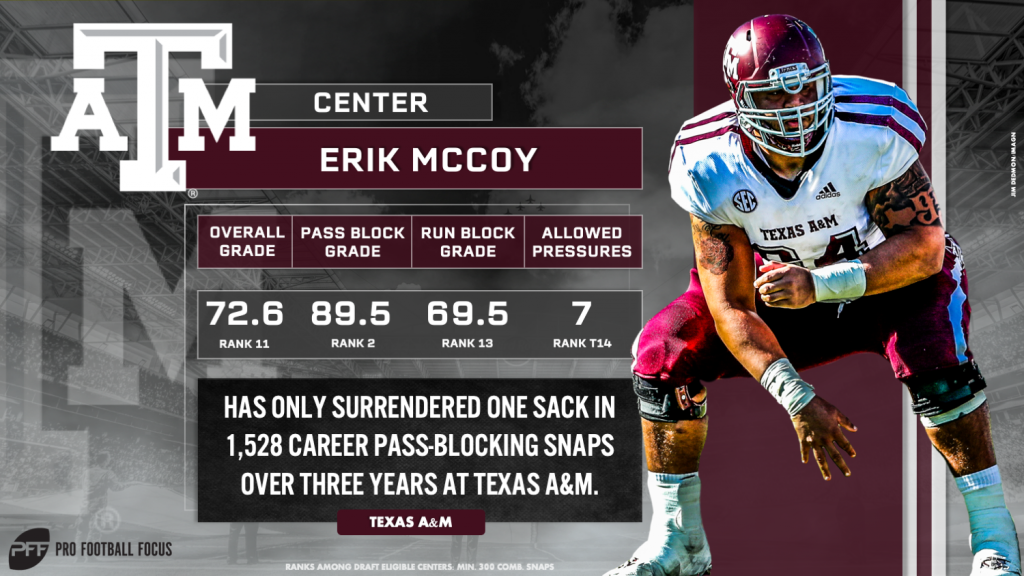 8. G Trevon Tate, Memphis
Tate played tackle at Memphis but projects inside in the NFL. He earned an 86.0 pass-blocking grade this past season and allowed all of 10 pressures.
9. G Michael Deiter, Wisconsin
Deiter finished the 2018 season ranked third in overall grade (82.2) and third in run-blocking grade (82.8) among guards with at least 400 offensive snaps played.
10. C Lamont Gaillard, Georgia
Among draft-eligible FBS centers with at least 400 offensive snaps played in 2018, Gaillard ranked inside the top-10 in overall grade (78.2) and run-blocking grade (77.1). He also earned an impressive 77.9 pass-blocking grade in 2018, allowing just eight total pressures across 353 pass-blocking snaps.
11. G Deion Calhoun, Mississippi State
Playing 275-plus pass-blocking snaps for the Bulldogs in each of the past three seasons, Calhoun has earned 70.0-plus pass-blocking grades in each year since his 2016 campaign.
12. G Dru Samia, Oklahoma
A nasty finisher and coveted for exactly that, Oklahoma's Samia has a lot of uncoachable traits that NFL coaches will fall in love with in this pre-draft process. He finished his 2018 campaign ranked 34th in pass-blocking grade at 78.3.
13. G Ryan Bates, Penn State
Bates earned an 81.0 overall grade across his 879 offensive snaps split between left and right tackle at Penn State a year ago, but size and power concerns should push him inside to guard in the NFL.
14. C Michael Jordan, Ohio State
An explosive interior offensive line prospect, Jordan explodes out of his stance in the run game but still needs to learn the nuances of the position before he can claim a starting spot in the NFL. He earned sub-70.0 overall grades in each of the past two seasons.
15. G Ben Powers, Oklahoma
Powers earned 87.8 and 88.9 pass-blocking grades with Oklahoma in 2017 and 2018, respectively. He allowed just 21 total pressures across 1,177 pass-blocking snaps in his three-year college career.