The popular rule of thumb is that you can't judge a draft until three years later. While I agree that three years is likely a good time span to get a holistic view of the impact a class has had, one should be evaluating it at every step along the way. With the value a team can add on a rookie deal nowadays, the earlier that team can get contributions from those players, the better. A player turning out to be good in the final year of their rookie deal isn't enough to justify a pick.
With that in mind, let's first take a look back at how we graded all the draft classes immediately after the 2019 NFL Draft.
[Editor's note: Click this link to see PFF's 2020 NFL Draft grades for all 32 teams. And if you haven't already, be sure to pick up a copy of PFF's 2020 NFL Draft Guide by subscribing to PFF EDGE or ELITE.]
Excellent
Washington Redskins
Tennessee Titans
Jacksonville Jaguars
Carolina Panthers
Los Angeles Chargers
Arizona Cardinals
Above Average
Buffalo Bills
New York Jets
New England Patriots
New York Giants
Philadelphia Eagles
Tampa Bay Buccaneers
Denver Broncos
San Francisco 49ers
Los Angeles Rams
Pittsburgh Steelers
Green Bay Packers
Average
Miami Dolphins
Indianapolis Colts
Atlanta Falcons
Kansas City Chiefs
Cleveland Browns
Baltimore Ravens
Cincinnati Bengals
Chicago Bears
Below Average
Dallas Cowboys
Houston Texans
New Orleans Saints
Oakland Raiders
Detroit Lions
Minnesota Vikings
Going back through the draft classes, very few had large impacts on their respective franchises in Year 1. That's just how the draft goes. It's important to remember that when thinking about this upcoming season. The 2019 class is going to alter the outcomes of your franchise far more than the 2020 class. Let's dive a little deeper into the five best drafts, five drafts with considerably mixed results and five drafts that need to turn it around soon.
The Good
You don't need us to tell A.J. Brown (Pick: 51 | PFF Board: 20) is a stud. His 84 targets were the fewest for a 1,000-yard receiver since we started charting in 2006. I'd say maybe throw him the ball more next year. That's just me, though.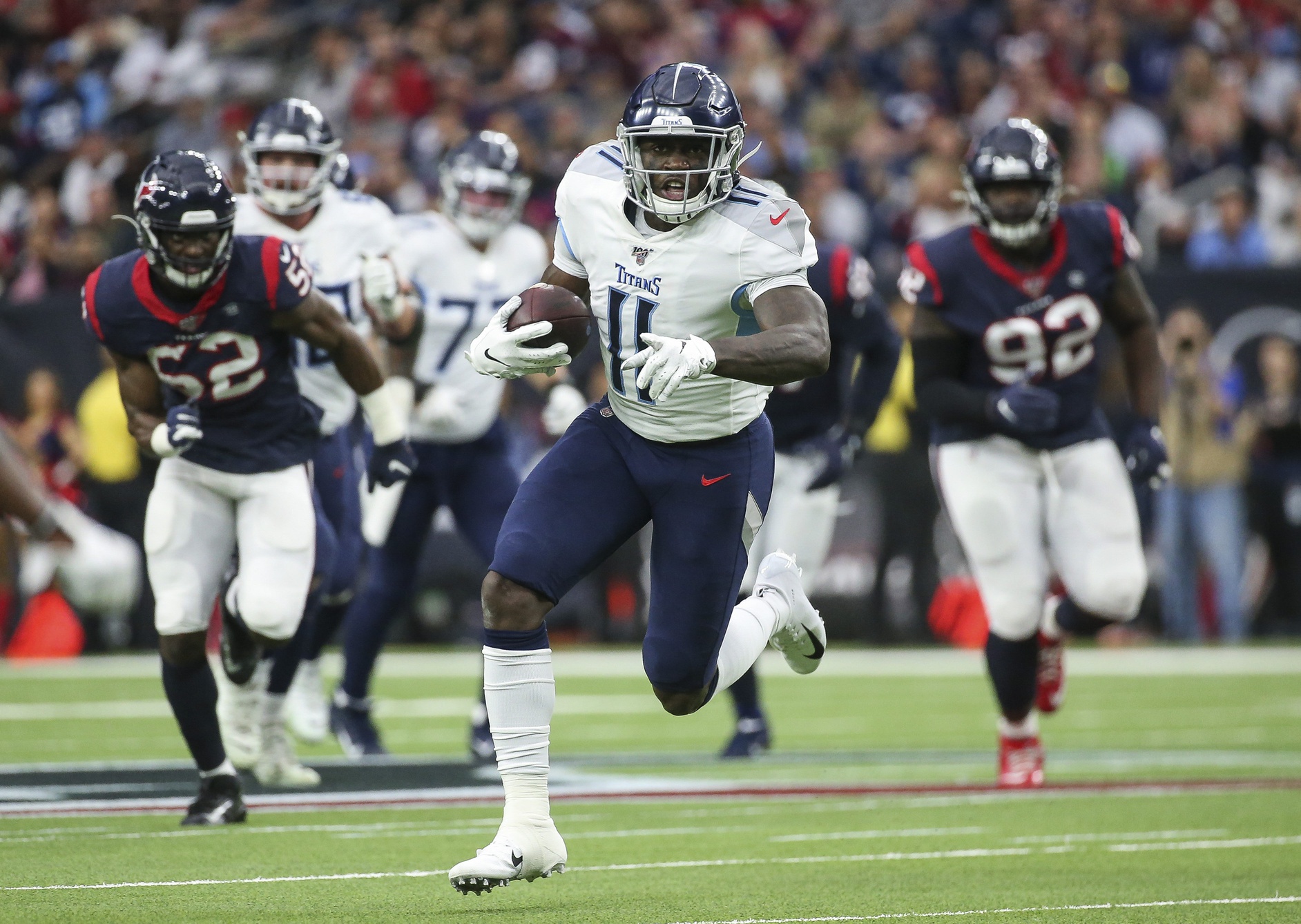 Taking Jeffery Simmons (Pick: 19 | PFF Board: 8) at 19 was an all-time ballsy call by general manager Jon Robinson, and early returns are that he made the right move. Simmons earned a 67.2 overall grade on 397 snaps after returning in Week 7 last year.
Down the draft a bit, safety Amani Hooker (Pick: 116 | PFF Board: 44) made a bit of an impact, as well. He earned a 63.1 coverage grade on 397 snaps in mostly dime packages as a rookie. The only thing holding his grade back was missed tackles, as he whiffed on five of his 18 attempts. We loved the Titans' draft at the time, and we love it even more now.
Josh Allen (Pick: 7 | PFF Board: 5) falling to No. 7 and Jawaan Taylor (Pick: 35 | PFF Board: 15) falling to the second round were picks we identified as having amazing value at the time — and neither disappointed as rookies. Allen earned a 70.2 pass-rushing grade with 12 sacks, 14 hits and 23 hurries. That was the second-best season of any edge rusher in the draft. Taylor was solid on the right side for the Jaguars with a 69.2 pass-blocking grade and 40 total pressures allowed on 735 pass-blocking snaps. Expect big things in the future from this duo.
The 49ers had easily the most impactful rookie class of any team in the NFL, and it's easy to see why. Nick Bosa (Pick: 2 | PFF Board: 2) broke the record for pressures in a season by a rookie with 80. Second-round pick Deebo Samuel (Pick: 36 | PFF Board: 52) led all wide receivers, not just rookies, with 18 broken tackles on 57 catches.
While they not only knocked it out of the park with their top two picks, they also hit on one of the steals of the draft. Fifth-round linebacker Dre Greenlaw (Pick: 148 | PFF Board: N/R) played 879 snaps including the postseason and earned a 72.6 coverage grade on the year.
Even with limited draft capital after having traded away their first-rounder for Frank Clark, the Chiefs still got absurd impact from their rookie class. We didn't see Mecole Hardman (Pick: 56 | PFF Board: 168) as much more than a jet-sweep/screen guy coming out, but he made a ton of explosive plays as a rookie and led the NFL in yards per target (13.5). Juan Thornhill (Pick: 63 | PFF Board: 58) looks like more of a steal after earning a 78.0 coverage grade on 996 snaps last year. Here's hoping for a speedy recovery for Thornhill from an ACL injury, as he looked like one of the best young safeties in the NFL last year.
The Saints are yet another team that didn't have a lot of picks but made them count. Erik McCoy (Pick: 48 | PFF Board: 80) earned the highest grade for a rookie center (78.0) since Nick Mangold came into the league in 2006. To get him in the second round was a massive win. Their next pick wasn't until the fourth round, but they once again made it count. Chauncey Gardner-Johnson (Pick: 105 | PFF Board: 49) was dubbed a steal at the time, and he made play after play as a rookie en route to a 70.8 overall grade manning mostly the slot for the Saints.
The Mixed Bags:
Terry McLaurin (Pick: 76 | PFF Board: 68) was easily one of the best value picks of the entire draft. He racked up 58 catches for 919 yards and seven scores as a rookie, culminating in an 86.5 receiving grade. Not bad for the 12th receiver off the board last year.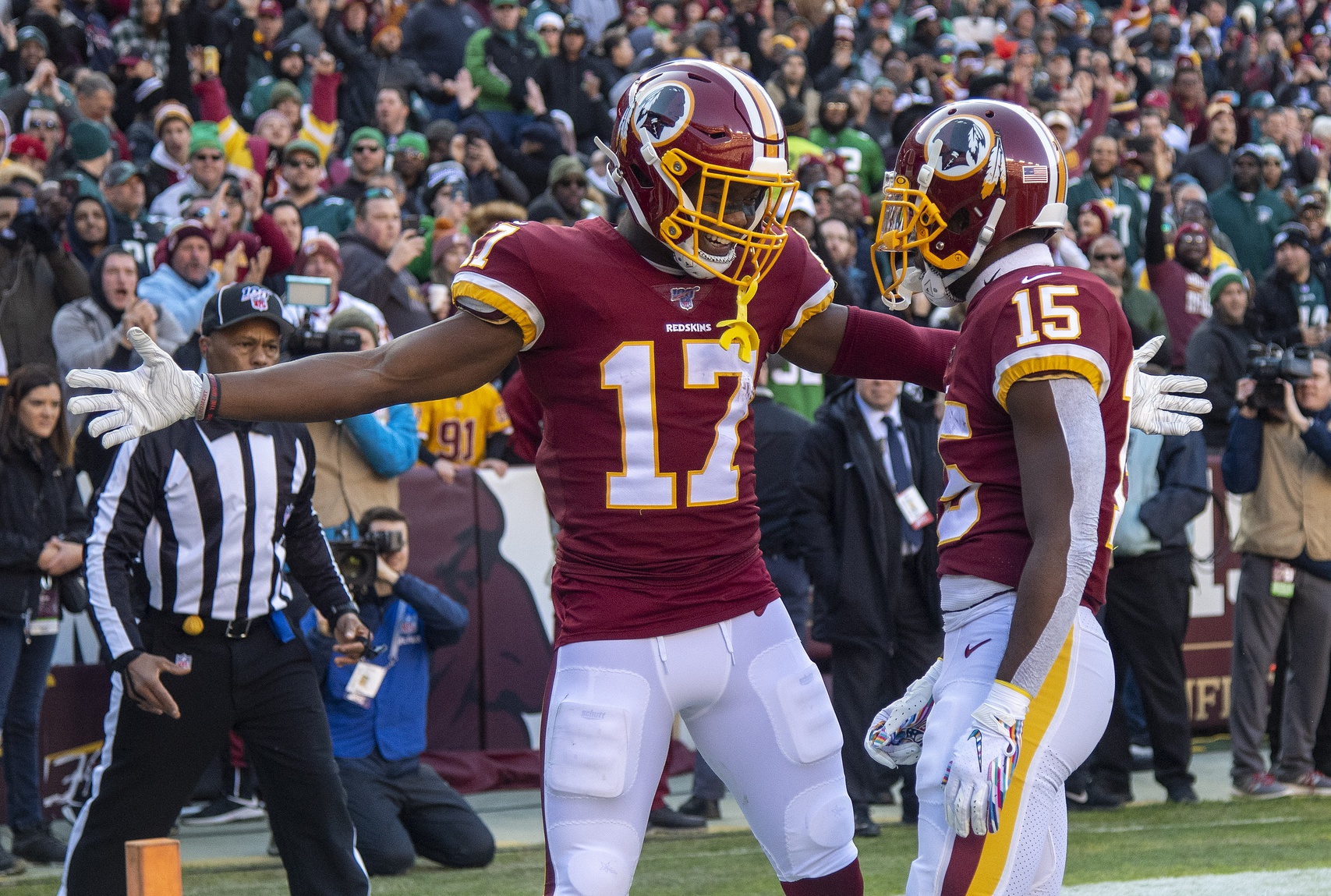 The first-rounders in Washington need to show us something in Year 2, though. Quarterback Dwayne Haskins (Pick: 15 | PFF Board: 10) had too bad a surrounding situation to properly evaluate him at this point and struggled to a 67.6 overall grade. The same can't really be said for Montez Sweat (Pick: 26 | PFF Board: 46), although he showed more flashes late in the season, earning multiple pressures in seven of his last eight games.
The thing about the Raiders' draft last year was that with far and away the most draft capital of any franchise in the league, they were always going to add talent. So far, though, they've gotten impact from one of three first-rounders — and that was from a running back. While Josh Jacobs' (Pick: 24 | PFF Board: 60) 86.9 rushing grade is terrific, it's not bringing much to the table from a value perspective.
This draft would look a lot more how you'd expect if you flipped the Raiders fourth-rounder and fourth overall pick. Maxx Crosby (Pick: 106 | PFF Board: 72) finished his rookie campaign with 45 pressures and a 67.3 pass-rushing grade while Clelin Ferrell (Pick: 4 | PFF Board: 35) managed 26 pressures and a 60.1 pass-rushing grade.
While we think the Broncos have a good one on their hands in second-rounder Dalton Risner (Pick: 41 | PFF Board: 19), who earned a 69.8 pass-blocking grade as a rookie, it remains to be seen how their other two top-50 picks pan out. Drew Lock (Pick: 42 | PFF Board: 37) has had an encouraging enough start to his career — so much so that John Elway hasn't shown any interest in addressing the position this offseason. His 57.6 overall grade is being dragged heavily down by a rough performance in a borderline blizzard against Kansas City.
Their first-rounder, Noah Fant (Pick: 20 | PFF Board: 43), showed explosive playmaking ability, but his hands and overall play were inconsistent. He finished with a 61.4 receiving grade on the year.
First-rounder Rashan Gary (Pick: 12 | PFF Board: 48) was a complete non-factor as a rookie. The 12th overall pick ended up seeing only 256 snaps and earned just a 55.8 overall grade. Their other first-rounder, Darnell Savage (Pick: 21 | PFF Board: 28), was a different story. He made his presence felt right out of the gate with multiple pass breakups and turnovers in the first few weeks. He finished the season with a 77.4 coverage grade.
The cream of the Packers' crop, though, might be second-rounder Elgton Jenkins (Pick: 44 | PFF Board: 26). He looked like a veteran from day one at left guard for the Packers. He finished with a 72.6 pass-blocking grade and didn't allow a sack all year.
The Bucs get a shoutout here for what looks like one of the biggest steals of the draft in cornerback Jamel Dean (Pick: 94 | PFF Board: 73). The third-rounder didn't see meaningful snaps until Week 9, but over the last eight games of the season, Dean racked up 10 pass breakups and two picks for a 78.9 coverage grade. He and second-rounder Sean Murphy-Bunting (Pick: 39 | PFF Board: 83) had very encouraging rookie seasons, as Murphy-Bunting earned a 66.4 overall grade on 686 snaps.
The jury is still out on top-five pick Devin White (Pick: 5 | PFF Board: 12), unfortunately. You could see the game moving far too fast for him early in the season, but he looked like a different player from Week 13 on. Over that span, he earned an 82.4 coverage grade and didn't allow more than 31 yards in a single game.
The Not So Good:
We're not writing off T.J. Hockenson (Pick: 8 | PFF Board: 21) by any means, but I'm sure Lions fans were hoping for a little more than 32 catches for 367 yards from a top-10 pick. The rookie learning curve for tight ends has been historically steep, though, so we'll see how he fares in Year 2.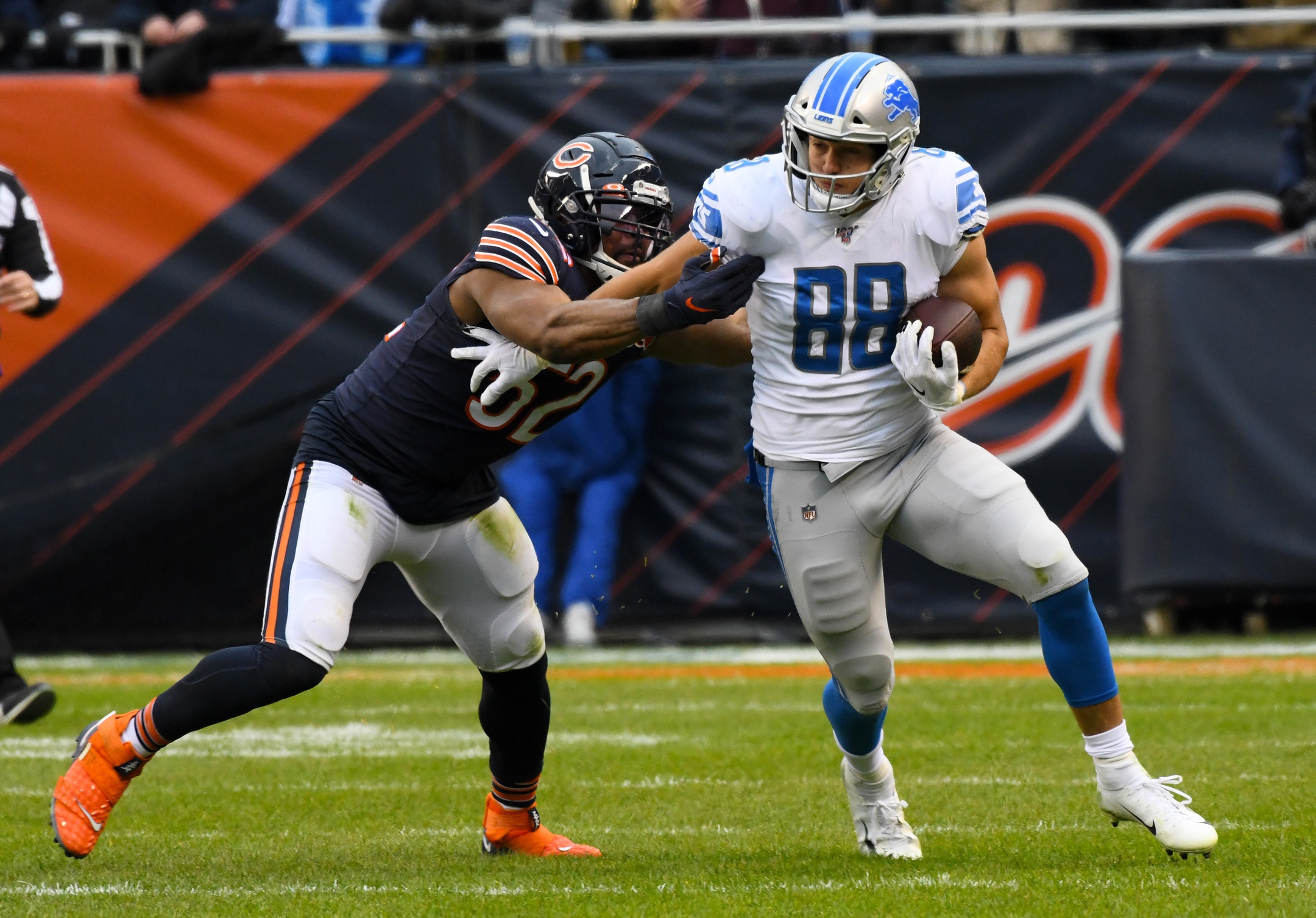 The more worrisome picks are on the defensive side of the ball. The Lions' next four picks were additions to their defense, and none of them were able to move the needle in Year 1. Linebacker Jahlani Tavai (Pick: 43 | PFF Board: 237) was a player we called one of the biggest reaches at the time, and the second-rounder earned a 60.5 overall grade as a rookie. Third-round safety Will Harris (Pick: 81 | PFF Board: 111) earned a 55.3 overall grade on 667 snaps. Finally, fourth- and fifth-rounders Austin Bryant (Pick: 117 | PFF Board: NR) and Amani Oruwariye (Pick: 146 | PFF Board: 36), respectively, combined for only 348 snaps on the year.
Without a first- or second-round pick, it was never going to be an impactful class for Chicago. Rookie running back David Montgomery (Pick: 73 | PFF Board: 79) struggled to generate big plays and had only two runs longer than 20 yards all season. He finished with 3.7 yards per carry and only 2.3 yards after contact per attempt. No other rookie played more than 115 snaps for the Bears.
First-round pick Jonah Williams (Pick: 11 | PFF Board: 4) going down for the season with a shoulder injury obviously torpedoed any impact this draft class was going to have, but the Bengals' second-round pick only compounded things. Tight end Drew Sample (Pick: 52 | PFF Board: 192) had only five catches for 30 yards while playing 108 snaps last year. Let's not even bring up Ryan Finley, you already know. It was ugly for the Bengals' rookies.
The Cowboys are certainly experiencing some buyer's remorse with second-rounder Trysten Hill (Pick: 58 | PFF Board: 144). On a defensive interior desperately in need of help, Hill could barely even see the field. He managed only 121 snaps and earned a 57.1 overall grade. Running back Tony Pollard was maybe this draft class' only saving grace. He earned an 84.2 rushing grade on 86 carries last year and proved the offense will be in good hands no matter who's at running back.
Second-rounder Nasir Adderley (Pick: 60 | PFF Board: 27) going on IR obviously put the impact this draft class could have behind the eight ball, but Jerry Tillery (Pick: 28 | PFF Board: 7) was among the least impactful rookies who actually saw serious playing time. On 354 snaps last season, he earned a disastrous 34.0 overall grade and looked wholly unready for the competition level.