[Editor's note: This article was originally published on March 22, 2017, and updated on April 25 to reflect PFF's final draft board.]
This running back class has long been touted as potentially the best group in the past decade or more. Even though a couple of bigger names returned to school instead of declaring for the draft, the sentiment still rings true, particularly with the class's depth. At the top of the class there are three highly productive players worthy of first-round draft picks. Beyond them, there are a plethora of players with varying skill-sets that can have impactful roles for teams into Day 3 of the draft.
[Editor's note: A player's ranking within the draft class for each particular category is noted in the corresponding box.]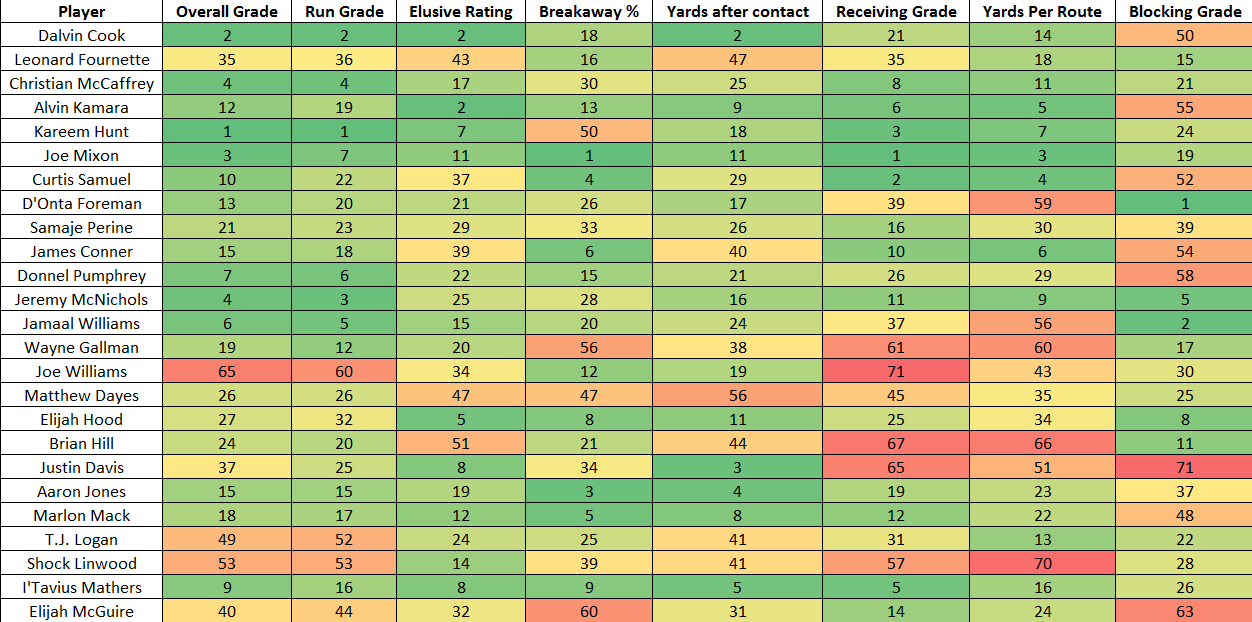 Rankings
1. Dalvin Cook, RB, Florida State
Cook has outstanding vision and patience to allow blocks to develop in zone-blocking schemes. His acceleration when he makes a decision is elite, and he is one of the best at making defenders miss. Cook is capable of overcoming poor blocking, and he led the nation with 99 total missed tackles forced last season. He needs to vastly improve his ball security and in pass protection, but his big-play ability outweighs those enough to keep the top spot.
Scouting report for former Florida State running back Dalvin Cook: https://t.co/09RS35QPgk

— PFF College (@PFF_College) February 23, 2017
2. Christian McCaffrey, RB, Stanford
As confirmed by his near-record-breaking performance in the 3-cone drill at the NFL Combine, McCaffrey possesses elite change-of-direction and acceleration skills, and can make cuts with little loss of speed. He shows good vision and patience as a runner, setting up his blocks before hitting gaps hard. His versatility as a receiver can create mismatches and will allow an offensive coordinator to be creative with personnel groupings and alignments. Some have concerns about whether he can handle a full workload, but after 745 total touches the past two seasons, he's proven that he can. If anything, the concern should be how big his workload was in college.
Christian McCaffrey outperforms the average RB in the draft class in every category covered by the spider chart:https://t.co/bk9Yxtzk1e

— PFF (@PFF) March 17, 2017
With Fournette's combination of size and speed, he is an athletic freak in many ways. His 2015 season remains one of our highest-graded among runners over the past three years. There are some small concerns, though, on how well he can create on his own if behind a bad offensive line, how much of an impact he can have in the passing game, and if the ankle injury was the only reason for his lessened effectiveness in 2016
"Leonard Fournette has a size-speed blend that doesn't come around often"

Scouting report:https://t.co/EVSqEfO2Q4

— PFF College (@PFF_College) March 2, 2017
There's no question that Mixon is a very talented football player. He outperformed his counterpart, Samaje Perine, this season as he pried playing time away. In addition to being a dynamic runner, Mixon also was a very productive receiver. Strictly on the field, he has the potential to be a No. 1 running back with a great combination of size and agility, and is worthy of a second-round draft pick. However, his assault charge in 2014 raises questions on whether he should be drafted at all.
5. Alvin Kamara, RB, Tennessee
Kamara doesn't have the season-long volume of production like the top three players, but in limited playing time, he performed just as well despite running behind one of the worst run-blocking units in the nation. Kamara is one of the most elusive backs in the draft, with 39 missed tackles forced on 143 touches in 2016. He needs improvement in pass protection, but he can make an immediate impact as a receiver out of the backfield.
"When Alvin Kamara was given the ball though, he was nothing short of electric."https://t.co/VSV5MctJxS

— PFF College (@PFF_College) March 7, 2017
Hunt has consistently produced over the past three years and is coming off easily his best season. He's smooth and quick in and out of cuts, and can string together moves as well as anyone. Toledo used him more in the passing game in his final year, showing that he can have a significant impact as a receiver, as well. Hunt is one of just three running backs in the draft class to force over 200 missed tackles from 2014 to 2016, including 98 in 2016 alone.
PFF scouting report for Toledo RB Kareem Hunt. https://t.co/HxZc2kRCN0

— PFF College (@PFF_College) March 18, 2017
7. Curtis Samuel, RB, Ohio State
Samuel is one of the most unique skill players in the draft, with the versatility to make an impact when lined up at either running back or wide receiver. Some believe that he will be a wide receiver in the NFL, and he very well may end up there. But he will need more polishing as a route-runner, etc., as a receiver before he can play there exclusively, and using him in a Percy Harvin-like role may get the most out of him as a player.
"No need to get creative for Curtis Samuel to be productive. Hand him the ball, throw it to him. He's going to win matchups."@PFF_Matt pic.twitter.com/O0dNEB5M1C

— PFF College (@PFF_College) February 19, 2017
Foreman is a big back coming off a highly productive season for Texas. Despite his size, he moves well laterally and has a finesse-runner feel to his game. He has the size and strength to move piles and run through defenders, but needs to be more consistent in being the hammer, and not just absorbing contact. His lack of experience in the passing game may limit him to an early-down role, but Foreman has proven that he can be an effective runner.
Texas RB D'Onta Foreman created 64 missed tackles as a runner, which was fourth-most in the draft class in 2016.https://t.co/YucL4frqIr

— PFF College (@PFF_College) March 16, 2017
9. Samaje Perine, RB, Oklahoma
Perine has seemingly become the forgotten player after being surpassed by Mixon in Oklahoma's offense, but his lesser role should not be indicative of what kind of impact he could have in the NFL. Perine is a big, physical back that shows impressive balance through contact. He's most effective as a downhill runner, and while he could handle a full workload, he's probably best suited as a power back that is paired with a more dynamic player to handle part of the workload and passing situations.
Williams is a physical, aggressive runner who plays bigger than the 212 pounds he weighed at the combine. He gains more yards after contact than other backs his size, and utilizes stiff arms and spin moves to extend runs. He may not have the speed to turn as many runs into long ones as he did in college, but is a solid rusher capable of running inside and gaining more than what his offensive line provides.
11. Jeremy McNichols, RB, Boise State
McNichols has experience in both zone- and gap-blocking schemes, though the latter may be a better fit. He had a below-average line in 2016, and sometimes cut away from the intended point of attack before it was necessary as if he wasn't trusting his blockers. McNichols has good balance through contact and plays bigger than his size at times. He may fit the definition of "jack of all trades, master of none" more than any other back in the draft class. He was an above-average receiver out of the backfield, and that may be where he contributes most in the NFL early on.
12. Marlon Mack, RB, South Florida
Mack is one of the most athletically talented running backs in the draft class and always a threat for a big play. He gained 52 percent of his rushing yards on his 15 runs of 15-plus yards, the fourth-highest breakaway percentage in the draft class. He has issues with bouncing runs and fumbling too often, but if he can curb those bad habits, he could turn out as one of the best backs in the draft class.
13. James Conner, RB, Pittsburgh
Conner has faced a massive amount of adversity the past year and a half, having overcome both a knee injury and Hodgkin's lymphoma, which forced him to miss nearly all of the 2015 season. In his first season back, he understandably did not match his previous level of performance, but did still have a good season, and improved as the year progressed. Back in 2014, Conner was PFF's third-highest-graded runner, behind only Ezekiel Elliott and Melvin Gordon. If he can get back to that level, the big, yet quick-footed, running back could be a sleeper in this draft class.
14. Wayne Gallman, RB, Clemson
Gallman's skill-set fit well in Clemson's spread offense. He has a nice jump cut and shows the ability to quickly plant and get vertical, which ideally suits him for a zone-blocking scheme. He broke a lot of tackle attempts from defensive backs in college. Gallman is inconsistent in how much he gains on final contact, and there were times where he would get stonewalled at first contact by linebackers due to high pad level. While he is sufficient as a receiver, his pass protection is a concern, likely leaving him relegated to a backup role in the NFL.
15. Donnel Pumphrey, RB, San Diego State
It's not often that 5-foot-8, sub-180-pound running backs make an impact in the NFL, but Pumphrey could very well be that exception. He became the all-time rushing leader in FBS last season, and he's done so in a "pro-style" offense that is more "pro-style" than some NFL teams anymore. He's never going to get a lot of yards after contact, but he will be able to find and hit holes as an inside runner that bigger backs just cannot. If utilized correctly, he can have an effective role in many offenses.
"I don't care that SDSU RB Donnel Pumphrey only weighs 169 pounds. He can run between the tackles, I want him on my team." – @PFF_Jordan pic.twitter.com/drBfhwxC9h

— PFF College (@PFF_College) February 10, 2017
16. Elijah Hood, RB, North Carolina
Hood wasn't quite as impressive in 2016 as he was in the year before when he ranked second in this draft class with an average of 4.1 yards after contact, but he still had some impressive runs in 2016. His 19 runs of 15-plus yards were both more and a higher percentage of his total runs than speedster teammate T.J. Logan. He's as fluid as some other big backs, but he remains one of the best in gaining yards through contact.
Hill is on the bigger side of the size spectrum and is more likely to break tackles than make defenders miss. That didn't prevent him from making big plays, though, as his 30 breakaway runs were third-most in the draft class. He doesn't have a lot of experience as a receiver and his struggles in pass protection may limit him to an early-down player, at least initially.
18. T.J. Logan, RB, North Carolina
Logan is one of the speedier running backs in the draft class and forced 26 missed tackles as a runner in 2016. Logan can also be used effectively in the passing game and his 1.63 yards per route run ranks No. 11 among running backs in the draft class. Logan can also use his speed to make an impact on special teams where he returned 2 kickoffs for TDs in 2016.
19. Matthew Dayes, RB, North Carolina State
Dayes has excellent acceleration and change-of-direction skills. Those, coupled with his vision, make him an excellent zone runner. Days forced 41 missed tackles as a runner in 2016.
Williams has the type of speed that lets him run away from defenders for long gains if given a crease. Williams' 22 runs of 15-plus yards were 10th-most in 2016.
Class superlatives
Best in space: Christian McCaffrey, Stanford
McCaffrey's vision and change-of-direction ability are second to none when he gets in the open field, and he utilizes those traits to make defenders miss and break pursuit angles. Over the past two seasons, McCaffrey recorded an offensive play of at least 25 yards in 19 of 24 games.
Best receiver: Curtis Samuel, Ohio State
There's a lot of competition for this spot, but Samuel edges out the others due to his versatility as a receiver both out of the backfield and when lined up as a WR. His 2.76 receiving yards per route run ranked second in the draft class.
Best in power scheme: Leonard Fournette, LSU
LSU didn't run a lot of power or counter blocking schemes, but Fournette's skill-set fits much better in a scheme where he can run downhill early without having to read as many blocks and better utilize his speed and size combination.
Best in zone scheme: Dalvin Cook, Florida State
Once again, there's significant competition for the spot, but Cook's balance of patience and decisiveness is outstanding. That, coupled with his elite acceleration, makes him the perfect fit for a heavy zone-blocking team.
For more positional prospect rankings and statistics, access PFF Draft Pass today.
Position ranks: QB | RB | WR | TE | OT | OG | C | EDGE | DT | LB | CB | S