[Editor's note: This article was originally published on March 31, 2017, and updated on April 26 to reflect PFF's final draft board.]
This year's linebacker class is very top-heavy, as there will be as many as four selected in the first round. Beyond the top tier there is a significant dropoff, as there are really questions as to the every-down viability of the rest of the class. This being said, the class has a good mix of strong run defenders and skilled coverage players, meaning teams should find plenty of value with Day 3 targets.
[Editor's note: A player's ranking within the draft class for each particular category is noted in the corresponding box.]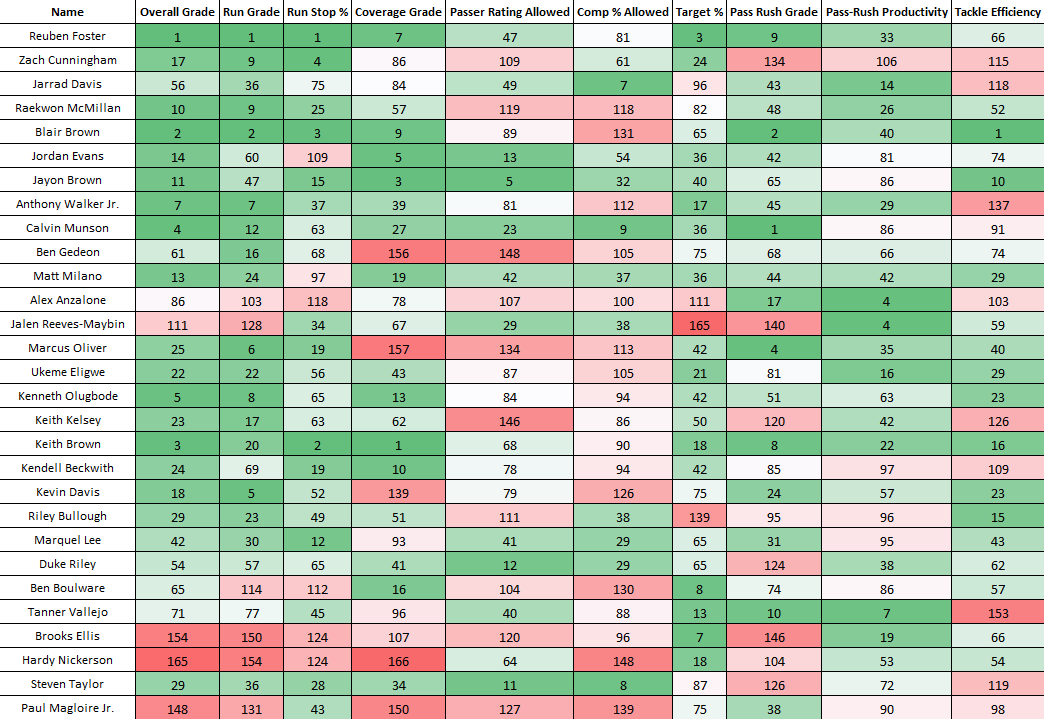 Rankings
Foster's all-around athleticism is complemented nicely by his instincts, both against the run and pass. He led the country in run-stop percentage in 2016, making 52 run stops while missing just five tackles. Also a strong player in coverage, he gave up an average of just 6.6 yards per catch last season. Foster of course made headlines by being kicked out of the combine after an argument with a hospital worker during medical checks, which will likely make his off-the-field issues the biggest concern about him for many teams. Those issues aside, he is a complete player and could still be selected in the top 10.
Reuben Foster Led all FBS linebackers in run-stop percentage in the 2016 season.https://t.co/tsD4vxMDgv

— PFF College (@PFF_College) March 17, 2017
2. Zach Cunningham, LB, Vanderbilt
Cunningham has the combination of athleticism, size, and physicality needed to be an excellent every-down linebacker in the NFL. He excels at taking on blocks, and finished fourth among all FBS inside linebackers in 2016 in run-stop percentage despite missing 13 tackles. He also displays impressive skills in man coverage, as he has the speed and strength to stay on the hip of tight ends even on downfield routes. He should also be selected before the end of Day 1.
"Outstanding thumper that loves taking on and destroying blocks from linemen"

Zach Cunningham profilehttps://t.co/KUiEvQ2BkO

— PFF College (@PFF_College) March 5, 2017
Davis created quite the buzz earlier this week by running a 4.56 40-yard dash and jumping a 38.5-inch vertical at his pro day. This athleticism shows up frequently on film, as he is an explosive player in all phases. His biggest issue is tackling, as he tends to play out of control and miss too often, as represented by his ranking of 209 in tackling efficiency among FBS inside linebackers in 2016. His inconsistencies put his value on day two, but because of his athleticism he could very well hear his name called toward the end of the first round.
PFF scouting report for Florida ILB Jarrad Davishttps://t.co/xy5YOrHtHa

— PFF College (@PFF_College) March 9, 2017
4. Raekwon McMillan, LB, Ohio State
Running a 4.61 40 at the combine was critical for McMillan, because his play in coverage at Ohio State is likely to leave some NFL teams worried about his viability on third down. He finished his college career in style with 25 stops in his last four games, and is a very good tackler who consistently wraps up. While some teams may like his leadership and production enough to take him early on Day 2, his average change of direction and playing speed, combined with his struggles against blocks, suggests he is a better value toward the end of Day 2 in the third round.
What are the strengths and weaknesses of Ohio State's Raekwon McMillan in the draft? https://t.co/EcZ1Dr5j7X

— PFF College (@PFF_College) February 25, 2017
Brown is an outstanding tackler who consistently defeats blocks despite his size because of his instincts. He consistently blows run plays up because of his ability to read blocks and beat them to the point of attack; that ability reflected in the fact he finished third among FBS inside linebackers last season in run-stop percentage. While his short-area quickness and aggressiveness serve him well against the run, his speed and size issues are very apparent in coverage. While he is likely a two-down run defender at the next level, he is still worth an early Day 3 pick because he is so proficient against the run, and his competitiveness suggests that he can develop into a top contributor on special teams as well.
6. Kenneth Olugbode, LB, Colordao
Olugbode broke out in 2016 to finish fifth overall among the nation's linebackers with an 88.1 overall grade. He flies to the ball in the run game and shows good range in zone coverage, and he should at least compete for snaps in sub-package sets at the next level.
Evans is a frustrating player to watch on film because he is an excellent athlete but doesn't finish nearly enough plays because he lacks physicality. He is frequently in position to make plays because he uses leverage well to defeat blockers and can win with speed, but he missed 12 tackles last season and finished just 108th in tackling efficiency at the position. His athleticism serves him well in coverage, which will likely be his primary responsibility at the next level.
At 6-foot-0 and 231 pounds, Brown lacks the size to consistently hold up against blockers at the next level, but he plays at a high speed in all phases (despite what his average 4.70 40 time suggests) and was a very productive player at UCLA. Last season, he did not give up a touchdown while picking off three passes and breaking up another three. While there is cause for concern on whether his game can translate on first and second down, his strong play in coverage should be highly valued considering today's game.
UCLA LB Jayon Brown "has the fluid athleticism of a safety in coverage…can transition effectively with burst."https://t.co/4wmdTJO2gl

— PFF College (@PFF_College) March 29, 2017
9. Anthony Walker Jr., LB, Northwestern
Walker isn't afraid to get physical with blockers and is capable of winning at the line of scrimmage, but his tackling leaves something to be desired. He missed 53 tackles over the past three seasons, and despite his solid all-around athleticism, was also not an effective player in coverage. His athletic and strength profile suggests he could develop into an effective player at the next level, but there are too many flaws in his game to warrant a high selection.
10. Dylan Cole, LB, Missouri State
Cole's athleticism, in particular his change of direction and acceleration, is impressive, but his lack of physicality and tendency to want to retreat or run around blocks is scary. At his pro day, he had a vertical jump of 39 inches, ran his 40 in the 4.55 range and put up 32 reps on the bench. If he learns how to translate that strength to his football game he clearly has the goods to start in any scheme.
11. Tanner Vallejo, LB, Boise State
It's been an odd career path for Vallejo, who showed great potential in 2014 with a 93.1 overall grade that ranked second in the nation. He played through injury, perhaps hurting his production, but there's plenty of intrigue if he can cut down on his 28 missed tackles from the last two seasons.
Gedeon tested well at the combine, but does not show the same athleticism on film. 30 of 37 balls thrown into his coverage between 2014 and 2016 were completed, and he failed to successfully defend any of them. He can be a solid contributor in the run game because of his willingness to take on blockers and ability to stay square to the point of attack. He should also be able to help on special teams.
13. Alex Anzalone, LB, Florida
Anzalone is a good athlete, but is too easily controlled by blockers at all levels. He also tends to stop his feet and miss tackles; he finished just 240th in tackling efficiency among FBS inside linebackers last season.
14. Jalen Reeves-Maybin, LB, Tennessee
Reeves-Maybin managed just 114 snaps in 2016 due to injury, but had a strong 2015 campaign in run support. despite missing 17 tackles, he racked up 55 total defensive stops, also adding six sack and five QB hits on pass-rushes.
15. Calvin Munson, LB, San Diego State
He can time blitzes well and work off stunts effectively, which led to him posting 24 sacks over the past three seasons at San Diego State.
Linebacker class superlatives
Best run defender: Reuben Foster, Alabama
While there are a number of outstanding run defenders in this class, Foster's combination of run-stop percentage and tackling efficiency put him at the top of the class in this skill. While not as physical against blockers as some of the other prospects, his instincts and burst allow him to consistently win one-on-one matchups and make plays in the backfield.
Best thumper: Zach Cunningham, Vanderbilt
Cunningham has an innate ability to take on and shed blockers at the line of scrimmage, and does so quickly enough to consistently make defensive stops. Few inside linebackers prospects since Brandon Spikes have had his level of competence in this skill.
Best tackler: Blair Brown, Ohio
Brown's consistent base and ability to stay square to his targets make him an excellent tackler. He missed just three total tackles in 2016, and led the country in tackling efficiency.
Best in coverage: Jayon Brown, UCLA
Brown has the movement skills and instincts of a safety on the back end, which could make him a high priority early on Day 3. His 50.4 QB rating against was best in the country last season among inside linebackers that were targeted at least 25 times.
Best pass-rusher: Reuben Foster, Alabama
His pass-rush production is the cherry on top. His athleticism and anticipation makes it difficult for blockers to get properly set for his attacks; on 93 pass-rushes in 2016, he posted an impressive 20 pressures.