For 14 straight years, the SEC has reigned supreme when it comes to the NFL draft. That dominance has shown in the past two years, with 127 players selected compared to just 88 from the second-place Big Ten.
With the 2021 NFL Draft just a few months away, players hailing from the SEC will be looking to extend that streak to a 15th year while those from the Big Ten and ACC will be vying for the top spot.
We will not definitively know which conference will be king of this year's draft until May and beyond, but by using PFF's Timo Riske's four-year WAR projections for PFF's top 250 prospects, we can get a pretty good idea of which conference will outshine the rest in this year's draft.
Subscribe to
1. SEC
Total four-year projected WAR: 16.2
No. of prospects in top 250: 61
Top prospect: WR Ja'Marr Chase, LSU (No. 5 on PFF's big board)
Fifteen straight here they come.
The sheer number of prospects puts the SEC above and beyond the rest of the conferences. If you combine the projected four-year WAR among the 250 prospects from the entire Group of 5, Pac 12 and Big 12, the SEC still comes out on top (16.2 to 15.9). To put it even further into perspective, the SEC has more prospects in the top 100 than the Big 12 has ranked in the top 250 (25 to 24). 
Alabama leads the way (again) with 12 prospects in the top 250. The program is represented by another group of dynamic receivers in Jaylen Waddle (No. 7) and Heisman Trophy winner DeVonta Smith (No. 8) while being anchored by the dynamic defensive duo of Christian Barmore (No. 14) Patrick Surtain II (No. 16). 
Most 20+ yards TD catches over the past two seasons:

14 Ja'Marr Chase*
13 Dyami Brown
13 DeVonta Smith

*Didn't play a snap in 2020 pic.twitter.com/nSUvd1yCI7

— PFF Draft (@PFF_College) February 12, 2021
The SEC's talent does not just start and end with Alabama, however, as LSU's Ja'Marr Chase is arguably the best receiver prospect in the draft. He has the physicality and release package needed to handle press coverage right away in the NFL, and he still ranks second among Power 5 receivers in 15-plus-yard receptions against press coverage since 2019 (28) despite not playing a single snap last year.
Chase is joined by Florida's tight end/receiver hybrid Kyle Pitts, the No. 9 overall prospect and highest-graded player in college football last season (96.2). 
The SEC has the best top-to-bottom draft class, and it's not really close — it heralds a top-five player at almost every position on offense and defense. The lone positions without an SEC representative are safety and tackle.
2. ACC
Total four-year projected WAR: 11.3
No. of prospects in the top 250: 41
Top prospect: QB Trevor Lawrence, Clemson (No. 1 on PFF's big board)
Having the almost-guaranteed No. 1 overall pick and best quarterback prospect since Andrew Luck is a sure-fire way to secure your conference as one of the top two best draft classes. According to Riske's model, Trevor Lawrence at No. 1 has the highest projected WAR, and he is one of four prospects who carry a WAR projection over 1.0 (1.13). 
The ACC has another 40 prospects who help bring this class to the No. 2 spot on this list. Caleb Farley, PFF's top-ranked corner in the draft, may have opted out of the 2020 season, but only after an elite showing in 2019. He allowed the fewest receptions (18) among corners with 50-plus targets and allowed the lowest passer rating among Power 5 corners who saw the same number of targets. 
Farley is joined by teammate Christian Darrisaw inside the top 15 prospects. Darrisaw put up a ridiculous 95.6 PFF grade in 2020, the highest among Power 5 tackles, allowing zero sacks on 259 pass-blocking snaps. 
He's also not a bad run-blocker. 
Christian Darrisaw is a BULLY.

Highest-graded run-blocker at OT???? pic.twitter.com/0OEujcdppS

— PFF Draft (@PFF_College) January 19, 2021
Gregory Rousseau (23rd on PFF's big board) and Jaelan Phillips (28th) unfortunately never got to see the field together, but the duo earns top-25 nods on the big board while Asante Samuel Jr. (29th), Carlos Basham Jr. (38th) and Lawrence's favorite weapon Travis Etienne (39th) round out the top 40 prospects for the ACC.
3. Big Ten
Total four-year projected WAR: 10.7
No. of prospects in the top 250: 37
Top prospect: QB Justin Fields, Ohio State (No. 3 on PFF's big board)
Outside of the SEC, no other conference has more players ranked in the top 20 than the Big Ten (6). Leading the top-heavy conference is quarterback Justin Fields, who is projected to land in the top five in this year's draft.
The Ohio State quarterback has been one of the most accurate quarterbacks in college football during his two-year career at Ohio State. Since 2019, he has earned a 93.6 passing grade, third among quarterbacks over that span, to go with only 18 turnover-worthy plays, the second-fewest among signal-callers with 600-plus pass attempts. He also ranks just behind Mac Jones among draft-eligible quarterbacks in accurate-pass rate since 2019 (63.4%).
Fields is joined by 10 more of his Ohio State teammates who rank inside the top 250. The Buckeyes' draft presence after Fields stretches from offensive lineman Wyatt Davis at No. 35 to Tuf Borland at No. 246. Ohio State combines for over a quarter of the projected WAR for the Big Ten (2.96 projected WAR).
Ohio State aside, the Big Ten has some other impressive representatives, starting with projected top-10 pick Micah Parsons and edge rushers Kwity Paye and Jayson Oweh. Parsons earned the second-highest run-defense grade we had ever given in 2019 (94.8) while also finishing with the country's third-highest tackling grade (90.0). Paye and Oweh combined for 110 pressures over the last two years, with both earning pass-rush grades above 85.0.
Headlining the offense is a pair of elite receiver talents Rashod Bateman (No. 18) and Rondale Moore (No. 21). Moore set a Power 5 record for total broken tackles after the catch with 37 in his freshman season in 2018. Bateman ranks behind only DeVonta Smith in yards per route run since 2019 (3.47) and leads college football in 10-plus-yard receptions in that same span (46).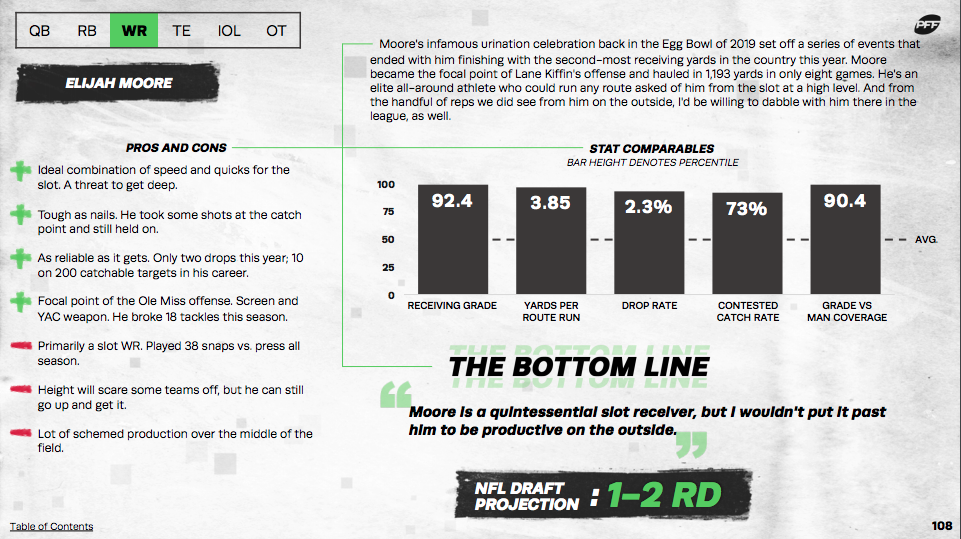 4. Pac 12
Total four-year WAR projection: 5.7
No. of prospects in top 250: 27
Top prospect: T Penei Sewell, Oregon (No. 3 on PFF's big board)
The Pac-12's draft depth took a bit of a dip this year compared to past seasons. Being one of the two Power 5 conferences to cancel football (then to later go back on that decision), the Pac-12 saw players opt out of the 2020 season due to the cancellation.
No opt-out was bigger than that of the top tackle prospect in this year's draft, Penei Sewell. Largely projected as a generational talent at the tackle position, he proved that in his 2019 campaign by not allowing a single sack on 472 pass-blocking snaps and recording the highest PFF grade by any player (95.8).
Sewell is backed up by two more high-ranking tackles Alijah Vera-Tucker (30th on PFF's board) and Walker Little (40th). The Pac-12 has a distinct lack of top-tier skill players in this year's draft, with the conference's first coming at No. 98 with UCLA running back Demetric Felton and then at No. 100 with USC wide receiver Amon-Ra St. Brown.
(Demetric Felton is a RB)

— PFF Draft (@PFF_College) January 27, 2021
The Pac-12's chance at a draft reemergence might be on hold until next season where USC quarterback Kedon Slovis has a shot at being one of the top picks.
5. Big 12
Total four-year projected WAR: 4.7
No. of prospects in the top 250: 24
Top prospect: S Trevon Moehrig, TCU (No. 17 on PFF's big board)
Only 67 Big 12 players have been selected in the NFL draft over the last three years. The SEC alone had 63 in 2020.
That relative lack of top-draw talent compared to the other conferences has been evident for a few years now, and this year's draft class seems to be following a similar trend. The Big 12 is the lone Power 5 conference to not have a prospect in the top 15 on PFF's big board, while the others all have a player in the top five.
The class is headlined by the 17th overall prospect and Jim Thorpe Award winner Trevon Moehrig. The safety out of TCU is a football magnet and is not afraid to use all of his 6-foot-2, 202-pound frame to lay out an opposing player. Moehrig forced 22 incompletions since 2019 (first among all safeties) and also recorded the highest coverage grade among FBS safeties (92.2) during that same span.
Trevon Moehrig and Ar'Darius Washington ready to take the league by storm pic.twitter.com/XlZSxQcWAb

— PFF Draft (@PFF_College) February 22, 2021
Offensive linemen Teven Jenkins (No. 26) and Samuel Cosmi (No. 36) are joined by Moehrig's safety counterpart Ar'Darius Washington (No. 42) in rounding out the remainder of the top 50 prospects for the Big 12.