Name: Mitchell Trubisky
School: North Carolina
Position fit: Starting QB
Stats to know: Adjusted completion percentage when pressured was 66.7 percent, tied for No. 1 in the draft class among quarterbacks with at least 80 attempts
What he does best:
Compact, accurate, quick arm with a three-quarters release. Quick release allows him to get rid of the ball even when under heavy pressure.
Polished passer with consistent footwork and mechanics.
Athletic within and outside the pocket. Very accurate throwing on the move.
Anticipates well on timing routes as well as windows in zone coverage.
Quick-minded and reacts quickly from the time he sees it to time of release.
Discipline with his reads and shows ability to scan the field in full field progressions.
Natural feel and instincts in the pocket.
Consistently accurate ball placement in the short passing game maximizing catch and run opportunities.
Has the arm to drive the ball outside the numbers. Consistently hits the "cover-2" hole in between the cornerback and the safety, much more often than most college quarterbacks.
Values the ball and is a good decision maker.
Biggest concerns:
One-year starter with limited amount of game tape.
Inconsistent deep ball touch. Ball hangs and forces receivers to adjust too often.
Poor blitz recognition at times leaving him surprised where defenders are coming from post snap.
Feet/mind can start to move too quickly under pressure leading to inaccuracies.
Can get stuck on the spot in the pocket with feet bouncing instead of pushing up in the pocket.
Will overstride getting too long resulting in lost power at times when needing to drive the ball downfield.
Bottom line
Despite being a one-year starter, Trubisky is very polished as a passer playing with good balance and consistent mechanics, which leads him to throw with great accuracy in the short/intermediate passing game. Although he comes from a version of the spread in his college offense, he was asked to do many full field progressions and showed he can click from receiver to receiver quickly and efficiently. Has very good pocket instincts and ability to keep eye level up to see receivers down the field while moving within the pocket. His three-quarters release may lead to more batted balls at the LOS but is likely not a huge issue at the next level. Will need to work on hitting his deep shots with more consistent accuracy to keep defenses from sitting at the break point. Shows all of the tools to develop into a very solid NFL starting quarterback and appears to be the safest option of the 2017 quarterback draft class.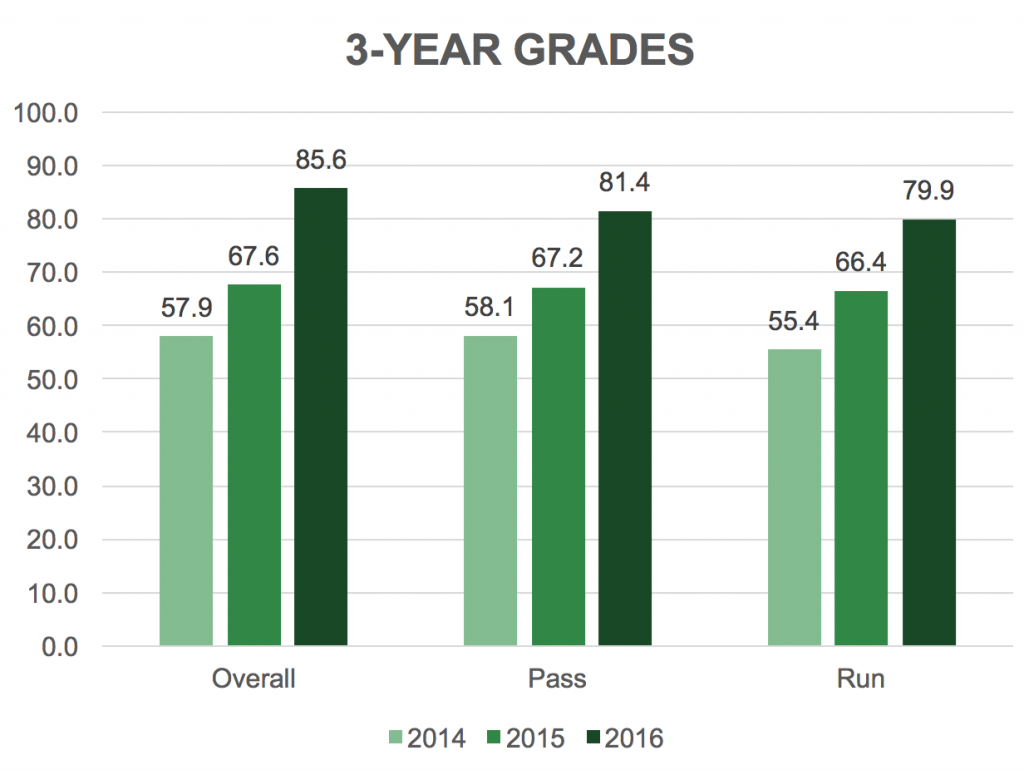 | | | | | | | | |
| --- | --- | --- | --- | --- | --- | --- | --- |
| | Att | Comp | Comp% | Yards | Yds/Att | TD | INT |
| Three Year Stats | 574 | 388 | 67.6% | 4781 | 8.3 | 41 | 10 |
| 2016 | 449 | 306 | 68.2% | 3767 | 8.4 | 30 | 6 |
| 2015 | 47 | 40 | 85.1% | 555 | 11.8 | 6 | 0 |
| 2014 | 78 | 42 | 53.8% | 459 | 5.9 | 5 | 4 |
| | | |
| --- | --- | --- |
| Advanced Stats | Stat | Rank |
| Adjusted Comp % | 75.1% | 8 |
| Adj Comp % vs. Pressure | 66.7% | 5 |
| Adj Comp % vs. Blitz | 76.9% | 3 |
| Deep Pass Adj Comp % | 42.3% | 18 |
| % Rollout Passes | 5.8% | 31 |
| % Scramble Passes | 6.6% | 32 |
| Drop Rate | 4.6% | 40 |
| Average Depth of Target | 9.9 | 23 |
| 1-5 Yd Adj Comp % | 87.7% | 10 |
| 6-10 Yd Adj Comp % | 73.6% | 18 |
| 11-20 Yd Adj Comp % | 68.3% | 6 |
| 21-30 Yd Adj Comp % | 46.7% | 17 |
| 31-40 Yd Adj Comp % | 30.8% | 32 |
| 40+ Yd Adj Comp % | 53.3% | 12 |