Now just days away from the start of the 2019 college football season, I've listed my top-five 2020 NFL Draft prospects at every position. Enjoy!

[Editor's note: PFF's Preseason 2020 NFL Draft Guide is LIVE and features 150 Two-Page Player Profiles, giving you advanced stats, game grades and much, much more. All existing EDGE and ELITE subscribers have access to the guide and can download it here.]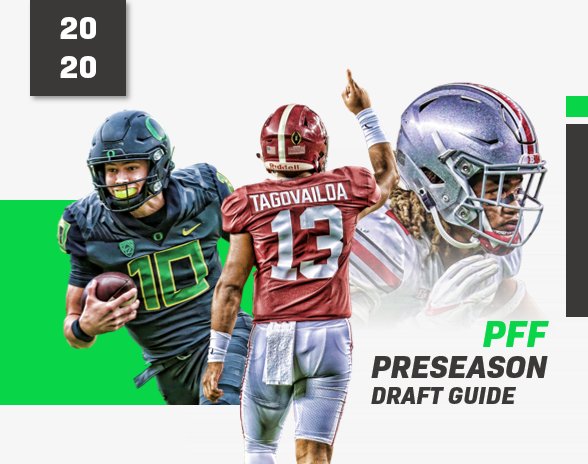 Quarterback
1. Tua Tagovailoa, Alabama
Tua already has accuracy, pocket presence and anticipation that is well beyond his years. His bad play down the stretch gets a tad overblown because it came on the biggest stage, but we'd still like to see those issues not show up in 2019.
2. Justin Herbert, Oregon
Herbert has all the arm talent in the world. He makes some throws down the field that only a handful of guys in the NFL could make. The disappearing acts were far too prevalent, though, and likely the reason he returned for his senior year.
3. KJ Costello, Stanford
Costello's ability to throw with anticipation and give his receivers a chance to make plays down the field are great skills to have when projecting to the NFL. He offers nothing as a runner, though, or outside the pocket.
4. Jake Fromm, Georgia
From has shown such an advanced command of the Georgia offense in his two years. His lack of high-end traits and dominant play, however, are concerning.
5. Mason Fine, North Texas
Fine may be small, but the ball flies out of his hand regardless. He's seen a distinct upward trajectory to his career but still needs to clean up some more things. Fine can get sloppy with his throwing motion and ball discipline in the pocket.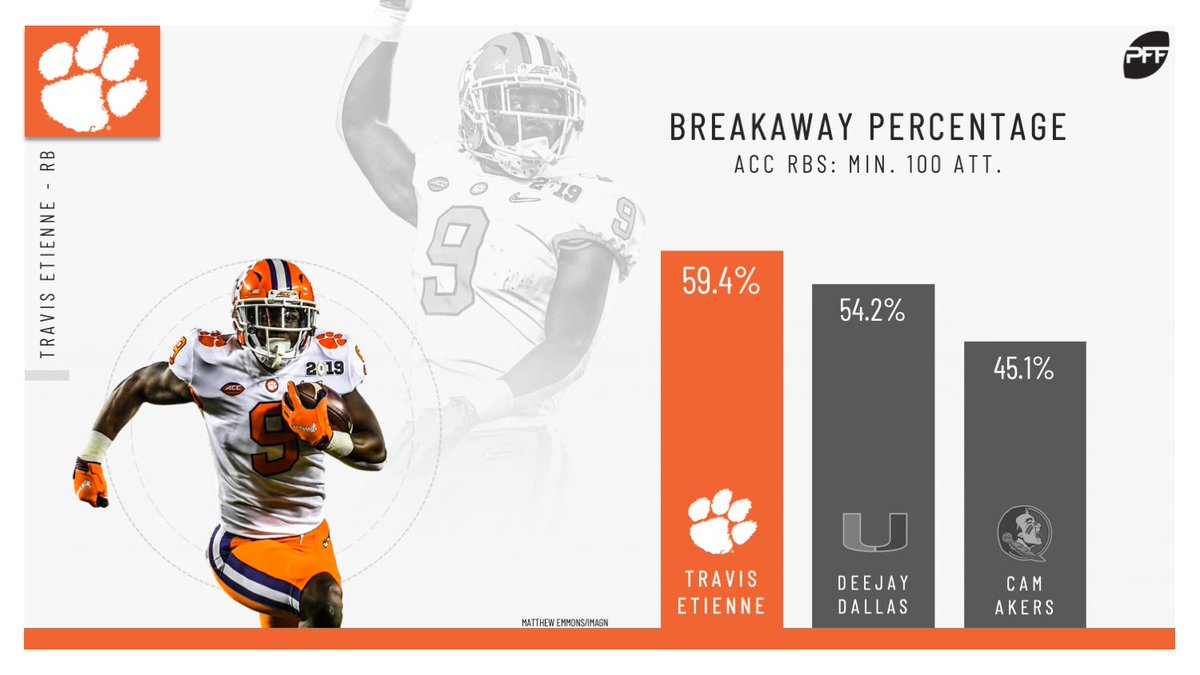 Running Back
1. Travis Etienne, Clemson
The most explosive running back in the nation, Etienne is a big play waiting to happen. His 17 catches through two seasons with five drops is his biggest concern now.
2. D'Andre Swift, Georgia
Swift is pretty clearly the top receiving threat in the class. He's split wide in Georgia's offense and won legitimate wide receiver routes. That's a great skill for a modern back.
3. Zack Moss, Utah
Moss has the perfect blend of size (5-foot-10, 220 pounds), athleticism and elusiveness (53 broken tackles on 179 carries). He also showed he can be a value add to the receiving game with his work back in 2017.
4. Jonathan Taylor, Wisconsin
Taylor's explosiveness and vision are superb. He's got track speed at 220 pounds. He's yet another back, though, that has had no exposure in Wisconsin's passing game with only 16 catches and four drops.
5. Ke'Shawn Vaughn, Vanderbilt
Vaughn runs with great pacing and patience. He's the definition of a one-cut runner who can cut on a dime and get up to full speed quickly.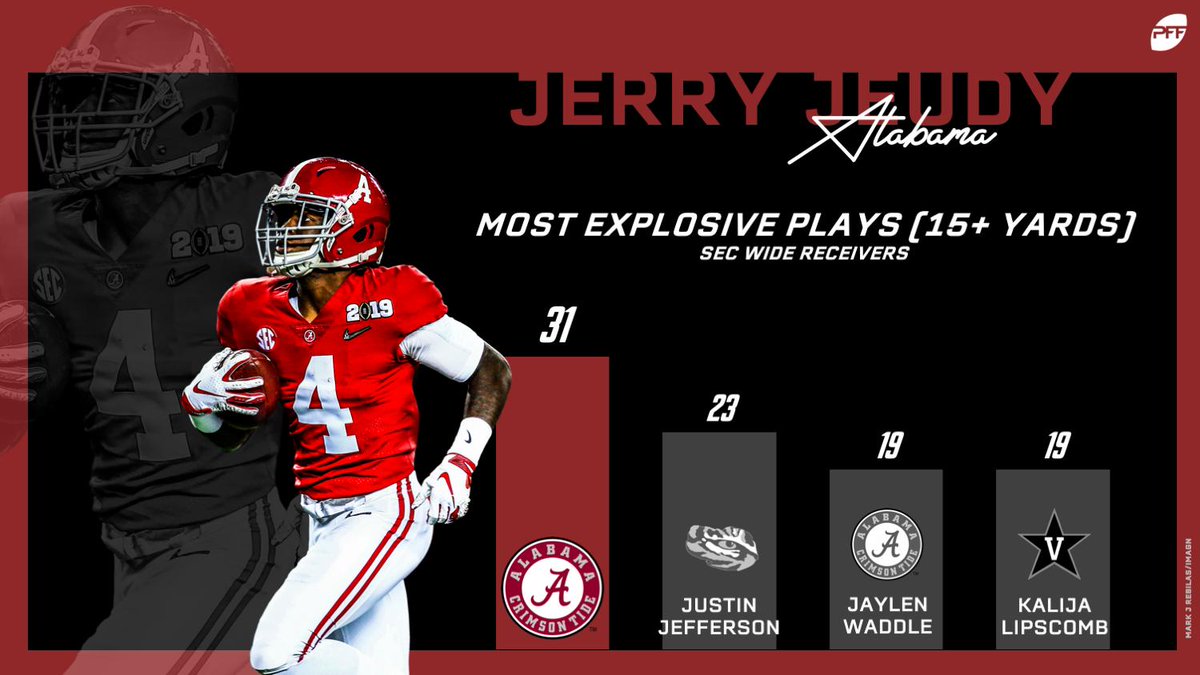 Wide Receiver
1. Jerry Jeudy, Alabama
If Jeudy could have come out in the 2019 draft, he'd likely have been a top-five pick already. That's the type of rare prospect he is despite not fitting the prototype size-wise (6-foot-1, 192 pounds).
2. Jalen Reagor, TCU
Reagor isn't your typical 5-foot-11, 195-pound wideout. He has elite deep speed and is also a dog at the catch point. His 15 contested catches are top-10 among returning wideouts.
3. Ceedee Lamb, Oklahoma
Lamb is incredibly advanced as a route-runner. His body control at the catch point is also elite as he makes difficult catches look commonplace. 
4. Laviska Shenault, Colorado
Shenault is a weapon in the open field. Colorado tries to get the ball in his hands by any means possible and usually good things happen. He's still developing as a route-runner, but his ball skills are superb, as evidenced by his high contested-catch percentage a year ago.
5. Tyler Johnson, Minnesota
Johnson's shake as a route-runner is arguably the best in the nation. He's one of the toughest receivers to jam at the line of scrimmage in the country. Now, if he can just fix his drop problem that saw him muff 10 a season ago.
Tight End
1. Jared Pinkney, Vanderbilt
Pinkney is not only a special route-runner, but he is also a dynamic after-the-catch threat as well. He's broken 18 tackles on 94 career catches.
2. Cheyenne O'Grady, Arkansas
O'Grady has some off-field issues and may be sidelined for the early part of 2019 with an injury, but he's a complete receiver when on the field. He has only two drops on 56 catchable in his career.
3. Albert Okwuegbunam, Missouri
Okwuegbunam has speed to get up the seams and body control to be a red-zone threat. He's got 17 touchdowns over the past two seasons.
4. Colby Parkinson, Stanford
Parkinson's has one of the largest catch radii in the country. He's more slot receiver, though, than an actual tight end in Stanford's offense.
5. Harrison Bryant, FAU
Bryant has been one of the most productive tight ends in the country over the past couple of seasons, but he's still very undersized for the position and has been schemed a lot of production in FAU's offense.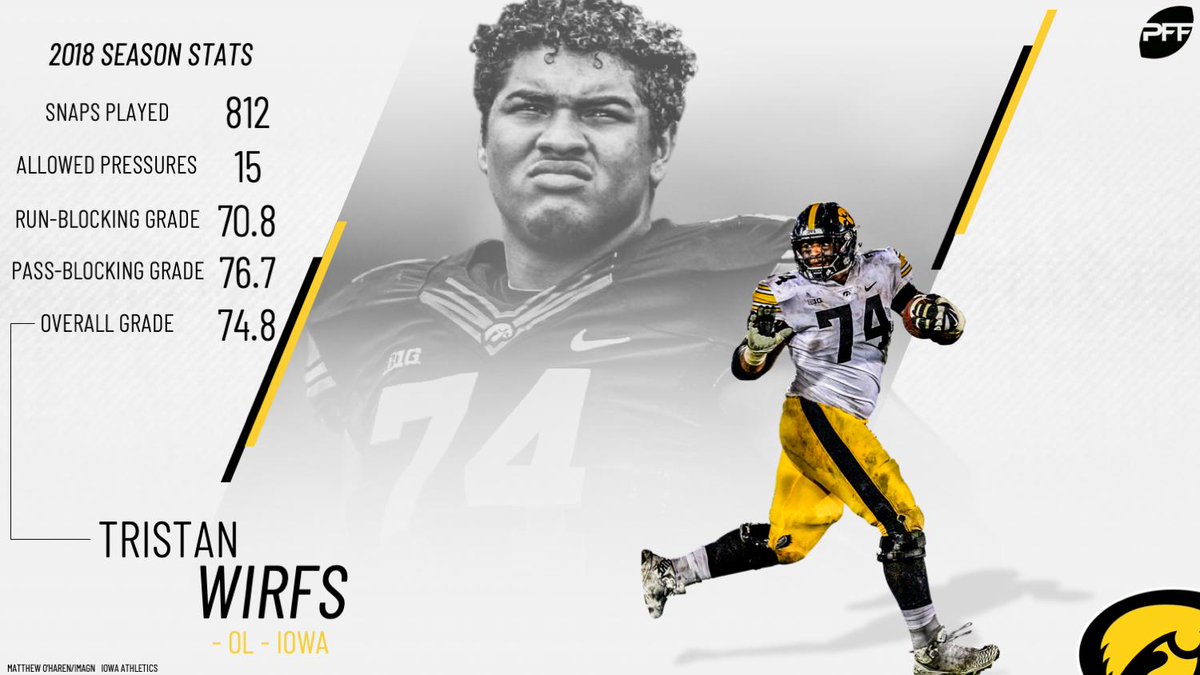 Offensive Tackle
1. Tristan Wirfs, Iowa
Wirfs is absurdly powerful and already technically advanced in pass protection. The worry is whether or not he'll be able to stay at tackle with limited height/length.
2. Walker Little, Stanford
Little had a bit of a hitch in his pass sets that was worrisome, but there were few better tackles in the country down the stretch last season. He looks primed to take the next step in 2019.
3. Andrew Thomas, Georgia
Thomas is a brute. He's about as dominant a run blocker as you'll see from a rising junior. Pass protection is a bit of a different story, though, as he's been protected a good deal in Georgia's offense.
4. Netane Muti, Fresno State
Muti's redshirt freshman season at guard was a pleasure to watch as he tossed around defenders left and right. He'll be a guard at the next level, but in two games at tackle last season before tearing his Achilles, he didn't allow a pressure.
4. Prince Tega Wanogho, Auburn
Tega Wanogho has made incredible strides over his college career after never having played offensive line before coming to Auburn. He's not the most nimble athlete but has the length and balance you like to see at the position.
Interior Offensive Line
1. Tyler Biadasz, Wisconsin
Biadasz has been one of the best centers in college football since the day he stepped foot on Wisconsin's field. His first step off the snap is arguably the quickest in college football.
2. Creed Humphrey, Oklahoma
While he only played center in his lone year starting at Oklahoma, Humphrey has all the skills to play any interior position at the next level. He's already one of the best pass protectors in college football.
3. Nick Harris, Washington
Harris has all the skills to excel in a zone scheme in the NFL. He's one of the best centers in college football in space.
4. Ben Cleveland, Georgia
Cleveland is an enormous guard who pretty much never gets overpowered. To date, though, Cleveland has only been on the field for 569 snaps in his career.
5. Shane Lemieux, Oregon
Lemieux is one of the most accomplished guards in the country with 2,601 career snaps to his name. He's got an ideal guard build with power throughout his frame.
Interior Defensive Line
1. Derrick Brown, Auburn
Brown has prodigious strength that is his calling card. He controls offensive linemen with ease snap after snap. He has to prove he has enough quicks to rush the passer more consistently, though.
2. Levi Onwuzurike, Washington
Onwuzurike is arguably the most athletic defensive tackle in the class. He explodes off the snap and through offensive linemen when he wants to. He, however, has only played 566  snaps in his career.
3. Javon Kinlaw, South Carolina
Kinlaw has a great combination of size (6-foot-6, 305 pounds) and athleticism when projecting to the NFL. His consistency leaves something to be desired, but he has the highest pass-rushing grade of any returning defensive tackle.
4. Raekwon Davis, Alabama
Davis has elite size and length combined with above average burst for the position. He's damn near unblockable one-on-one in the run game but has yet to earn a pass-rushing grade above 70.0 for a season.
5. Marvin Wilson, Florida State
Wilson is the definition of a modern nose tackle. He's already adept at eating double teams and has a toolbox of pass-rushing moves that is on par with any other defensive tackle in the country.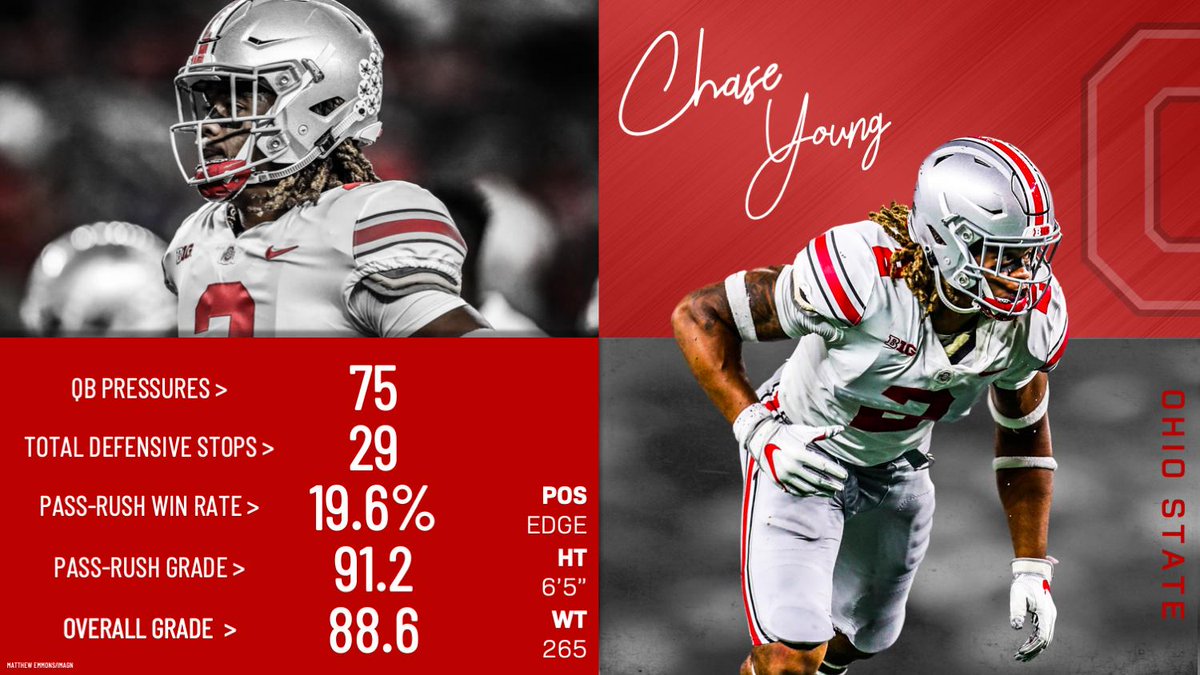 Edge Defender
1. Chase Young, Ohio State
Young checks pretty much every single box you could ask for and is only a rising true junior. Size, length, athleticism and production. You name it, Young has it.
2. A.J. Epenesa, Iowa
Epenesa is a physically dominant 6-foot-7, 280 pounds. It's head-scratching that he only played 412 snaps a season ago for the Hawkeyes, but his 90.1 overall grade is far more indicative of his skill.
3. Julian Okwara, Notre Dame
Okwara is extremely explosive off the edge and is already adept at converting speed to power. Not even 250 pounds, he's one of the best bull-rushers in the country.
4. Curtis Weaver, Boise State
Weaver is a name you're going to be hearing a lot more of next spring. He rushes the passer with violence unrivaled in this class and has the highest pass-rushing grade of any returning edge.
5. Alton Robinson, Syracuse
Robinson packs a punch as a pass-rusher. He's one of the best at collapsing the pocket in the country and physically manhandled OTs. His lack of bend, though, is worrisome at this point.
Off-Ball Linebacker
1. Isaiah Simmons, Clemson
Simmons is on another level athletically from linebackers across the country. He'd be an elite athlete for a safety, and his coverage skills are unsurprisingly elite already.
2. Dylan Moses, Alabama
Moses is still a work in progress one-on-one in coverage, but he can play in space as well as any linebacker in the country. He also comes downhill as a blitzer like he's shot out of a cannon.
3. Erroll Thompson, Mississippi State
Thompson already looks the part of an NFL linebacker. He doesn't have the high-end athleticism of the top of the linebacker class, but he's no slouch himself. 
4. Willie Gay Jr., Mississippi State
Gay can absolutely fly sideline to sideline. While he offers almost nothing between the tackles against the run, his range is as good as it gets at the position. 
5. David Woodward, Utah State
As a sophomore, Woodward was one of the most productive linebackers in the country. He's got smooth hips and is an above average athlete for the position, but he still needs to fill out his frame quite a bit.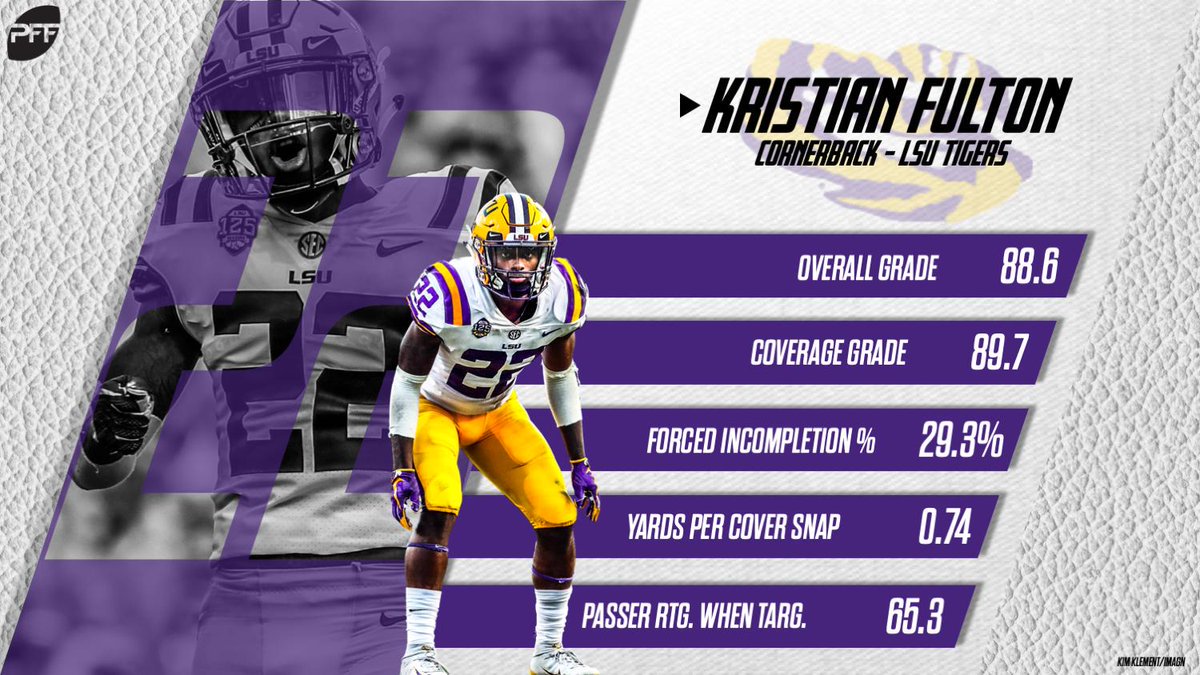 Cornerback
1. Kristian Fulton, LSU
Fulton graded better than his teammate Greedy Williams on the LSU defense last season. He's as sticky in man coverage as any defensive back in the country and is a complete corner.
2. Jeffrey Okudah, Ohio State
Okudah has pretty much only shown out as a man corner at this point, but that's where you'd like to see corners win. His blend of size, length and athleticism is rare at the position. 
3. Bryce Hall, Virginia
Hall has incredible ball skills that saw him be the top graded returning corner in the country last year. Press Cover-3 teams are going to love his skillset.
4. C.J. Henderson, Florida
Henderson locked down his side of the field last year as well as any corner in the country. He's above average in pretty much every aspect of the position you could ask for.
5. Paulson Adebo, Stanford
Adebo has ball skills like that of a wide receiver. He's more likely to come down with jump down the field than the receiver he's guarding. His stiffness likely limits him scheme and versatility wise, though.
Safety
1. Grant Delpit, LSU
Delpit's playmaking ability at all levels of the defense is top-notch. He's the definition of a modern safety.
2. Kenny Robinson Jr., West Virginia*
Robinson was reportedly ousted from West Virginia over the summer and still hasn't found a home for this upcoming fall. He's a former cornerback who is not afraid to lower the boom over the middle of the field.
3. Ashtyn Davis, California
Davis comes from a track background, and it shows up on his tape. He can get from the middle of the field to the sideline with the best of them. Versatility won't be his strong suit, though, as he was a different player in the box.
4. Alohi Gilman, Notre Dame
Gilman is a perfect box or split field safety with the way he comes downhill on routes. He was as sound as any safety in the country last season.
5. Xavier McKinney, Alabama
McKinney is a jack of all trades for the Alabama defense. He's capable of playing in a Derwin James-Jamal Adams role, but we've yet to see him really dominate in any of those facets.