5-foot-10 1/8 and 204 pounds.
Those were Alabama QB Bryce Young's much-anticipated measurables. Seeing him standing next to guys like Will Levis and Anthony Richardson at the combine, you wouldn't have guessed that he played the same sport, let alone the same position. Yet, when it comes to on-field performance, no one in the draft class came close to playing as well over their collegiate careers.
Young entered the combine as PFF's QB1 in the 2023 NFL draft, and he left as PFF's QB1.
So, what is all the fuss about? How will his size affect him on an NFL field? Should he be passed up because of it?
I'm glad you asked. Let's go into detail about where that lack of size will come into play in the NFL game and then conclude whether it's a reason to look elsewhere at the position. The most obvious area that can play a factor is…

Injuries
Make no mistake: Smaller players are more likely to get injured than bigger players when subjected to the same hits.
However, professional football is a sport that features a ton of selection bias — that is to say that many smaller players are only able to make it to the NFL in the first place because they play in a manner that is less prone to injury.
Eight years of high school and college football often filter out those who are small and can't avoid hits, pushing them to different positions or different sports entirely. Those who are left by the time they reach the NFL often play an avoidant brand of football that means taking fewer dangerous hits.
Young is no exception, as his escapability and athletic profile are unique at the position. His ability to avoid defenders and create on the ground has been widely underrated up to this point in the pre-draft process. In fact, his ability to evade pressure is up there with some of the best quarterback prospects I've ever evaluated.
Bryce Young play extension from inside and outside the pocket pic.twitter.com/oGIRrTCIfS

— James Foster (@NoFlagsFilm) November 27, 2022
While the injury risk is heightened when it comes to unavoidable hits, it's less dramatic than one might think because he'll take a tiny fraction of the dangerous hits in a season that Josh Allen does.
So, if injuries aren't a big deal, surely Young not being able to see over the offensive line is a problem?
Interestingly enough, Young has already found a workaround. And it relates to his…
Depth in the Pocket
On almost every dropback passing concept in the game, an NFL pocket passer is setting between 7 and 8 yards behind the center and doing all he can not to move off that halo in order to give his offensive linemen a consistent spot to protect.
Young does nothing of the sort. It's fairly common to see him settle on his drop around 9 and 10 yards behind the center and then drift off that spot quickly based on where the pocket is collapsing.
As you can see below on Young's touchdown pass to Jameson Williams in the 2021 SEC Championship Game, Young drops deep and slides left before anything resembling pressure comes — because that was the side of the pocket that was collapsing.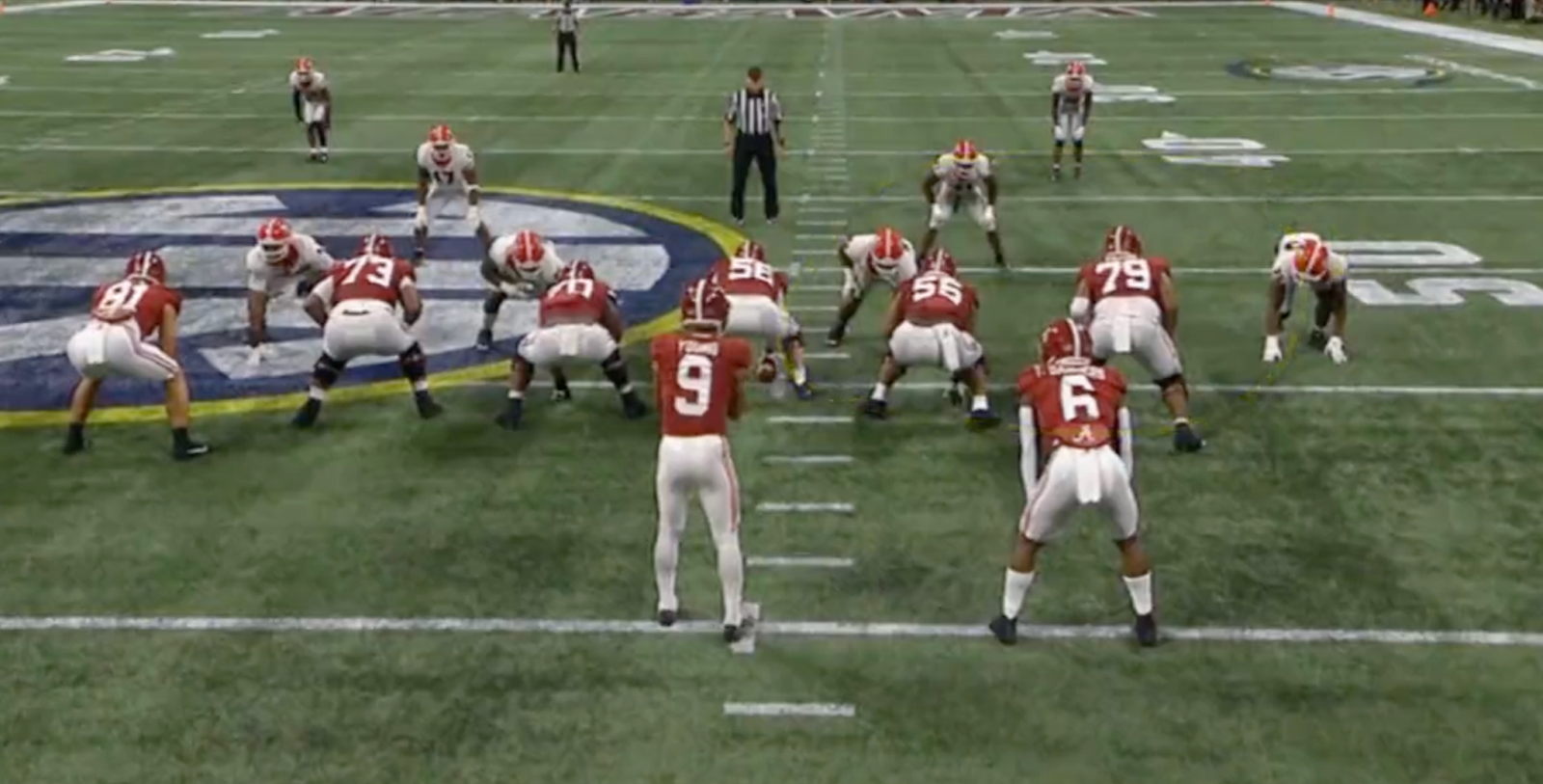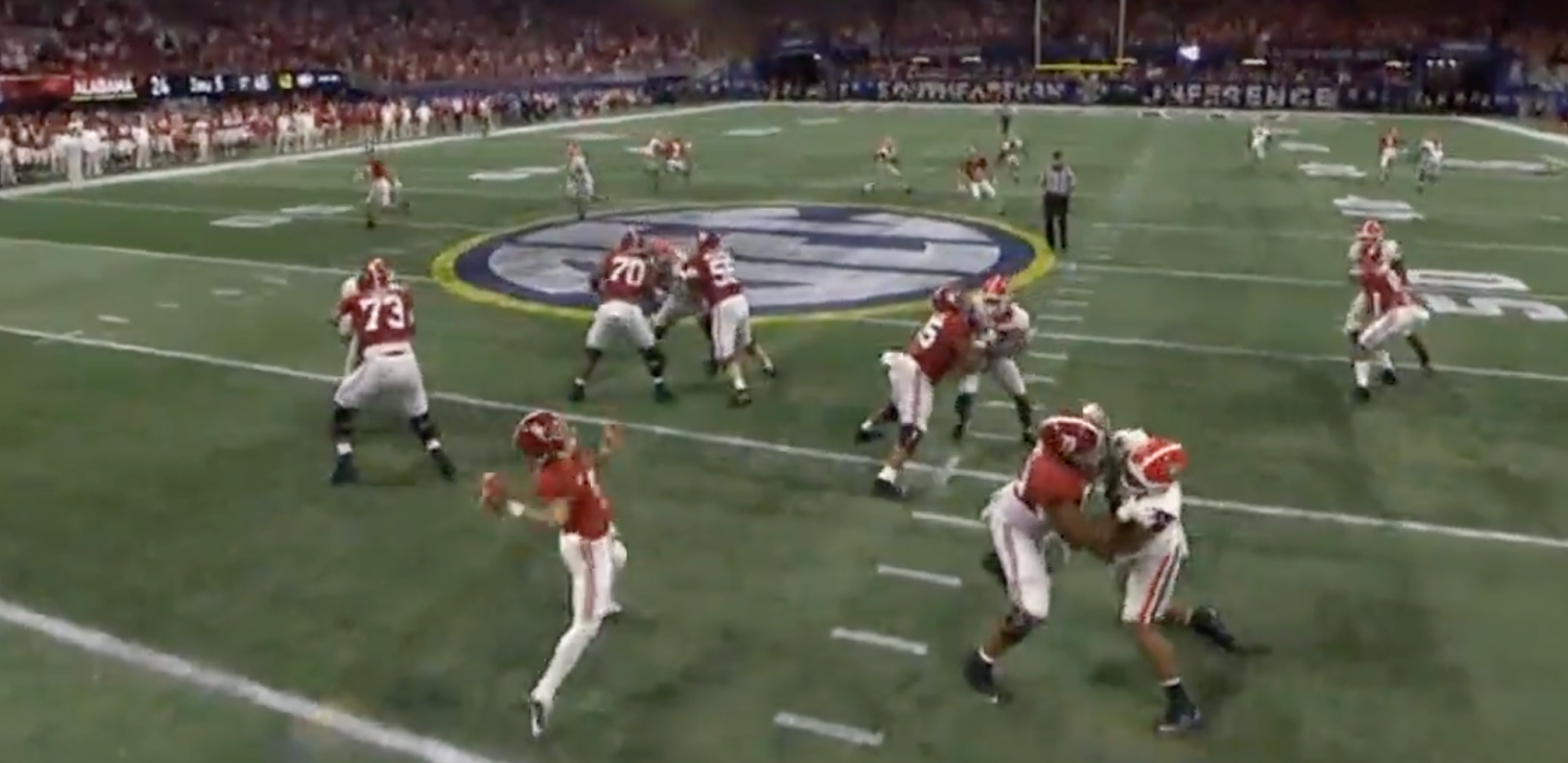 It's a two-fold workaround on Young's part. Not only does it give him a better angle to survey the defense, but it also gives him more space to evade pressure when it comes. It's why Young is also so adept at…
Working the Middle of the Field
This is where the Russell Wilsons and Kyler Murrays of the world really have issues. Look at their stats from the past two seasons on throws between the numbers: