In this age of pass-happy NFL offenses, why are cornerbacks and wide receivers still consistently undervalued at draft time? Should they not be in the discussion to go No. 1 overall in years when there is no deserving quarterback?
Quarterbacks typically go No. 1 overall in the NFL draft for obvious reasons. It's the most valuable position in the game — by a distance — and where prime resources should be allocated. But in the years where no signal-caller seems worthy of that top spot in the draft — or the team with that pick already has a starter and can't trade out — the NFL seems to have decided that either offensive tackle or edge rusher is the pick. With all we know about how the game works today, that is hard to justify.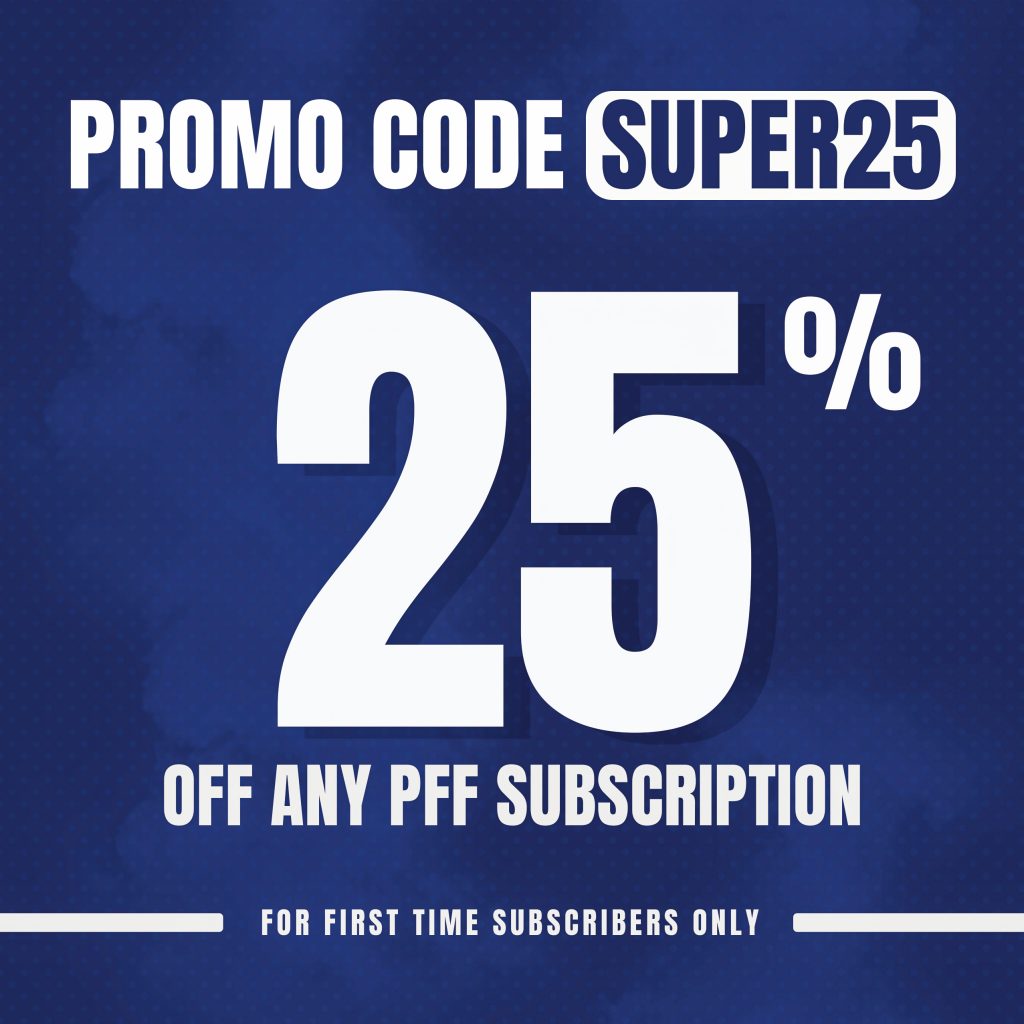 No. 1 History
Since 2000, a quarterback has been selected No. 1 overall sixteen times. On the six occasions when it wasn't a passer, four edge rushers and two offensive tackles were selected. You have to go all the way back to 1996 for the last time a player outside of those three positions was drafted No. 1 overall, when the Jets took Keyshawn Johnson at the top of the order.
Before that, there was more variety at the No. 1 overall pick. Elite quarterbacks still got the nod, but teams were far more ready to look elsewhere. And the further back in time you go, the more run-centric the selection. Defensive tackles, linebackers and even running backs were all regular picks at the top of the draft in a league where running the ball was far more important than it is now.
As the NFL has tilted ever more toward the passing game, teams have devalued certain positions that were critical during those years where a power rushing game was everything. The idea of a running back going No. 1 overall today seems unthinkable, but teams don't haven't quite followed that logic through to its conclusion.
If the passing game has become pre-eminent, and quarterback is the ultimate prize, why is the next port of call not receivers and cornerbacks?
A cornerback has never been drafted No. 1 overall, and the last wide receiver to do so was selected before the explosion in modern passing, more than a quarter of a century ago.
Receivers and cornerbacks affect the passing game more than any position outside of quarterback. Three of the top five non-quarterbacks in PFF Wins Above Replacement (WAR) this past season were either wideouts or cornerbacks. Aaron Donald (arguably the greatest defender ever to play) and Maxx Crosby (who became the third player in 15 years to top 100 pressures) were the other two players in the top five.
---
Click here for more PFF tools:
Rankings & Projections | WR/CB Matchup Chart | NFL & NCAA Betting Dashboards | NFL Player Props Tool | NFL & NCAA Power Rankings
Best Bets Tool
---
Ja'Marr Chase vs. Penei Sewell
PFF's Zach Drapkin attacked this problem some months ago, concluding that receiver and cornerback remain undervalued at draft time and highlighting that the Cincinnati Bengals made the overwhelmingly correct decision to select Ja'Marr Chase over Penei Sewell at No. 5 overall in the 2021 NFL Draft. 
Receivers generate more value, and do so on fewer snaps, so despite both positions being areas of need, it was a no-brainer from a data point of view.
That decision has been vindicated completely in just one season. Chase has been one of the most impactful players in the game, immediately transforming the Bengals' offense into something far more devastating and potent than it was before his arrival. Even though Sewell also played well at tackle for the Detroit Lions in his rookie campaign, it's clear just from a cursory glance that he hasn't made the same kind of impact, and the advanced data backs up that eye test. 
Chase generated 0.45 PFF WAR, a top-five figure among wide receivers, while Sewell was at 0.28, ranking seventh among tackles. Sewell's figure is impressive in its own right, but Chase generated more WAR than every tackle in the NFL outside of Trent Williams, whose 96.6 PFF grade in 2021 was the highest ever given at any position.
2022 NFL Draft
This year, the growing consensus is that no quarterback is worth the top spot, and even if one was, the Jacksonville Jaguars are set with Trevor Lawrence heading into his sophomore season. Edge rushers Kayvon Thibodeaux and Aidan Hutchinson, along with tackle Evan Neal, are the most widely predicted players to go first overall, with tackle Ikem Ekwonu also appearing there more and more as the process unfolds.
The quarterback with the shortest odds on Draftkings is Kenny Pickett, who is currently +3500, compared to the +135 for Hutchinson.
The impact a team can gain from an elite cornerback should have Derek Stingley Jr. in the conversation, yet his odds are +5500, behind multiple quarterbacks. Stingley earned a 91.7 PFF grade as a freshman in the SEC, one of the best single college seasons PFF has graded. For his career, he allowed 41.1% of passes thrown into his coverage to be caught, and he boasts prototypical size and athleticism to be an elite NFL player.
Stingley hasn't been able to replicate his incredible freshman season, as injuries limited him to just 583 snaps in the two years since then.
PFF data also shows that cornerback play is inherently one of the most volatile in terms of year-to-year performance. This makes intuitive sense — the position is extremely reactive, and often at the mercy of the opposing passing game. This is why it can have such high value and also why individual play can fluctuate wildly. Elite players can still give up big plays to elite quarterbacks throwing to elite receivers. 
Stingley isn't the only elite corner prospect in this draft. Cincinnati's Ahmad "Sauce" Gardner went through his entire college career without allowing a touchdown, grading well every season and extremely well in two of his last three years. He allowed 131 yards in all of 2021, including a game against Alabama in the College Football Playoff — albeit a banged-up Crimson Tide receiving room.
Gardner has excellent size and length and a resume of shutdown play at the college level few prospects in recent years can match. If he ticks the athleticism boxes when it comes to workouts, there is no rational reason he shouldn't be in the conversation to go No. 1 overall.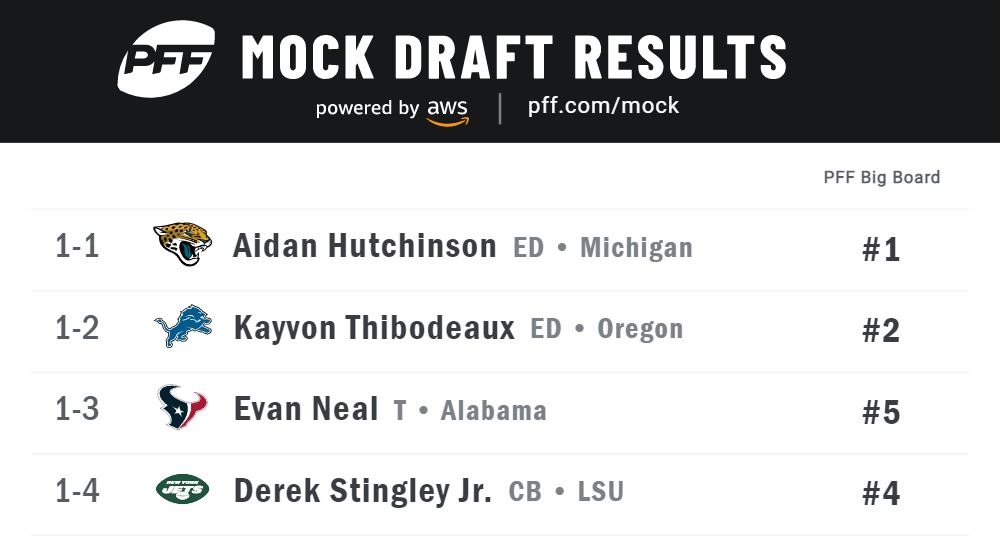 Receiver is an interesting debate this year. None of the available prospects seem as obviously dominant as Chase was a year ago, but there are some spectacularly productive players available. The strike rate of receivers in the draft seems to be getting better and better.
Ohio State's Garrett Wilson has elite movement skills and route-running savvy. He hauled in a dozen touchdowns this past year and generated 3.0 yards per route run. For his career, passes thrown his way generated a 140.6 passer rating.
There was a run of wide receivers drafted with high picks who failed to translate to the NFL, and that seems to have left teams gun-shy despite the game leaning more and more toward that position being of utmost importance.
The 2022 NFL Draft seems to be a rare year when a quarterback is not expected to go No. 1 overall. The Jaguars appear to be preparing to choose their favorite edge rusher or tackle to get the ball rolling. If they really took a dive into the data, however, they would add several names to that discussion.
Selecting a cornerback or a receiver at the top of the draft in today's NFL would likely move the needle far more than a tackle or edge rusher, as well as break a league trend that seems to be based on little more than inertia.