We're still almost half a year away from the draft, but the first round is already starting to take shape. Some guys just have 'it' and those guys are easy to identify without having to watch too much film. These eight players have graded out exceptionally for PFF and have all the physical tools that make them first-round locks.
[Editor's Note: All EDGE and ELITE subscribers have access to PFF's 2020 NFL Draft Guide. Subscribe today to download your copy!]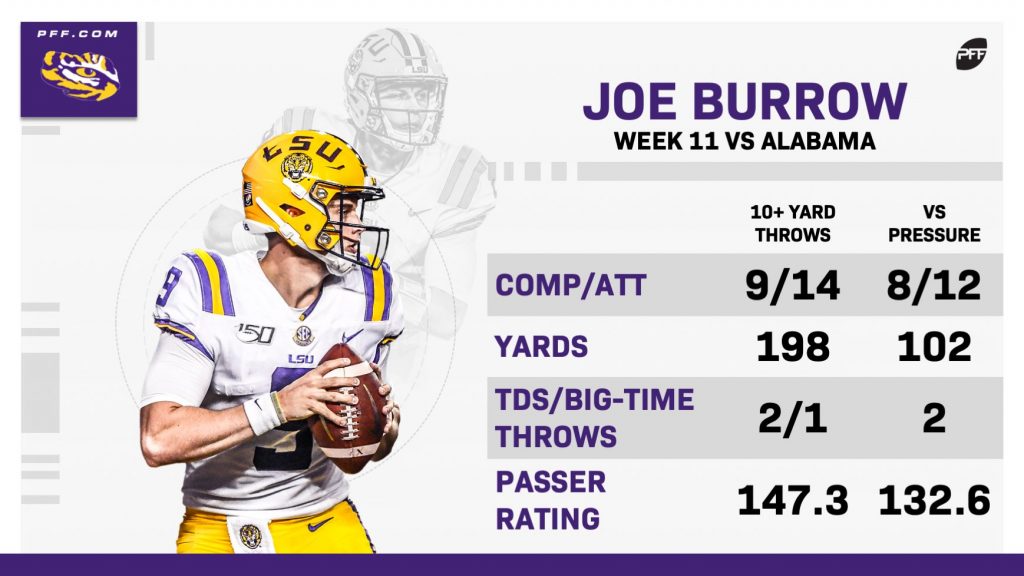 QB Joe Burrow, LSU
Burrow's ascent has been precipitous, but we've also seen enough at this point to know he's not going anywhere. Pretty much everyone else on this list has been dominating college football from their first snaps as freshman, but that's not a requisite to go highly come April. After going 31-of-39 for 393 yards, three touchdowns and zero interceptions against a loaded Alabama defense, we feel pretty good about him translating to the NFL. His 92.0 passing grade on the season is tops in the nation. After a very up-and-down 2018, the lows simply haven't been there for Burrow without a single below average game grade this season.
QB Tua Tagovailoa, Alabama
Tua might not be playing at the level Burrow is right now, but don't let that make you think Tagovailoa isn't a special prospect in his own right. While the proverbial switch finally flipped for Burrow as a redshirt senior, Tagovailoa has been doing this ever since the National Championship game his true freshman year. His pocket presence and accuracy are well beyond his years and at an NFL level already. Outside of a nightmarish early fumble against LSU, Tagovailoa actually played excellent football with an 81.9 passing grade.
Edge Chase Young, Ohio State
Of all the locks, this one will be the hardest to pick. Hell, I'd go so far as to say he's a lock to be the first non-quarterback taken. He is the only sophomore we've ever seen lead the FBS in pressures, and Young is in the midst of the highest graded pass-rushing season we've ever seen (97.1 grade). The Ohio State junior is fairly comfortably the best edge prospect we've ever graded. 
Edge A.J. Epenesa, Iowa
Edge is one of the easiest positions to predict from college to pro. The guys that win the most one-on-one interactions tend to do the same in the NFL. Combine a high win-rate with immense physical tools like Epenesa has, and it's easy to see why he's a lock. Standing 6-foot-6, 280 pounds yet moving like a man 30 pounds lighter, Epenesa has a 91.2 pass-rushing grade and 21.1 pass-rushing win rate for his career. Those would be excellent single-season figures, but Epenesa has been balling since he stepped foot on Iowa's campus.
WR Jerry Jeudy, Alabama
Few players on this list have that 'it' factor pop off the screen quicker when watching film than Jeudy. The junior wideout moves differently even when compared to top receivers in the class. He won the Biletnikoff award as a sophomore and already has 12 broken tackles on 57 catches this season.
CB Jeffrey Okudah, Ohio State
Okudah is yet another player who has been lights out since he first started seeing playing time as a true freshman. He's allowed a completion percentage of 43.6, a passer rating of 55.5 and given up only 525 yards on over 700 coverage snaps in his career. This season he's taken his game to a new level, though, as targeting him has yielded a lower passer rating (37.6) than simply throwing the ball in the dirt every play. Oh, and he ran a 4.49s 40-yard dash, had a 4.03s shuttle, and a 41.5-inch vertical at 6-foot-1, 200 pounds in High School.
DI Derrick Brown, Auburn
While we can – and will here at PFF – debate the merits of the run game, as long as teams are going to establish the run, it will behoove teams to stop it. No one in this class has been better at stopping it than Brown. The Auburn defensive tackle goes 6-foot-5, 320 pounds and punishes opposing offensive linemen. He's earned run-defense grades over 81.0 each of the last three seasons and is finally starting to bring that dominance as a pass-rusher as well. He's collected 29 pressures on 270 pass-rushes for a 90.7 pass-rushing grade this season. 
OT Andrew Thomas, Georgia
God only made so many 6-foot-5+, 300+ pounders with 33+ inch arms who can move at the requisite level for an NFL tackle, and they're pretty easy to identify. When those players then grade out at an elite level the way Thomas has in his three years starting at Georgia, you feel pretty confident about them going high in the NFL draft. We love that both Thomas' run- and pass-blocking grades have improved every single season of his career. On 270 pass-blocking snaps this season, he's allowed no sacks, no hits and only six hurries. At 92.9 overall, Thomas is currently the highest-graded draft-eligible Power 5 offensive tackle in the country.