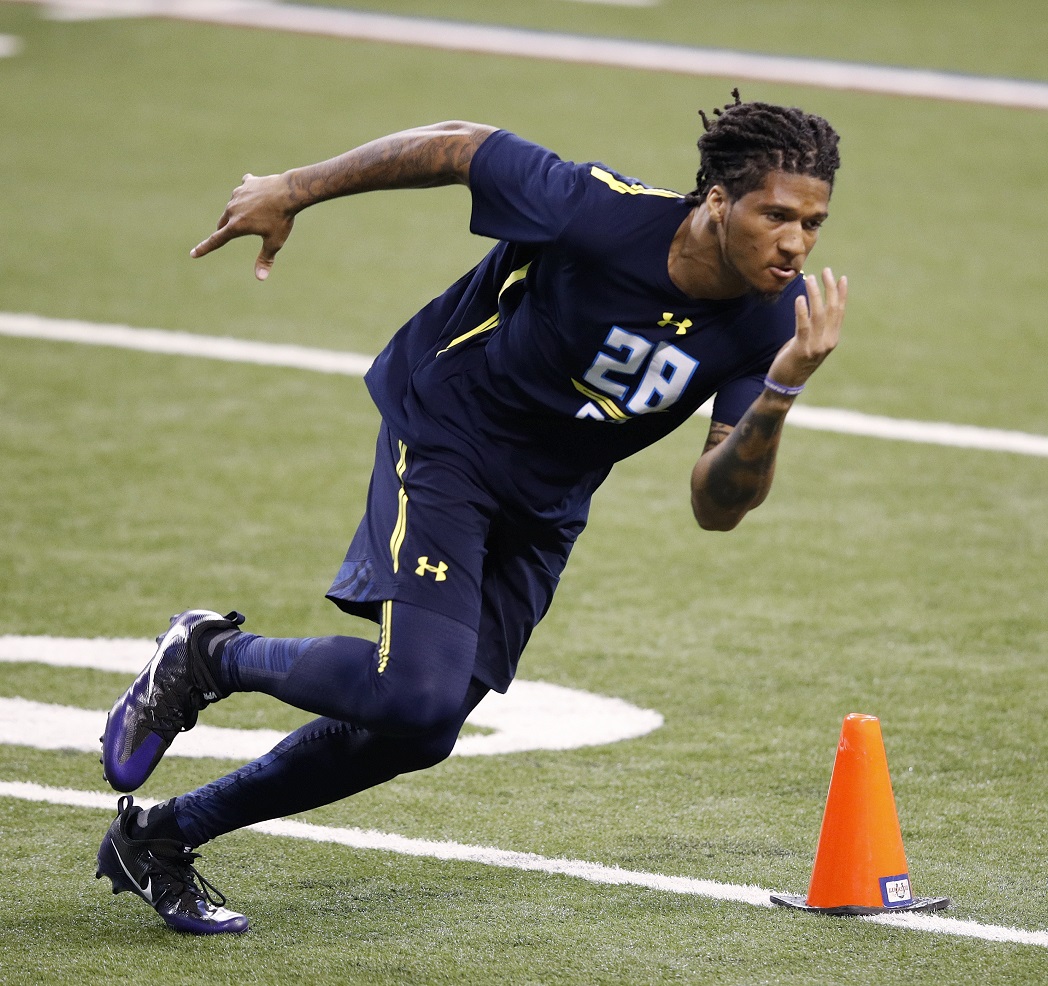 INDIANAPOLIS, IN - MARCH 06: Defensive back Sidney Jones of Washington in action during day six of the NFL Combine at Lucas Oil Stadium on March 6, 2017 in Indianapolis, Indiana. (Photo by Joe Robbins/Getty Images)
The PFF Draft Daily will hit on a number of NFL Draft-related topics including recent news, scouting reports, PFF draft takes, and much more on a daily basis.
---
Sidney Jones injured
Two weeks ago we highlighted the depth of this loaded cornerback class, but it took a hit this weekend as Washington CB Sidney Jones tore his Achilles during his pro day. Jones is one of a number of cornerbacks looking to be selected in the first round, and the injury is an obvious setback that will likely push him down draft boards. Jones had the respect of opposing Pac-12 offensive coordinators as he was targeted only 48 times last season, tied for 201st in the nation despite playing in the pass-heavy Pac-12. Here's a look at Jones' scouting report and his advanced stats that are only available through PFF Draft Pass.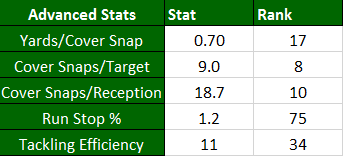 ---
Free agency moves affecting the top of the draft?
Free agency always has an impact on draft strategy, especially as most teams prefer to fill their needs with veterans in order to head into the draft looking for the best players rather than looking to fill roster spots. Of course, free-agent signings may force teams away from certain prospects, so let's take a look at a few key deals to see if draft strategy will be affected.
QB Mike Glennon to the Bears
The Glennon deal is structured to essentially be a one-year deal, giving the Bears the flexibility to still grab a quarterback at some point in the draft. Perhaps they don't have to go all out and spend the No. 3 overall pick at the position, but if they love Mitchell Trubisky in that spot, the Glennon deal is certainly not going to prevent them from making the pick.
DT Calais Campbell to the Jaguars
This deal may close the door on Alabama interior defensive lineman Jonathan Allen going to the Jaguars at No. 4 overall. Normally, I'm a big believer in never having too many talented defensive linemen, but the Jacksonville defensive front is now loaded in players similar to Allen. Last year's big free-agent pickup, Malik Jackson, is near-identical to Allen as his best fit is as a base defensive end that kicks inside to rush the passer, while Campbell can playing every down as Jacksonville's "3-technique" defensive tackle. While Allen led the nation with 67 total pressures, Jacksonville is unlikely going to be his landing spot.
WRs Alshon Jeffery and Torrey Smith to the Eagles
Jeffery is the big-name signing, but he's only on a one-year deal, and that likely won't keep the Eagles from targeting another receiver in the draft. However, with huge needs at both receiver and cornerback coming into the offseason, the Eagles have relieved some pressure on the offensive side and they may be able to focus on the strong cornerback class in the first round. Many mock drafts had the Eagles taking Clemson's Mike Williams or Western Michigan's Corey Davis, and while the Jeffery and Smith signings shouldn't take that option off the board, it's more likely that Philadelphia will be targeting a cornerback with their first pick.
---
Scouting report for Michigan edge defender Taco Charlton
Some evaluators expect Charlton to be off the board within the first 15 picks of the draft, and while we'd rather have seen a stronger sample size of work, it's hard to argue with his production on only 1,154 snaps over the last three seasons. On 600 rushes, Charlton picked up an impressive 17 sacks, 19 QB hits, and 66 hurries, and he may only be scratching the surface in his career.
---
PFF "My Guys"
We have a running document where PFF analysts list their favorite players to watch and analyze during draft season. They're not necessarily the best players in the draft, but players an analyst believes in more than the hype surround the prospect or perhaps his expected draft position.
Here's Brett Whitefield on Michigan CB Channing Stribling:
"Key stats: In 2016 Stribling was one of the most effective corners in coverage in the entire country. On 63 targets into his coverage Stribling allowed a catch rate of just 30.2 percent, the best rate in FBS. He allowed a passer rating against of just 22.7; only Gareon Conley's was lower. Perhaps the most impressive thing about Stribling is his knack for getting his hands on the ball which he was able to do 15 times on 63 targets into his coverage (11 PDs, 4 INTs). In 669 career coverage snaps Stribling allowed just one TD into his coverage.

On the field: Stribling excels at playing in zone coverages, mainly cover-2 and cover-3. He shows great instincts in zone, breaking quickly on routes in front of him. He has great length at 6-foot-2, which helps him shut down passing lines on deep outs and corner routes into his zone. Stribling can also come up and play physical at the line, he excels at getting his hands on WRs and altering their release. Stribling's value is currently buried under a really strong cornerback class and he could be a Day 3 selection. Scheme fit will be huge for him being successful in the NFL but a zone heavy team could find themselves some really nice corner depth and maybe even a starter down the road with a late-round pick."
---
PFF Draft Pass
PFF Draft Pass has officially launched, and can be accessed by clicking here. Users can now view PFF signature stat breakdowns by position, and will soon have access to expanded scouting profiles with grades and signature stats for each top prospect. In addition, PFF Draft Pass users will have access to the PDF version of the PFF Draft Pass in the coming weeks.
Sign up for PFF Draft Pass for exclusive stats and analysis of the top 250 NFL Draft prospects.