• QB Bryce Young goes No. 1 overall: The Alabama product is the one quarterback in this class who I think is ready to play from Day 1.
• Atlanta Falcons take RB Bijan Robinson at No. 8: If the Falcons want to run the ball — and they do — Bijan Robinson gives their young quarterback some support and options.
• QB Hendon Hooker lands in Kansas City: The biggest concern for the Chiefs is if Patrick Mahomes gets hurt and misses four to five games. Hooker doesn't turn the ball over, and he has a high-arching deep ball that is perfect for speedy receivers.
Estimated reading time: 9 minutes
---
Welcome to PFF draft week! Just like you, we are excited to get back to football.
With just hours remaining until the start of the 2023 NFL Draft, I take my best pass at Round 1. I have five quarterbacks coming off the board in the first round: Bryce Young, C.J. Stroud, Anthony Richardson, Will Levis and Hendon Hooker. 
Please join us over on PFF's YouTube channel before, during and after the draft for a complete analysis of all 259 picks. Here we go!
More PFF draft content:
Mock Draft Simulator | 2023 NFL Draft Guide | Top 200 Big Board 
PFF Mock Drafts | Measureables & Workout Data | NCAA Premium Stats
Draft Rankings By Position | Prospect Superlatives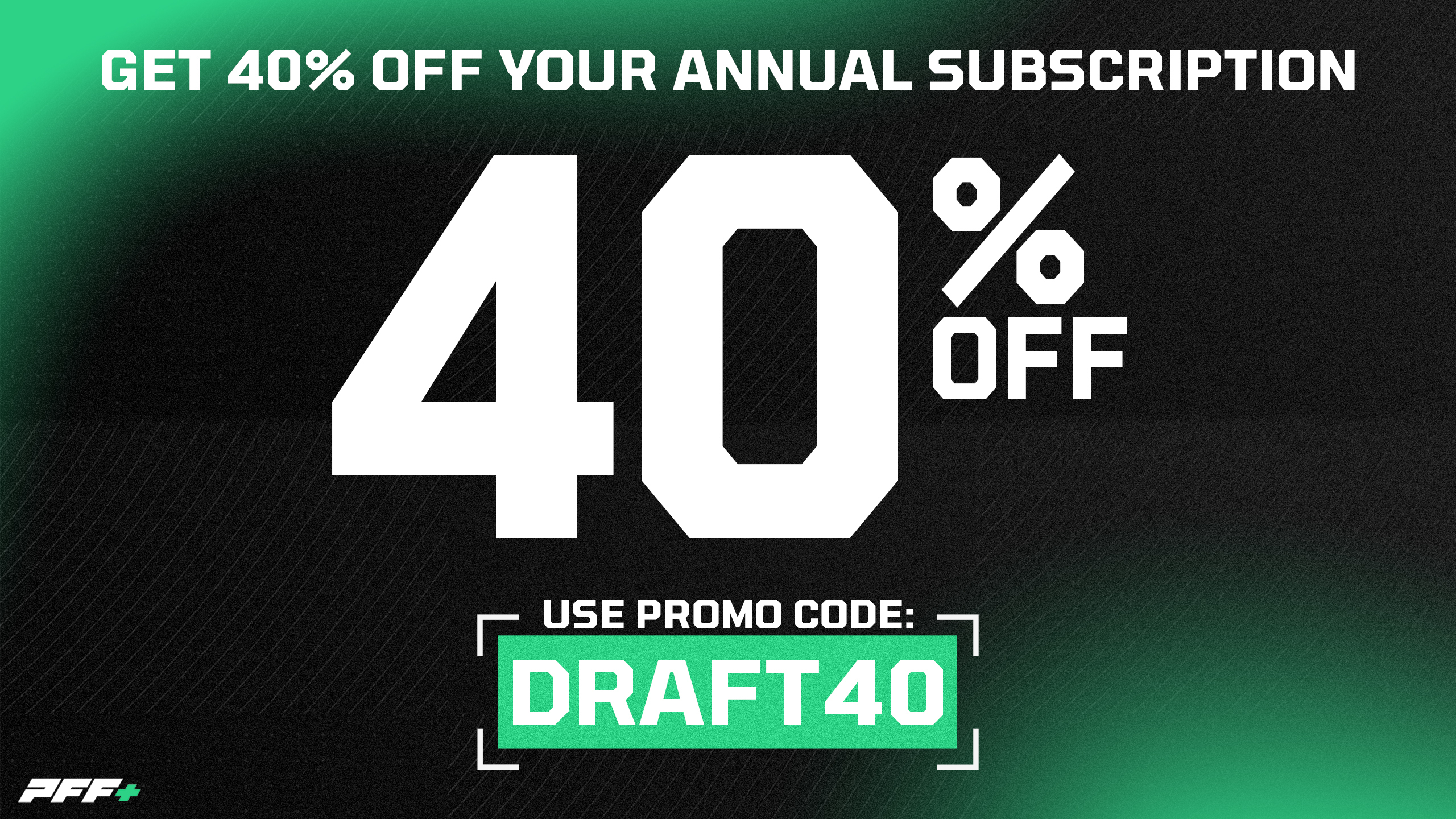 He's the one quarterback in this class who I think is ready to play from Day 1. The one thing I worry about with him is whether his arm strength is good enough to win late in the year. While I don't know if he can get the ball downfield enough, I think he's really good in that 20-40-yard range.
Even if the Texans don't love Stroud, I'm not sure there is a non-quarterback in this class who would be worth drafting ahead of a quarterback like Stroud.
If you have a great 3-tech, you can prevent the quarterback from being able to step up in the pocket, and you can make life easier on your edge defenders. If they don't trade this pick, Carter would be my pick. He's the superstar, physically, of this draft class.
Levis does a lot well with NFL-type quick throws. He has a strong arm, keeps his feet still and takes something off to help accuracy. He reminds me of Boomer Esiason with his feel of the game. I've never had a guy win me over with his ordinary plays, as he has. His bad throws were him trying to be Patrick Mahomes.
This is a toss-up for me. I like Tyree Wilson's size a little more than Will Anderson's consistency, but Wilson's season-ending foot injury and the surgery that followed has me a little spooked, so I take Anderson and play it safe.
He's got length, the ability to wiggle, and he flashes an array of moves. With the length of his arms, there are just things he can do that Will Anderson can't. He has to work on his get-off, though, and that's the first thing the team that drafts him should do. If he can fix that, he can be special.
I love Witherspoon as a player. He plays the game with a passion you don't see often. He's physical and can play on an island. I think he can play the hardest coverages there are to play, and he's so good at diagnosing plays.
If the Falcons want to run the ball — and they do — Bijan Robinson gives a young quarterback some support and options. I think Atlanta is about the only team that makes sense when it comes to drafting him this early. The NFC South is winnable right now — Robinson has some Le'Veon Bell about him and can make a difference in the passing game, too.
The Bears play this perfectly and land the top tackle in the draft. They trade back from No. 1 and get Johnson, who stood out among his peers this past season. Head coach Matt Eberflus knows that Justin Fields needs weapons, but Fields also needs to get away from his dependency on the running game. Wide receivers can come in later rounds in this draft — building the confidence of a young QB starts with protection.
I wanted to get fancy with this, but I think the Eagles are going to be sensible here. Bresee was a five-star recruit coming out and has the ability to take on double teams and hold up against them. When the Eagles are great, they have great offensive and defensive lines.
I like both Ohio State offensive tackles a lot. When I watch Jones, I just keep seeing Andrew Whitworth. He's huge, but he can really move, so I don't think his size limits him scheme-wise. And when he gets his hands on a defensive player, it's over so often.
I think he's probably a guard in the NFL, but he's too good a player to fall much beyond this. Forget about what position he plays — he can get to the second level really well and be an impressive pass-protector from Day 1.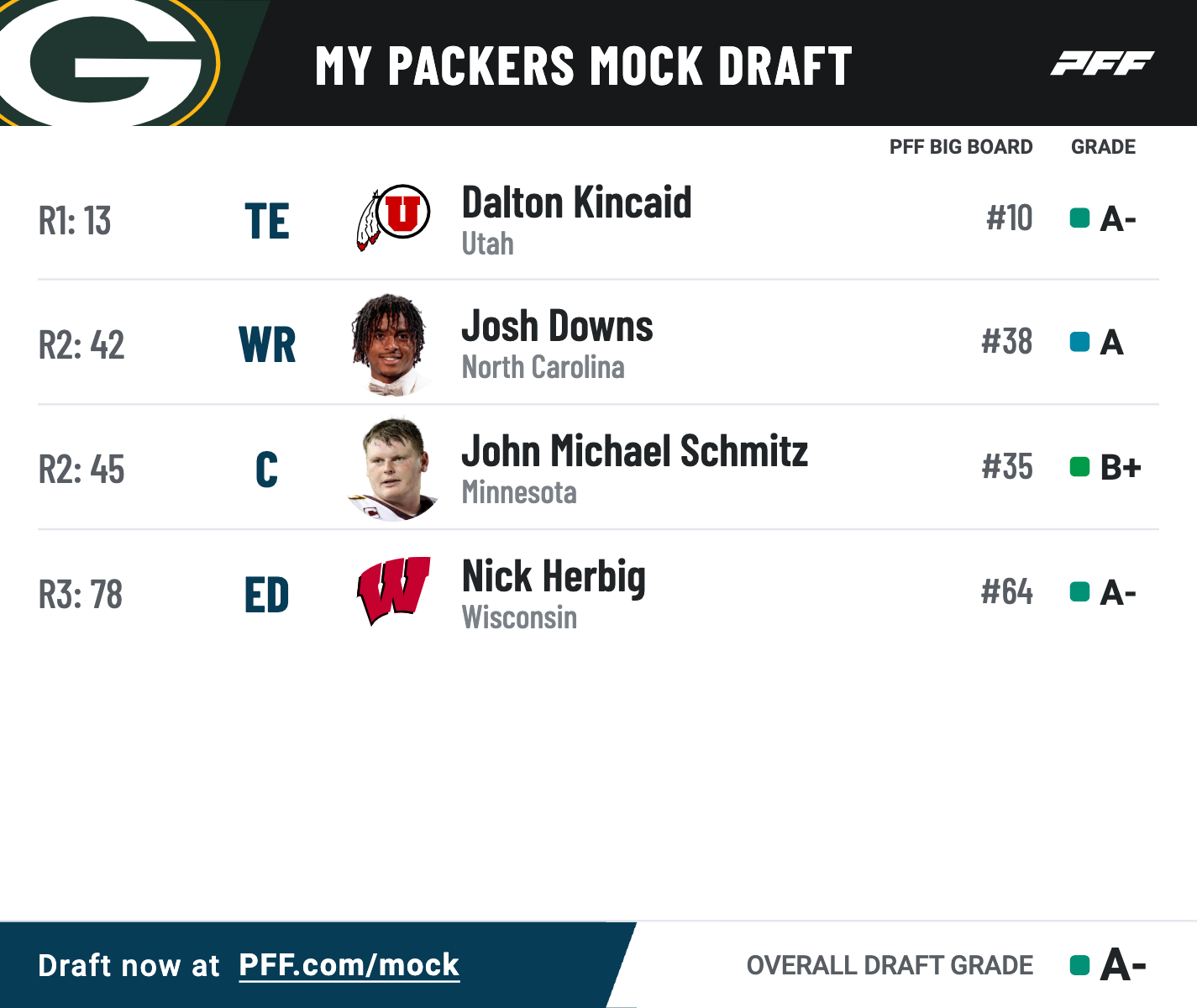 Dalton Kincaid has a chance to be Travis Kelce level of good. He'll be Jordan Love's best friend in Green Bay and knows every soft spot there is to find against zone coverage. 
Related: The Jordan Love era begins — what to expect from the Green Bay Packers' new QB1
There are guys in this class who are going to be better run-blockers, but the NFL is about pass protection. Harrison has really quick feet and good recovery quickness. I thought he got edgier as the season went along, too. 
He's one of the few guys in this draft who can just be a force on the offensive line who mauls guys. He didn't give up a sack after switching from left to right tackle. He looked really good against Alabama's Will Anderson Jr.
He's got the speed and the size, and if you saw him on the playground, you'd probably take him over Witherspoon. I think he goes higher than this, but he's the second-best cornerback in this class behind Witherspoon.
This could be the Joey Porter Jr. slot or maybe even an offensive tackle or receiver. But the more tape I watched, the more I liked Stevenson. I know he makes big mistakes, which will give Steelers fans Artie Burns flashbacks, but he has the type of patience I used to hate playing against.
Jared Goff has two years left on his contract and will be the starter in 2023. Detroit also signed QB Nate Sudfeld, but the talk has been that general manager Brad Holmes is shopping for an upgrade. The Lions brought in C.J. Stroud and Hendon Hooker for a visit but never thought Richardson would fall this far.
His size is a little bit of a concern for me, but I'm in love with that first step. It makes him almost impossible to block, and he has a wide receiver-like release. I'm not sure if he can play in obvious run situations, but just get him in a position where he can stunt and move and he can make things happen.
Seattle's picks are never easy to predict, but I think Pete Carroll wants to be great on the defensive line. Is it crazy to pick two edge defenders in Round 1? Maybe, but Anderson and Van Ness would complement each other really well, with the former Iowa standout even able to kick inside to 3-tech on third down.
He's a speed athlete, and almost all his athletic numbers are in the 95th percentile or better. There are some things he got away with in college that won't work in the NFL technique-wise, but there just aren't many guys who have his blend of size and athleticism.
I'm not crazy about this wide receiver class, but Flowers gets open and makes plays. Jaxon Smith-Njigba's hamstring issues at Ohio State make me want to take a guy like Flowers over the Buckeyes wideout here. I love how Flowers uses his speed to get away from people on shallow crosses.
When Johnston ran a 4.5, it made everything click. He is a long strider but not necessarily fast. His best work should come on contested catches, but it doesn't. At his best, he could be D.K. Metcalf, but he has a lot to learn before he gets there.
Porter has a pretty balanced grading profile in terms of positive and negative plays, and I don't think he's as good as I expected him to be, given the hype. However, I do think he comes off the board in the first round at some point. 
The Giants need a center in the middle of the offensive line, and Wypler moves quickly off the ball. He might struggle against bigger nose tackles, but I went through all his worst plays, and I didn't think they looked too bad.
I think tight end is under consideration here, but I think Gibbs is just really exciting to watch. Maybe he'd be a better fit in an outside-zone scheme, but he's got so much fight in him through first contact. I think he gives them a chance to do some different things on offense as they move from Kellen Moore to Mike McCarthy calling plays.
If you're going to ask Josh Allen to run a little less, then you need to protect him better and you need to be able to run the ball in the traditional sense a bit better, too. Torrence is really quick-footed for a big guy, and there's so much potential with his size.
He's the best in-line tight end option in this draft and can positively impact the run game along with his ability to impact the passing game. He can use his big body to shield defenders away from the ball and is tough to tackle at his size.
The Saints have lost too much on the defensive line lately, and Smith is just a freaky athlete who could have a really high ceiling. The sack numbers aren't impressive, but a 4.39 guy coming off the edge is really something. His ability to spy in a league dominated by mobile quarterbacks could be a big positive.
His best tape came as a freshman, and it's a bit of a concern that he didn't grow beyond that, but his twitchiness at his size is just rare. His power could be devastating if he can put it together technically, and he lands in the perfect spot to develop here.
The biggest concern for the Chiefs is if Patrick Mahomes gets hurt and misses four to five games. Hooker doesn't turn the ball over, and he has a high-arching deep ball that is perfect for speedy receivers. The Tennessee offense doesn't make for easy evaluation, but he looks like an NFL QB to me.