It's that time again where we dive into the most impressive performances from the college football week that was. There's still no Big Ten on the slate, but we'll be there in a few weeks. For now, we had some small schoolers steal the show with their performances Week 5 of the 2020 college football season.
1. QB Zach Wilson, BYU
After an injury-plagued 2019, Wilson is back with a vengeance this fall. The true junior was lights-out in his first two contests, but Saturday's ariel show against Louisiana Tech took the cake. He went 24-of-26 for 325 yards and two scores. He showed the ability to win from the pocket and on the move.
I'm ready to start talking about BYU QB Zach Wilson as a first-rounder pic.twitter.com/9JLHgLYd4o

— Mike Renner (@PFF_Mike) October 5, 2020
For the season, Wilson has an NCAA leading 90.0% adjusted completion rate. He's got first-round type arm talent, and that's where he'll end up if he plays like this the rest of the way.
2. LB Chazz Surratt, North Carolina
After a few weeks off with some postponed games, Surratt was back to his normal, havoc-wreaking self. On 19 pass rushes, he had an absurd nine pressures, including one sack.
Chazz Surratt SACK #UNC pic.twitter.com/lPFcENCm71

— Drew ???????????? (@AndrewKneipher) October 3, 2020
He plays a relentless brand of football that saw him make plays all over the field in this one. He finished with six stops as well as a pass breakup. More importantly, after a horrible missed tackle problem in 2019, Surratt missed only one of nine attempts in this one.
3. WR Kadarius Toney, Florida
Honestly, I don't even care about the rest of the game. Toney would make this list on the back of this absurd catch and run alone.
Kadarius Toney forced 4 missed tackles yesterday.

3 were on this playpic.twitter.com/LDPb35KRR9

— PFF College (@PFF_College) October 4, 2020
The route, the burst, the balance — it's slot receiver perfection. All Toney really needed to prove this year was that he could stay healthy — we already knew he was one of the most dynamic weapons in college football with the ball in his hands. He broke more tackles last season (12) than he had receptions (10). Now, he's broken seven tackles on 11 catches so far this season and has averaged 10.7 yards after the catch for his career.
4. S Richie Grant, UCF
It didn't end well for Grant, who was knocked out on a hit midway through the third quarter. But prior to that, he was everywhere for the Golden Knights' defense. He had four stops as well as an impressive ball-hawking pick from center field.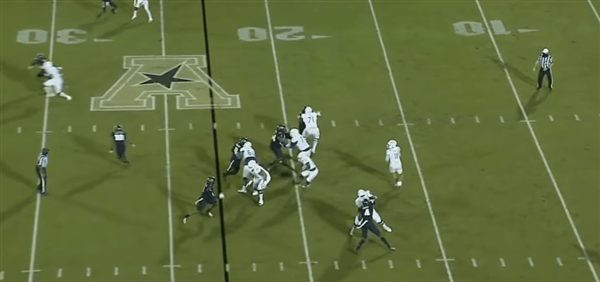 It was his second pick on the season and the ninth of his career. Grant looks like one of the top true deep safety prospects in the draft class.
5. WR Reggie Roberson Jr., SMU
Roberson is yet another guy who didn't make it through the game healthy. He didn't need many targets to make his presence felt, though. He utterly blazed cornerback T.J. Carter in this one and showed some legit speed en route to nearly 50 yards a catch. He hauled in 5-of-8 targets for 243 yards with two scores and three broken tackles.
Reggie Roberson putting on a SHOW for SMU ???? @TheKingReggie @SMU_Football

(via @ESPNCFB) pic.twitter.com/hPdHOJnhgz

— The Checkdown (@thecheckdown) October 3, 2020
Here's hoping his injury isn't serious enough that he misses considerable time.
6. RB Khalil Herbert, Virginia Tech
Herbert looked like he was on pace for a monster season at Kansas in 2019 before leaving the team for undisclosed reasons. He had 18 broken tackles on 42 carries and 388 rushing yards in four games before transferring. He landed on his feet at Virginia Tech, and the Jayhawks' loss has been the Hokies' gain. This past week, he shredded Duke for 207 yards on 19 attempts with seven broken tackles. He added a kick return score, as well.
➖ 358 all-purpose yards
➖ 208 rush yards
➖ 2 rush TDs

Khalil Herbert is the first @HokiesFB player with 300+ all-purpose yards in a single game since 2004 ???? pic.twitter.com/cA8xGQvRuA

— ACC Network (@accnetwork) October 3, 2020
This comes a week after Herbert ran for 104 yards on only six carries against North Carolina State. He's a stout 5-foot-9, 215 pounds and runs with terrific balance. While on the older side as a grad transfer, Herbert has proven throughout his career that he can break tackles.
7. CB Asante Samuel Jr., FSU
After picking off only one pass in his first two years with the Seminoles, Samuel hauled in his third pick of the season over the weekend.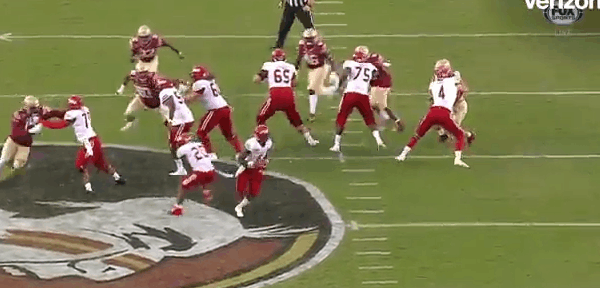 Bailing out in Cover 3, Samuel read the deep over route all the way and undercut it perfectly for the pick. His instincts and quicks in zone coverage are superb. So much so, that they make you believe he can overcome his small stature to stay at outside corner in the NFL.
8. QB Kenny Pickett, Pittsburgh
Yes, it came in a losing effort. But it's difficult to blame Pickett too much when he threw for over 400 yards while the Pittsburgh rushing attack produced all of 98 yards on 35 carries. Pickett showed off his big arm with some special downfield throws.
Kenny Pickett missed a guy in the end zone earlier in the quarter but also unleashes throws like this. pic.twitter.com/CARsd5SWJr

— Bryan Fischer (@BryanDFischer) October 3, 2020
He finished with four big-time throws on the day and no turnover-worthy plays. Timing is still the biggest issue with Pickett. He's consistently late to throws and can get away with it in college because of his arm strength. That won't be the case in the NFL, and we need to see it improve throughout the season.
9. DT Jonathan Marshall, Arkansas
The Arkansas nose tackle made life difficult for K.J. Costello and the Mississippi State passing attack over the weekend. He racked up a ridiculous eight pressures on 35 pass-rushing snaps, as Mississippi State's center Cole Smith simply couldn't handle Marshall's power. While the bull rush was Marshall's go-to, he also flashed some quicks and made plays in the run game. His fourth-down stop late in the fourth quarter gave the Razorbacks at least a shot of getting back in the game.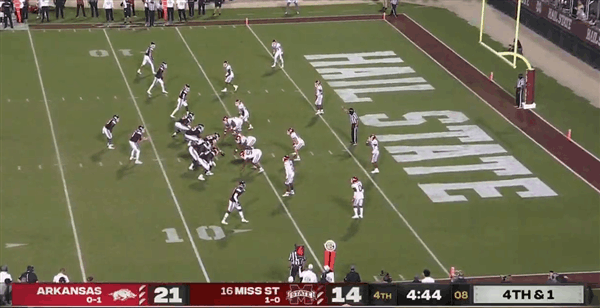 With 12 pressures now in two games, the redshirt senior is a name to keep an eye on going forward.
10. LB Zaven Collins, Tulsa
The man at the center of Tulsa's shocking upset victory over UCF, Collins did a little bit of everything Saturday. He had a pick, a pass breakup, three pressures and six defensive stops — including a tackle for loss for a safety on the day.
.@TulsaFootball LB @ZavenCollins was all over the field this weekend, finishing with a team-high 10 tackles, 3.5 tackles for loss, an interception, and two pass breakups. #AmericanPow6r pic.twitter.com/A9AsIwV1Qi

— American Football (@American_FB) October 5, 2020
Collins is a jumbo off-ball linebacker at 6-foot-4, 260 pounds who has been starting since his redshirt freshman season in 2018. His blend of size, length  and athleticism will be coveted in certain schemes.