Whether it's due to injury, off-the-field issues or just being flat-out undervalued, dozens of prospects slide far past their deserving draft spots in every single class. We'll likely see this happen even more so this year given the cancellations of pro days and teams conducting interviews via video chat. That being said, let's take a look at some of the prospects who will likely fall in the first few rounds of the 2020 NFL Draft when they really shouldn't:
[Editor's note: Check out all of PFF's 2020 NFL Mock Drafts, NFL Draft Big Board and Mock Draft Simulator. PFF Elite subscribers can also download the 1,100-page 2020 NFL Draft Guide.]
Some have started to come around on Houston tackle Josh Jones, but he's still undervalued. Jones is currently PFF's OT4, a spot above Louisville tackle Mekhi Becton — who is talked about as the possible fourth overall pick — and it has a lot to with his 2019 senior year that can be best described as dominant:
Best single-season PFF overall grade by a tackle (since 2014)
| | |
| --- | --- |
| Player, school and season | PFF grade |
| 1. Penei Sewell, Oregon (2019) | 95.7 |
| 2. Jack Conklin, Michigan State (2015) | 94.6 |
| 3. Cody Whitehair, Kansas State (2015) | 94.3 |
| 4. Josh Jones, Houston (2019) | 93.4 |
Jones' 93.4 overall grade in 2019 is by far the best we have ever seen from a Group-of-5 tackle. He and Penei Sewell were the only tackles to produce 90.0-plus grades in both pass protection and run blocking. The scary part about Jones is that he is far from a finished product. His technique wasn't all that great, yet, he still allowed only two pressures on 325 pass-block reps. Jones is worth taking in the top 20.
Injuries have caused Shenault to go from a possible top-15 pick to as far down as the middle of the second round. Even with this elite receiving class and his injury history, Shenault should be the fourth wide receiver off the board in the middle of the first round. His explosiveness makes him look like an elite running back when he has the ball in his hands. PFF's Mike Renner even comped him to Saquon Barkley in the 1,100-plus page PFF Draft Guide.
Shenault has broken an absurd 44 tackles on his 143 catches the past two seasons and generated over seven yards after the catch per reception. He's not the most refined route-runner yet, but he's proven to be one of the most dangerous receivers you'll see on screens and sweeps. NFL teams have to make sure a team with a creative offense — such as the Ravens (pick No. 28), 49ers (pick No. 31) or Bears (pick No. 43) — doesn't have the opportunity to take him because, if they do, that could be a nightmare to stop.
Elliott has been one of the most undervalued prospects in this entire draft class. He's viewed by numerous people as a Day 2 prospect at best, and most don't even have him sniffing the top-50 prospects overall. PFF, however, views Elliott as a top-20 prospect. He flashed a lot of potential in a limited role in 2018 by posting an 86.6 overall grade that ranked 17th at his position. Then, he proved he was an elite player as a starter in 2019 by producing a 92.4 overall grade that was the best at his position. He was the only Power-5 interior defensive lineman to produce an elite grade as both a pass-rusher and run-defender, proving to be the most consistent player at his position. Elliott's tools aren't elite or jaw-dropping, but his production is.
This fall is perhaps the most undeserving of any of the prospects' plunges. The biggest concern with Weaver was his athleticism, but he helped ease that concern with his great three-cone at the NFL Scouting Combine. His production has been off the charts the past two seasons, posting pass-rush grades above 92.0 in both years that combine to form a two-year grade ranking behind only Chase Young. His pass-rush win rate is actually over three percentage points higher than any other edge defender. Weaver's power off the edge makes his lack of overall burst not that big of a deal. Sure, there's some risk with that, but he shouldn't be falling down to the third round as many suggest.
Okwara's draft stock took a massive hit because of his fibula injury from Week 11 this past year. Throw in the fact that he had his worst performance of the season in Notre Dame's biggest game of the year against Georgia in Week 4, and people are ready to write him off as a late second-round pick at best.
Not so fast.
Okwara has the athleticism, length and, most importantly, the production needed to thrive at the next level. Over the past two seasons, Okwara has produced a PFF pass-rushing grade that is the seventh best in the country and a pressure rate that ranks first (19.1%). Okwara is right behind Weaver at the tail-end of the first-round on PFF's big board.
The reason for Gay not being a fringe first-round pick is solely because of off-the-field issues that caused him to be suspended multiple times. When he was on the field, though, Gay a monster in coverage for Mississippi State. He logged only 294 coverage snaps in his three-year career and posted a 93.9 coverage grade on those reps, allowing only nine first downs with seven plays made on the ball.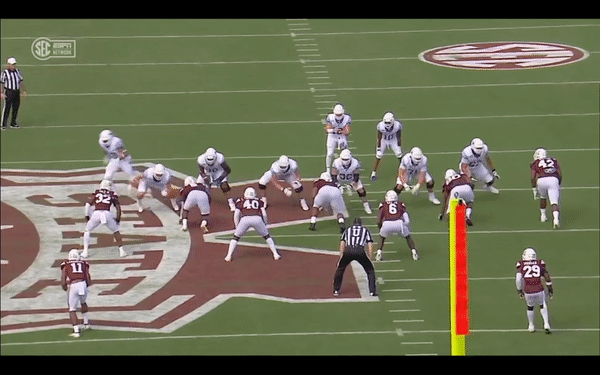 And let's not forget he then went to the NFL Scouting Combine and completely lit it up, posting near perfect measurements in the vertical (39.5"), broad (11'4"), 40-yard (4.46s) and 10-yard (1.5s). Gay is precisely what you want from an off-ball linebacker in coverage in the NFL and is going to be a steal for a team willing to take him on.
Stone is the PFF posterchild at this point, considering we are the only ones giving him any Day 2 love. He's not only the most underrated defensive back in the class, but also the most underrated player regardless of position. Stone's instincts are top-notch — he is so damn quick to make plays. Over the past two seasons, Stone has produced the third-best PFF coverage in the FBS. He's been responsible for minimal big plays downfield, and he made more plays on the ball (11) than first downs allowed (9) while also allowing the lowest yards per coverage snap among safeties (0.25). And he did it at 19 and 20 years old.
Among those to creep up the PFF draft board is Pittman, who has played his way, in our opinions, to a first-round grade largely because of his near-perfect ball skills. The 6-foot-4 Pittman has dropped just 2.8% of his career catchable targets, owns an insane catch radius and can adjust to any off-target throw to snag what would typically be an incomplete pass. His route-running is impressive for his size, too. Pittman's Combine testing was just the icing on the cake — running a 1.51-second 10-yard split and 4.52-second 40-yard at 6-foot-4, 223 pounds is not too shabby.
Johnson is a top-50 prospect in PFF's eyes, but he's being viewed as a Day 3 pick in everyone else's, and most of it has to do with his low-level athleticism and overall poor speed. That is being scrutinized far too much. He is one of the most refined route-runners in the class and uses that, as opposed to speed, to generate separation. Dating back to 2018, Johnson has generated a step or more of separation against single coverage 55.1% of the time, a figure that ranks 14th among 154 qualifying wide receivers and 14 percentage points above the FBS average. And he's made college defensive backs look like chumps on contested balls. Johnson generated the highest grade on contested targets since 2018, catching a top-tier 60.4% of his total contested targets in that span. We all know his athletic limitations, but don't overrate that fact. He's one of the craftiest route-runners in the class, which is part of the reason why he shouldn't be available beyond the second round.
Fulton is another one of those questionable draft slides. He had an issue off the field that caused him to be suspended a year and a half, but he has been one of college football's best cornerbacks since 2018. In fact, he actually recorded the highest PFF coverage grade in the country these past two seasons and highest forced incompletion rate (30.5%) by over four percentage points when lined up on the outside. His ability to stick with his man, consistently force tight coverage and win at the catch point is as good as anyone. Fulton can plug into any scheme you ask him to and is certainly deserving of being among the top 15 prospects off the board as opposed to the middle second-round looks a lot of people are giving him.