The NFL Scouting Combine kicks off next week, so in honor of the game's 'Underwear Olympics," we're looking at the most impressive performances from each position over the past decade.
Name recognition has no bearing here. This is simply who put up the best numbers across the board with deference to those who participated in more drills.
[Editor's note: Available to all of PFF's EDGE and ELITE subscribers, PFF's 2020 NFL Draft Guide consists of over 350 pages loaded with background information, analysis, advanced statistics, grades, round projections, player comparisons and more on over 100 2020 Reese's Senior Bowl attendees.]
Honorable Mention – Cam Newton, Auburn
RG3's 4.41 40-yard dash was a full tenth of a second faster than any other quarterback over the past decade (Tyrod Taylor, 4.51). Guys like Lamar Jackson and Kyler Murray could have been some serious competition here, but neither chose to run in Indy.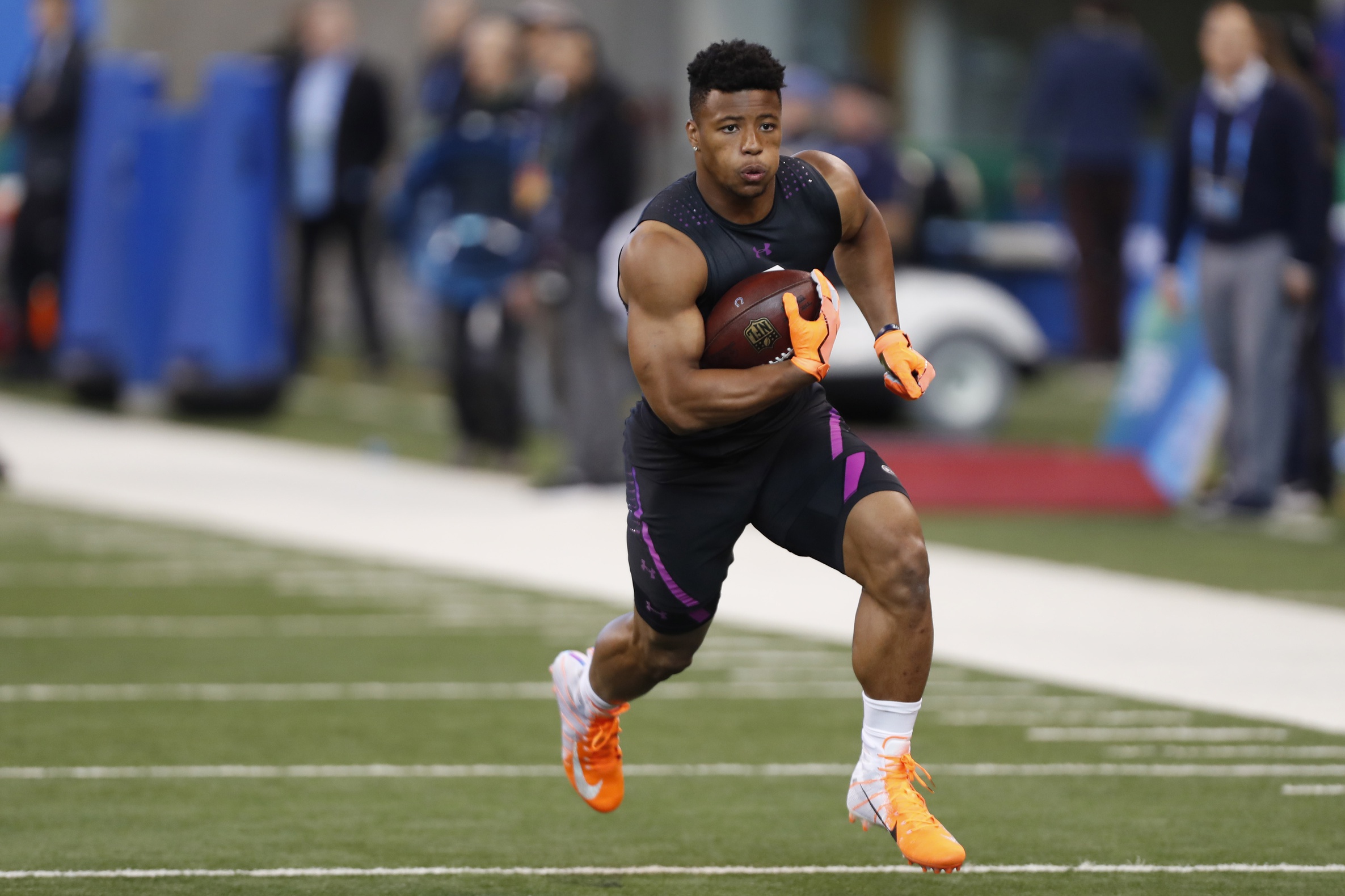 There were too many good ones to choose from for this. Barkley likely would have gotten the nod if he did more drills, and while Dri Archer's numbers were the freakiest, they came at a non-RB weight of 173 pounds. Christine Michael and David Johnson were both lights out across the board, as well. However, McKinnon's performance was elite in pretty much every single drill and was good enough to get him drafted in the third round back in 2014.
Guys like John Ross and Marquise Goodwin may have stolen the show with their 40s, but they offered little else. Conley and Boykin were the total package across the board with size, speed, explosiveness and agility. On the NFL field, though, we've not quite seen that show up.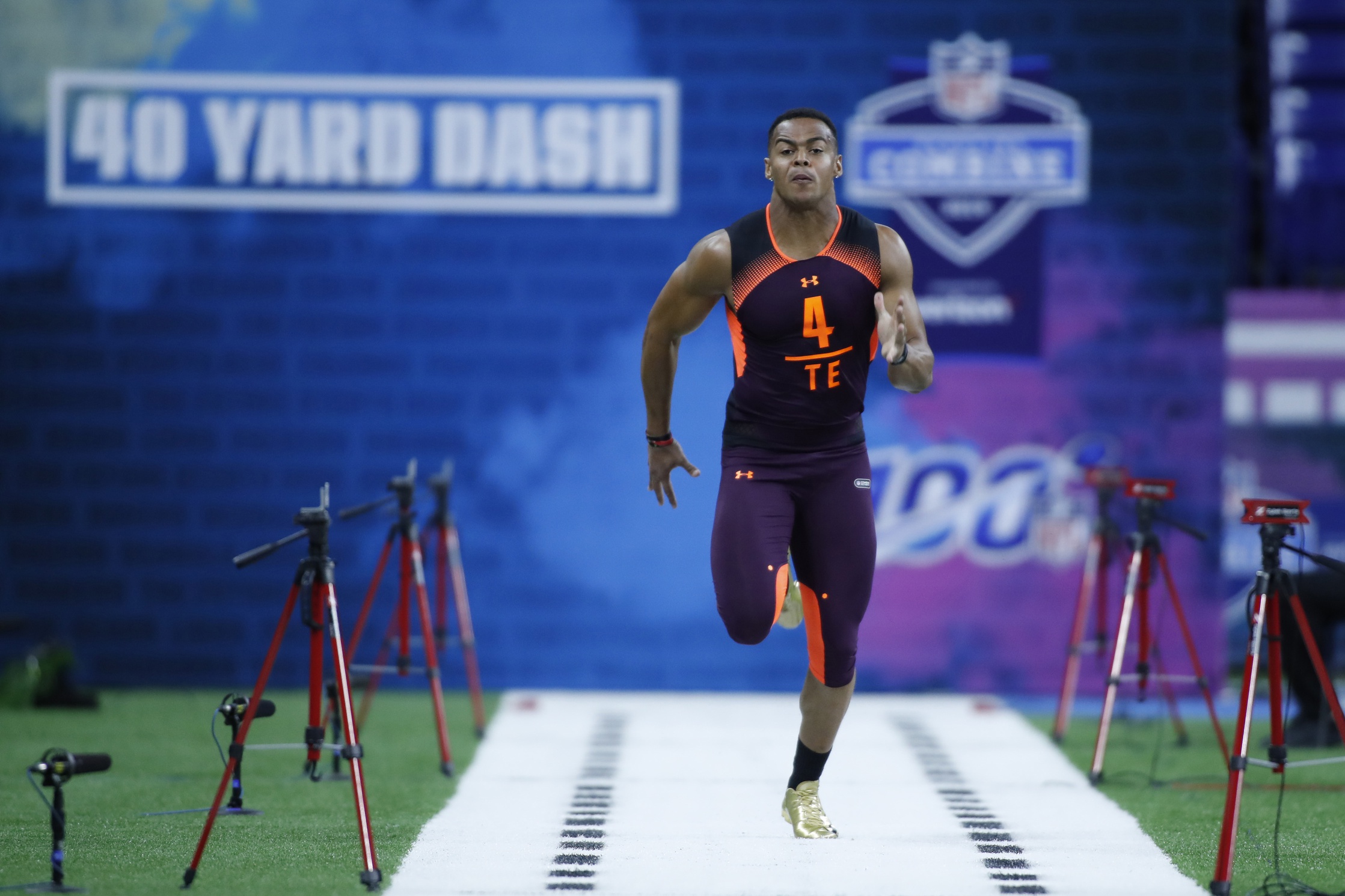 There were players like Dorin Dickerson and Evan Engram, who put up freaky numbers, though those numbers came at borderline wide receiver size. Gesicki knocked it out the park in Indy at a hefty 247 pounds. The Penn State tight end put up incredible numbers across the board, but after racking up 105 catches for 1,142 yards his final two seasons in college, his numbers and athleticism haven't quite translated yet in the pros.
Armstead holds the combine record in the 40-yard dash for offensive linemen at 4.71 while Johnson isn't too far behind in second at 4.72. They're also arguably the best tackles at their respective positions in the NFL. Armstead has earned pass-blocking grades over 80.0 for five consecutive seasons, while Johnson has only had one of his seven seasons earn a run-blocking grade below 80.0.
You may not be surprised to find out that guard is quite easily the least athletic position on this list. While Marpet has been excellent throughout his career and never earned a grade below 70.0, the jury is still out on Lindstrom, who earned a 66.6 overall grade in his injury-shortened rookie season.
Kelce is easily the most agile offensive lineman in combine history. His 7.22 3-cone is the fourth-best recorded time for any offensive lineman, while his 4.14 short shuttle is 0.13 seconds faster than any other lineman has ever tested.
The two most dominant interior defenders of the past decade just so happen to be the most freakish. Watt's 6.88 3-cone at 290 pounds is an all-time figure, while Donald's 4.68 40-yard dash qualifies similarly.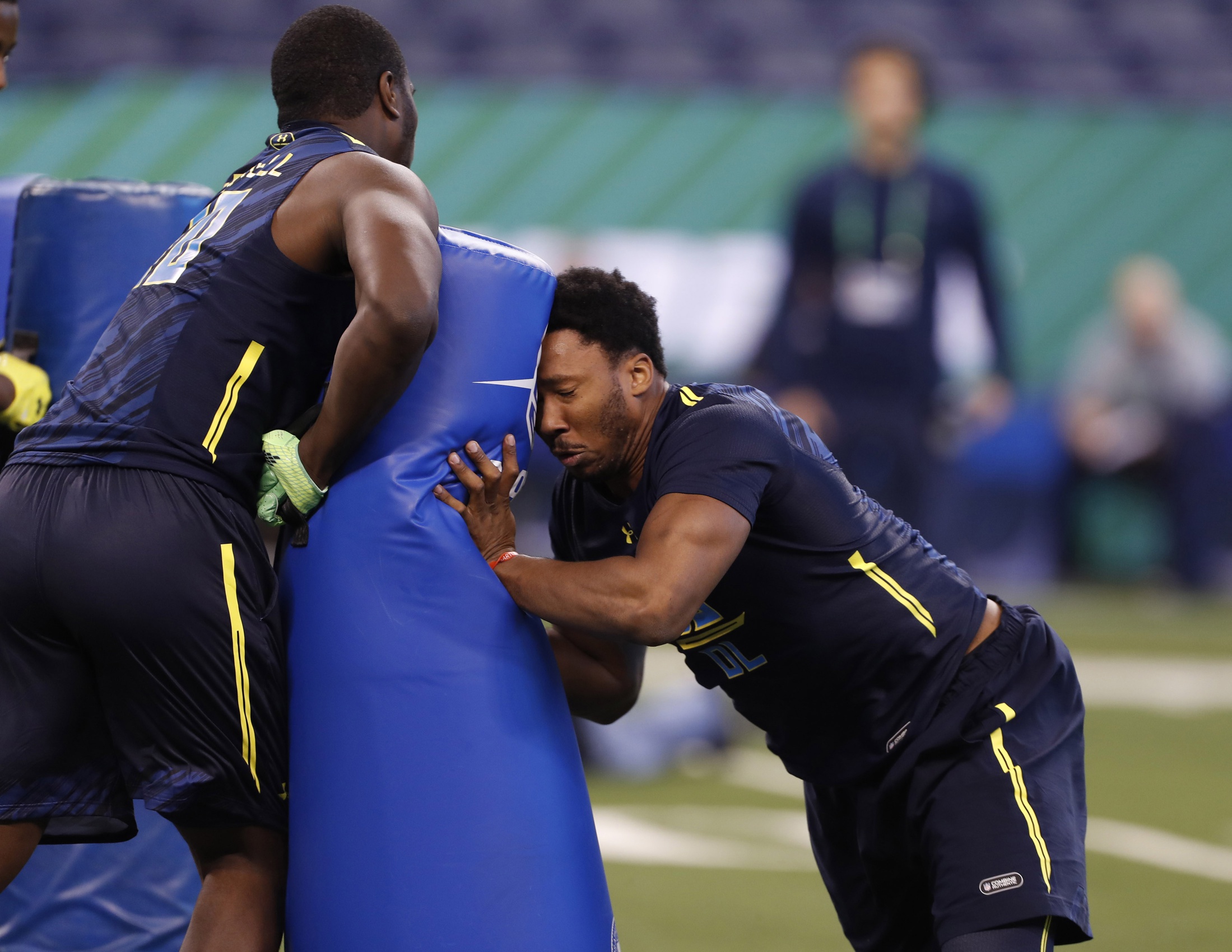 Beasley and Garrett's careers have gone in opposite directions in the pros, with the former earning a 58.9 overall grade last year and the latter earning an 86.5. Beasley could never quite overcome his lack of size (246 pounds) and length (32.5-inch arms). Garrett, on the other hand, has been as advertised, and his 41-inch vertical at 272 pounds is still one of the most absurd combine figures I've ever seen.
You're probably asking, who is Matthew Thomas? The FSU linebacker was signed as a UDFA by the Steelers and has played the fewest snaps of anyone on this list with only four to date. That doesn't make his testing numbers any less impressive, though. While a handful of linebackers in recent years have blazed impressive 40s, Vander Esch gets the nod because he did his testing at a burly 256 pounds. Vander Esch led college football in stops in his final season at Boise State, and he has looked the part when healthy for the Cowboys.
Leaving off Buster Skrine's absurd agility performance as well as Jalen Ramsey's all-around dominance just goes to show you how athletic some of these cornerbacks are. Jones is the proud owner of arguably the most impressive combine performance ever. Jones recorded 12 feet 3 inches in the broad jump, a full 5 feet farther than any other player has ever leaped at the combine, and it's actually even recognized as the world record. And while other corners have had more impressive numbers across the board than Peterson, none of them did it at 219 pounds.
Melifonwu and Thornhill put up almost identical combine figures with the only real separator between them being that Melifonwu did it at nearly 20 pounds heavier. Apke's performance didn't have nearly as much fanfare but was low-key one of the greatest all-around combine performances of all time.