Will Levis is the biggest boom-or-bust QB prospect: The Kentucky product's lack of athleticism causes him to make the list over Florida's Anthony Richardson.
Quentin Johnston has boom-or-bust qualities: The TCU product is an elite athlete but is missing some of the ancillary traits that would make him a safer prospect.
Two Clemson defenders make the list: LB Trenton Simpson and EDGE Myles Murphy are supreme athletes whose tapes does quite match up, making them two of the biggest boom-or-bust prospects in this class.
Estimated reading time: 6 minutes
---
As much as we want them to, not every NFL draft prospect is going to become a superstart at the next level. There are often reasons that make certain prospects riskier than others. Whether that's bad tape with elite tools, unclear positional fits, or off-field issues – all can lead to players being better on paper than they are when they see an NFL field. These are the prospects at each position that fit that bill.

---
There are obviously two quarterbacks who've gotten the "boom or bust" label in this draft class — Florida's Anthony Richardson being the other. Richardson is such a high-end athlete, however, that his rushing ability gives him a little higher floor in my opinion.
That leaves Levis as the hot-button quarterback at the top of the draft. If you watched his pro day, it was very evident why NFL evaluators are higher on him than his stats suggest. His ability to push the ball 30-plus yards downfield with a quick release and without having to add extra air is a huge trump card when attacking the tighter windows in the NFL.
Will Levis is putting on a show at Kentucky's pro day ????@UKFootball's pro day live on SEC Network pic.twitter.com/FpOod2Tt9q

— SEC Network (@SECNetwork) March 24, 2023
On tape, though, those special throws were far less frequent than you'd like, and his accuracy was spotty at best. His 2021 tape showed a different story, but he's still getting drafted for what he might become and not what he is right now.
---
Tucker is one of the most explosive running backs you'll ever see. Even if you don't believe his "pro day" that he posted on twitter that has him jumping 41.5 inches, running a 4.33-second 40 and doing 28 bench press reps at 5-foot-9 and 207 pounds, the tape still shows a player who makes those numbers in the realm of believable.
I wasn't able to participate at the NFL combine because of a medical exclusion, something I expect to have cleared shortly. I hope this video will show you my hard work and dedication to be in the best shape of my life and how I am ready to perform at a high level in the NFL. pic.twitter.com/ZKoNeWF23y

— Sean Tucker (@seantucker2020) March 18, 2023
For such an athletically driven position like running back, that should be enough, right? Well, the tape shows questionable vision, questionable pass protection and even more questionable hands (13.7% career drop rate). That's a tough profile to square.
---
No one has a more intriguing set of athletic traits at the wide receiver position in this draft class. His explosiveness (40.5-inch vertical and 11-foot-2 broad jump) at his size (6-foot-3, 208 pounds) with nearly a 6-foot-10 wingspan is rare, especially in a draft class full of smaller slot types at the position. It allows him to do absurd things such as:
Easy to see why Quentin Johnston is one of the more polarizing players in the class

He does things like this on tape but then also sometimes he'll let a screen hit him in the chest pic.twitter.com/zGUmBADf3v

— Mike Renner (@PFF_Mike) March 27, 2023
However, he's also dropped 10.2% of his career catchable passes and is a work in progress as a route-runner, making his translatability all the more in question.
---
Musgrave is a well-proportioned 6-foot-6 and 251-pound tight end who can get away and stay away from defenders — a rarity at the position. He's also, by far, the least productive among the top tight end prospects in the class. Three different tight ends generated more receiving yards this past season alone than Musgrave did in four seasons at Oregon State. He didn't help his case either by dropping nine of his 56 career catchable passes for the Beavers.
Top size/speed combo at @seniorbowl? It was Oregon State TE Luke Musgrave, who had 16th fastest max speed (20.05 mph) of any player…AT 255 lbs! Next heaviest who ran faster was Cincy LB Ivan Pace Jr (20.58 at 231 lbs). Trusted sources think Musgrave could run 4.4 at Combine.???? pic.twitter.com/qa3xtXm3WA

— Jim Nagy (@JimNagy_SB) February 11, 2023
---
Duncan looks like a high-end NFL tackle by the way he moves on a football field. The problem is he looks like an average college tackle once he has to actually engage blocks. He only earned a 61.6 overall grade this past season with 28 pressures allowed from 476 pass-blocking snaps. He falls off blocks way too easily on tape, and who knows if that will ever get fixed.
Same concept here against #Maryland. Zach Harrison set up his bull rush the play before, then did it again, only to push, pull and rip past Jaelyn Duncan for a game sealing strip sack.

Think he would certainly be an #Eagles target on Day 2, interested to see how he tests. pic.twitter.com/3yqnCWKG7L

— Devin Jackson (@RealD_Jackson) February 21, 2023
---
Interior line is traditionally seen as a "safer" position, and the data backs that up to a degree. It's rare to see those who play at a high level in college at either guard or center truly fall flat at the next level. That made this a difficult position to pinpoint a player for the "boom or bust" label.
While I'd bet on Mauch "booming" rather than "busting," there's still some aspects of his prospect profile that give me pause:
He played only 16 snaps on the interior in six seasons for the Bison.
The massive leap up in competition from North Dakota State to the NFL.
He's still a work in progress in pass protection with very limited reps in a run-heavy offense.
Unknowns don't necessarily mean he is incapable, but they do make prospects like Mauch a touch riskier in some ways.
If you see Cody Mauch's firey red locks coming at you on a dead sprint…you're in danger pic.twitter.com/lIE0yQORmo

— Mike Renner (@PFF_Mike) March 16, 2023
---
This one needs little explanation. On the field, he's the top-ranked non-quarterback on PFF's draft board. Off the field, he's had a nightmarish few months. He pleaded no contest to misdemeanor charges stemming from his role in an alleged street racing accident that resulted in the death of his Georgia teammate Devin Willock and Georgia recruiting analyst Chandler LeCroy. Months prior, he was cited for driving 90 miles per hour in a 45 miles-per-hour zone. Then, at his pro day, Carter showed up nine pounds heavier than at the combine and couldn't even finish the positional drills. The red flags are starting to pile up.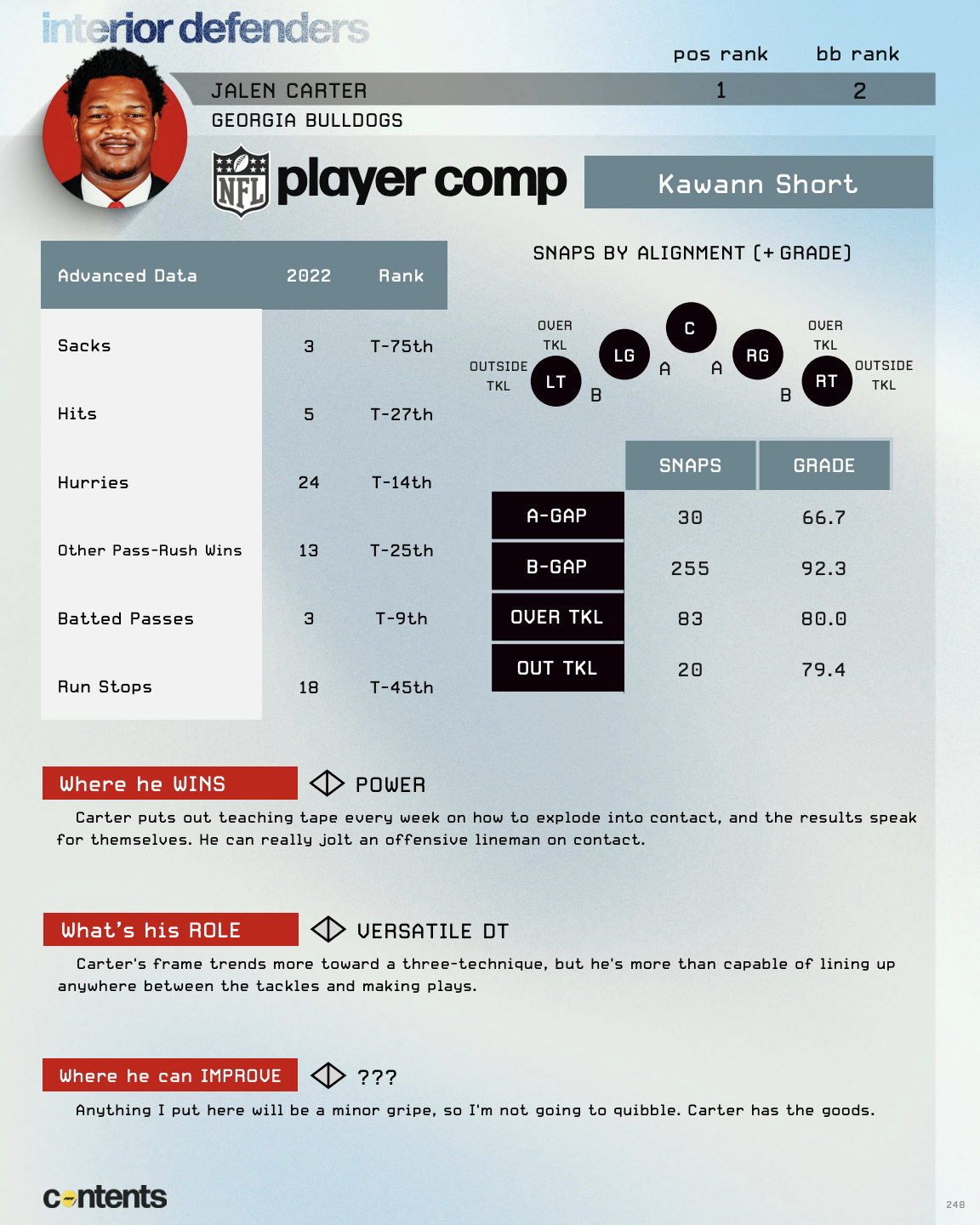 ---
Murphy is one of the scariest athletes on the edge in the class. While he hasn't tested pre-draft yet due to a hamstring injury, Murphy ranked third on Bruce Feldman's Freaks List last fall with a reported high-4.5-second 40-yard dash, 35-inch vertical and 10-foot broad jump at 268 pounds. He's a long and explosive edge who just doesn't quite have a pass-rush plan as of yet and hasn't shown much in the way of development since his freshman year. In fact, Murphy's highest graded season came in that 2020 season, when he earned an 85.2 overall grade.
Good Lord Myles Murphy didn't just put that LT on his butt, he put him on his head pic.twitter.com/ngKYGhaueY

— Trevor Sikkema (@TampaBayTre) October 2, 2022
---
Simpson's write-up here looks a lot like Murphy's above. The 6-foot-2, 235-pounder ran a 4.43-second 40 and vertical jumped 40.5 inches in the pre-draft process. He has the kind of frame, range and power that everyone is looking for at linebacker, but he just doesn't quite have the tape and only played true between-the-tackles linebacker for one season. With all those tools, Simpson also only broke up two passes in his career and picked off zero.
Trenton Simpson covered that screen PERFECTLY ???? pic.twitter.com/NuHvQLgu2r

— PFF College (@PFF_College) September 6, 2022
---
Outliers always present risk in the draft, and Forbes is one glaring outlier. At the combine, the nearly 6-foot-1 corner tipped the scales at a trim 166 pounds, making him not only the lightest cornerback to weigh in at the combine since 2000 but he'll be the lightest 6-foot or taller corner drafted in the top 100 by a whopping 10 pounds! That's DeVonta Smith levels of outlier.
Emmanuel Forbes anticipates and uses his speed/length to disrupt the screen pic.twitter.com/K2gIGlPXbe

— Billy M (@BillyM_91) March 12, 2023
---
Johnson is listed as a safety, but in actuality, he was almost exclusively a slot in college. In three seasons with the Aggies, Johnson played all of two games as a traditional safety. It's just worrisome how he'll fare if asked to play a more versatile role when most of his high-end plays are around the line of scrimmage.
We see you, @Antonio_johns0n ???? @AggieFootball pic.twitter.com/JDGFTCd127

— SEC Network (@SECNetwork) November 20, 2021