With the College Football Playoff headed to the finals, it's time to look forward to the top NFL draft prospects who will be featured in the national championship game. Alabama and Georgia are littered with top prospects, particularly on the defensive side of the ball, including a number of talents who should be off the board within the first two days.
The following list includes some of those top-three rounders and potential fits for early in the draft.
Minkah Fitzpatrick, CB, Alabama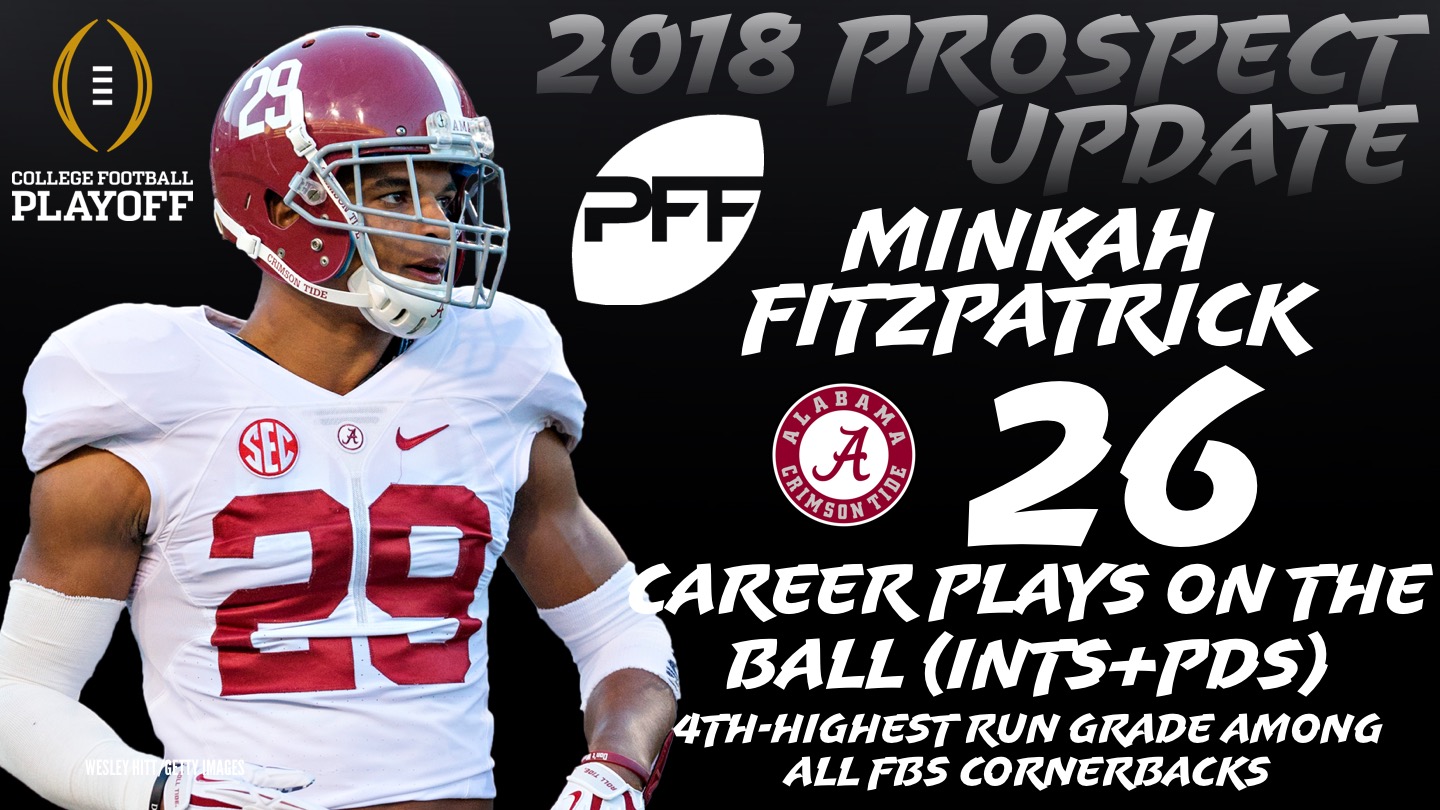 Best fits: Cleveland Browns, New York Jets, Indianapolis Colts
Fitzpatrick will battle Florida State safety Derwin James for the title of top defensive playmaker, as they're both versatile playmakers capable of making an impact in all phases and in different positions. Fitzpatrick can play on the outside or in the slot while bringing a linebacker mentality to the run game, as evidenced by his 85.9 grade against the run that ranks fourth among the nation's cornerbacks. The Browns, Jets, and Colts are all in need of impact players in the secondary, and while the Browns and Jets will certainly be eyeing quarterbacks with their respective top-10 picks, Fitzpatrick could be the right fit in that range.
Roquan Smith, LB, Georgia
Best fits: Los Angeles Chargers, Oakland Raiders, Cincinnati Bengals
With two-plus years of excellent film, Smith will be a potential Day 1 commodity come draft time. He flies around the field, capable of diagnosing and finishing plays as well as any linebacker in the country. Smith graded at 87.4 overall last season, and his 90.1 overall grade this year ranks fourth in the nation, including the No. 2 mark in coverage at 90.5. He's exactly what the NFL needs, as he plays with great range in coverage. He's also a sure tackler, missing only 15 of his 238 career tackle attempts. The Chargers already have an excellent coverage unit, but they can use an upgrade at linebacker while the Raiders and Bengals had issues covering in the middle of the field this season. Last season, Alabama's Reuben Foster received top-10 overall hype, and Smith may get the same this draft season.
Calvin Ridley, WR, Alabama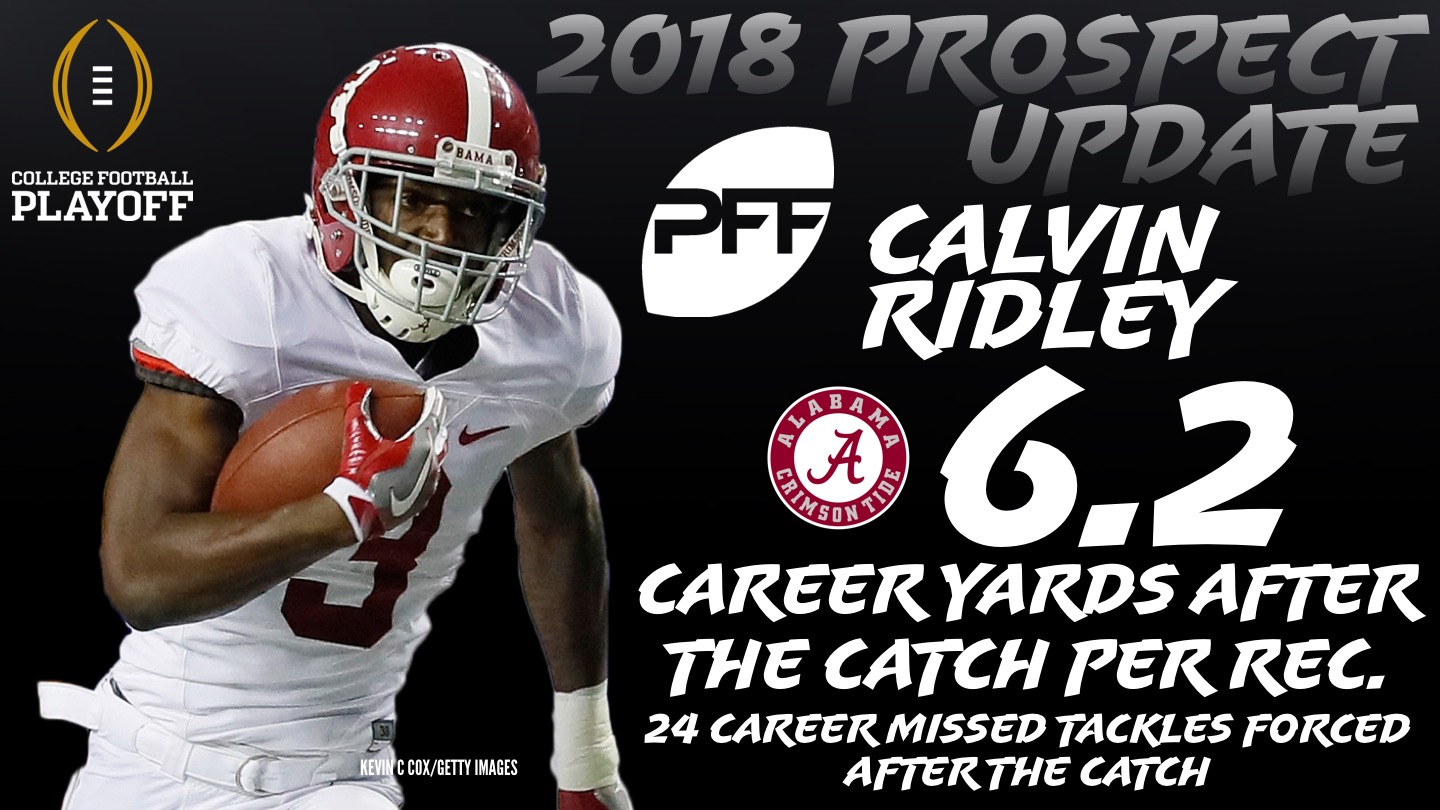 Best fits: Green Bay Packers, Chicago Bears, San Francisco 49ers
The wide receiver class is wide open at the top, and Ridley's downfield ability could make him the top receiver off the board. A run-heavy approach has limited his production over the last two years, but Ridley has the speed to stretch the field and the route-running to create separation at the short and intermediate level. He's also been a weapon after the catch for Alabama, averaging 6.2 YAC per reception in his career. The Packers could certainly use his speed to add another weapon for QB Aaron Rodgers, while the Bears are in need of any kind of playmaker out wide. Keep an eye on the 49ers as well, who have capable role players in the passing game, but they lack a true No. 1 receiver on the outside.
Rashaan Evans, LB, Alabama
Best fits: Pittsburgh Steelers, New England Patriots, New Orleans Saints
Evans does it all for the Alabama defense, playing a more traditional linebacker role this year after dominating off the edge in limited opportunities in his first three years. This year, his 77.5 pass-rush grade ranks fourth among linebackers, and he has 16 sacks, 16 QB hits, and 35 hurries on only 271 career rushes. His versatility will certainly make him attractive to the Patriots, who may see some Jamie Collins in Evans' game. The Steelers' defense is always in need of linebackers who are capable of covering and rushing the passer, while the Saints made great strides defensively this season but are still looking for a dynamic playmaker in the middle of that defense.
Nick Chubb, RB, Georgia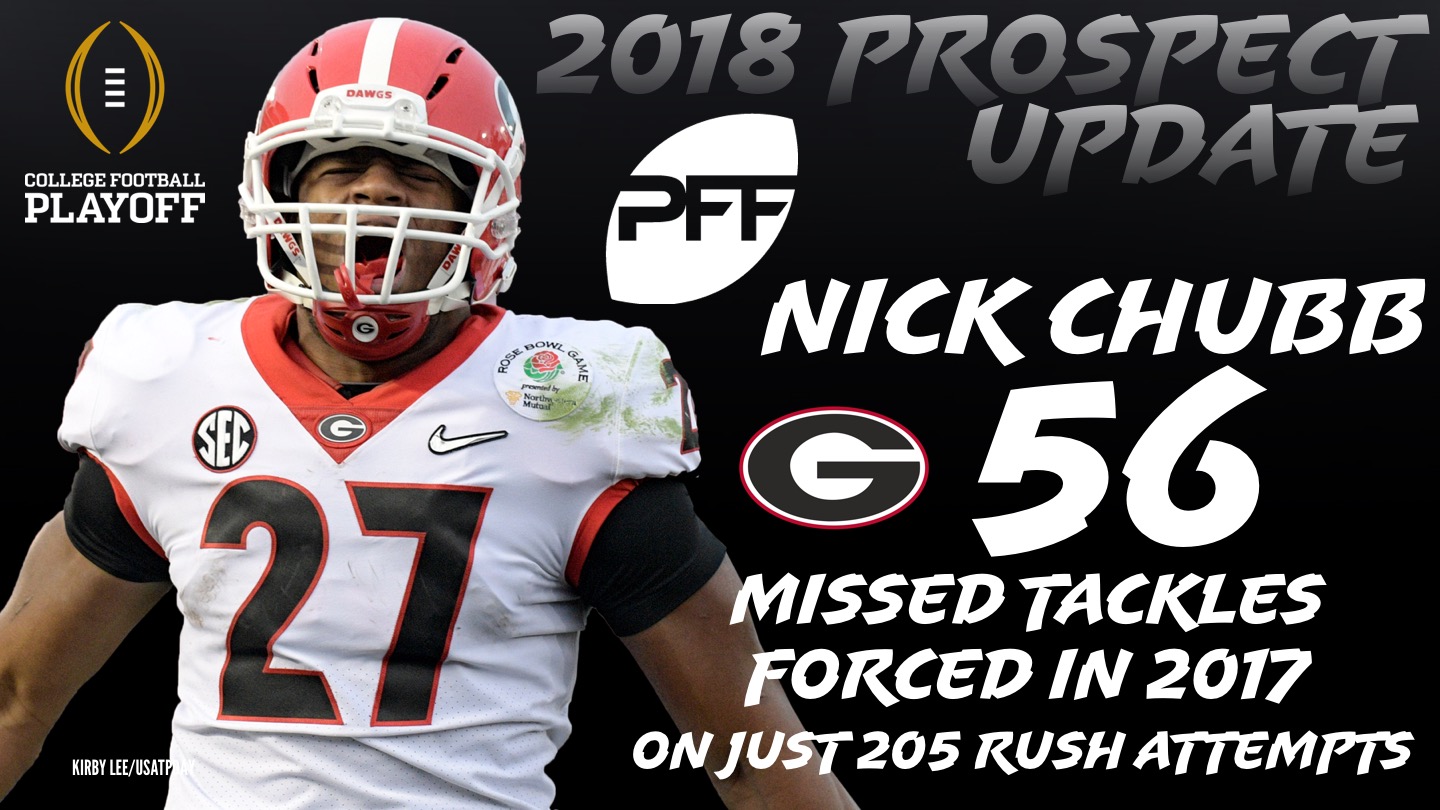 Best fits: Washington Redskins, Seattle Seahawks, Tampa Bay Buccaneers
It's been an incredible career for Chubb, who burst onto the scene in 2014, filling in for an injured Todd Gurley and even outperforming the superstar in some aspects. Chubb has dealt with injuries throughout his four years at Georgia, but this was his best season since that breakout freshman campaign, as he averaged a career-high 3.9 yards after contact per rush and forced 56 missed tackles on only 205 rushes. He's an efficient runner who can maximize what the run-blocking gives him while tacking on a little extra with his speed and power. The Redskins, Seahawks, and Buccaneers could also use that efficiency in their respective run games, and while Chubb is unlikely to be a first-round pick, he'd make a fine Day 2 addition to any of those teams.
Sony Michel, RB, Georgia
Best fits: Oakland Raiders, Detroit Lions, Pittsburgh Steelers
Chubb's partner in crime is Michel, who brings a dynamic presence to the backfield as both a runner and as a receiver. He's averaging 8.1 yards per carry this season and 6.2 for his career. He hits the hole with velocity and creates big plays when given a slight crease. His pass-game usage has gone down this year, but he's forced 31 missed tackles on 63 career receptions and can do damage in space, perhaps reminding likely new Raiders coach Jon Gruden of his days in which RB Charlie Garner was catching passes out of the backfield. The Lions are another potential landing spot as they continue to look for run/pass threats, while the Steelers could use added backfield depth, particularly a back with Michel's receiving ability.