Wes Welker, Julian Edelman, future New England Patriot are all classifications tied to 5-foot-9, 186-pound UMass receiver Andy Isabella all because he fits the mold for a successful but limited slot receiver in the NFL.
But Isabella is different, and those who confine him into the aforementioned categories are, well, wrong.
"I can do it all," Isabella said in a February interview with Pro Football Focus. "If they want to put me at running back, I can do that. If they want to put me at outside [receiver], I can do that. If they want to put me inside, then I think I showed at the Senior Bowl that I can do that, as well."
Of course, Isabella doesn't just talk the talk. He has experience at running back dating back to his high school days in Mayfield, Ohio and came to UMass as a running back. It didn't take long for Minutemen coaches to move Isabella to wide receiver after seeing him dominate at the position on scout team in practice. Fast forward three years after his freshman season and Isabella truly dominated at outside wide receiver in 2018.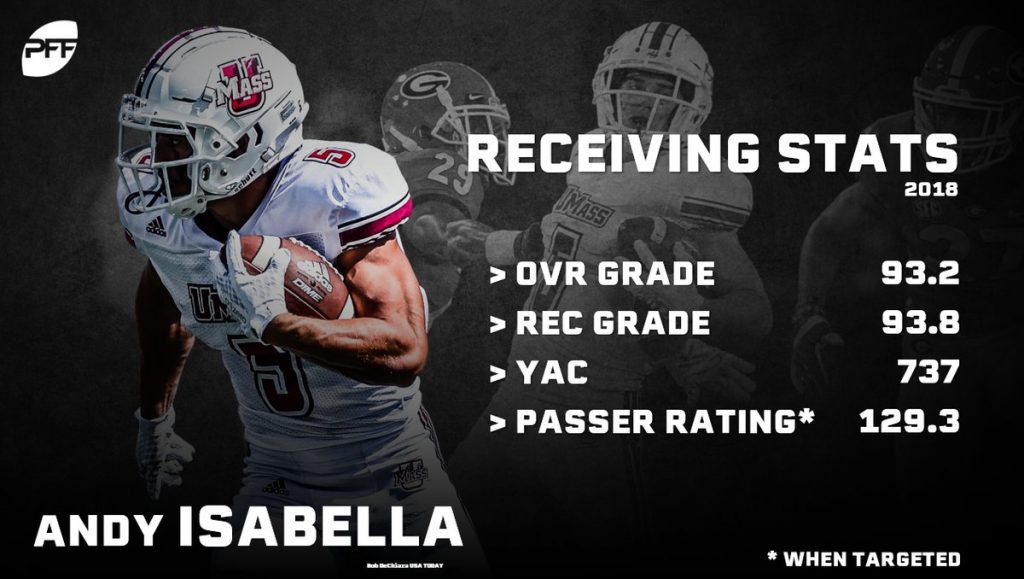 While playing more than 63% of his offensive snaps outside the hashes at wide receiver, Isabella earned an FBS-high 93.2 overall grade in 2018. Among the 234 FBS receivers with 300-plus routes run in 2018, Isabella ranked first in yards per route run and 17th in passer rating when targeted (129.3).
Isolating his play to just the 242 routes Isabella ran at outside receiver this past season, he caught 68-of-97 targets for 1,366 yards (587 YAC), 32 first downs and 12 touchdowns en route to an FBS-high 93.7 receiving grade. No receiver graded out higher than Isabella on the outside, and no receiver averaged more yards per route run; his 5.64 yards per route run average also led the FBS, and the player in second, Missouri's Emanuel Hall, averaged just 3.57 yards per route run. And his 143.6 passer rating when targeted at outside receiver ranked second.
However, despite all of his success on the outside, Isabella said a bulk of the teams he's already had opportunities to speak with want him to play slot at the next level, making his trip to the Senior Bowl that much more important.
"All Senior Bowl week, I was in the slot, and it was frustrating," Isabella said. "That whole week was almost like an adjustment. But I definitely learned a lot from that week and got better playing in the slot and got kind of used to that role I might have to play.
"In the slot, you really have to run precise routes. You can't really use your speed to get open. So, [the Senior Bowl] really helped me work on my routes that week."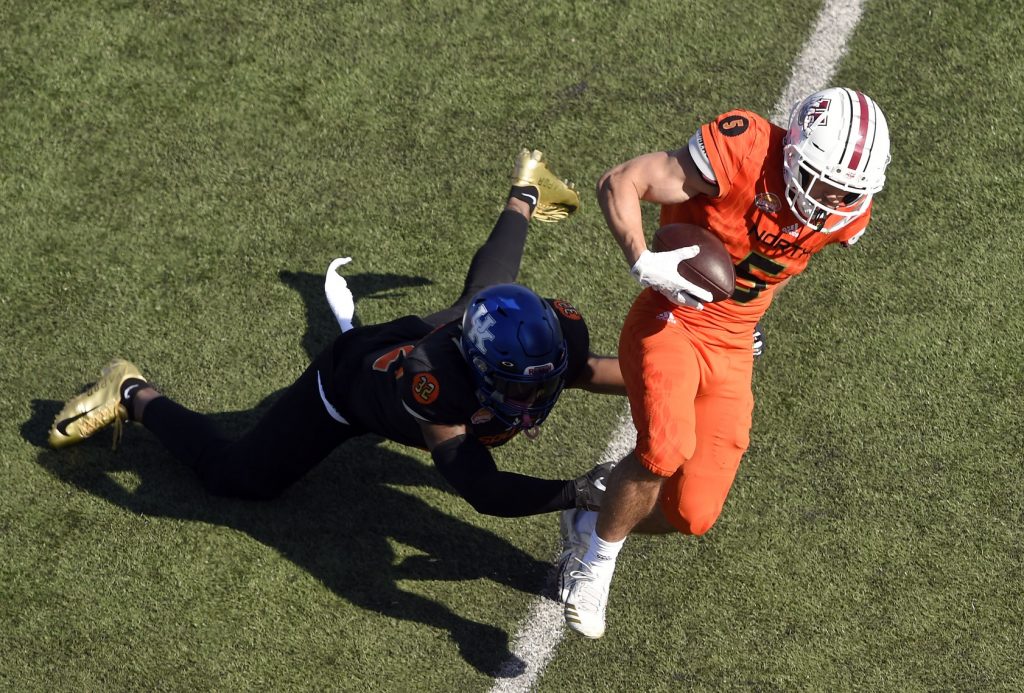 Isabella, despite the slot adjustment, dominated the Senior Bowl. He led the group of 35 senior wideouts with at least 20 offensive snaps in overall grade, catching all seven of his targets for 74 yards, four first downs and a score. But it wasn't the style of play that took him to new heights at UMass.
In Mobile, Isabela gained 74.3% of his yards after the catch and recorded a Senior Bowl-low average depth of target at 2.7 yards beyond the line of scrimmage. Only once in his illustrious 2018 season did Isabella gain more than 60% of his yards after the catch in a single game, and his average depth of target never dipped below 8.4 in any single game, either. His average depth of target for the season (12.5) was also among the top-50 FBS receivers
Isabella, a Mayfield track star with legitimate NFL speed, makes his money outside the hashes and down the field. His size might not indicate as such, but his production does.
Among the 129 FBS wide receivers with at least 40 targets of 10-plus air yards, Isabella ranked first in receiving grade at 98.0. He also ranked fifth in yards per target (16.5) and 12th in passer rating when targeted (124.3) on such routes, catching 41-of-71 targets for 1,175 yards, 31 first downs and 10 touchdowns.
Isabella's success is rooted in his ability to stretch the field and make the big play, things that can be limited when isolated to the slot in the NFL. The average ADOT for NFL receivers in the slot last season was 9.49; the average ADOT for NFL receivers on the outside was 13.5.
Catching 14-of-32 deep targets (20-plus air yards), Isabella recorded the third-most deep receiving yards (705) and nine deep touchdowns. And all 32 targets and 96.5 % of his deep receiving yards came when he was lined up at outside receiver.
Isabella wants much of the same in the NFL.
"That's my goal," Isabella said. "I love watching the big-play guys like Tyreek Hill, Tavon Auston and Odell Beckham Jr… Guys that can just change the game. And that's my goal. I want to be that player that can just change the game at any moment."
Isabella said he wants to push for an outside role and maintain his big-play ability at the next level but knows he'll have to earn that opportunity like he did at UMass. And a strong showing and weigh-in at the 2019 NFL Scouting Combine could surely get the ball rolling in that direction come early March.