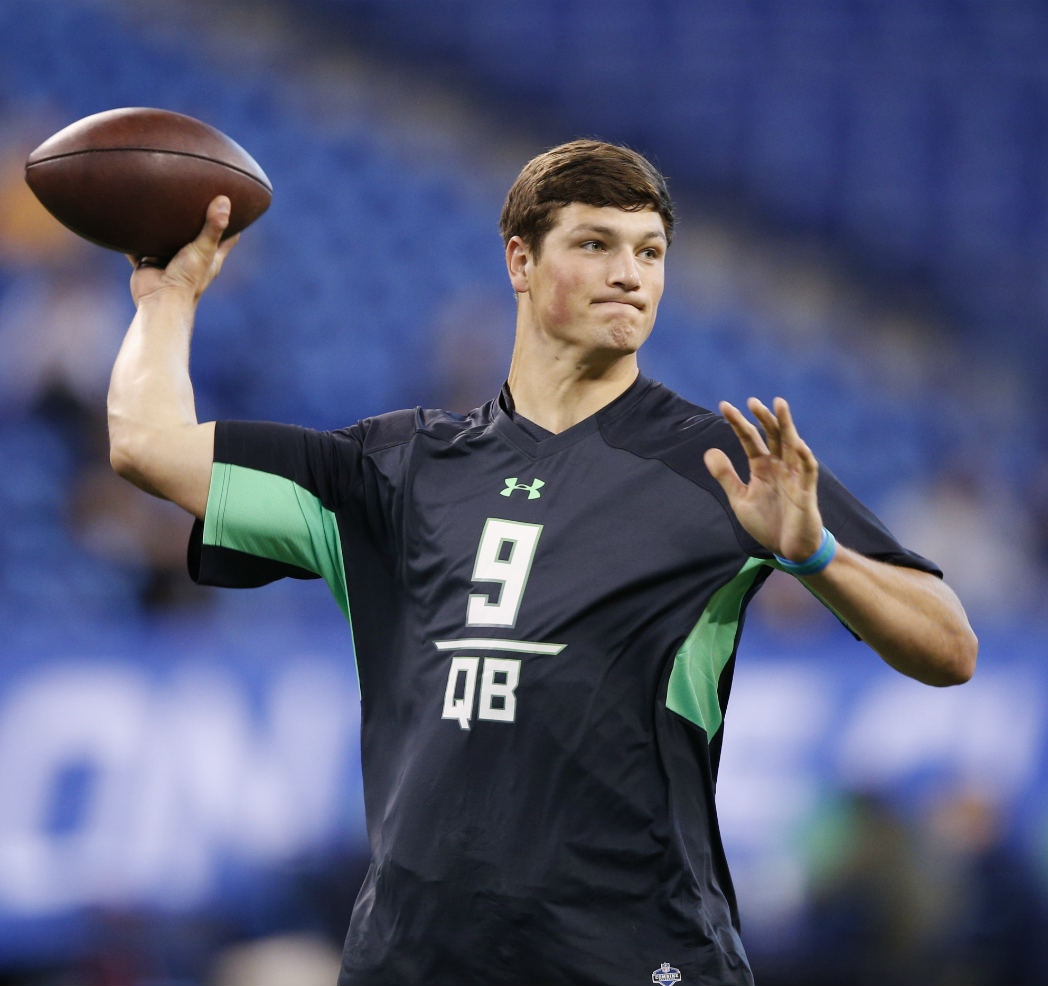 We didn't have to leave the second round in coming up with our list of the five worst picks made on Day 2 of the 2016 NFL draft — that's how many selections there were early on Friday that we disagreed with based on our PFF grades and draft evaluations.
Here are the five worst picks of Day 2:
1. Buccaneers: Roberto Aguayo, K, Florida State (No. 59 overall)
Tampa Bay drafted a kicker in the second round. That might be understandable if Aguayo simply didn't miss, but on kicks from 40-plus yards, Aguayo was only 14-for-22 over the past two seasons. That's fine, but it's nowhere near an elite NFL level, and there is nothing to suggest kickers are "safer" draft prospects than any other position. The Bucs could have added a player who would start right away on their defense, but instead they drafted someone who will be on the field fewer than 10 plays per game. Oh, and they gave up picks to trade up to do it.
2. Jets: Christian Hackenberg, QB, Penn State (No. 51 overall)
Hackenberg was the lowest-graded quarterback in our 2014 college stats, as a true sophomore. He improved a bit as a junior, but still had the second-lowest accuracy percentage in the FBS (64.0 percent). You can't teach arm strength, but it's also fairly difficult to teach accuracy, and it's hard to see Hackenberg ever getting to an NFL level in that respect. Fellow PFF analyst Sam Monson broke down Hackenberg's game leading up to the draft, and the results weren't pretty. We had an undrafted free agent grade on him in our PFF draft rankings, and he wound up going.
3. Falcons: Deion Jones, LB, LSU (No. 52 overall)
If there is one position on defense where athleticism is far from a predictor of success, it's linebacker. It seems like it's a yearly tradition that a hyper-athletic linebacker with little production is drafted highly and then continues that low level of production in the NFL. Jones might run a blazing 40-yard dash, but it didn't even translate to a positive coverage grade at the college level (or a positive run-defense grade, for that matter). His 40 total stops were the 88th-most of any linebacker in the FBS last year. That's two straight reaches for Atlanta in this draft, after taking Florida safety Keanu Neal at No. 17 overall.
4. Raiders: Jihad Ward, DE, Illinois
The grading doesn't support Ward being a second-round pick — at all. He posted a slightly negative pass-rushing grade last season. With as little experience as Ward has playing high-level football, however, and with the frame he has, we could have gotten on board with the pick if he was also a good athlete. But he's actually a below-average athlete, after posting a 25-inch vertical and a 5.11-second 40-yard dash at 297 pounds. At that point it's difficult to see the upside. At the Senior Bowl he only posted a 42 percent win percentage in the pass-rushing one-on-one drills, the third-worst rate of any defensive end there.
5. Steelers: Sean Davis, DB, Maryland
It may seem like we lean on our grades a lot at PFF when it comes to projecting players from college to the NFL, but it comes from a simple premise: If a player can't produce at least at an above-average level against lesser college competition, what are the chances that he all of a sudden turns it around when every opponent is bigger, faster and stronger in the NFL? Davis may have freakish athletic traits, but that didn't help him cover any better in college. The Maryland cornerback had a minus-6.7 coverage grade and allowed 50 of 81 targets to be completed, for 721 yards on the season, in only 12 games last year. That extrapolates to 961 yards over a 16-game season, and would have been the third worst total in the NFL last year.