Welcome to draft week.
In a little over three days, the 2023 NFL Draft will finally get underway, and 259 draft prospects will hear their names called as the league's teams pick their hopeful stars of the future.
The PFF NFL Show will be live all week in the lead-up to Thursday's first round, and our draft show will be live for all three days of the event, giving you all the analysis you need to know about all 259 draft picks.
To start the week with a bang, Sam Monson and Steve Palazzolo mock the first two rounds, sending Alabama's Bryce Young to the Carolina Panthers at No. 1 overall and Kentucky's Will Levis to the Houston Texans at No. 2.
ROUND 1
An offensive coordinator will have to do some things to scheme around Young's height, but it's a small price to pay for everything else he brings to the table.
Levis' tape has so much to like from a tools and NFL-readiness standpoint, but his accuracy — or lack thereof — is borderline untenable at this point.
No edge prospect manhandled offensive tackles more than Wilson last year. That's a defensive lineman who can play for any scheme.
Stroud put a stamp on his college tenure in a big way with the second-highest-graded game of his career against Georgia in the College Football Playoff. He has the accuracy and anticipation to thrive in the NFL.
Elite production and elite tools. That's an easy combination to draft highly.
Witherspoon may not have an elite physical skill set for the position, but his senior year tape was as good as we've seen in our nine years of college grading.
Gonzalez is the total package physically. He's got all-pro tools but just needs a little refinement to get there.
Robinson is about as well-rounded a back as you'll see in the draft. He's one of the highest-floor players in the class.
Carter is as good a DT prospect as we've seen since we started grading college in 2014. A complete prospect.
Skoronski has the highest floor of any offensive lineman in the draft class. It may just come at guard, though.
High-end play wins Super Bowls, and no one has a higher end in this class than Richardson. Now, what are the chances he reaches that or even comes close?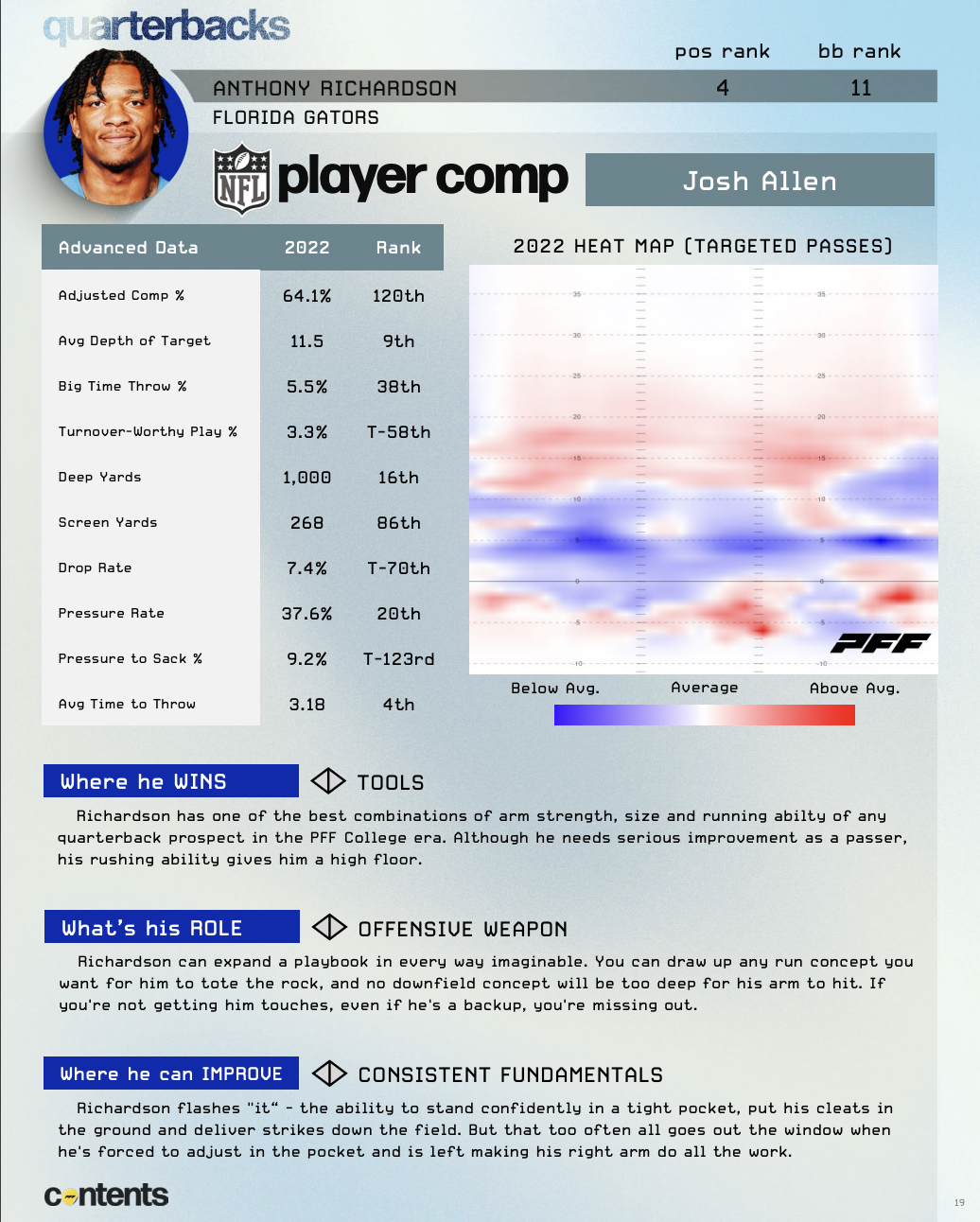 If you don't have a well-defined slot role in your offense, JSN isn't worth a first-rounder. If you do, he should be your WR1.
You can expect some growing pains early on due to Johnson's limited experience, but that's the nature of the tackle position. If he's dedicated to his craft, he'll be a stud.

Banks has all the physical traits of an All-Pro cornerback. He just needs to be more consistent with his technique.
Smith is unique in so many ways with a lot of projectable NFL traits. He'll likely be a more productive pass-rusher in the NFL than he was at Georgia.
Another year of seasoning could have made Jones a top-five pick. He still may end up close to that range with his dominant physical skill set.
Porter is a high football IQ cornerback with the kind of size and physicality everyone is looking for. If he was a slightly better athlete, he'd be a top-10 pick.
He may have to start off as a designated pass-rusher, but he can truly excel in that role. There's little doubt he's going to impact QBs at the next level.
Murphy is too freaky to pass up. The 6-foot-5, 275-pounder is this year's version of Travon Walker. Murphy could stand to add some pass-rushing moves, but he still racked up 76 pressures over the past two seasons.
You'd like him to be a little bigger to make defenses respect him as a blocker, but he's the best receiving tight end in the class.
Johnston is a force of nature at 6-foot-4, 215 pounds. He is your vertical route tree X receiver in this class. For his college career, Johnston averaged 18.8 yards per reception.
Van Ness has one of the weirder prospect profiles in the draft class, but it's one I'm willing to bet on.
Addison has one of the higher floors among receivers in the draft class due to his blend of route-running chops and all-around athleticism.
Branch is a very high-floor defender with a skill set that can fit into every defense in the NFL.
Flowers is the best pure separator in the draft class. Defensive backs won't be able to stick with him across on his route breaks unless they're holding him. He racked up 1,077 yards and 12 scores this past season.
Mayer is one of the highest-floor players in the draft. You know you're getting a complete, productive tight end at the next level. However, can he separate enough to be a true difference-maker?
Wright is a four-year starter who finally saw the proverbial light flip on this past fall. His tape against Alabama's Will Anderson Jr. was outstanding, as he allowed only one pressure in that game and eight for the season.
He has to be put in a certain role, but he could dominate in that role. If you have a mobile quarterback, this is the guy you want at right tackle.
McDonald will be one of the more interesting defensive line prospects in the class because his tape is almost all at a position that he won't play in the NFL. He was frequently a four- or five-technique in Iowa State's defense at 236 pounds. McDonald is at his best in space off the edge, where he can be a speed rusher. He earned an 84.1 pass-rushing grade in 2022 and an 85.3 mark in 2021.
Bresee is a bit more of a project than you'd like at the top of the draft, but he wasn't put in much of a position to succeed in Clemson's scheme. His physical skill set is special.
Harrison could have really upped his draft stock with another year in a college weight room. He may have to be "redshirted" out the gate, but I'd bet money on him being a plus pass protector in time.

ROUND 2
Smith is a special athlete for a 337-pound nose tackle and could very well see a Dontari Poe-esque rise up draft boards after the combine. He turned it on strong down the stretch in 2022, as well, and earned a 79.2 overall grade on the season.
Forbes has some boom-or-bust aspects to his game but has the kind of athletic traits that can make up for misreads.
Schmitz was the single highest-graded center in the FBS this past season at 92.4 overall. He's on the bigger side for the position at 6-foot-4 and 320 pounds yet did his best work on the move in an outside-zone-heavy Minnesota scheme.
Downs is a slot weapon that you can feed schemed-up targets to and watch go to work. He racked up 195 catches for 2,364 yards and 19 scores across the past two years. The only problem is that he's probably never going to be much more than a slot at his size (5-foot-10, 175 pounds), with only 81 routes on the outside in his career.
Anudike-Uzomah has really easy tape to project to the next level. He's one of the higher-floor pass rushers in the class.
Brents has a massive wingspan that engulfs receivers at the line of scrimmage. He also brings some legit burst for a taller cornerback, which he turned into four picks and three pass breakups in 2022.
Torrence is a plug-and-play guard who's best suited for gap schemes, but I wouldn't pigeonhole him by any means.
Mingo's 6-foot-1, 220-pound frame is almost running back-like. That's unique in this class. He showed serious improvement as a route runner this past fall with a career-high 51 catches for 861 yards.
Washington is a unique 6-foot-7, 270-pound tight end. His height and weight don't do justice to just how massive he is. If your offense wants an offensive tackle who can also run routes and make guys miss after the catch, Washington is your man.
Wypler may be on the small side, but he's as advanced a redshirt sophomore offensive lineman as you'll see. He's likely a center only, and a darn good one, after earning overall grades of 82.4 and 79.6 in his two seasons as a starter.
LaPorta is outstanding with the ball in his hands. He can not only run away from defenders (4.59-second 40-yard dash), but he can also make them miss (20 broken tackles on 58 catches in 2022).
Adebawore is one of the single freakiest athletes in NFL Combine history. His 4.49-second 40-yard dash is the fastest ever for a player 280-plus pounds by .16 seconds. That kind of explosiveness is worth betting on.
Hooker is a gifted runner with an NFL-caliber right arm, and he made strides in each season as a starter. He just comes with some big red flags between his age (will be 25 as a rookie), a torn ACL in November and the gimmicky Tennessee offense.
Benton possesses a nice blend of quicks, power, length and strength that allows him to fill any role along the defensive interior. He earned an 83.5 pass-rushing grade last season.
Tillman is the most physical receiver in the draft class. He's a safe bet as a possession receiver, as he dropped only five of his 104 career catchable targets.
Smith gets his hand on passes more frequently than any other cornerback in this class. Of his 70 targets over the past two seasons, Smith broke up 15 of them and picked off four others. He's an instinctive and versatile player.
Gibbs is a home run waiting to happen — not only on the ground but also through the air. In three years between Georgia Tech and Alabama, Gibbs caught 103 passes for 1,215 yards and eight scores.
White is an absurd physical specimen at 6-foot-5 and 286 pounds. It seems like it's only a matter of time before the light switch flips on and he's a dominant edge. White came back from missing most of 2021 with an ankle injury to rack up 41 pressures this past fall.
Campbell is as reliable as it gets at the linebacker position in this class. And at 6-foot-5 and 246 pounds with NFL-caliber range, there's no debating whether his game will translate to the next level. Campbell finished 2022 with a 91.7 overall grade to lead all Power Five linebackers.
Avila has started at both center and guard over the course of his career. And he provides a physical presence regardless of where he's at. He allowed only 11 pressures on 540 pass-blocking snaps in 2022 for an 83.6 pass-blocking grade.
Hyatt possesses elite juice to stretch the field. That helped him house 15 scores this past season. It was a massive breakout year, as he finished with 67 catches for 1,267 yards.
Mauch is one of the most athletic tackles in the class. He flies across the field in the run game, where he earned a 90.1 grade this past fall. His pass protection technique is still a work in progress, however, and a move inside could be in his future.
Turner has the best speed of anyone in this cornerback class. His movement skills are second to none, too. He still got picked on at Michigan a little more than you'd like, with 408 yards allowed this past fall.
Dell's size — 5-foot-10, 165 pounds — won't be for everyone, but he's an easy separator with another gear to stride away from defenders. He had a monster 2022 campaign for Houston with 108 catches, 1,399 yards and 17 scores.
It's a shame we saw only two games of Musgrave before an undisclosed knee injury cost him the rest of the 2022 season. The senior tight end was balling with 11 catches for 169 yards and a score over that span. He's the best athlete at the position in the class, boasting the kind of speed and agility to separate from defensive backs.
Rush has the combination of length and speed that everyone is looking for at the cornerback position. He also has the ball production– 18 combined picks and pass breakups on 72 career targets.
Sanders started his college career as an edge rusher at Alabama before transferring to Arkansas and moving to off-ball linebacker this past fall. He flourished in that role, as his range and ability to take on blocks shined. He collected 11 sacks and 39 total pressures as a blitzer alone in 2022.
Simpson is the kind of rangy, fluid athlete everyone is looking for at linebacker. He even played the slot role in Clemson's defense back in 2021. He allowed only 406 yards in his career on 612 coverage snaps.
Ringo is a mammoth cornerback at 6-foot-2 and 210 pounds. He's built to play in a press-heavy defense on the outside. He's just a touch inconsistent on his breaks and allowed 552 yards this past fall.
Tuipulotu is an ascending, versatile defensive lineman. He barely came off the field for the Trojans this past fall (733 snaps) as he racked up 56 pressures. At 6-foot-4 and 290 pounds, he can play on the edge, over tackles or at three-technique in the NFL.
Mims is on the smaller side for the position but is the type of athlete who can make up for it. He went for more than 1,000 yards last season and averaged 19.5 yards per catch for his career.
Hall is built like a Greek god, and he has reps that make him look like one, too. We just haven't seen him develop a full array of pass-rushing moves just yet, as his pass-rushing grade plateaued after his sophomore year in 2020 (81.9, 82.1, 82.6).