After all the tape, testing and tweets about these 2023 NFL Draft prospects, it's time to finalize the big board. This wasn't the most talented class we've seen over the past half-decade, but I think that makes for an even more interesting group when it comes to rankings and mock drafts. With less automatic conviction for the players at the top, you should see more variety in big boards, and a lot more "my guys" in the top 50 picks instead of just later in the draft.
With that said, here are some of my guys in the form of my 150 prospects for the 2023 NFL Draft.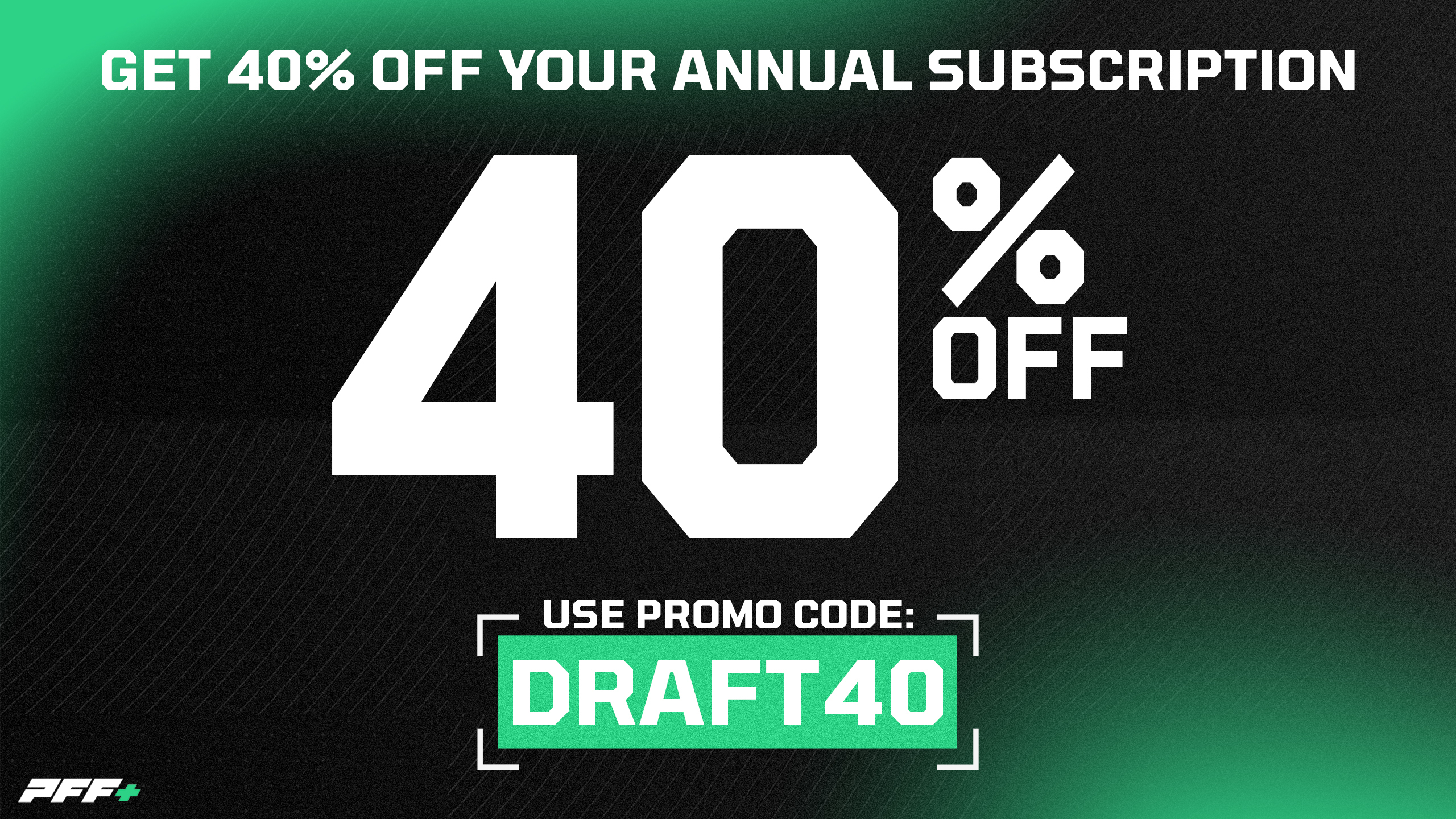 ---
Ranks 1-5 (Would Draft In Top 10)
1. QB Bryce Young, Alabama
2. RB Bijan Robinson, Texas
3. EDGE Will Anderson Jr., Alabama
4. DT Jalen Carter, Georgia
5. OL Peter Skoronski, Northwestern
The NFL draft is a game of risk; there are no guarantees, but on film and throughout testing during the offseason, these are the five players I am most confident can be the best from this year's class. It's an interesting group, even within just these five. There is no "home-run" player among them. But Young tops the list because he plays the game of football — specifically, its most complicated position — about as well as anyone can coming out of college. He was the best player in college football over the past two years, and he should be the No. 1 overall pick because of it.
Bijan Robinson is the kind of talent at running back that maxes out the position's value. He can rush for 100 yards one week and have 100 yards receiving the next. Will Anderson Jr. was far and away the most productive pass rusher the past two years, though he did win on athletics more than pass-rush proficiency. Jalen Carter was the most talented player on Georgia's historic defenses these past two years. The best version of him week in and week out would be an All-Pro NFL player. And Peter Skoronski has starting tackle ability with an All-Pro guard ceiling. 

---
Ranks 6-25 (Would Draft In Round 1)
6. CB Devon Witherspoon, Illinois
7. CB Christian Gonzalez, Oregon
8. QB C.J. Stroud, Ohio State
9. OT Paris Johnson Jr., Ohio State
10. QB Anthony Richardson, Florida
11. OT Darnell Wright, Tennessee
12. QB Will Levis, Kentucky
13. EDGE Nolan Smith, Georgia
14. CB Deonte Banks, Maryland
15. OT Broderick Jones, Georgia
16. TE Darnell Washington, Georgia
17. CB Joey Porter Jr., Penn State
18. S Brian Branch, Alabama
19. OT Anton Harrison, Oklahoma
20. RB Jahmyr Gibbs, Alabama
21. TE Dalton Kincaid, Utah
22. WR Jaxon Smith-Njigba, Ohio State
23. DT Calijah Kancey, Pittsburgh
24. TE Michael Mayer, Notre Dame
25. EDGE Myles Murphy, Clemson
The next tier of players contains the intriguing quarterbacks. It's hard to place C.J. Stroud, Anthony Richardson and Will Levis. Potential ceiling and positional importance both demand these three be in the top 15 of this class, but I can't help but wonder where I would place them, even in their current state, if the class around them was full of more polish and less projection. In any case, if I'm going to take a similar risk on a player becoming a good pro, I'm going to lean toward having the quarterback higher in the rankings since hitting at that position changes everything. All four of these quarterbacks have their pros and cons, and some will land in spots that yield starting opportunities faster than others, but all four have the ability to start in the NFL.
It's an alluring offensive tackle class, as well, with four in ranks 6-25. All four have starting-caliber ability. I seem to be higher on Darnell Wright than others; he's an absolute ass-kicker. Some label him just a brute and a bully on the right side, but I think his approach is more cerebral than that.
This is also where the trio of top tight ends comes into play. Darnell Washington is just so damn unique that I had to make him the top player of the position group. He blocks like a tackle, runs like a deer and can catch the football like a power forward grabbing a rebound high off the glass. Dalton Kincaid (best receiver in the tight end class) and Michael Mayer (most consistent in the tight end class) also present starting skill sets.
You'll see cornerback multiple times on this list, too. Devon Witherspoon nearly cracked the top five of this class for me. The only aspect of his profile holding him back was some size questions, but I enjoyed his tape more than anyone's in this class. I believe he, Christian Gonzalez, Deonte Banks and Joey Porter Jr. are all future starters in their first years. 
It's fitting that when the vertical board was set, offensive tackle, tight end and cornerback were three of the most heavily featured positions, as I would tell you that is where the strength and a good amount of the depth can be found in the 2023 class. 
---
Ranks 26-50 (Priority-Mid Day 2)
26. OL Matthew Bergeron, Syracuse
27. WR Quentin Johnston, TCU
28. LB Drew Sanders, Arkansas
29. EDGE BJ Ojulari, LSU
30. CB Emmanuel Forbes, Mississippi State
31. WR Zay Flowers, Boston College
32. EDGE Lukas Van Ness, Iowa
33. EDGE Tyree Wilson, Texas Tech
34. WR Josh Downs, North Carolina
35. EDGE Will McDonald IV, Iowa State
36. CB Tyrique Stevenson, Miami (FL)
37. EDGE Felix Anudike-Uzomah, Kansas State
38. CB DJ Turner, Michigan
39. OT Dawand Jones, Ohio State
40. DL Bryan Bresee, Clemson
41. OG Steve Avila, TCU
42. DT Mazi Smith, Michigan
43. OG O'Cyrus Torrence, Florida
44. DB Jartavius Martin, Illinois
45. OC John Michael Schmitz, Minnesota
46. S Sydney Brown, Illinois
47. TE Sam LaPorta, Iowa
48. WR Jordan Addison, USC
49. LB Jack Campbell, Iowa
50. CB Kelee Ringo, Georgia
This group is all about beef. These are the players I would be fine with taking somewhere on Day 2 of the draft, starting with Matthew Bergeron, one of my favorite versatile offensive linemen who can play both tackle and guard. I think he's too underrated right now and is a future NFL starter early in his career.
This is also where you'll find most of the notable wide receivers in the class. I think Quentin Johnston, Zay Flowers and Josh Downs can all be good contributors in the league, but I'm not convinced any of the three have a WR1 ceiling. The same can be said for Jordan Addison, who is further down the list. He's extremely polished and accomplished as a receiver, but his low body weight worries me at the next level.
As you can tell, I'm not the biggest fan of Lukas Van Ness or Tyree Wilson. I think both have unique abilities in their game (Van Ness with his power profile and Wilson with his build), but I believe they're a good way away from being consistent edge players in the NFL. Neither has the pass-rush proficiency you'd want to see from a first-round pick.
Some of my notable names to round out the top 50 are BJ Ojulari, Tyrique Stevenson and Sydney Brown. In a class full of projections at pass rusher, Ojulari is already very polished in his pass-rush moves and counters, plus he has some of the better bend in the class. Stevenson was stuck in the nickel at Georgia before transferring to Miami, where he was able to showcase really good cover skills and abilities as an outside cornerback. Brown is just one of the best football players in the class. He's reckless with his tackling form at times, but he plays both safety spots, nickel cornerback and linebacker — and he'll do so in the NFL with a motor that never stops. 
---
Ranks 51-100 (Mid-Round Players)
51. EDGE Keion White, Georgia Tech
52. OT Tyler Steen, Alabama
53. CB Cam Smith, South Carolina
54. DT Keeanu Benton, Wisconsin
55. TE Luke Musgrave, Oregon State
56. RB DeWayne McBride, UAB
57. CB Darius Rush, South Carolina
58. WR Tyler Scott, Cincinnati
59. CB Cam Mitchell, Northwestern
60. RB Devon Achane, Texas A&M
61. LB Trenton Simpson, Clemson
62. CB Cory Trice Jr., Purdue
63. OL Cody Mauch, North Dakota State
64. RB Zach Charbonnet, UCLA
65. DL Adetomiwa Adebawore, Northwestern
66. S Antonio Johnson, Texas A&M
67. LB Daiyan Henley, Washington State
68. QB Hendon Hooker, Tennessee
69. OL Nick Saldiveri, Old Dominion
70. WR Michael Wilson, Stanford
71. EDGE Isaiah Foskey, Notre Dame
72. WR Cedric Tillman, Tennessee
73. WR Jonathan Mingo, Ole Miss
74. CB Julius Brents, Kansas State
75. WR Marvin Mims, Oklahoma
76. LB Nick Herbig, Wisconsin
77. RB Chase Brown, Illinois
78. WR Tank Dell, Houston
79. DT Kobie Turner, Wake Forest
80. RB Tyjae Spears, Tulane
81. WR Jalin Hyatt, Tennessee
82. CB Clark Phillips III, Utah
83. EDGE Byron Young, Tennessee
84. IOL Joe Tippmann, Wisconsin
85. OG Chandler Zavala, North Carolina State
86. DL Gervon Dexter Sr., Florida
87. S Jordan Battle, Alabama
88. RB Tank Bigsby, Auburn
89. EDGE Tuli Tuipulotu, USC
90. TE Luke Schoonmaker, Michigan
91. CB Garrett Williams, Syracuse
92. DT Siaki Ika, Baylor
93. EDGE Derick Hall, Auburn
94. RB Roschon Johnson, Texas
95. TE Tucker Kraft, South Dakota State
96. WR Rashee Rice, SMU
97. DT Zacch Pickens, South Carolina
98. EDGE Zach Harrison, Ohio State
99. RB Kendre Miller, TCU
100. WR Xavier Hutchinson, Iowa State
The next bucket of players has a wide range of draft outcomes. Some of these players will end up being second-rounders, I'm sure. Others could be picked in the fourth or fifth rounds. This is where it's all about flavor and preference of skill sets.
I'm a big fan of Keeanu Benton. I could have had him even higher than this, as I do think he ends up being a second-round pick, perhaps even a priority one, due to how comfortable and confident he is as a run stuffer and a blossoming pass rusher from the nose tackle position.
This is also where my favorite "big" receivers in this class come into play: Michael Wilson, Cedric Tillman and Jonathan Mingo. In a class full of smaller, speedy or slot receivers, these guys stand out (literally) for what they can do at the catch point, their ability to play strong on the line of scrimmage and their plus ability as run blockers.
This is also where a big chunk of the running back group is for me. I seem to be higher on DeWayne McBride and Chase Brown than most. I'll gladly carry the flags for those guys. Both finished last season with a ton of production and possess not only my most important trait for a running back (vision) but also my second most: a willingness to not go down easy. You can throw Zach Charbonnet in there, too, though most seem to be fairly high on him already.
---
Ranks 101-150 (Priority Day 3-Priority UDFAs)
101. EDGE YaYa Diaby, Louisville
102. RB Keaton Mitchell, East Carolina
103. S Jammie Robinson, Florida State
104. RB Sean Tucker, Syracuse
105. RB Israel Abanikanda, Pittsburgh
106. LB Dorian Williams, Tulane
107. OC Luke Wypler, Ohio State
108. DL Byron Young, Alabama
109. LB Henry To'oTo'o, Alabama
110. QB Tanner McKee, Stanford
111. WR Parker Washington, Penn State
112. RB Deuce Vaughn, Kansas State
113. DL Moro Ojomo, Texas
114. WR Jayden Reed, Michigan State
115. QB Aidan O'Connell, Purdue
116. OT Jaelyn Duncan, Maryland
117. WR A.T. Perry, Wake Forest
118. LB Ivan Pace Jr., Cincinnati
119. OT Wanya Morris, Oklahoma
120. RB Eric Gray, Oklahoma
121. CB Tre'Vius Hodges-Tomlinson, TCU
122. WR Rakim Jarrett, Maryland
123. S Ji'Ayir Brown, Penn State
124. CB Jaylon Jones, Texas A&M
125. TE Davis Allen, Clemson
126. S Chris Smith, Georgia
127. LB Owen Pappoe, Auburn
128. OC Juice Scruggs, Penn State
129. RB Kenny McIntosh, Georgia
130. S JL Skinner, Boise State
131. LB DeMarvion Overshown, Texas
132. CB Eli Ricks, Alabama
133. QB Jake Haener, Fresno State
134. QB Dorian Thompson-Robinson, UCLA
135. WR Andrei Iosivas, Princeton
136. WR Charlie Jones, Purdue
137. OC Olusegun Oluwatimi, Michigan
138. LB Noah Sewell, Oregon
139. CB Riley Moss, Iowa
140. WR Jalen Moreno-Cropper, Fresno State
141. RB Zach Evans, Ole Miss
142. WR Kayshon Boutte, LSU
143. DT Jaquelin Roy, LSU
144. OT Blake Freeland, BYU
145. OG Andrew Vorhees, USC
146. CB Kei'Trel Clark, Louisville
147. LB Ventrell Miller, Florida
148. OC Jarrett Patterson, Notre Dame
149. TE Cameron Latu, Alabama
150. EDGE Habakkuk Baldonado, Pittsburgh
Rounding out my top 150 are the depth players: prospects who will likely be called on Day 3 or be priority undrafted free agents for some teams. These players have something about their game or their scouting profile holding them back, whether that's size, athletic ability, technique and discipline or lack of production. But there are also parts of their game you can point to and enjoy.
For example, Cincinnati linebacker Ivan Pace Jr. may be just 5-foot-10 and 230 pounds, but he will hit you as fast as he can and as hard as he can when on the blitz. He's a player who can stick around in the league for a long time on special teams and as a specialized pass rusher up the middle.
Pittsburgh's Israel Abanikanda is one of the fastest backs in the class in a straight line. Though I question his agility and how much he can create and force missed tackles in space outside of being an angle eraser, that speed can stand out to round out a running back room, and it could even make for some highlight plays in his career.
Wide receiver Charlie Jones is low on the list due to less-than-ideal measurables and long speed, but, man, he is a route-running technician. That could allow him to stick around the league for longer than you think.
We also have a few quarterbacks in this group. Tanner McKee, Aidan O'Connell, Jake Haener and Dorian Thompson-Robinson round out the quarterbacks in this class who I think can either be long-term backups or, perhaps, even get shots as starters if the opportunity presents itself. 
---
Trevor Sikkema's Top 150 Prospects in the 2023 NFL Draft
1. QB Bryce Young
, Alabama
2. RB Bijan Robinson, Texas
3. EDGE Will Anderson Jr., Alabama
4. DT Jalen Carter, Georgia
5. OL Peter Skoronski, Northwestern
6. CB Devon Witherspoon, Illinois
7. CB Christian Gonzalez, Oregon
8. QB C.J. Stroud, Ohio State
9. OT Paris Johnson Jr., Ohio State
10. QB Anthony Richardson, Florida
11. OT Darnell Wright, Tennessee
12. QB Will Levis, Kentucky
13. EDGE Nolan Smith, Georgia
14. CB Deonte Banks, Maryland
15. OT Broderick Jones, Georgia
16. TE Darnell Washington, Georgia
17. CB Joey Porter Jr., Penn State
18. S Brian Branch, Alabama
19. OT Anton Harrison, Oklahoma
20. RB Jahmyr Gibbs, Alabama
21. TE Dalton Kincaid, Utah
22. WR Jaxon Smith-Njigba, Ohio State
23. DT Calijah Kancey, Pittsburgh
24. TE Michael Mayer, Notre Dame
25. EDGE Myles Murphy, Clemson
26. OL Matthew Bergeron, Syracuse
27. WR Quentin Johnston, TCU
28. LB Drew Sanders, Arkansas
29. EDGE BJ Ojulari, LSU
30. CB Emmanuel Forbes, Mississippi State
31. WR Zay Flowers, Boston College
32. EDGE Lukas Van Ness, Iowa
33. EDGE Tyree Wilson, Texas Tech
34. WR Josh Downs, North Carolina
35. EDGE Will McDonald IV, Iowa State
36. CB Tyrique Stevenson, Miami (FL)
37. EDGE Felix Anudike-Uzomah, Kansas State
38. CB DJ Turner, Michigan
39. OT Dawand Jones, Ohio State
40. DL Bryan Bresee, Clemson
41. OG Steve Avila, TCU
42. DT Mazi Smith, Michigan
43. OG O'Cyrus Torrence, Florida
44. DB Jartavius Martin, Illinois
45. OC John Michael Schmitz, Minnesota
46. S Sydney Brown, Illinois
47. TE Sam LaPorta, Iowa
48. WR Jordan Addison, USC
49. LB Jack Campbell, Iowa
50. CB Kelee Ringo, Georgia
51. EDGE Keion White, Georgia Tech
52. OT Tyler Steen, Alabama
53. CB Cam Smith, South Carolina
54. DT Keeanu Benton, Wisconsin
55. TE Luke Musgrave, Oregon State
56. RB DeWayne McBride, UAB
57. CB Darius Rush, South Carolina
58. WR Tyler Scott, Cincinnati
59. CB Cam Mitchell, Northwestern
60. RB Devon Achane, Texas A&M
61. LB Trenton Simpson, Clemson
62. CB Cory Trice Jr., Purdue
63. OL Cody Mauch, North Dakota State
64. RB Zach Charbonnet, UCLA
65. DL Adetomiwa Adebawore, Northwestern
66. S Antonio Johnson, Texas A&M
67. LB Daiyan Henley, Washington State
68. QB Hendon Hooker, Tennessee
69. OL Nick Saldiveri, Old Dominion
70. WR Michael Wilson, Stanford
71. EDGE Isaiah Foskey, Notre Dame
72. WR Cedric Tillman, Tennessee
73. WR Jonathan Mingo, Ole Miss
74. CB Julius Brents, Kansas State
75. WR Marvin Mims, Oklahoma
76. LB Nick Herbig, Wisconsin
77. RB Chase Brown, Illinois
78. WR Tank Dell, Houston
79. DT Kobie Turner, Wake Forest
80. RB Tyjae Spears, Tulane
81. WR Jalin Hyatt, Tennessee
82. CB Clark Phillips III, Utah
83. EDGE Byron Young, Tennessee
84. IOL Joe Tippmann, Wisconsin
85. OG Chandler Zavala, North Carolina State
86. DL Gervon Dexter Sr., Florida
87. S Jordan Battle, Alabama
88. RB Tank Bigsby, Auburn
89. EDGE Tuli Tuipulotu, USC
90. TE Luke Schoonmaker, Michigan
91. CB Garrett Williams, Syracuse
92. DT Siaki Ika, Baylor
93. EDGE Derick Hall, Auburn
94. RB Roschon Johnson, Texas
95. TE Tucker Kraft, South Dakota State
96. WR Rashee Rice, SMU
97. DT Zacch Pickens, South Carolina
98. EDGE Zach Harrison, Ohio State
99. RB Kendre Miller, TCU
100. WR Xavier Hutchinson, Iowa State
101. EDGE YaYa Diaby, Louisville
102. RB Keaton Mitchell, East Carolina
103. S Jammie Robinson, Florida State
104. RB Sean Tucker, Syracuse
105. RB Israel Abanikanda, Pittsburgh
106. LB Dorian Williams, Tulane
107. OC Luke Wypler, Ohio State
108. DL Byron Young, Alabama
109. LB Henry To'oTo'o, Alabama
110. QB Tanner McKee, Stanford
111. WR Parker Washington, Penn State
112. RB Deuce Vaughn, Kansas State
113. DL Moro Ojomo, Texas
114. WR Jayden Reed, Michigan State
115. QB Aidan O'Connell, Purdue
116. OT Jaelyn Duncan, Maryland
117. WR A.T. Perry, Wake Forest
118. LB Ivan Pace Jr., Cincinnati
119. OT Wanya Morris, Oklahoma
120. RB Eric Gray, Oklahoma
121. CB Tre'Vius Hodges-Tomlinson, TCU
122. WR Rakim Jarrett, Maryland
123. S Ji'Ayir Brown, Penn State
124. CB Jaylon Jones, Texas A&M
125. TE Davis Allen, Clemson
126. S Chris Smith, Georgia
127. LB Owen Pappoe, Auburn
128. OC Juice Scruggs, Penn State
129. RB Kenny McIntosh, Georgia
130. S JL Skinner, Boise State
131. LB DeMarvion Overshown, Texas
132. CB Eli Ricks, Alabama
133. QB Jake Haener, Fresno State
134. QB Dorian Thompson-Robinson, UCLA
135. WR Andrei Iosivas, Princeton
136. WR Charlie Jones, Purdue
137. OC Olusegun Oluwatimi, Michigan
138. LB Noah Sewell, Oregon
139. CB Riley Moss, Iowa
140. WR Jalen Moreno-Cropper, Fresno State
141. RB Zach Evans, Ole Miss
142. WR Kayshon Boutte, LSU
143. DT Jaquelin Roy, LSU
144. OT Blake Freeland, BYU
145. OG Andrew Vorhees, USC
146. CB Kei'Trel Clark, Louisville
147. LB Ventrell Miller, Florida
148. OC Jarrett Patterson, Notre Dame
149. TE Cameron Latu, Alabama
150. EDGE Habakkuk Baldonado, Pittsburgh