Don't be afraid to spend up for a significant big-play threat:

Marvin Mims

is one of the more slept-on receivers in this class but not today!

Illinois safety Sydney Brown's versatility is key:

The safety position is ever-evolving in the NFL, and Brown has shown he can do it all more than most in this class.

In a strong tight end class, Oregon State's Luke Musgrave is a personal favorite:

There's a lot to like about Musgrave's size, athleticism and flashes as an elite receiver making an impact in the NFL.
Estimated reading time: 11 minutes
---
It's NFL draft week, which means that everyone is finalizing their big boards, and rankings and planting the flags on their "guys." In this case, my guys are players that, after watching the tape and diving into the data, I would spend earlier draft capital on than their current projection represents.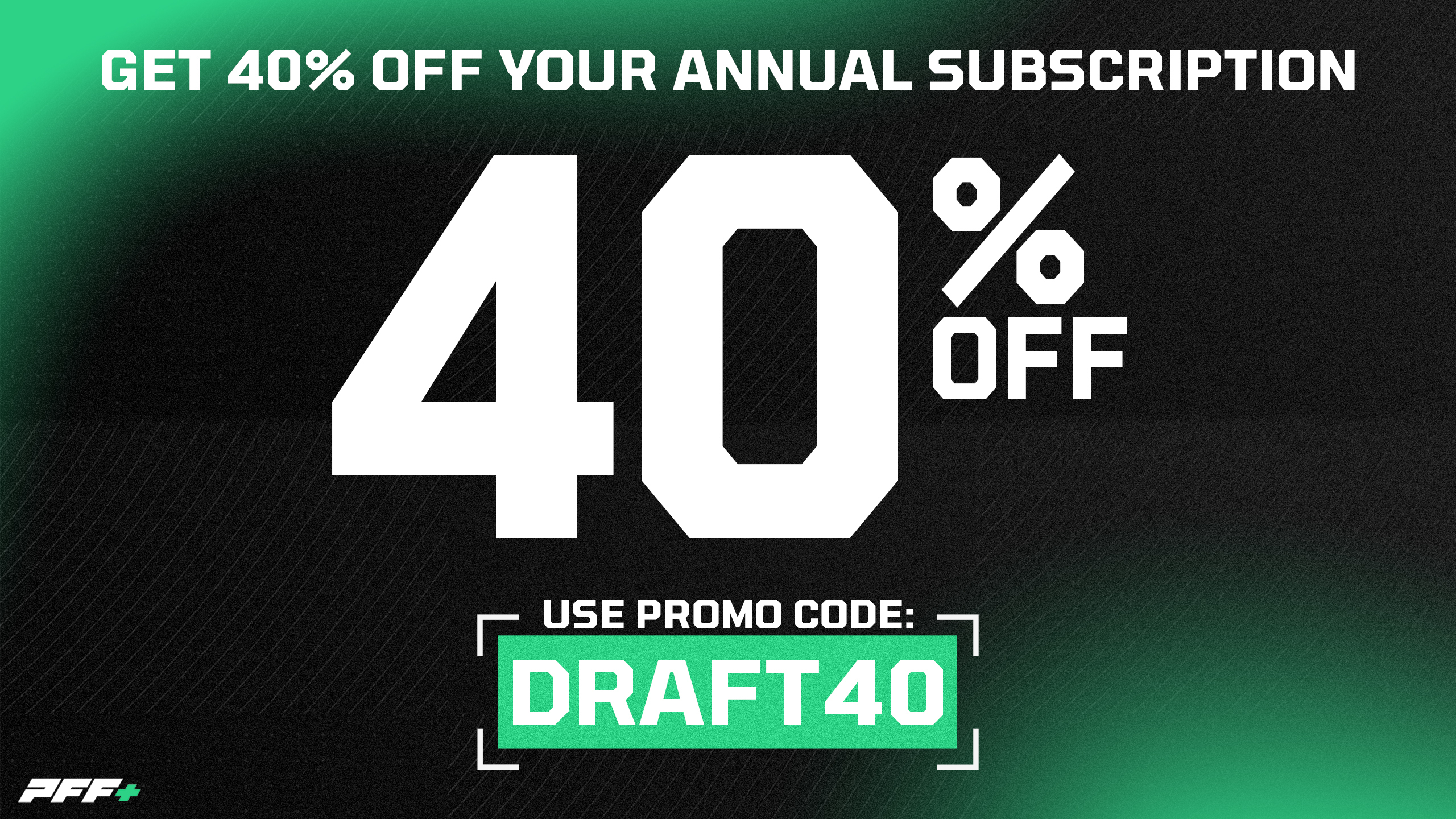 ---
Hooker's knocks that could keep him from going in the first round include a torn ACL in November, a gimmicky Tennessee offense and being one of the older prospects in the class at 25 years old. With the concerns essentially all being off-field that are out of his control, looking at what he does on the field should push him into the first round while giving teams a fifth-year option for the most valuable position.
Hooker's deep ball was among the most accurate in this class (second) with more than half (54.5%) of his throws 20-plus yards downfield being deemed accurate by PFF. This is especially key for a quarterback in an offense that relied heavily on his ability to throw those types of passes, doing so at a top-five rate in this class since 2021. Hooker's accuracy on all throws especially stands out in this class, as he earned the second-highest accurate throw rate (24.2%).
While he offers more upside on the run as well, his performance within structure over the past two seasons is especially impressive, earning higher marks on all key stable metrics over potential top-10 picks Will Levis and Anthony Richardson, by a wide margin. Any team looking for a reliable starter should be eyeing him, or even trading back into the first round, if needed, to give Hooker that well-deserved opportunity.
---
Spears was one of the most productive runners this past season, earning over 1,500 rushing yards and 19 touchdowns while adding another 250 receiving yards and two touchdowns through the air. He has been a huge part of the Green Wave offense these past two seasons. It isn't necessarily his production, however, that pushes him further up the board for me, but how he accumulates those yards by making defenders miss and being especially efficient with his opportunities.
Spears earned the second-highest career rushing yards after contact per attempt in this class (4.5), which translated as a receiver as well, earning the highest missed tackles forced (0.63) in this class for his career. His elusiveness helps make up for his lack of ideal size, which should translate into NFL success, especially if he lands in a more gap-heavy run scheme where he thrived in college and lead him to an impressive 17.1% explosive run rate for his career. 
Tyjae Spears with the dead leg in the crease. pic.twitter.com/gfXU1TBZSj

— Matt Waldman (@MattWaldman) April 18, 2023
---
There might not be a player in this class who poses as much of a threat on deep balls as Mims, who was the perfect fit for Oklahoma's vertical offense, which allowed him to showcase his big-play ability on a regular basis. Mims hauled in a class-leading 19 touchdowns of 20-plus yards in his college career to go along with 10.38 yards per route run on such passes, which also led the class.
While on a smaller scale, he still did a decent job after the catch, earning 6.9 yards after the catch per reception — top-five in the class en route to earning 2.95 yards per route run for his career, which ranked second in the entire receiver class. Mims also ran a 4.39-second 40-yard dash, earned a top-five receiving grade in this class for his career against single coverage (90.8) and is still just 21 years old. Every team should be looking to add a top-tier vertical threat who can stretch the defense like Mims, and letting him slip out of the second round makes him the definition of a sleeper who deserves more love.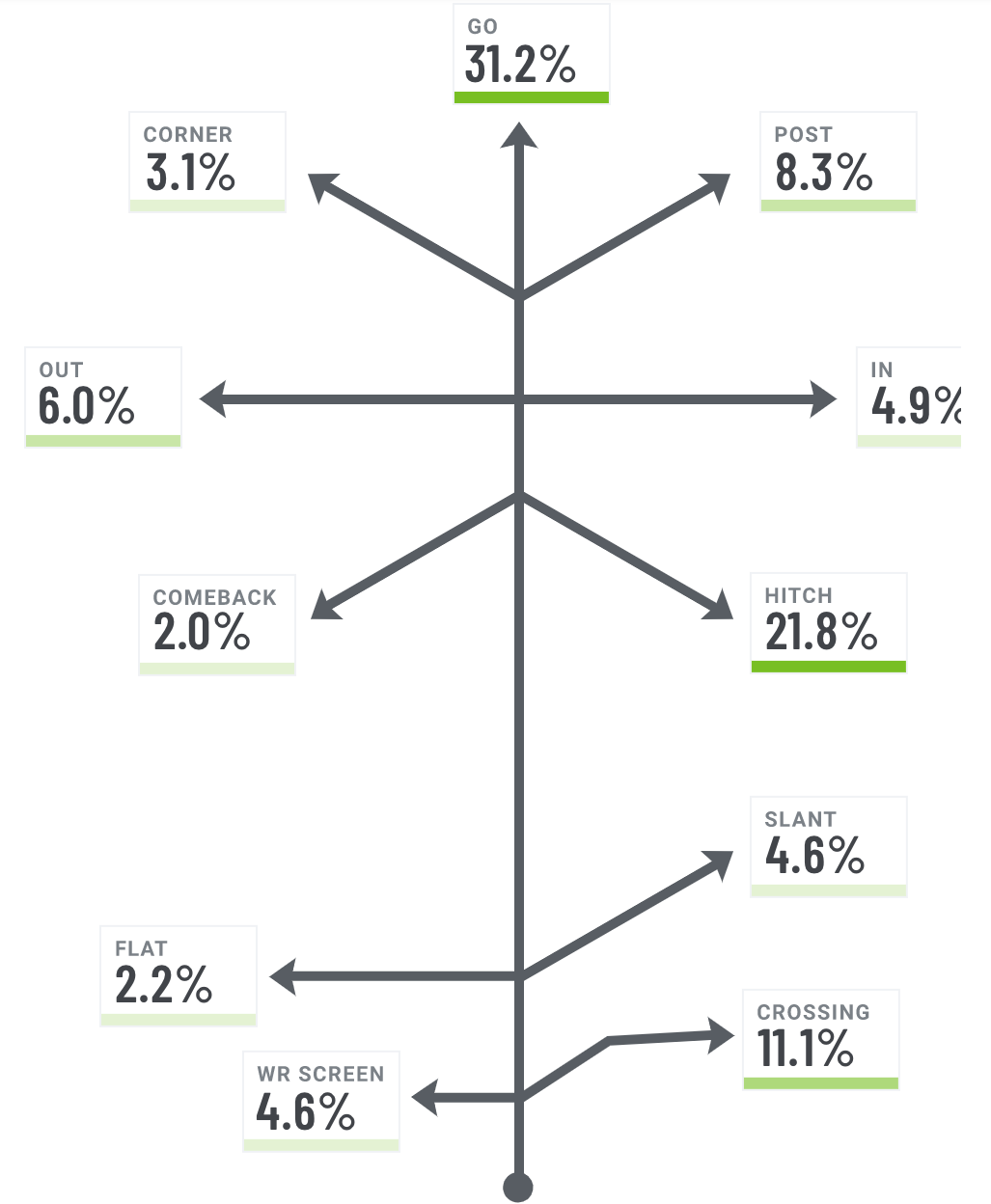 ---
This year's wide receiver class is littered with smaller options while the tight end class is being hailed as one of the deepest in years to the point where it shouldn't surprise anyone to see teams supplement the smaller wide receiver class by placing more value on top receiving tight ends. Musgrave could be the perfect example of that coming in at 6-foot-6 while boasting high-end athleticism and having all the receiving ability to be a consistent threat in the passing game.
He didn't get a ton of opportunities to utilize his receiving ability in Oregon State's run-heavy offense, but it was looking like the team was ready to showcase him in 2022 before an injury sidelined him for the remainder of the season. His production through two games in 2022 was the perfect example of how effective he can be as a featured receiving option, posting an elite 3.38 yards per route run, which led to 169 yards and a touchdown on 11 catches. Again, small sample size, but those flashes were high-end, and he continued that dominance with a strong showing during Senior Bowl week. Musgrave's potential is high and a first-round pick feels perfectly reasonable to tap into that receiving potential, even if he still needs to add more as a blocker.
At 6'5 255 Luke Musgrave is an athletic move TE with good hands ball tracking and can stress a defense vertically

Clocked 20.05 MPH down in Mobile which is the highest by any TE since the Senior Bowl started tracking in 2018

Getting legit top 50 buzz
pic.twitter.com/Tx1NMRY3lY

— Joe O'Leary (@TheHQNerd) February 2, 2023
---
It isn't easy to make an argument for an interior offensive lineman to be worthy of first-round capital, but if there's anyone in this class that has a case, it's Schmitz. The Minnesota product arguably does his best work in the run game, as he earned the second-best run-blocking grades on zone concepts (93.7) and gap scheme concepts (79.7) among interior offensive linemen in this class. Minnesota's offense gave him a good opportunity to do both, and he excelled.
He also earned top-end grades in this class as a pass-blocker, including an 83.7 pass-blocking grade (fifth) and a 77.6 pass-blocking grade on true pass sets (eighth) while allowing just 13 pressures and two sacks on nearly 1,000 pass-blocking snaps over the last two seasons. Being an older prospect and not being the best athlete is more likely to push him down draft boards, but everything he's put on tape says he's an NFL-ready prospect, and that alone is worth a late first.
John Michael Schmitz rolls out of bed reaching frontside DTs.

There aren't 31 better/cleaner prospects in this year's draft.#TheDraftStartsInMOBILE™️ pic.twitter.com/XkWGgTHIcz

— Jim Nagy (@JimNagy_SB) April 14, 2023
---
Murphy's prototypical size and elite athleticism pop on tape during some of his high-end wins, which screams potential as an every-down starter in the NFL. He didn't earn the best pass-rush metrics or production in college with just an 80.6 career pass-rush grade and 20 sacks over three seasons, but it's not difficult to see how he could translate to the NFL with more refinement. His explosiveness off the line and ability to transfer speed to power is one of the best in this class and while developing more consistency to his game, which for the higher-end athletes typically takes a bit more time, he could be unstoppable.
Murphy isn't just a pass-rush threat, adding important evidence that he can be an excellent run defender as well, which really makes his case of being worthy of a top-10 pick. In his career, the Clemson product earned a 90.9 run defense grade (second) and one of the better average depth of tackles against the run (1.10) in this class (third). Murphy arguably deserves to be the second edge taken in this draft with the potential to be taken in the top 10.
---
Ojomo really proved that he could do it all this past season for the Longhorns, earning an elite 90.6 defensive grade — a top-10 mark in the entire country for his position. This is especially promising considering that he mostly excelled as a run defender in previous seasons, but he became an added threat as a pass-rusher in 2022, posting a career-high 84.1 pass-rush grade on the back of 26 pressures and five sacks. 
Ojomo comes in on the slightly smaller size for his position but earned a really strong 9.17 relative athletic score (RAS) to make up some ground in that department. With the rare combination of being both a pass-rush and run-stopping threat from the interior of the defensive line, Ojomo has an argument to be valued as a second-rounder.
---
Pace is one of the most electric players to watch in this year's defensive class. He moves so quickly and fluently around the second level, is always around the ball and is a blitzing specialist from his linebacker position. Pace's 55 pressures and 12 sacks led all FBS linebackers in 2022 and earned him a 93.3 pass-rush grade, which also led the position. His 93.2 overall defensive grade was the best in the country as well, as he showcased so many skillsets that NFL teams covet from a modern linebacker.
He is definitely on the smaller size, which can get him in trouble when offensive linemen get their hands on him, but he's so fast getting around blocks that he's able to avoid that issue more often than not. He's also about as sound a run defender as there is in this class, earning a 90.7 run defense grade in 2022 (third) by posting 50 defensive stops against the run — the most among linebackers. He even showcased some really strong coverage ability during Senior Bowl week, earning an 87.7 coverage grade during one-on-one reps. Pace can do it all and his size shouldn't stop an NFL team from coveting him in the second round if they want a true playmaker at the position.
---
Brown is among the most versatile safeties in this year's class, getting a chance to do it all and line up all over the field in Illinois' defense during his college career. Considering his stout size, it isn't a surprise that the majority of his snaps came in the box (43%).
On top of his strong run stop rate of 5.2% (third in the class since 2021) — which is key considering his role in the box — Brown also posted the third-best coverage grade (89.4) among all FBS safeties in 2022, which he did from a variety of alignments. He even boasted a strong forced incompletion rate of (15.5%), which ranked seventh in this class since 2021. His height might be an issue in the NFL in certain situations, but his versatility and proof that he can be a positive factor in coverage and as a run defender make him worthy of a second-round selection in this class.
Looking at some safety versatility stuff for the top safeties in the draft from the @PFF big board. Sydney Brown lined up all over the field for Illinois' defense in his time there while Chris Smith and Branch had more defined roles in their respective defenses pic.twitter.com/IlkawsJIqX

— Arjun Menon (@arjunmenon100) April 22, 2023
---
For a player with size concerns, it's very possible that Phillips is delegated to more of a slot role in the NFL, but considering that nickel personnel is the most common defensive deployment in the league, there's going to be a significant role for Phillips there if he can win a starting job. Over the past two seasons, Phillips has posted some of the best stable metrics among corners in this class, including the second-best coverage grade in single coverage (85.6), and the fifth-best overall coverage grade (89.6).
According to the PFF Draft Guide, Phillips scored very highly in his change of direction ability, as well as awareness and physicality, which are key attributes to succeed in the slot. Combined with his ability to jump routes and strong coverage metrics, Phillips dropping into zones in the middle of the field could be a big factor in allowing his college ball production to translate to the NFL.