Top-tier athleticism: The NFL has a history of valuing elite-level athletes, and Myles Murphy fits the bill after his excellent pro day.
The importance of an every-down role:

Teams spending high capital on an EDGE in the NFL draft want a player like Murphy, who can thrive in a volume-heavy role.

Team needs offer opportunity:

There are several teams in the top 10 who have a significant need for edge help, and Murphy could help them all, even more so than his peers.
Estimated reading time: 8 minutes
---
With Will Anderson Jr. seemingly locked into the top NFL draft spot among defensive players, but anything can happen on draft day, as there are always surprises in store. Clemson's Myles Murphy coming off the board as the No. 2 edge defender would certainly surprise many. However, for teams looking for the next best NFL-ready edge rusher who can make a significant impact in an every-down capacity, Murphy is well-deserving of top-10 capital and being the second edge defender off the board.

---
Power as a pass-rusher
First and foremost, a top-tier edge defender needs to pose a significant threat rushing the passer, and while Murphy never hit double-digit sacks in a season at Clemson, he quietly improved his pass-rush grade over three seasons, culminating in a 78.5 mark in 2022. While he doesn't have the most refined pass-rush technique just yet, he has a relentless motor and shows a refusal to lose reps, which helps him make a lot of second-effort plays in the pocket that just doesn't score as highly in the PFF grading system, hence the 78.5 pass-rush grade. 
Murphy's greatest pass-rush assets right now are his power and explosiveness off the line. His long-arm bull rush is incredibly effective, and his elite first step allows him to get the jump on even the best offensive tackles to the point where he can attack quickly and rock them back before they're able to get their footing. 
Myles Murphy loves the long-arm pass-rush move. And it works well for him. pic.twitter.com/7MZWNhBB80

— Brenden Deeg (@BrendenDeeg_) April 4, 2023
He could certainly add to his pass-rush repertoire over the next few seasons, as he relies heavily on that bull rush and outside rip move, which he does well. In this draft class, however, those ranked ahead of him (aside from Anderson) could also stand to benefit from variety and refinement in their pass rush as well, especially those ranked within Murphy's range. 
Myles Murphy's pass-rush numbers and ranks since 2021 compared to his closest competition according to the top-five consensus edge defenders on NFL Mock Draft Database (Anderson excluded):
| | | |
| --- | --- | --- |
| Metric | Value | Rank |
| Pass-rush grade | 81.5 | T-1st |
| Sacks | 15 | 1st |
| Pressures | 76 | 2nd |
---
Making an impact against the run
The same power and explosion that makes Murphy a dangerous pass-rusher is his greatest asset as a run defender. His ability to transfer speed to power to win off the snap gives him plenty of opportunities to get into the backfield and blow up run plays. He shows off his strength when shedding blocks and has thrown offensive linemen to the ground on multiple occasions. His knack for sorting through traffic is another positive, as he doesn't lose track of the play or allow himself to get washed out in crowded areas of the field, constantly keeping himself in the mix to be around the ball and impact the play.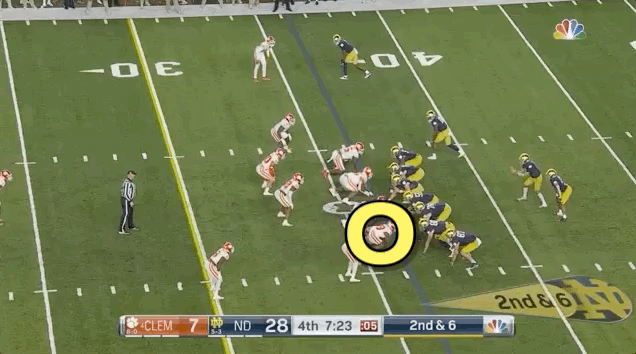 As a pass-rusher, Murphy didn't show the best hands when on the attack, but defending the run is where he flashed his best hand work, which also provides hope that he can translate that to his pass-rush repertoire. He does have some tendency to lose the edge against the run, but for the most part, he does a nice job taking the right angles and sound gap integrity, which is why he won't be a liability on early downs in the NFL.
Myles Murphy's run defense numbers and ranks since 2020 compared to his closest competition according to the top-five consensus edge defenders on NFL Mock Draft Database (Anderson excluded):
| | | |
| --- | --- | --- |
| Metric | Value | Rank |
| Run defense grade | 90.9 | 1st |
| Tackles for loss or no gain | 21 | T-1st |
| Average depth of tackle | 1.10 | 1st |
| Run stops | 39 | 2nd |
---
Elite athleticism
Murphy's elite athletic testing continues to separate him from the pack, especially considering that it was elite athleticism that was valued over all else at the top of last year's NFL Draft with Travon Walker. While Murphy doesn't boast quite the same athletic profile as Walker — which nobody really does — there's an argument for hi athleticism to sit atop this year's edge class. His 4.53-second 40-yard dash pops out for a player of his size, and it shows on tape as well when he's left unblocked in the run game, showing an ability to close quickly from the backside of plays.
Considering how the NFL has valued elite athleticism over the years, even from players who could still be considered projects as pass-rushers — such as Walker or Rashan Gary in 2019 — Murphy can be considered a more complete player, especially in the pass-rush department coming out of college.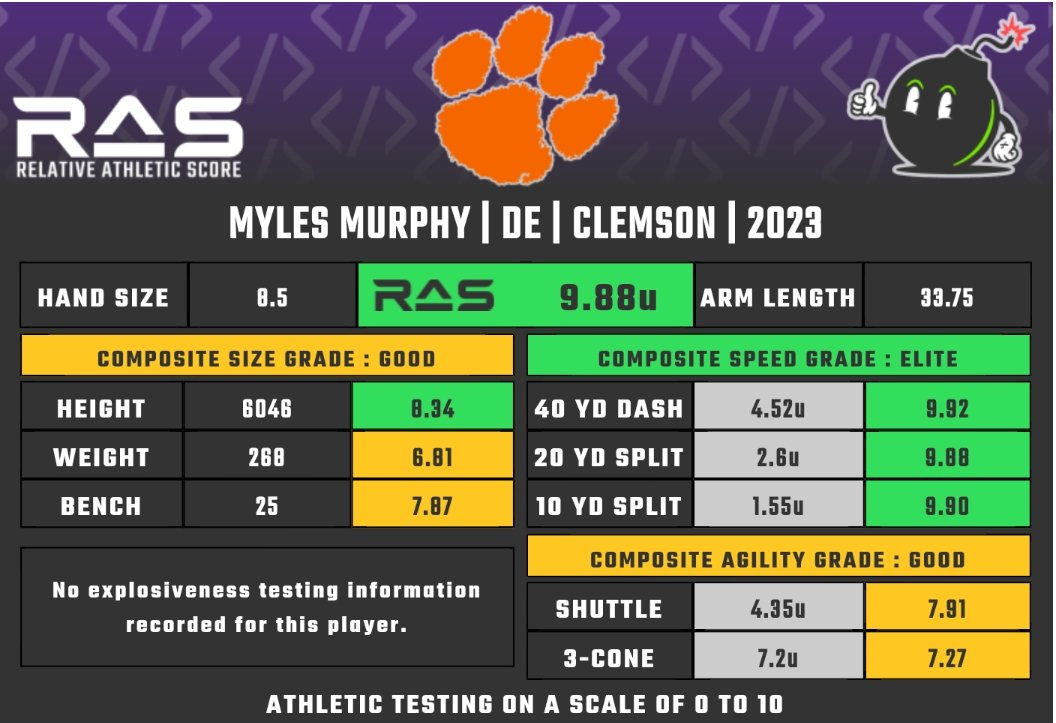 ---
Likely landing spots within the top 10
Let's assume the draft order doesn't change to keep things simple. There are probably six teams that can easily spend their first pick on an edge defender, and with Anderson expected to be the first off the board, that still leaves a handful of options for Murphy. 
The Cardinals pick third as it stands right now, and without a need for quarterback, edge defender is definitely in play for a team that just lost J.J. Watt to retirement and its second-best pass rusher on the defensive line, Zach Allen, to free agency. Arizona is barren along the defensive line, so let's assume it selects Anderson.
The Colts will be hoping their quarterback of the future falls to them but if they aren't happy with the value of who is left, they could invest in another athletic specimen to pair next to Kwity Paye for the future. This landing spot is more unlikely but not out of the realm of possibilities when looking at the Colts' depth chart and need for another reliable edge to play significant snaps.
Seattle has been in on edge defenders slightly later in recent drafts, selecting Boye Mafe in the second round last year and Darrell Taylor in the second in 2020. Even after Uchenna Nwosu's breakout season in his first year with the team, none of Seattle's current players have Murphy's upside and potential.
The Lions seem destined to take a defensive player with the sixth overall pick, as they could pick a cornerback, interior defensive lineman or edge defender. After selecting Aidan Hutchinson second overall last year, going right back to the well by grabbing Murphy would give them a truly dangerous threat off both sides of the defensive line. Murphy's talent and traits feel more likely to translate quickly to the NFL over Tyree Wilson, who is often mocked in this spot and is much more reliant on his power as a pass-rusher with even less refinement than Murphy. It would also keep James Houston and his other-worldly sack rate in a pass-rush specialist role.
The Falcons need pass-rush help and they need it now. Even after spending an early second-round pick on Arnold Ebiketie last year, they are far from done in that regard, ranking 31st in team pass-rush grade (54.1) in 2022. If Atlanta wants more than just Wilson and Lukas Van Ness' power or more size than Nolan Smith, Murphy would be the ideal selection, as he can be relied upon for a heavy workload to make up for their lack of depth at the position.
Speaking of the lack of depth at the position and poor team pass-rush grades, there may not be a team in greater need of defensive line help than the Bears. Chicago is coming off a season where it finished dead last in team pass-rush grade (52.2), pressure rate (24.1%) and sacks (20). While the Bears could also use offensive line help, there is a chance that they take a shot on an edge rusher here, and even if Murphy isn't the second edge off the board, the ninth pick in the draft would still be a valuable spot to grab him.
---
After Anderson, Murphy stands out as the top edge in this class, as he the most to offer right now in both run defense and as a pass rusher. His elite athleticism combined with prototypical size pushes him into a territory where he could have the most upside of his peers among those ranked around him. He offers a bit more variety as a pass-rusher than Wilson and Van Ness while still being as good of a run defender. He also has better size and athleticism than Smith and B.J. Ojulari to hold up against NFL offensive linemen when defending the run. 
The potential to thrive in an every-down role in the NFL is ultimately what makes Murphy the more valuable player and worth top-10 draft capital. With just under two weeks until the NFL draft, it's time to start giving the Clemson product his due as a top-two edge defender in this class.