You've read plenty of articles highlighting potential first-round selections for teams in the upcoming 2023 NFL Draft, but the beauty of the draft is that it's more than just one round. 
Here are some early- and late-round fits for all 32 teams this April.
---
JUMP TO A TEAM:
ARZ | ATL | BLT | BUF | CAR | CIN | CHI | CLE | DEN | DAL
DET | GB | HOU | IND | JAX | KC | LVR | LAC | LAR | MIA | MIN | NE
NO | NYG | NYJ | PHI | PIT | SF | SEA | TB | TEN | WSH

Early Pick: EDGE Will Anderson Jr., Alabama
Late Pick: CB Darius Rush, South Carolina
Anderson is an easy choice here with the Cardinals needing to get much better at rushing the passer. They ranked 19th in total pressures (263) and 21st in pass-rush grade (67.2) as a team in 2022. Arizona also needs another outside cornerback, which can be tough to find late in the draft, but the 6-foot-1 Rush would be a good one.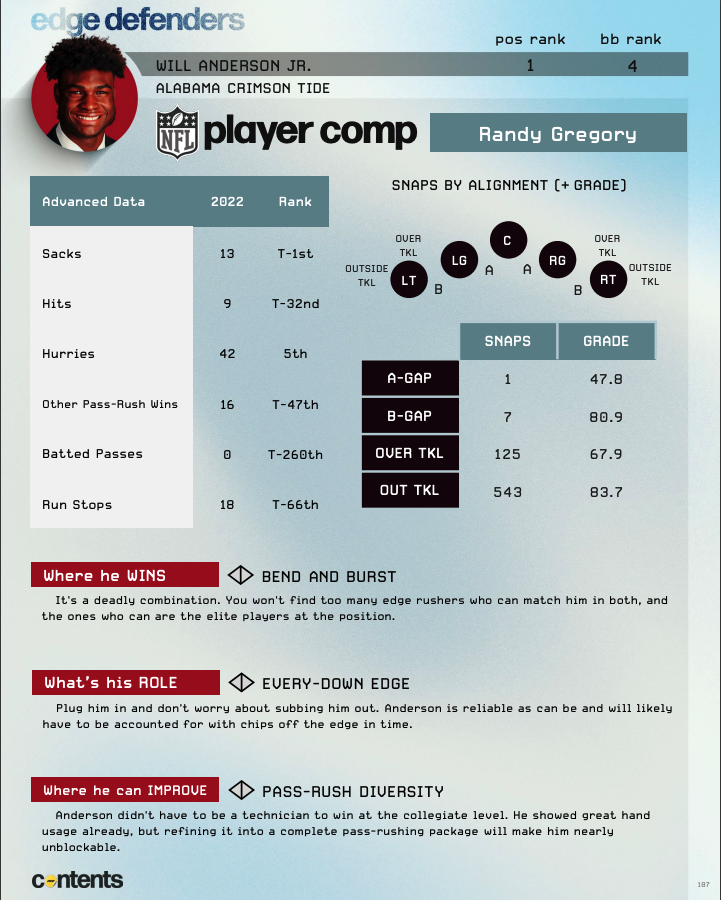 ---
Early Pick: CB Devon Witherspoon, Illinois
Late Pick: EDGE Brenton Cox Jr., Florida
The Falcons need major defensive upgrades. Rather than force a defensive line selection at No. 8, a top-tier cornerback opposite A.J. Terrell would give them a great duo. Later in the draft, Cox provides intriguing pass-rush potential, posting 21 pressures in eight games this past season.
---
Early Pick: CB Joey Porter Jr., Penn State
Late Pick: WR A.T. Perry, Wake Forest
With cornerback being a major potential need for the Ravens, hitting a strong class at the position in the first round would be to their advantage. The long, tall Porter would be just what they're looking for. As many will note, however, they also need wide receiver help, specifically players who can win vertically. At 6-foot-3 and 195 pounds, Perry would give Baltimore both a bigger wide receiver and one who has a knack for winning deep down the field. He recorded a 16.2-yard average depth of target over the past two seasons.
---
Early Pick: OG O'Cyrus Torrence, Florida
Late Pick: S Trey Dean III, Florida
A pair of Florida Gators would do the Bills some good. Their interior offensive line was not up to par in 2022, and if they want to get over the top, they need to address it. Who better than one of the highest-graded guards in the FBS this past season? They also might have some safety snaps up for grabs. Dean was one of the top players in Vegas for Shrine Bowl Week, showcasing good ball skills and athletic ability. Inconsistencies on tape might push him down draft boards, but he'd be a good add for Buffalo.
---
Early Pick: QB C.J. Stroud, Ohio State
Late Pick: OG Andrew Vorhees, USC
This would be a great one-two for the Panthers. Stroud is an obvious choice at the top in the first round, as Carolina is desperate for a young franchise quarterback. They also need some help along the interior offensive line. Vorhees is an experienced player with 44 games played in college. He made 25 starts at right guard, eight at left guard and four at left tackle.
---
Early Pick: DT Jalen Carter, Georgia
Late Pick: WR Xavier Hutchinson, Iowa State
Carter is the ideal player for the Bears, as they desperately need a difference-making three-technique defensive tackle, and he's about as dominant as they come. As for offensive weapons, there will be plenty to choose from, but the savvy and productive Hutchinson is the bet to make as a player who recorded an elite 90.8 receiving grade and more than 2,100 receiving yards over the past two seasons.
---
Early Pick: OT Darnell Wright, Tennessee
Late Pick: TE Payne Durham, Purdue
The Bengals still need to invest in their offensive line, and whenever that's the case, doing so with priority draft picks is the smart move. Wright is an experienced, aggressive and stout right tackle who has the strength to even be versatile on the inside. With Hayden Hurst entering free agency, there could be a lot of tight end snaps up for grabs in Cincy. Durham was a standout player at the Senior Bowl and earned a 72.3 receiving grade with eight receiving touchdowns for Purdue this past season.
---
Early Pick: DT Keeanu Benton, Wisconsin
Late Pick: WR Charlie Jones, Purdue
The Browns have to get much better up front in the middle of their defense after finishing 2022 with a 38.2 team run-defense grade (29th) while giving up 0.005 expected points added per rush (29th). Benton is a strong run defender who has been getting better and better as a pass rusher — a perfect pick. Jones, one of the best route runners in the class, in the later rounds would give the Browns a reliable short-area slot receiver.
---
Early Pick: WR Jordan Addison, USC
Late Pick: CB Riley Moss, Iowa
The Cowboys' pass catchers outside of CeeDee Lamb were a letdown this past season. Addison, a former Biletnikoff Award winner, knows how to be a focal point of a passing attack. Dallas' defense also has a need opposite Trevon Diggs at cornerback. Moss recorded an 86.2 coverage grade on 420 coverage snaps this past season, his fifth as a starter for the Hawkeyes.
---
Early Pick: EDGE Zach Harrison, Ohio State
Late Pick: OT Jaelyn Duncan, Maryland
The Broncos roster solid speed-rushing talent in Randy Gregory, Nik Bonitto and Baron Browning, but they need a big-bodied edge. At 6-foot-6 and 275 pounds, Harrison fits that mold. Denver could also use some offensive line help, for which Duncan would be a nice get as a late-rounder if he's on the board.
---
Early Pick: CB Devon Witherspoon, Illinois
Late Pick: DT Byron Young, Alabama
Defense is the theme for the Lions this offseason. Witherspoon (or even Oregon's Christian Gonzalez) would be a great pick for them in the first round. They could follow that with a reliable and experienced interior player like Byron Young to free up Aidan Hutchinson and James Houston IV, as well as allow Alim McNeill to move to his more natural nose tackle spot.
---
Early Pick: TE Michael Mayer, Notre Dame
Late Pick: DT Gervon Dexter, Florida
A reliable tight end like Mayer, who finished this past season with an elite receiving grade, seems like an obvious choice for the Packers. Though Dexter never blossomed into the pass rusher many thought he could become, his 6-foot-6, 315-pound frame would be alluring for the Packers' front.
---
Early Pick: QB Bryce Young, Alabama
Late Pick: WR Jayden Reed, Michigan State
As the best player in college football over the past two seasons, Young would be the ideal player for the Texans, who have a good shot at getting him with the No. 2 overall pick. But Young will need someone to throw the ball to, and that's where the explosive Reed could come in. His speed was a standout trait at the Senior Bowl.
---
Early Pick: QB Bryce Young, Alabama
Late Pick: IOL Jarrett Patterson, Notre Dame
The first step in the Colts' draft plan has to be securing a young franchise quarterback — whether that's Young, C.J. Stroud, Will Levis or Anthony Richardson. The next will be adding an experienced and versatile offensive lineman. Young and Patterson would be an ideal one-two punch.
---
Early Pick: CB Deonte Banks, Maryland
Late Pick: DL Moro Ojomo, Texas
Tyson Campbell has blossomed into a strong outside cornerback for the Jaguars, but they need some help opposite him. Banks is a good coverage cornerback who might not have the ball skills to be picked as high as his skill set warrants. As for later-round picks, the versatile Ojomo could be a great fit for a defense that likes to use all of its defensive linemen in a variety of alignments.
---
Early Pick: OT Darnell Wright, Tennessee
Late Pick: WR Marvin Mims, Oklahoma
With Orlando Brown Jr. and Andrew Wylie pending free agents this offseason, offensive tackle could be the big position for the Chiefs to hit. Wright is an experienced right tackle who could step in right away. They could also be in the market for more wide receiver talent, and if so, Mims should fit what they're looking for in the later rounds.
---
Early Pick: QB C.J. Stroud, Ohio State
Late Pick: OG Atonio Mafi, UCLA
If the Raiders miss out on the Aaron Rodgers sweepstakes, they'll need someone at the quarterback position who can give them hope. Pick any one of Stroud, Will Levis or Anthony Richardson. After they answer their quarterback question, they'll need to turn their attention to the offensive line.
---
Early Pick: WR Zay Flowers, Boston College
Late Pick: LB Dorian Williams, Tulane
The Chargers' offense could take the next step with some extra speed infused into it, and that's the kind of player Zay Flowers is. As for their defense, they could use some extra linebacker help, and Dorian Williams brings high-ceiling athleticism for the position as a mid-round pick.
---
Early Pick: EDGE B.J. Ojulari, LSU
Late Pick: OT Blake Freeland, BYU
It's all about the trenches for the Rams. On the defensive side of things, Ojulari would be a high-ceiling pass rusher for them to grab with their first selection at the top of the second round. And with one of their mid-round picks, taking a chance on the 6-foot-7 offensive tackle from BYU would be a good bet.
---
Early Pick: CB Emmanuel Forbes, Mississippi State
Late Pick: RB Devon Achane, Texas A&M
Byron Jones hasn't panned out the way the Dolphins had hoped, so it might be time to invest in an outside cornerback opposite Xavien Howard. As for Achane — come on, you knew it was coming. A back who has Olympic track speed fits the mold of what Miami wants to do every Sunday (leave defenders in the dust).
---
Early Pick: CB Cam Smith, South Carolina
Late Pick: LB Jack Campbell, Iowa
The Vikings need some outside cornerback help, and with only five draft picks (for now), hitting on a talented outside corner like Smith in the first round could be their best use of resources. They also might need to bolster their linebacker room (and quickly). Campbell is an experienced off-ball linebacker who could step in during his rookie year, if needed.
---
Early Pick: OT Peter Skoronski, Northwestern
Late Pick: CB Julius Brents, Kansas State
The Patriots' biggest need is at offensive tackle, so look for them to hit on that early. Skoronski would be the ideal player there as the best offensive tackle in college football last year. They also need some help at cornerback, and though it's tough to find starting-caliber cornerbacks late, Brents' 6-foot-3 frame and 82-inch wingspan make him an alluring mid-round player with a lot of potential.
---
Early Pick: DT Calijah Kancey, Pittsburgh
Late Pick: RB Tyjae Spears, Tulane
The Saints have some good size up front on their defensive line, even at the edge positions, but they could use a speed element for pass rushing. Kancey, while undersized, could thrive as a one-gap player for them. As for their late-round pick, New Orleans gave carries to eight different running backs in 2022. They need a go-to reliable young back to spell Alvin Kamara. Spears has been one of the biggest risers early in this draft process. 
---
Early Pick: WR Quentin Johnston, TCU
Late Pick: S Jammie Robinson, Florida State
It's no secret that wide receiver is a massive need for the Giants heading into the offseason. Johnston had a breakout 2022 campaign and could be a great option for them at the back end of the first round. As for Robinson, he might be more of an early-round pick on Day 2 than a late-rounder, but he'd be a perfect addition in that safety room after showing a ton of confident, aggressive play at the Senior Bowl.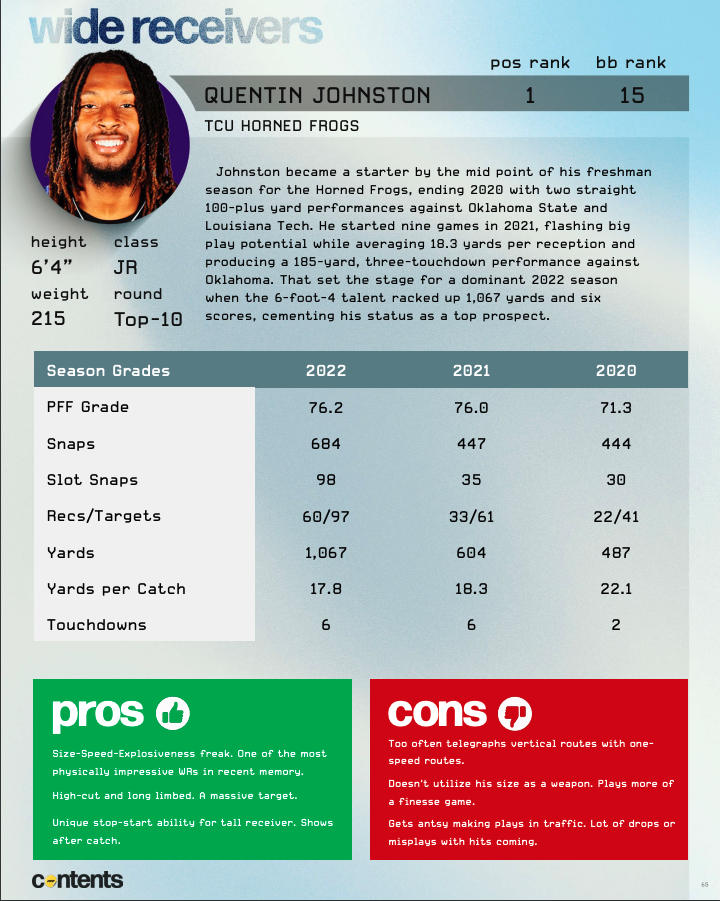 ---
Early Pick: OT Paris Johnson Jr., Ohio State
Late Pick: S Chris Smith, Georgia
Offensive line help is paramount for whoever is playing quarterback for the Jets next season. They'd love to have Mekhi Becton back and healthy, but that's no guarantee. That's why Johnson is their perfect pick, as he can start at tackle or guard. They also need help in the middle of the defense, either at linebacker or safety. Smith was a great downhill safety for the national championship Bulldogs over the past two seasons.
---
Early Pick: CB Christian Gonzalez, Oregon
Late Pick: OG Andrew Vorhees, USC
The Eagles might lose James Bradberry to free agency soon, and if they do, they'll want to replace him with a starting-caliber prospect. The 6-foot-2, 200-pound Gonzalez is a smooth mover as an outside cornerback, and this year he showed the ball skills to match the ability. As for Vorhees, he's a guard by nature but has started at tackle, as well. He's the type of versatile, experienced offensive lineman the Eagles like to invest in.
---
Early Pick: OT Dawand Jones, Ohio State
Late Pick: CB Darius Rush, South Carolina
Since head coach Mike Tomlin was front and center at the Senior Bowl, why not give him two Senior Bowl players for this exercise? The Steelers need a lot of help at offensive tackle, and the 6-foot-8, 375-pound Jones would be a welcomed addition (they could also flip Chukwuma Okorafor to left tackle, where he played in college. Pittsburgh will have to address a hole at outside cornerback, too, and Rush consistently put together good reps in Mobile.
---
Early Pick: C Luke Wypler, Ohio State
Late Pick: S Ji'Yair Brown, Penn State
The Niners don't have an early-round pick, as their first selection comes in the third round as a comp pick. They might have a big need at center with Jake Brendel a free agent, so Wypler could be a good target for them. It would also be advantageous to get a safety who has the athletic ability to play as a free safety, freeing up Talanoa Hufanga to continue to roam the middle.
---
Early Pick: EDGE Will Anderson Jr., Alabama
Late Pick: DL Byron Young, Alabama
It might a longshot for Will Anderson Jr. to be available at the Seahawks' No. 5 pick, but it would, without a doubt, be the best possible fit. I don't love any of the other edge options for them that high with Anderson off the board. As for later in the draft, another investment into their defensive line would still do them well, this time with more beef in the middle to stop the run.
---
Early Pick: QB Anthony Richardson, Florida
Late Pick: CB Kei'Trel Clark, Louisville
The Bucs might have to make a move up in the draft to get Richardson, but it's worth it. Tampa Bay could also lose Jamel Dean and Sean Murphy-Bunting in free agency, which would leave them needing new juice in the cornerback room, and that's exactly what Clark brings. He's probably a slot-only type in the NFL — but a good one to get with a late pick.
---
Early Pick: OT Broderick Jones, Georgia
Late Pick: WR Jonathan Mingo, Ole Miss
The Titans' two biggest needs are offensive tackle and wide receiver. Thankfully, their draft position in the first round allows them to formulate a game plan to hit both, starting with Jones. As for Mingo, he had his best season in 2022 with more than 800 yards and five touchdowns, including a 247-yard game against Vanderbilt.
---
Early Pick: QB Anthony Richardson, Florida
Late Pick: CB Kyu Blu Kelly, Stanford
Washington is another team desperately working to figure out its quarterback position this offseason. Sam Howell is waiting in the wings, and if the Commanders are as comfortable with him as they say, this would probably be an offensive line selection. But if they're looking to upgrade, Richardson is a clear target. They'll also need to grab at least one cornerback, and Kelly is a later-round option.