As the 2022 NFL Draft superlative series continues, we set our sights on this year's deepest position. The edge defender class is nothing short of special in that regard. The defensive tackle class may not have the same kind of depth, but there are still some impressive players to award superlatives to.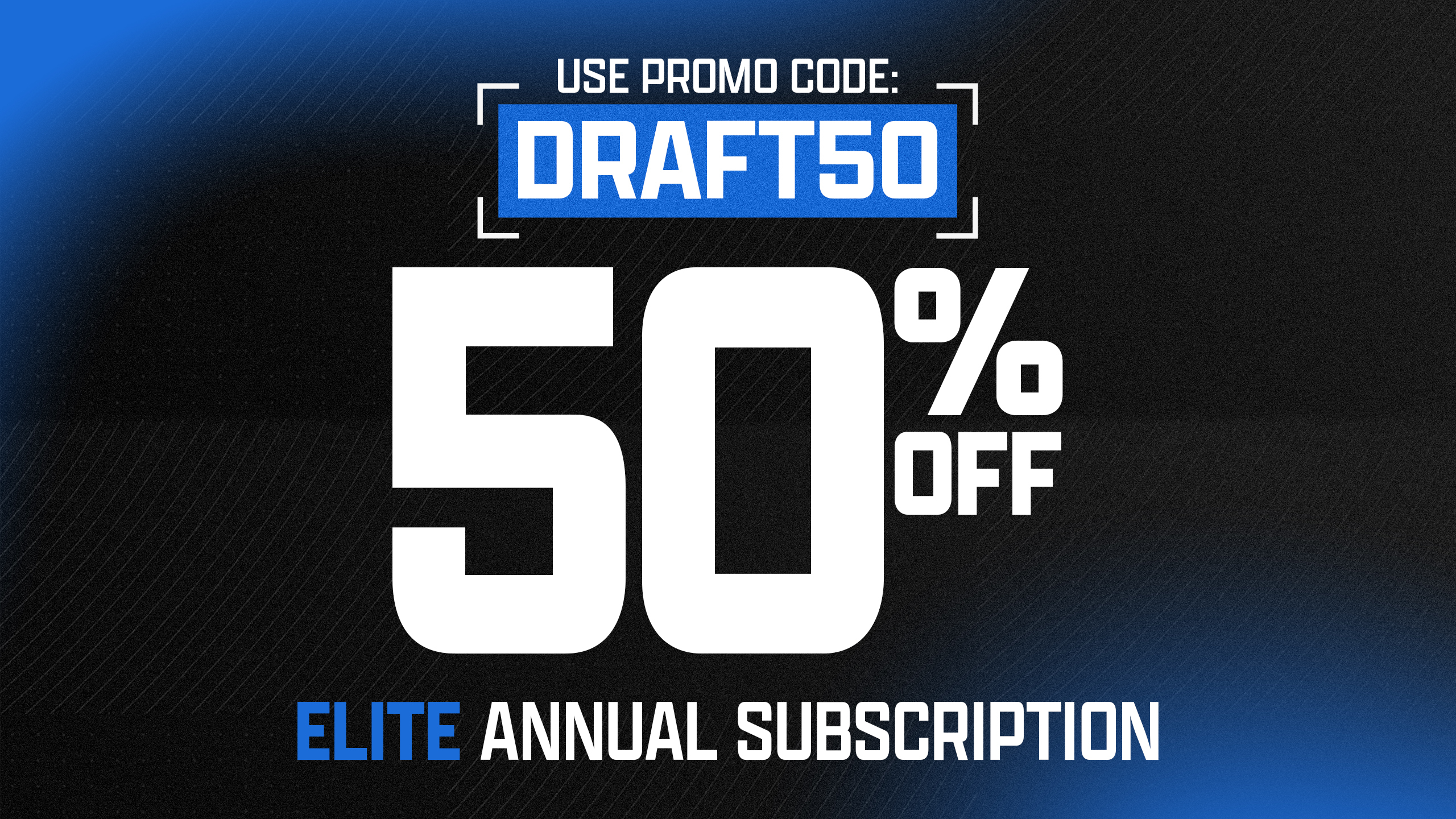 Edge Defenders
Whether it's placement or power, Hutchinson's hands are as good as it gets in the draft class. They show up in the run game, in the pass rush and when bringing down ball-carriers. With finishing so important at the NFL level, Hutchinson missed only 11 tackles on 155 attempts in his entire college career.
Aidan Hutchinson (@aidanhutch97) swipes the tackles hands, then club/swims the RB for the sack. If you beat the hands, you beat the man! #passrush #goblue #nfldraft pic.twitter.com/MEiZY79qxP

— DLineVids (@dlinevids1) December 5, 2021
If you aren't sure why Hutchinson is the consensus No. 1 player in the class, these two superlatives should shine some light on it. Hutchinson's bull rush is his starting point, but the most impressive thing is all the moves he can work off it. He's not the kind of pass-rusher who stalls out if his first move isn't successful.
I'm trying to watch David Ojabo, but this keeps turning into me clipping Aidan Hutchinson. Transitions off that bull rush into a rip move. See how he generates that easy speed to power off that 3rd step. pic.twitter.com/FgAKCkqMSz

— Nicholas Martin (@themicknartin) February 11, 2022
Bonitto is one twitchy, undersized rusher. He has to be to get by at that size. Bonitto consistently forces offensive tackles to get out of their stance and is one of the best in the class at taking advantage of oversets. His absurd 1.53-second 10-yard split only confirmed that top-notch get-off.
His pass rush is dangerous

He has great burst and bend as well as a killer inside move pic.twitter.com/xWsTMElLJe

— Draft Guy Jared (@DraftGuyJared) April 3, 2022
The PFF database includes NFL Scouting Combine data that goes back to the early '90s. Since then, we've never seen an all-around athlete at the edge position of Walker's caliber. Just look at how absurd he can move.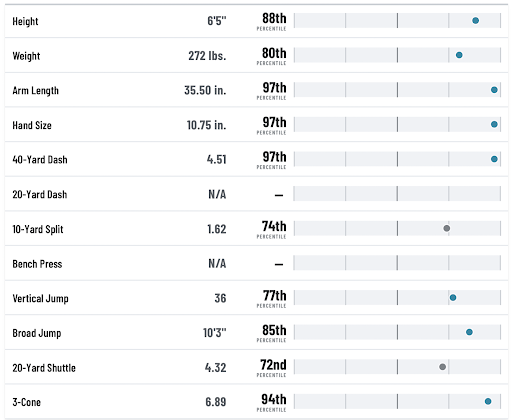 My favorite part about those numbers is that if you compared them to cornerbacks, only his 10-yard split would be below the 25th percentile.
That said…a couple things that jumped out w Travon Walker…

-He's *very* solid vs the run. Great eyes. As raw as he is as a rusher, this will help ease the transition.

-Was surprised by how smooth he was in coverage at his size. He's got like 5 inches on Bigsby here. pic.twitter.com/214p8XVKBX

— Mina Kimes (@minakimes) April 10, 2022
Johnson has the ideal frame and play strength to stack offensive tackles on the outside all day. His 34-inch arms routinely separated from blockers, allowing him to make plays on ball-carriers at Florida State. Johnson should be a Day 1 impact player in run defense. 
Jermaine Johnson brings the same tenacious temperament as a run defender!

♦️Powerful punch/extension
♦️Long arm to keep separation
♦️Flexibility with spin back into the RB's pathpic.twitter.com/Du4r69Q9DN

— Damian Parson (@DP_NFL) February 18, 2022
Paschal may never be a true inside-outside player on early downs, but he can most certainly be a weapon as an interior player on run downs. He's a loaded-up 6-foot-2, 270 pounds. That's such a difficult build for taller offensive linemen to try and gain leverage on. Add in his 1.62-second 10-yard split, as well as his 30 bench press reps, and it's easy to see why he'll be a handful from a number of alignments. He took more snaps on the interior last season than he did outside the tackles.
Josh Paschal is a bad man ???? pic.twitter.com/ODIzpqY9d4

— Jacob Tamme (@JacobTamme) October 10, 2021
Defensive Tackles
The pop in Jones' hands is the best in the draft class. He strikes with violence as a pass-rusher and continues working them throughout the play. That's what you want from a pass-rushing nose tackle. It showed best at the Senior Bowl, where he earned a 92.2 pass-rushing grade in the week of practice. 
I loved watching how Cole strange was able to hold Travis Jones. Zion Johnson not so much. pic.twitter.com/YcfDkyjWG2

— Blake Anthony (@BlakeAnthony49) April 6, 2022
Garrett isn't close to the top of the defensive tackle class because of his physical limitations, but in his five years at Ohio State, he soaked up a good deal of knowledge from defensive line coach Larry Johnson. He has a ton he can throw at opposing offensive linemen. The worry is if they'll even translate to the NFL with poor play strength, short arms and middling explosiveness.
#OhioState DL Haskell Garrett (@HaskellGarrett_) with the club/swim. Garrett attacks the elbow joint of the blocker, reduces his hitting surface & finishes with the swim. Preseason All-American selection by @PFF

via @Dubsco YT pic.twitter.com/B26Ag62KWv

— DLineVids (@dlinevids1) July 14, 2021
Wyatt is the most twitched-up defensive tackle in the draft class, and it's not just because he ran the fastest 40-yard dash (4.77). He also put up a swift 7.45-second three-cone time. Wyatt didn't really have a pass-rushing role where he could shine at Georgia, but he earned the highest pass-rushing grade of any defensive linemen during the week of practices at the Senior Bowl. 
307-pounds should not move this quickly

Devonte Wyatt Day 1???? pic.twitter.com/TUFbEQly3R

— Mike Renner (@PFF_Mike) February 2, 2022
341 pounds. 4.78-second 40-yard dash. 1.63-second 10-yard split. 10-foot-3 broad jump. Need we say more? We've never seen an athlete like Davis at the defensive tackle position.
JORDAN DAVIS JUST SET THE COMBINE DL RECORD FOR BROAD JUMP (since 2006)

10'3" at 347 lbs !!!!!

via @StaceyDales pic.twitter.com/SAYhW93Gli

— Josh Norris (@JoshNorris) March 5, 2022
This follows somewhat logically from the superlative above. Weighing in at 341 pounds with 34-inch arms is a good starting point by itself, but add in Davis' athleticism and it could get scary for centers in the NFL. He was downgraded on only 10 run-defense plays all last season.
Jordan Davis makes this look effortless

— Anthony Cover 1 (@Pro__Ant) April 10, 2022
At 325 pounds, Jones has obviously been seen by most as a nose tackle in the pre-draft process. On tape at Connecticut, though, he spent 469 of his 584 snaps last season manning the B-gap. His 4.92-second 40-yard dash and 7.33-second three-cone is evidence of impressive athleticism for a three-technique. With nearly 35-inch arms as well, Jones can hold up in any alignment between the tackles.
Travis Jones vs Clemson would be the elite IDL tape of the year if Jordan Davis didn't exist. pic.twitter.com/3c3e4Wi8r6

— Matt Lane (@Matty_KCSN) April 7, 2022