At this time last year, Aaron Rodgers' future in Green Bay was uncertain. The Packers were coming off a strong 13-3 season, having come within one win of a Super Bowl berth. But talk was swirling about the possibility of a 36-year-old Rodgers hitting the inevitable late-career decline. He had gotten off to his usual good start in 2019 but took a turn for the worse around midseason. 
Rodgers closed out the 2019 regular season from Week 8 on with a PFF grade (69.3) that fell below the 50th percentile at the position. His accuracy was a particular issue, as Rodgers' 51.5% uncatchable pass rate on throws of 10 or more yards was the highest in the league after Week 8. For perspective, the third-worst mark was 7.6 percentage points better than that.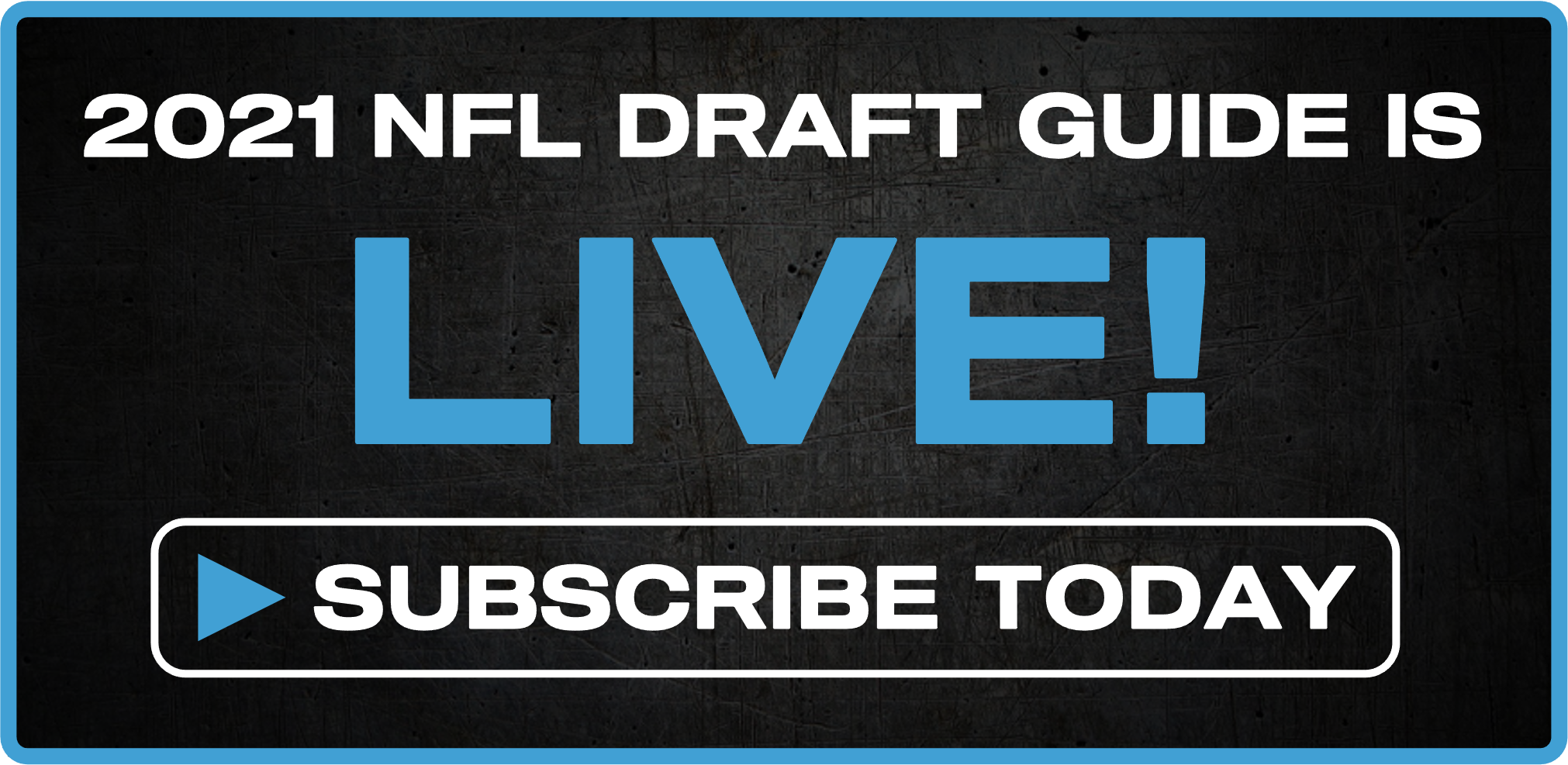 Still, most expected a team that had just made it to the NFC Championship to stick by Rodgers and add desperately needed receiving weapons in the 2020 NFL Draft. But instead of using their first-round selection on a wideout, they traded up a handful of spots to take Utah State quarterback Jordan Love, a player that PFF gave a third-round grade. 
Needless to say, Rodgers was upset. After pouring himself a glass of tequila as an initial response, Rodgers welcomed Love to the organization and then proceeded break the record for highest-single season PFF grade by a quarterback en route to winning NFL MVP. 
The Packers, however, were unable to capitalize on Rodgers' historic season and once again fell short of the Super Bowl, losing in the conference title game to eventual the champion Tampa Bay Buccaneers. Though they didn't hoist the Lombardi Trophy in 2021, Rodgers more than proved that he has some gas left in the tank and that this team still has a shot at winning a title in the near future.  
Green Bay was severely limited in free agency due to cap restrictions. The team axed veteran tackle Rick Wagner and let center Corey Linsley walk. They re-signed running back Aaron Jones, cornerback Kevin King and tight end Marcedes Lewis. And they didn't add anyone of consequence. All of these decisions were questionable, especially Jones and King. 
Jones is a good NFL running back, but the position is just not valuable and does not justify the contract. Jones was the 10th-most valuable running back in the 2020 season, worth 0.13 wins above replacement. For perspective, that mark ranked just ninth in Green Bay's offense alone last year. Only Rodgers, David Bakhtiari and Davante Adams are paid more on a yearly basis than Jones among Packers offensive players.
King produced a 45.6 coverage grade in 2020. Green Bay had the most valuable cornerback in the NFL last season in Jaire Alexander, who produced 1.42 WAR, but King came in as one of the least valuable — he produced negative WAR at -0.25. 
The good news is that the Green Bay Packers can help themselves mightily in the 2021 NFL Draft. They'll need to smartly utilize their current draft picks, but they should also consider the type of return last year's No. 1 pick would bring back in a trade. With the way Rodgers bounced back in 2020, there's a chance Love doesn't even see the field before the Packers have to make the fifth-year option decision on him in the spring of 2023.
Love's value has depreciated since Green Bay took him with the 26th overall pick a year ago. The trade market may no longer be all that great, but there are a few teams that could be intrigued, such as the Pittsburgh Steelers, who reportedly were interested in the Utah State quarterback last offseason. 
Subscribe to PFF Edge to continue reading
Already have a subscription? Sign In