The final day of the 2020 NFL Scouting Combine has arrived, and the defensive backs will be the last to take the field. With the help of PFF's advanced database, top-150 big board and 2020 NFL Draft Guide, let's dive into what you need to be watching for when the defensive linemen and linebackers take the field.
[Editor's note: Available to all of PFF's EDGE and ELITE subscribers, PFF's 2020 NFL Draft Guide consists of over 750 pages loaded with background information, analysis, advanced statistics, grades, round projections, player comparisons and more on over 250 NFL draft prospects in the 2020 class.]
Kristian Fulton is the clear-cut CB2 for PFF, but that doesn't mean he doesn't have something to prove on Sunday
Fulton has been one of college football's best cornerbacks ever since he was thrown into starting action at the beginning of 2018. Since then, he's produced a two-year coverage grade of 92.0 and allowed a catch on just 43.6% of his targets, second and fifth, respectively, among qualifying draft-eligible corners.
There are very few things not to like about Fulton's play. He has vast experience playing press coverage (third-most such snaps in 2019), he's elite at the catch point (third-highest forced incompletion rate in 2019) and he has crisp agility. Oh, and he showed all of this against the toughest conference in the game in the SEC.
That being said, one of the few things preventing him from being a top-15 prospect on our big board is his straight-line speed. He wouldn't get beat off the line often, but when he did, he didn't have the make-up speed to prevent a big play. Fulton is the clear-cut second-ranked cornerback in this class in our eyes, but he'd still hugely benefit from a plus performance tonight.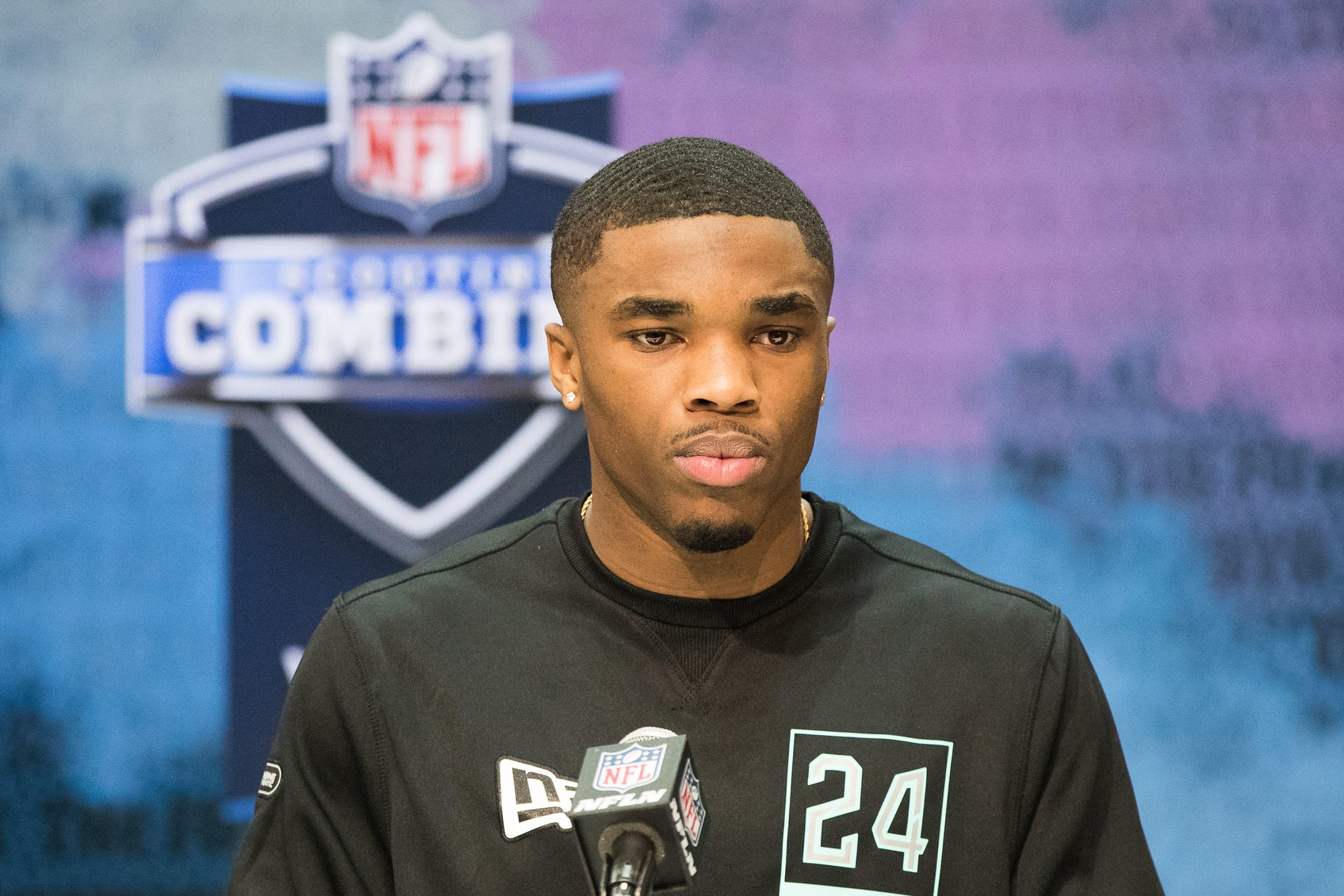 Jeff Okudah could lock himself into the top 3
Not only is Jeff Okudah the best cornerback in this draft class, but he is also a top-five pick according to PFF — and tonight he has every opportunity to lock himself up as a top-three pick.
Only one Power-5 cornerback played in at least 15 games and allowed 50 or fewer yards in every single game since 2018, and that cornerback is Okudah (he played in 27 games). He has some of the best man-to-man skills we have seen. Over the last two seasons, Okudah has allowed just 24 catches on 68 targets in single coverage, all while forcing 18 incompletions and intercepting two passes. He's a shutdown corner and the runaway top corner in this class. He could have opted not to participate in drills, but he's going after that top-three spot, and he can easily secure it with a good performance.
There are a handful of defensive backs who are vying for the quickest 40-yard dash, and I wouldn't be surprised if one of them sniffs the 4.2-second mark.
TCU's Jeff Gladney likely won't get that low, but he most certainly will be posting one of the fastest times of the day, as his tape shows just how much ground he can make up when his receiver tries to beat him deep. On Gladney's 45 vertical-route targets since 2018, he allowed just nine receptions; he forced tight coverage on 38 of those passes, and he also forced 10 incompletions. He's currently a fringe first-rounder on our big board, and a solid day of testing could see him secure Day 1 status.
Troy Pride Jr. was always known for his elite speed, but he wasn't particularly a sought-after prospect until he had arguably the best week of anyone in Mobile at the Senior Bowl. Throughout the practices — and in the game itself — Pride didn't let up a single explosive play, and he also made a few impressive plays on the ball. He didn't have the best season of his career at Notre Dame in 2019 by posting a sub-70.0 coverage grade, but he was rarely beaten deep, as he was in years prior. Since 2017, Pride was targeted 37 times on throws 20-plus yards downfield, and he allowed only six to be caught while hauling in three interceptions and forcing 15 incompletions. The Notre Dame corner has near-perfect make-up speed, and if he runs in the 4.2s like he says he wants to, his stock will see one of the largest rises of the week.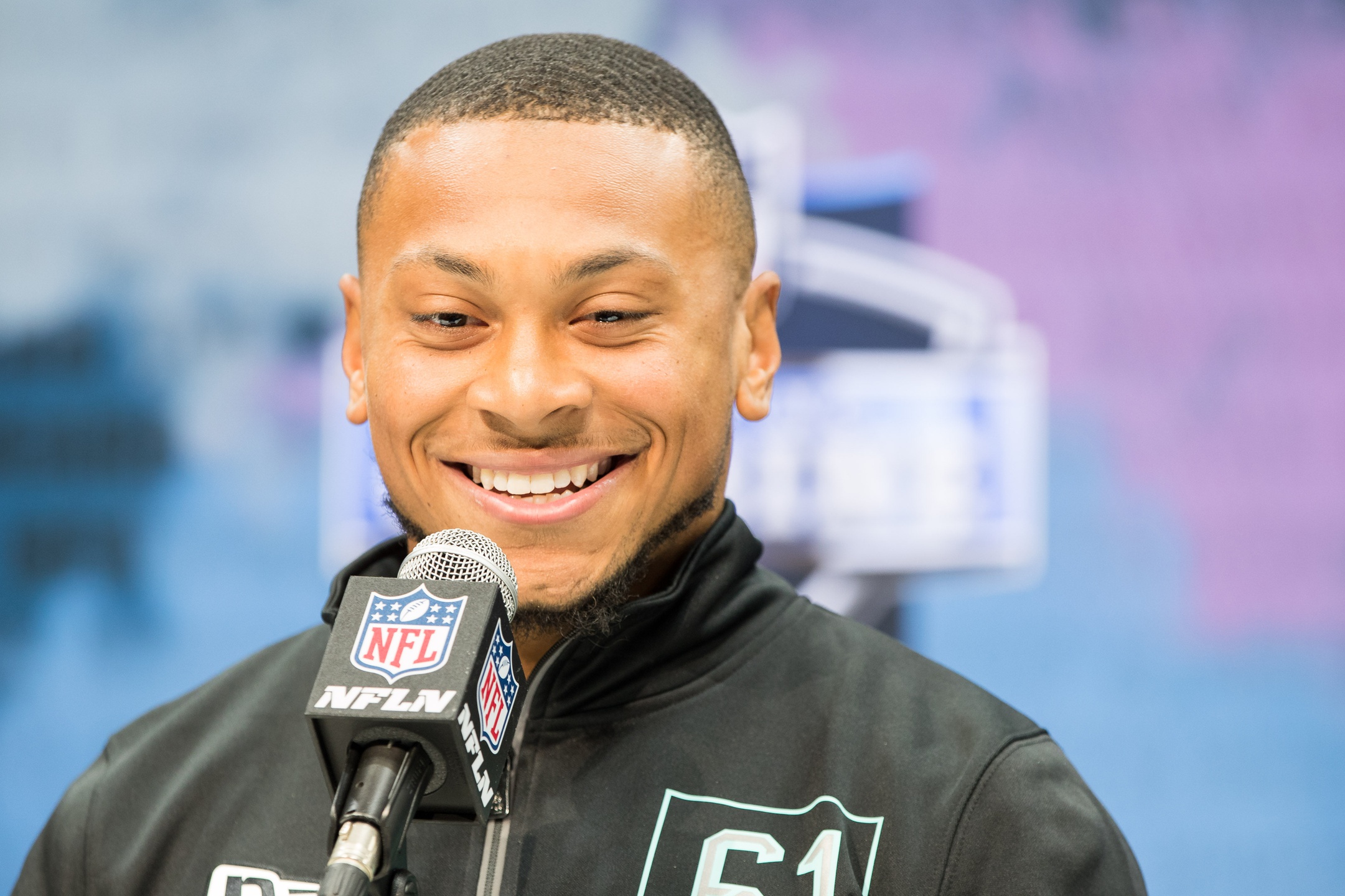 Antoine Winfield Jr. has had arguably the worst injury luck of anyone at the Combine. It's time for him to prove he's worth investing in despite that
Antoine Winfield Jr. had to apply for a medical redshirt twice in his four seasons at Minnesota. He was average at best in coverage in his true freshman season in 2016 by producing a 67.2 coverage grade; the two medical redshirt seasons then followed before Winfield came back with a vengeance in 2019. He raised his coverage grade to 89.2, which was one of the best in the country. He allowed just 11 catches on his 401 coverage snaps while totaling eight combined pass breakups and interceptions. Winfield has excellent instincts at the safety position, and a big day in Indy will help teams feel safer with the thought of taking him this April.
Cameron Dantzler has the athleticism, length and speed needed for the position, but one glaring weakness
As Mike Renner said in the 750-page PFF Draft Guide, if Cameron Dantzler were to put on around 15 pounds of muscle, he'd likely be the second-best cornerback prospect in this class. Outside of that, he does everything exceptionally well and owns the traits you want to see in a cornerback.
Dantzler saw 96 targets throughout his career, and he allowed just 41 to be caught with only one touchdown and 20 combined interceptions and pass breakups. Those are stingy numbers. He's been able to go toe-to-toe with the best of the best in the SEC and hold his own. On his snaps in single coverage over the course of his career, Dantzler has allowed just 13 catches from 39 targets; he allowed only seven first downs and came up with two interceptions, two dropped interceptions and nine forced incompletions. He also shut down the 2019 Biletnikoff Award winner, Ja'Marr Chase, limiting him to only six yards in their Week 8 matchup.
MORE FROM THE 2020 NFL SCOUTING COMBINE: