The 2020 NFL Scouting Combine has officially come to a close, which means free agency and the 2020 NFL Draft itself is right around the corner.
While the wide receivers and offensive tackles have stolen the show, the cornerback position is right behind them for the deepest position group in this draft. With the help of PFF's advanced database, top-150 big board and 2020 NFL Draft Guide, let's look at some of the prospects who stood out in the on-field drills last night along with a few who threw out some dud performances.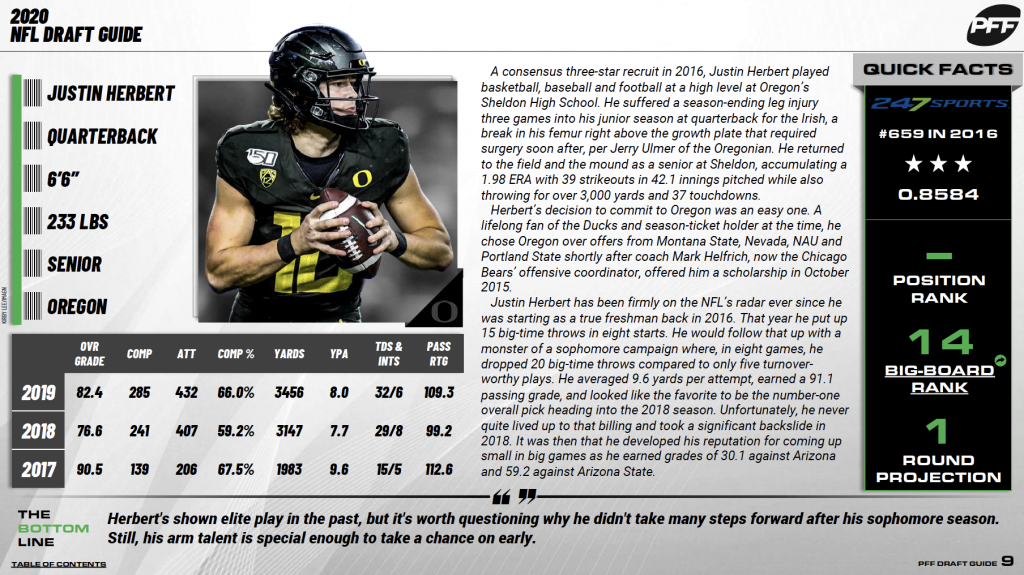 RISERS
Entering the week, very few things were "wrong" with Kristian Fulton as a prospect; he stood at second in PFF's cornerback rankings and was the 17th best prospect overall. That being said, the one concern we had was his straight-line speed and ability to make up ground when beaten off the line. Fulton then posted a 4.46-second 40-yard dash time, tying for the 10th best at his position, easing many of the concerns that came with him in the process.
NFL teams covet guys who can be isolated in press coverage and hang with his receiver. Fulton saw 52 targets when in single, press coverage over the last two years, and while 10 resulted in an explosive play, the LSU corner produced a forced incompletion rate (38.5%) that was higher than the percentage of passes that he allowed to be caught (34.6%). He isn't touching Okudah on our board, but he proved exactly what he needed to in Indianapolis.
Coming in second place to a track star in the 40-yard dash is still a pretty good result. Throw in top-10 finishes in the vertical and broad jump, and it only gets better for Florida's C.J. Henderson.
While it doesn't look like it'll be enough to rise above Fulton for CB2, Henderson did increase the gap between himself and the next best cornerback. We knew Henderson had elite speed, as he was rarely beaten off the line on a vertical route — while in single coverage, Henderson was targeted 20-plus yards downfield 15 times over the past two seasons, and he forced tight coverage on 13 of those passes. On those 13, just three were caught by the receiver while he picked off one and forced seven incompletions.
Jeremy Chinn entered the week as a sixth-round prospect, but he ended the week with a much higher projection. Chinn had great measurables to start at 6-foot-3, 221 pounds with 32-inch arms; he then turned in top-three finishes in the 40-yard dash, vertical and broad jump among safeties.
Chinn played against poor competition while at Southern Illinois, and while the results were good, they still weren't quite elite. His play in run defense — where he earned an 88.5 run-defense grade — stood out, but he also earned an 82.4 coverage grade and allowed only 200 receiving yards on his 340 coverage snaps. That being said, the toughest team he faced all year long was Arkansas State, and that game just so happened to see him produce his lowest single-game grade of the year. Chinn then got to the Senior Bowl, where he lost all of his one-on-one reps. His stock will rise because of the elite athleticism he displayed, but we have to be careful not to overrate it.
Kyle Dugger was a fringe top-50 prospect for us entering the week after showing a lot of promise at the Senior Bowl in Mobile. There, he made a play on the ball on three of his five one-on-one reps, which was great to see, considering he played at Division II Lenoir-Rhyne against the weakest competition of anyone else in this class.
One could see his sheer athleticism on tape, though, and Dugger came and verified that in Indy. Among all safeties, Dugger finished first in the vertical, second in the broad jump and sixth in the 40-yard dash. As Mike Renner said in the PFF Draft Guide, he is, at the very least, a long-time special teamer. With the athleticism he displayed, however, his ceiling is higher than most.
The former Clemson Tiger blew up the Combine and surpassed expectations as well as anyone else in attendance on Sunday. Speed was a big concern for Muse as he was going through the evaluation process, but he obviously put that to rest by posting a 4.41 40-yard dash, the second-quickest time at his position.
Muse was used as a box safety more than anything in college over the last two seasons, and he held up fairly well in that role; his two-year overall grade in the box was the fourth-best among safeties, and his run-defense grade was the best. There's still some concern with his likely move to linebacker at the next level, but Muse certainly changed some opinions with his speed on Sunday.
FALLERS
The day really could not have gone much worse for Cameron Dantzler, as he finished with the second-worst time at his position in the 40-yard dash to go along with a bottom-five vertical.
Rarely did Dantzler lose one-on-one at Mississippi State. He famously shut down Ja'Marr Chase for one catch and six total yards in their matchup last year. And on his 697 career coverage snaps, Dantzler was targeted 96 times and allowed just 41 catches. That's a lockdown corner type of rate. With as deep as this cornerback class is, Dantzler's Combine performance really hurts his stock.
Stanford Samuels was being written off as an NFL-caliber outside cornerback before his Combine, and his testing makes it almost a given that teams will want to move him to safety — just as Daniel Jeremiah and Deion Sanders said during the broadcast after he posted the slowest 40 time at his position group.
In his three years at Florida State, Samuels never really took that next step. He made some plays on the ball but was routinely beaten for an explosive play. In fact, he allowed 34 gains of 15-plus yards from 2017-19, the 16th most in college football over that span. Samuels also played 1,132 coverage snaps in his career and gave up a whopping 1,474 yards. He was already on thin ice, and a last-place finish in the 40-yard dash may have started the first crack in it.
More from the 2020 NFL Scouting Combine: