After spending the past week analyzing pre-and post-Combine data to get a better understanding of the hundreds of prospects set to hear their names called in the 2020 NFL Draft, yesterday we presented you with the prospects PFF likes more than other scouts and media. 
So now, with the help of PFF's advanced database, top-150 big board and 2020 NFL Draft Guide, let's do the inverse and dive into some of the prospects PFF feels are being overrated by scouts and media outlets.
[Editor's note: PFF's 2020 NFL Draft Guide is live! Subscribe to PFF's EDGE or ELITE subscription today to download your copy.]
There's been talk that Jordan Love might end up a top-15 or even top-10 pick come this April. However, he is currently 76th on PFF's 2020 NFL Draft Big Board, and we see him as nothing more than a third-round pick at this stage. He's a quarterback who'll thrive in favorable situations and collapse when he has to make a play for his team — and he showed that against schools in the Mountain West, not the NFL.
Love has a cannon for an arm and can hit open receivers in stride deep downfield. He actually came up with the third-most big-time throws to receivers with a step or more of separation last season, and that's precisely where people fall for Love and disregard everything else. 
As you know, you're just not going to have receivers running open on every play at the NFL level. And, yes, while he did put those high-end throws to open receivers on tape, he also struggled with accuracy while under those very same conditions. Love still owned an 88th-ranked accurate pass rate on 10-plus yard throws to a receiver with a step or more of separation. On those same throws, Love threw "accurate plus" passes (perfectly placed pass) at a rate that ranked just 112th. 
It's easy to see those context-free, big-time throws on tape and immediately move him up the draft board. But his entire body of work throwing to open receivers, coupled with his 68th-ranked passing grade on tight-window throws and class-leading 15 interceptions, should give scouts all over the country a reason for pause.
Percentage of pass attempts that resulted in a QB-fault incompletion, i.e., overthrow, underthrow, ball behind receiver, etc. (rank among 106 qualifying quarterbacks)
| | |
| --- | --- |
| 1. Joe Burrow, LSU | 6.3% |
| 4. Anthony Gordon, Washington State | 10.0% |
| 10. Josh Love, San Jose State | 10.8% |
| 13. Jalen Hurts, Oklahoma | 11.1% |
| 23. Tua Tagovailoa, Alabama | 11.9% |
| 53. Jacob Eason, Washington | 14.5% |
| 57. Jake Fromm, Georgia | 14.8% |
| 61. Justin Herbert, Oregon | 15.0% |
| 84. Cole McDonald, Hawaii | 16.8% |
| 91. Jordan Love, Utah State | 17.3% |
In PFF's wins above average metric (WAA), one that measures how valuable a player is to their respective team, Love was worth less than a tenth of a win above average to his team, 72nd at his position. For perspective, Joe Burrow shattered the record in 2019 by producing 2.95 WAA, and the only other quarterback who was worth less than a tenth of a win and taken in the first-round since 2015 was Buffalo's Josh Allen. You can't get by in the NFL without sharp decision-making and accuracy, and Love doesn't check either of those boxes.
Standing at 6-foot-7, weighing in at 364 pounds with 35-inch arms, Mekhi Becton is the offensive tackle whom scouts are salivating over, with some calling him an easy top-five pick. While we agree that this tackle class is top-heavy with some elite talent — four tackles appear within the top 15 prospects on PFF's 2020 NFL Draft Big Board — Becton doesn't fall under that category in our eyes. He comes in just 47th overall on our board.
Becton, a three-year starter at Louisville, was average at best in his first two collegiate seasons in 2017 and 2018. He ranked 180th and 118th, respectively, in PFF overall grade those two years but improved his grade rank to 30th in 2019. That's still not remotely close to the elite status many believe he's reached, and when you dive into how much of that was protected by the Cardinals' scheme, the concern grows larger. 
The Louisville offense featured a lot of play-action passes and screens in 2019, which in turn, restricted Becton to only 73 true pass sets (i.e., standard quarterback dropbacks). On those 73 true pass sets, Becton allowed eight pressures, which is a concerning rate. 
Everyone is falling in love with his physical tools, and rightfully so, but you shouldn't be drafting based on potential in the first round, especially in the top-five. In our eyes, there are four better offensive tackle prospects in this class.
Many people are starting to come down from the Justin Herbert high, but there is still a considerable amount of people who think that he is a sure-fire future franchise quarterback. In 2019 alone, Herbert was just the 41st most valuable quarterback in college football, per PFF WAA. For perspective, Tua Tagovailoa actually ranked ahead of him in this metric, despite playing nearly half the snaps.
The panic Herbert showed when he was either under duress or when he had to abandon his first read was apparent; he'd freeze and display incredibly poor footwork, and that led to some severe accuracy issues. Herbert didn't even touch the 25th percentile when it came to accurate passes thrown 10-plus yards downfield when under duress, and the number of mistakes Herbert made when knocked off his rhythm is incredibly concerning and not what you'd want from a first-round quarterback. Out of 123 qualifying quarterbacks, Herbert was 113th in negatively graded play rate. 
It's easy to fall in love with Justin Herbert. He looks the part at 6-foot-6, and his cannon of an arm and unmatched velocity are both hard to ignore. But, picking potential over what's already been proven is not the best way to build a franchise.
Chaisson has all the tools you want and need from a future NFL pass-rusher; the only issue is that he has little production to speak for it. He saw limited reps in his first two collegiate seasons (2017-18), but he still came away with only 16 pressures across his 146 pass-rush reps. Unfortunately, the production didn't get much better in 2019, as he failed to crack the top 100 qualifying edge rushers in both pass-rush win rate (108th) and pressure rate (127th).
Chaisson tends to produce random jaw-dropping reps, but most of the time, he leaves you scratching your head wondering what on earth happened. While many view him as a first-round pick and a top-three edge defender in this class, we think of him as a mid-second round pick at best. He currently sits at 46th on our board.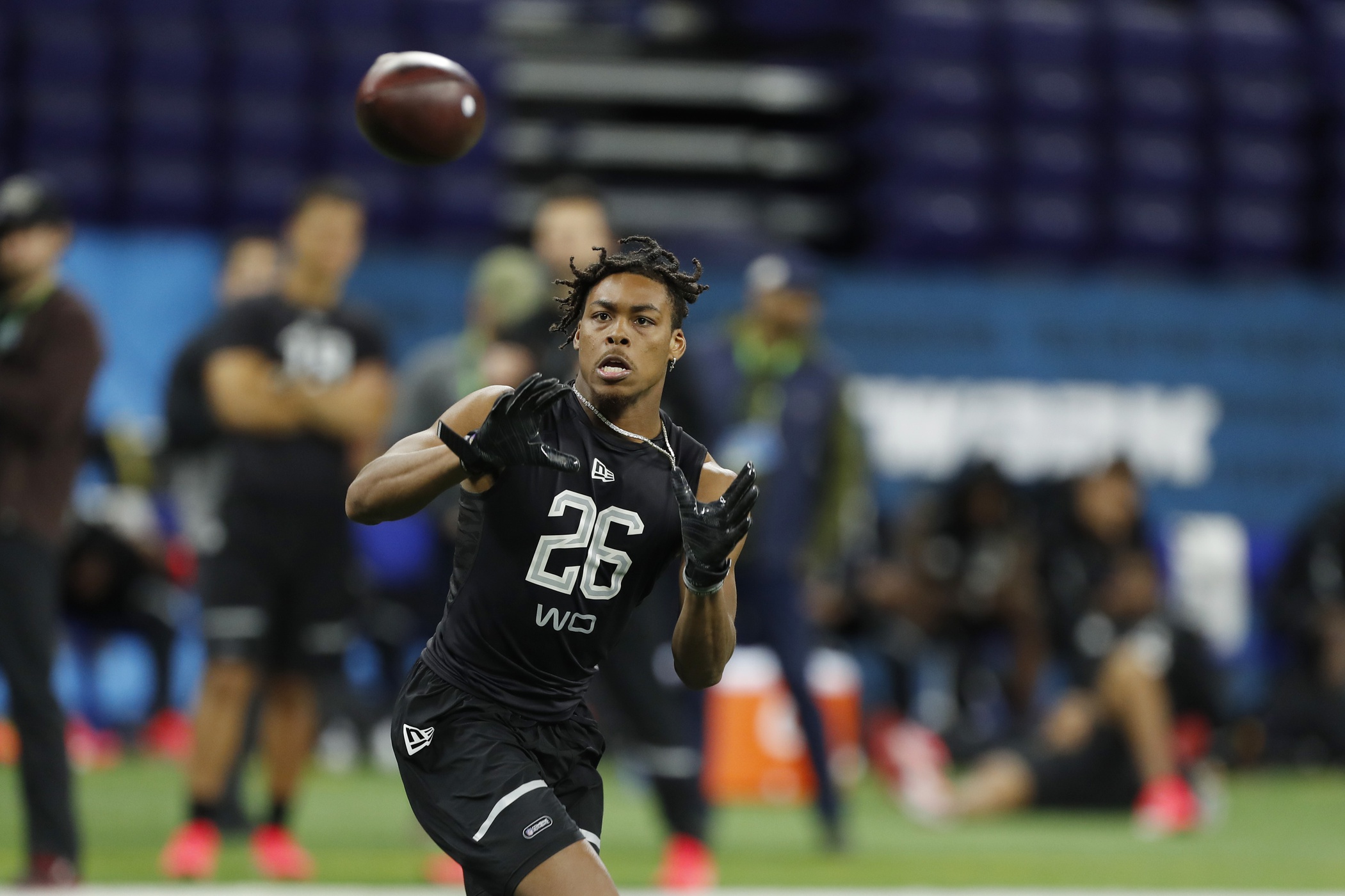 While we do view Justin Jefferson as a top-50 prospect, he's only our WR10 at this stage. And before you start throwing out box score stats saying, "How is he such a low prospect when he was top-three in catches, yards and touchdowns last year?" Let us explain how a lot of that production was virtually handed to him. 
Jefferson had 815 receiving yards that came from either underneath routes or from finding a hole in the zone, nearly 100 yards more than anyone else and over 150 yards more than the third player on that list. He faced press coverage on just 17% of the routes he ran in 2019, and he dropped to 60th in PFF receiving grade when going up against single coverage. 
It'd be different if had earned his production, as his teammate Ja'Marr Chase did by toasting guys off the line, but that wasn't quite the case. In 2018, Jefferson spent most of his time as an outside receiver — as opposed to the slot, which is where he lined up for 98.6% of his snaps in 2019 — and he was pretty poor against single coverage; he recorded a PFF grade that didn't crack the top 100, and he caught under 70% of his catchable targets. All that being said, there's a concern with his ability to go toe-to-toe with defensive backs at the next level, it's certainly worth considering the notion that Jefferson might be a product of the scheme in which he played.
While Yetur Gross-Matos did improve from 2018 to 2019, he didn't quite improve enough to be considered a top-five edge prospect, or even one worth taking within the first two rounds. After posting an underwhelming pressure rate that ranked 187th in 2018, Gross-Matos improved only to 85th this past year. He drastically improved on his pass-rush win rate, but even that wasn't good enough to crack the top 30, and that's not quite the production you want from a prospect who is getting first-round hype by some, even if he does have the tools of an NFL pass-rusher. Everyone wanted the 6-foot-5, 266-pound edge defender with nearly 35-inch arms to develop into that elite talent, but it just never happened. 
It's almost hard to believe that some view Austin Jackson as a top-five offensive tackle and a first-round product. On our big board, he is the No. 13 offensive tackle and 100th prospect overall. The biggest reason for the divide between PFF and the scouts and other media is the lack of consistency and physicality, as well as how badly he performed against NFL-caliber pass-rushers. Jackson ranked outside the top 30 left tackles in both pass-block grade and run-block grade in each of the last two seasons, and, as mentioned in the PFF Draft Guide, his three worst games of 2019 came against the only NFL-caliber pass-rushers he faced all year long: Utah (Bradlee Anae), Notre Dame (Julian Okwara) and Iowa (A.J. Epenesa). If he got sliced and diced by those three, imagine how he'd fare against the likes of Von Miller, Khalil Mack and J.J. Watt.
People too often fall in love with quarterbacks who have a cannon for an arm and nothing else. A prime example of that type of prospect is Washington's Jacob Eason — his arm strength is his greatest asset, but it's also the one that matters the least.
There's not much to fall in love with from an accuracy standpoint, which is an essential trait for a quarterback prospect. He can hit the shallow throws — passes thrown nine yards or less downfield — just fine, as he ranked 12th in accurate pass rate on such throws last year. On throws of 10 or more yards, though, Eason's accuracy rate fell to 72nd among players at the position.
The biggest concern with Eason's play, however, is his pocket presence. PFF charged Eason with eight sacks on the year, and few good things happened when he was actually able to release a pass under pressure. His pressured passing grade in 2019 ranked 92nd, and he failed to crack the top 100 in yards per attempt on those throws. This is all the more concerning when you consider the fact that he faced a subpar conference of pass-rushers. 
I promise you we don't hate LSU; it's just that Chaisson, Jefferson and now Lloyd Cushenberry III aren't quite as good as everyone makes them out to be. With Joe Brady's change in scheme at LSU this past year, the offense was almost exclusively in five-man protections, which left their offensive linemen on islands and exposed some of their athletic limitations. Cushenberry was one of them. 
After posting a respectable 85.6 pass-blocking grade in 2018, 11th among centers, Cushenberry's grade dropped to a 108th-ranked 55.8 in 2019. Cushenberry barely cracks the top 10 interior offensive line prospects and is just 109th overall on the PFF board.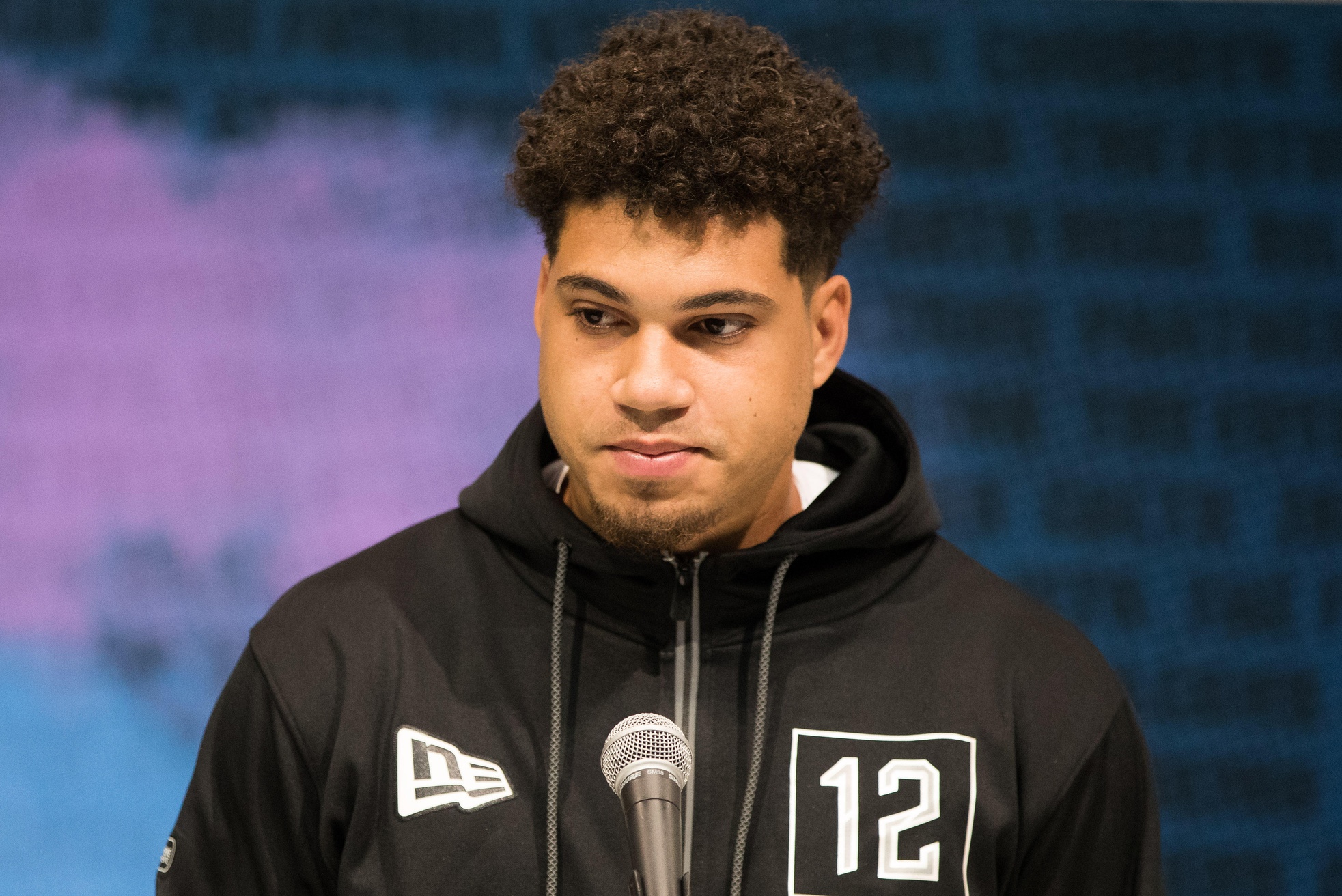 Some were calling Albert Okwuegbunam a top-three tight end in this class before he ran a scorching 4.49 40-yard dash at the 2020 NFL Scouting Combine. Now, people are overvaluing that attribute, making it likely that he'll be one of the first few tight ends off the board. We don't even view Okwuegbunam as a top-10 tight end. In fact, we wouldn't touch him until the sixth round.
As you can see by our analysis in the PFF 2020 NFL Draft Guide, we knew Okwuegbunam had absurd straight-line speed; he just isn't quite a great route-runner and has some serious drop issues (10.3% drop rate in his career). He flashed some solid receiving skills in 2017 and 2018 by posting receiving grades of 78.4 and 78.3, respectively, but that figure dropped to 66.7 in 2019. 
Even with his speed, Okwuegbunam's after-the-catch ability was no different than any other tight end in the class, as he averaged just 5.5 yards after the catch per reception throughout his career while breaking only 12 tackles on 98 career catches. Mix in the fact he wasn't anything special in contested situations in addition to being a poor run-blocker, and you have yourself a Day 3 project at best.
Considering the lack of positional value, we wouldn't sniff D'Andre Swift within the first two rounds, whereas many are calling him a top-15 prospect in this class. There have been countless mocks that have the Dolphins snagging Swift with one of their three first-round picks, a similar move to the one the Raiders made for Josh Jacobs, but the simple fact is that a running back just doesn't move the needle as much as a cornerback would.
Swift was a solid ball-carrier over the course of his college career. He earned rushing grades above 79.5 in each of his three years at Georgia and produced an explosive run of 10-plus yards on 20.2% of his carries since 2017, the fourth-best mark in college football over that span. However, he isn't quite as elusive as you'd like, as his 0.21 missed tackles forced per attempt figure tied for 36th among the 114 qualifying backs over the past three seasons.
We have Swift as RB1 in this class not because of his rushing but because of his receiving. He owns the 15th-best receiving grade at his position since 2017 and dropped only three of his 76 catchable targets over that stretch. As good as all this is, he's still a late Day 2 pick, not a first-rounder.