The first two days of the NFL Draft are officially in the books, but there is still top-tier talent left on the board for your team to grab at some point on Day 3. Let's take a look at all 32 NFL teams' draft picks and who their top targets should be during the final day of the 2020 NFL Draft.
[Editor's note: Check out PFF's 2020 Mock Draft Hub, NFL Draft Big Board and NFL Mock Draft Simulator. PFF Elite subscribers can also download the 1,250-page 2020 NFL Draft Guide. For extensive coverage of the 2020 NFL Draft, check out all of PFF's 2020 NFL Draft coverage in one place.]
1st, 2nd, 3rd round picks: (8) Defense Isaiah Simmons, (72) T Josh Jones
Day 3 picks: 114, 131, 202, 222
Arizona desperately needs edge rushers, and they can get one for good value in Kenny Willekes. There's a lot of concern with how he projects to the NFL because of poor play strength, subpar athleticism and reliance on just a few moves (he does have a nice bull-rush). Willekes did have a great 2018 campaign as a pass-rusher by owning an 86.2 pass-rush grade, but he didn't come back the same player after breaking his leg to close out the season, squeaking out just a 74.3 pass-rush grade in 2019. All of this would normally scream "buyer beware" and "risky," but on Day 3 there's really not a whole lot of risk involved. There's hope he can get back to form, and the way he plays with leverage and his instincts are positives. 
1st, 2nd, 3rd round picks: (16) CB A.J. Terrell, (47) DI Marlon Davidson, (78) iOL Matt Hennessy
Day 3 picks: 119, 134, 228
Yes, I know the Falcons took a cornerback in the first round, but their secondary is legitimately that bad and they need Troy Pride Jr. early on Day 3. Pride has the kind of elite speed that prevents any open downfield throw. In his career, Pride saw 38 deep targets of 20-plus yards and allowed only six catches. He's a bit of a project due to his inability to play the catch point, but his athleticism and man-to-man ability are worth investing in.
1st, 2nd, 3rd round picks: (28) LB Patrick Queen, (55) RB JK Dobbins, (71) DI Justin Madubuike, (92) WR Devin Duvernay, (98) LB Malik Harrison, (106) iOL Tyre Phillips
Day 3 picks: 143, 170, 225
Baltimore needs guard help, and getting PFF's No. 1 interior offensive lineman on Day 3 would be a huge steal for the Ravens' rushing attack. Muti legitimately feasted as a run-blocker a season ago, serving up pancakes left and right with his unreal strength and power. The Fresno State product posted a solid 81.4 run-blocking grade throughout his career — I'm sure Lamar Jackson & Co. would enjoy having that kind of ability on their team.
1st, 2nd, 3rd round picks: (54) EDGE AJ Epenesa, (86) RB Zack Moss
Day 3 picks: 128, 167, 188, 207, 239
Right guard could use some competition in Buffalo, and Calvin Throckmorton can provide that. He's one of the most versatile linemen in this class, playing snaps at left and right tackle, right guard and at center. He did so at a high level by producing PFF pass-block grades above 87.0 in each of the last three seasons. Throckmorton owns great hands and can move grown men like it's nothing.
1st, 2nd, 3rd round picks: (7) DI Derrick Brown, (38) EDGE Yetur Gross-Matos, (64) S Jeremy Chinn
Day 3 picks: 113, 152, 184, 221
Carolina somehow managed to get into Day 3 without filling their need at off-ball linebacker. Luckily for them, they own one of the earliest picks to kick-off the day and can snag Akeem Davis-Gaither. He is a tremendous athlete who has great instincts in coverage, is a legit weapon as a blitzer and possesses strong skills as run-defender. Davis-Gaither is a bit undersized for the position, but he'd be great value at pick 113.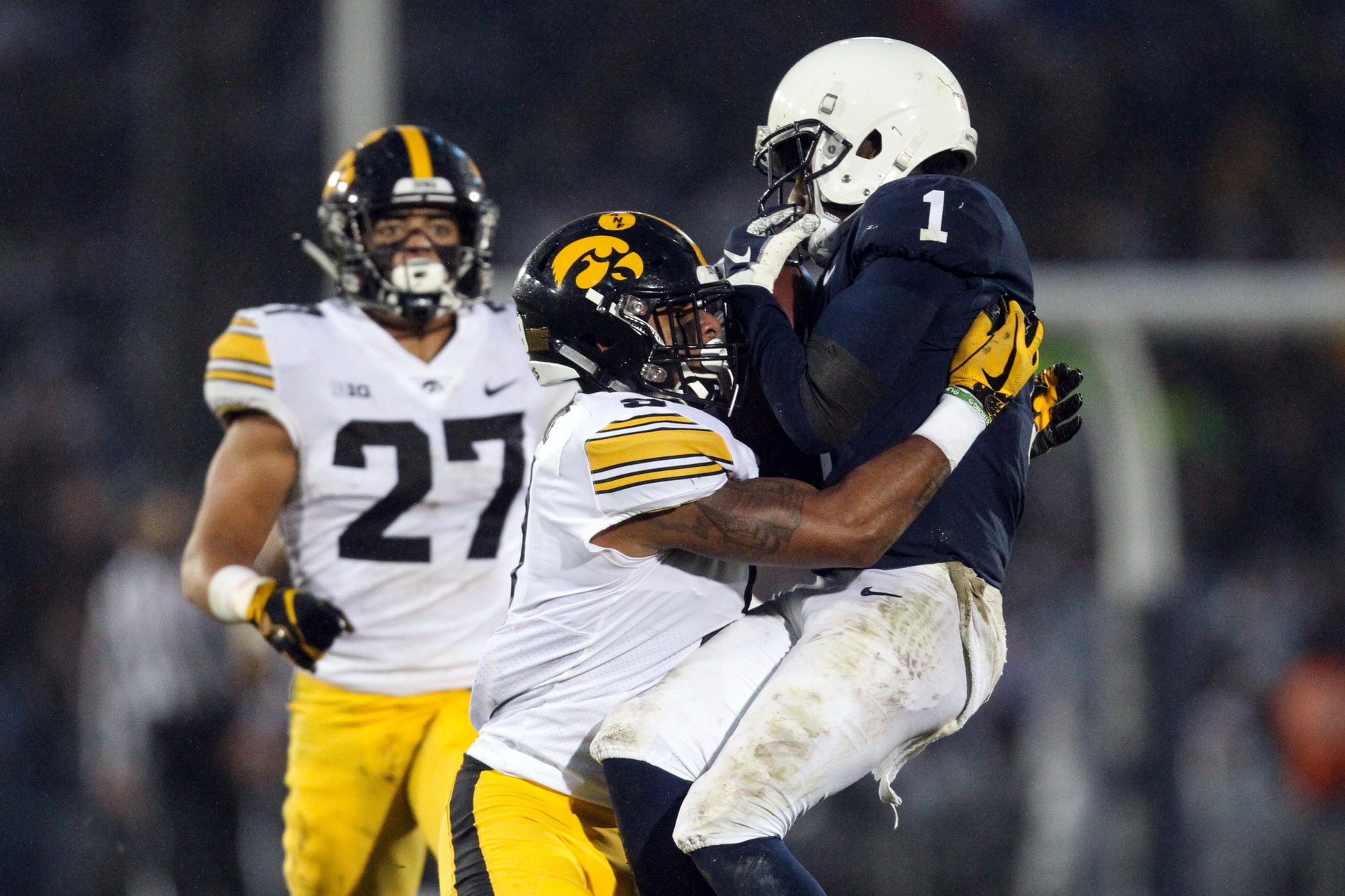 1st, 2nd, 3rd round picks: (43) TE Cole Kmet, (50) CB Jaylon Johnson
Day 3 picks: 163, 196, 200, 226, 233
Chicago made one of the best picks in the entire draft by getting Jaylon Johnson 50th overall, but there is still work to be done in the secondary. With the departure of Ha Ha Clinton-Dix, the Bears are in need of a safety, and Geno Stone — who is PFF's 53rd-ranked overall prospect in the class — should be their top priority to fill that void. Stone's instincts are top-notch — he is so damn quick to make plays. Over the past two seasons, the Iowa safety produced the third-best PFF coverage grade in the FBS. He's been responsible for minimal big plays downfield and made more plays on the ball (11) than first downs allowed (9) while also allowing the lowest yards per coverage snap average among safeties (0.25).
1st, 2nd, 3rd round picks: (1) QB Joe Burrow, (33) WR Tee Higgins, (65) LB Logan Wilson
Day 3 picks: 107, 147, 180, 215
The Bengals hit a home run by supplying Joe Burrow with Tee Higgins to throw to in 2020, but they could use even another receiving weapon at tight end. It just so happens PFF's TE1 is still on the board. Hunter Bryant has speed, body control and athleticism that looks like a wideout. This past season, Bryant averaged 7.7 yards after the catch per reception and broke 10 tackles on his 52 catches. He ended the year with a receiving grade of 82.5, which was among the 10 best at his position in college football. Keep giving Joe weapons.
1st, 2nd, 3rd round picks: (10) T Jedrick Wills Jr., (44) S Grant Delpit, (88) DI Jordan Elliott, (97) LB Jacob Phillips
Day 3 picks: 115, 160, 187
Cleveland has had an exceptional draft so far and could add to that by picking up Josiah Scott. At 5-foot-9, Scott is almost certainly going to be a slot corner, but he has the athleticism, instincts and ball skills that make up for his small size. Overall in his career, Scott has allowed a minimal 45.9% catch rate. He could provide some competition for the Browns at slot corner.
1st, 2nd, 3rd round picks: (17) WR CeeDee Lamb, (51) CB Trevon Diggs, (82) DI Neville Gallimore
Day 3 picks: 123, 164, 179, 231
Dallas has crushed the draft thus far and benefitted from all its picks sliding far more than they should have. The Cowboys still could use an edge rusher, and while there aren't many big names left, there is one who is incredibly undervalued in Trevis Gipson. Gipson has the athleticism, size and length needed for an NFL edge rusher, and we can't ignore the relatively poor situation he was in at Tulsa. Gipson saw the third-most pass-rushes in a three-man rush last year but still managed to own a 19.8% win rate, which was the second-best on such pass-rushes. There's some development needed, but there's a lot to love with Gipson's tools.
1st, 2nd, 3rd round picks: (15) WR Jerry Jeudy, (46) WR KJ Hamler, (77) CB Michael Ojemudia, (83) iOL Lloyd Cushenberry III, (95) DI McTelvin Agim
Day 3 picks: 118, 178, 181, 252, 254
The only real need (if you even want to call it that) for Denver heading into Day 3 is at off-ball linebacker. Troy Dye has been a key player on Oregon's defense over the past four years and has been consistently solid in coverage, posting coverage grades above 70.0 each season. Dye isn't an elite athlete, but he has the coverage skills of and size of a modern-day NFL linebacker.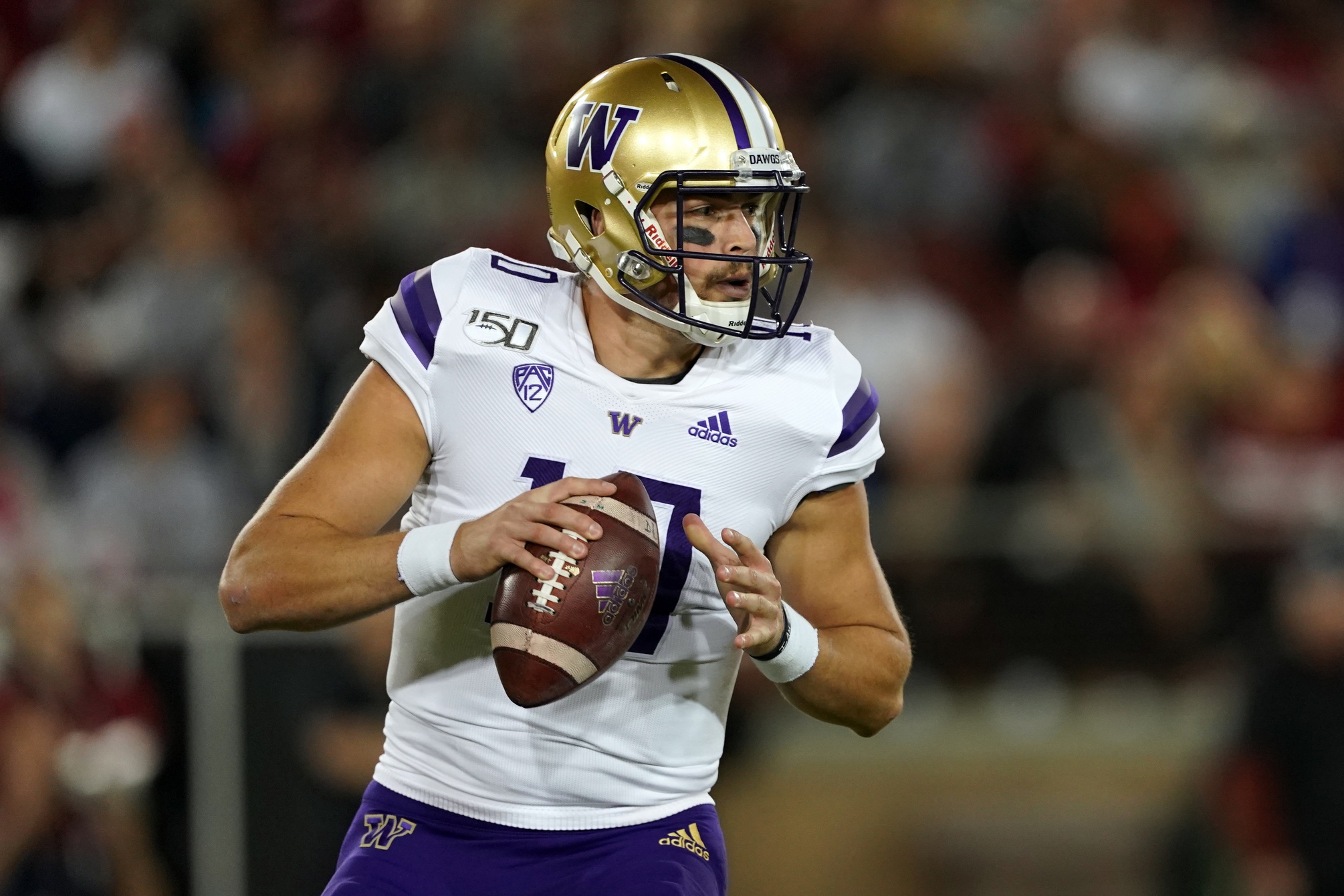 1st, 2nd, 3rd round picks: (3) CB Jeff Okudah, (35) RB D'Andre Swift, (67) EDGE Julian Okwara, (75) iOL Jonah Jackson
Day 3 picks: 109, 166, 197, 235
Even with Matthew Stafford, Chase Daniel and David Blough on the roster, I'd still highly consider adding another quarterback like Jacob Eason to groom — his ceiling his immensely higher than that of Daniel and Blough. Eason's arm is a legit cannon. As PFF lead draft Analyst Mike Renner noted in the PFF Draft Guide, Eason has "easy zip on the ball" and "50 yards on a line is nothing for him." You see it when he's in a clean pocket, as he owns a top-10 PFF passing grade and the 13th-most big-time throws.
1st, 2nd, 3rd round picks: (26) QB Jordan Love, (62) RB AJ Dillon, (94) TE Josiah Deguara
Day 3 picks: 175, 192, 208, 209, 236, 242
The Packers' first three picks in Jordan Love, AJ Dillon and Josiah Deguara could very well be considered the three biggest reaches in the entire 2020 NFL Draft. Green Bay could help its draft grade out as well as its relationship with Aaron Rodgers if it picks up someone like Tyler Johnson — who plays an actual position they need. While he doesn't have a very diverse route tree, Johnson is one of the most refined route-runners in this entire draft. He doesn't have high-end speed, but he doesn't need it to create separation — he would constantly set defensive backs up to get himself open. Dating back to 2018, Johnson has generated a step or more of separation against single coverage 55.1% of the time, a figure that ranks 14th among 154 qualifying wide receivers and is 14 percentage points above the FBS average. His route breaks are absolutely filthy, and defensive backs have had no answer. Rodgers would love him some of that.
1st, 2nd, 3rd round picks: (40) DI Ross Blacklock, (90) EDGE Jonathan Greenard
Day 3 picks: 111, 171, 240, 248, 250
The fact we have yet to see a cornerback come off the board for Houston is a concern for the team's secondary in 2020 — particularly in the slot. Fortunately, they are in prime position to grab one of the top slot corners in the class in K'Von Wallace, who fell way too far in the draft. Wallace put up the seventh-best slot coverage grade since 2017. He isn't a ball hawk by any means, but he has the size and instincts you want in a slot corner.
1st, 2nd, 3rd round picks: (34) WR Michael Pittman Jr., (41) RB Jonathan Taylor, (85) S Julian Blackmon
Day 3 picks: 122, 149, 182, 193
Philip Rivers was a great short-term solution, but the Colts have to be thinking long-term. Anthony Gordon on Day 3 is a better option than what we saw the Chargers and Packers do in Round 1 by reaching on Justin Herbert and Jordan Love. At the helm of Mike Leach's infamous Air Raid attack, Anthony Gordon saw his fair share of passes — most of which were short, quick throws — and he was excellent on such throws. Gordon actually posted the highest accurate pass rate on throws of nine yards or less in 2019, even better than Joe Burrow (barely). On throws that were two seconds or less from the snap and weren't a screen, Gordon owned the second-highest rate of accurate passes. Granted, these throws have minimal difficulty, but that's still a rather impressive number. You can't teach accuracy, and Gordon is one of the most accurate quarterbacks in the class.
1st, 2nd, 3rd round picks: (9) CB C.J. Henderson, (20) EDGE K'Lavon Chaisson, (42) WR Laviska Shenault, (73) DI Davon Hamilton
Day 3 picks: 116, 137, 140, 157, 165, 189, 206, 223
Jacksonville owns a plethora of Day 3 picks, and one of the earlier ones almost certainly has to be used on a safety like Kenny Robinson. After spending a couple years at West Virginia and displaying great playmaking ability, Robinson had to leave college football for the XFL to help his mother who was fighting cancer. He then played five games for the Battlehawks and showed the same instincts we all fall in love with when he was with the Mountaineers. In college, Robinson combined for 14 plays made on the ball while allowing just 23 catches in coverage (181 snaps at outside corner, 186 snaps in the slot, 216 snaps in the box and 771 at free safety). In the XFL, Robinson allowed just four catches in coverage while intercepting two (almost exclusively at free safety). He's a proven, versatile player and just flat-out lethal in coverage.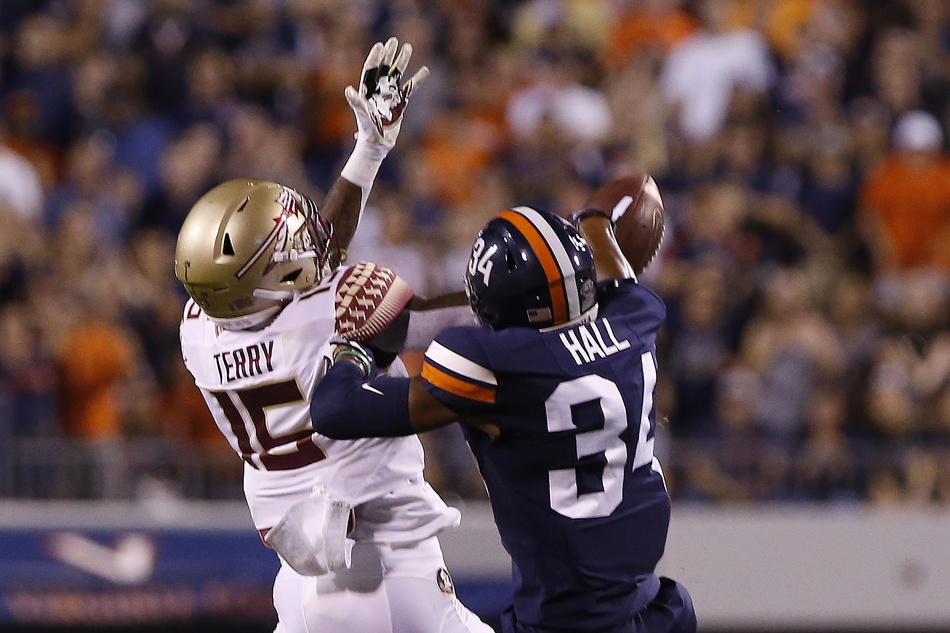 1st, 2nd, 3rd round picks: (32) RB Clyde Edwards-Helaire, (63) LB Willie Gay Jr., (96) T Lucas Niang
Day 3 picks: 138, 177
Kansas City plays a lot of press-zone, and Bryce Hall and his 78.5-inch wingspan could bring a lot of value to the Chiefs' secondary. Hall's ball skills have been excellent throughout his career with the Cavaliers. Over the past three seasons, he has forced an incompletion on 24.8% of his targets, which is tied for fourth among cornerbacks to see 100 targets in coverage. He has a knack for the ball and rarely lost on the bevy of contested targets he forced. Of his 44 contested targets since 2017, Hall allowed just 18.2% to be caught (first) and forced an incompletion on 70.5% (first by nearly five percentage points). If it weren't for an injury he suffered while covering a punt earlier in the 2019 season, there's a real chance he would have been snagged in the first round — he has "steal" written all over him.
1st, 2nd, 3rd round picks: (12) WR Henry Ruggs III, (19) CB Damon Arnette, (80) RB/WR Lynn Bowden Jr., (81) WR Bryan Edwards, (100) S Tanner Muse
Day 3 picks: 121, 139, 172
The Raiders' secondary is still in need of help after they took Damon Arnette in Round 1, especially at slot corner. Lamarcus Joyner manned the slot last year in his first season with the Raiders and was a poor performer, producing a coverage grade that ranked second to last among cornerbacks who played at least 200 slot coverage snaps. The 5-foot-9 Amik Robertson is one to target for that role. Robertson was a physical player for LA Tech and had insane ball production for his size, with 51 combined interceptions and pass breakups during his three seasons. As a matter of fact, there wasn't a higher-graded cornerback on contested balls than Robertson the last two seasons — he allowed only nine catches on 38 targets with 24 forced incompletions.
1st, 2nd, 3rd round picks: (6) QB Justin Herbert, (23) LB Kenneth Murray
Day 3 picks: 112, 151, 186, 220
They may have signed Bryan Bulaga, but the Chargers still need another tackle. Bartch wrecked his weak competition for a 97.3 pass-blocking grade and allowed only four pressures on 541 pass-block snaps. You should take those numbers lightly considering the level of competition, but Bartch dominated the Senior Bowl as he did at St. John's by posting one of the highest win rates in one-on-ones of anyone in attendance.
1st, 2nd, 3rd round picks: (52) RB Cam Akers, (57) WR Van Jefferson, (84) EDGE Terrell Lewis, (104) S Terrell Burgess
Day 3 picks: 126, 199, 234
It's no secret that the Rams offensive line was atrocious last year and they have done very little to help that. If they are in the situation where Tyler Biadasz is there for them at pick 126, they should without question take him because they'd be getting incredible value. Biadasz had great production in his three years starting for Wisconsin, posting top-five overall grades at the position in each season. The big concerns with Biadasz are the ugly losses we saw in pass protection in 2019 that we didn't see in years prior and the fact that he never played outside of center.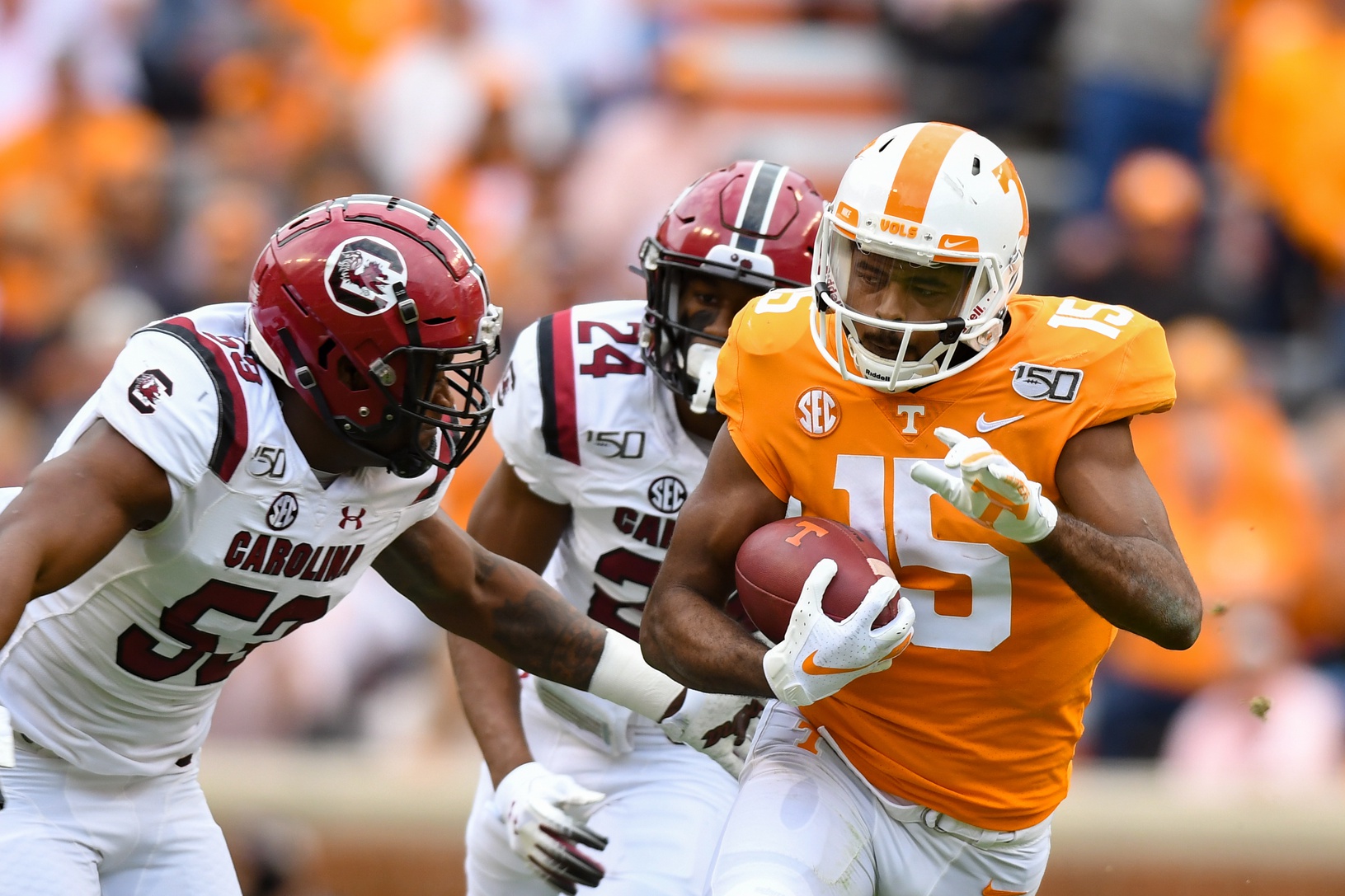 1st, 2nd, 3rd round picks: (5) QB Tua Tagovailoa, (18) T Austin Jackson, (30) CB Noah Igbinoghene, (39) OL Robert Hunt, (56) DI Raekwon Davis, (70) S Brandon Jones
Day 3 picks: 136, 141, 153, 154, 173, 185, 227, 246, 251
Miami came into the draft with needs virtually everywhere, and they still need to add more receiving help. Jauan Jennings destroyed his stock at the Combine, which is the likely reason he fell to Day 3, but we don't think it shouldn't have been hurt that much. Jennings was a monster after the catch in college, breaking an incredible rate of tackles (30 broken on 59 catches) while posting the eighth-most yards after contact. That should translate to the NFL just fine.
1st, 2nd, 3rd round picks: (22) WR Justin Jefferson, (31) CB Jeff Gladney, (58) T Ezra Cleveland, (89) CB Cameron Dantzler
Day 3 picks: 117, 130, 132, 155, 169, 176, 201, 203, 205, 219, 244, 249, 253
Minnesota's draft is up there as one of the best we have seen thus far, and they can keep rolling by taking Danny Pinter with one of their 13 (!) picks in Day 3. Pinter converted from tight end to tackle in 2018 and became one of the best tackles in the FBS in 2019, posting an elite 91.2 overall grade. Most of his success came as a run-blocker, as he posted the fifth-highest run-block grade in college football in his second season ever at tackle. Pinter is going to kick inside to guard and fits best in a zone scheme like Minnesota's.
1st, 2nd, 3rd round picks: (37) S Kyle Dugger, (60) EDGE Josh Uche, (87) EDGE Anfernee Jennings, (91) TE Devin Asiasi, (101) TE Dalton Keene
Day 3 picks: 159, 195, 204, 212, 213, 230
At this rate, the Patriots seem like they'll be the team that will be tanking in 2020 for Trevor Lawrence or Justin Fields, as they have made no move for a quarterback. Even if they do go that route, they still need more receivers. Gandy-Golden's athleticism is ugly, but at 6-foot-4, 233-pounds, he has an enormous catch radius and is a far better route-runner underneath and in the intermediate range than you could imagine. He fits the bill of a possession receiver in the NFL. 
1st, 2nd, 3rd round picks: (24) iOL Cesar Ruiz, (74) LB Zack Baun, (105) TE Adam Trautman
Day 3 picks: None
Since the Saints don't have a single pick in Day 3, this is a possible UDFA pickup they should make. Drew Brees only has a couple years left in the tank and they should be kicking the tires now to prep for their future. If they were to sign Tyler Huntley as a UDFA, they'd be committing theft. His accuracy is off the charts. When throwing beyond the line of scrimmage in 2018, Huntley posted the second-best accurate pass rate in college football — ranking a few spots ahead of Tua Tagovailoa, Kyler Murray and Joe Burrow. In 2019, he posted a near-identical rate in that metric but dropped a few spots down to fifth. Combing the two seasons, he ranks second — sandwiched between Burrow and Tagovailoa. With his mobility, athleticism, decision-making and pocket presence, he's worth taking a shot on.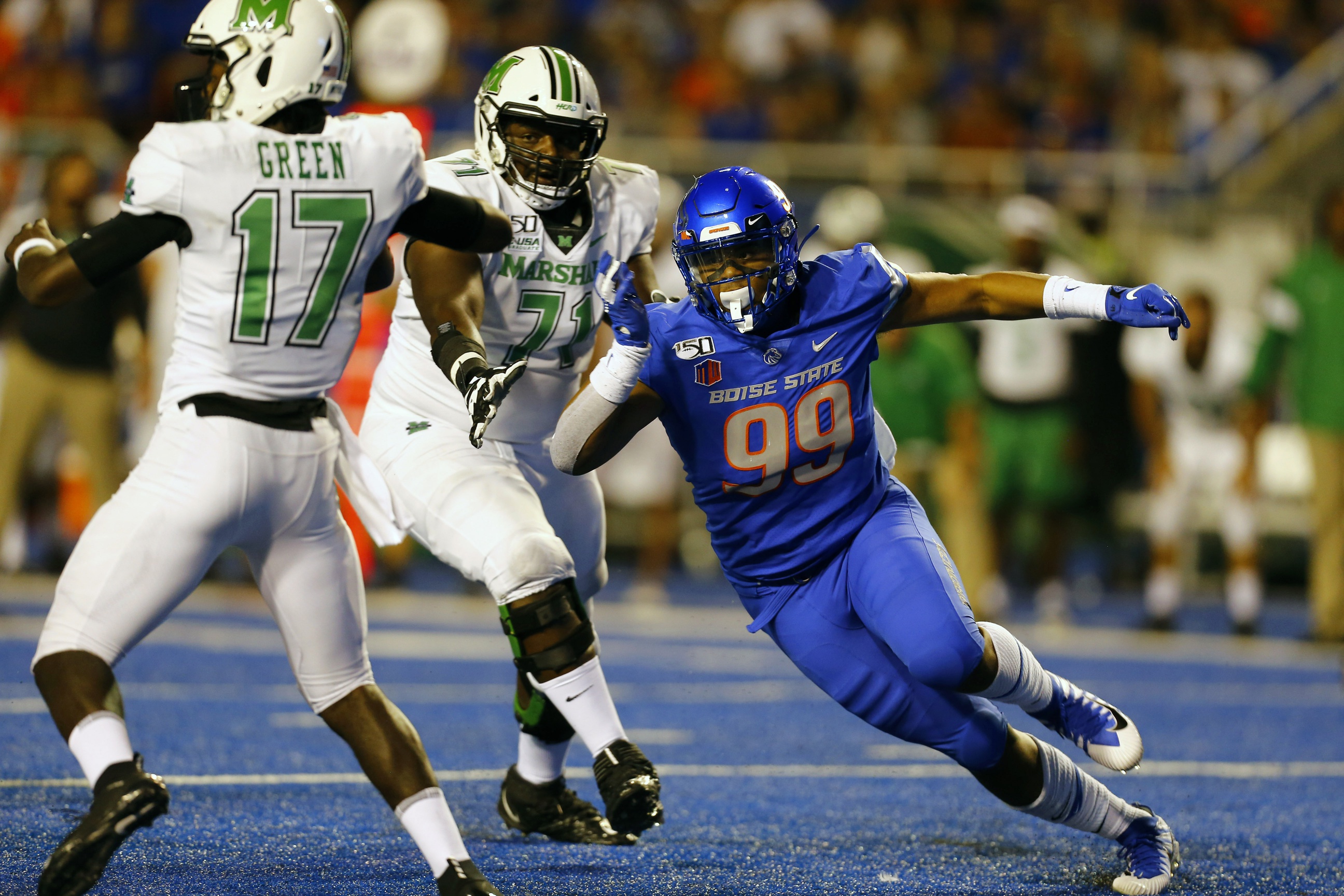 1st, 2nd, 3rd round picks: (4) T Andrew Thomas, (36) S Xavier McKinney, (99) T Matt Peart
Day 3 picks: 110, 150, 183, 218, 238, 247, 255
The Giants' edge unit needs a fresh face, and Weaver would provide an immediate impact. His production was off the charts the past two seasons, posting pass-rush grades above 92.0 in both years to form a two-year grade ranking behind only Chase Young. His pass-rush win rate was actually over three percentage points higher than any other edge defender.
1st, 2nd, 3rd round picks: (11) T Mekhi Becton, (59) WR Denzel Mims, (68) S Ashtyn Davis, (79) EDGE Jabari Zuniga
Day 3 picks: 120, 125, 129, 158, 191, 211
Even after adding Mekhi Becton, the Jets need another tackle. Cameron Clark is one of the rare small-school tackles who is already technically sound for a tackle. His athleticism is middling, but he has the size and length needed to succeed. Clark displayed great hand usage at Charlotte and allowed only five pressures all year long. The weak level of competition is worrisome, sure. But once you get into the fifth round, he's worth taking a chance on.
1st, 2nd, 3rd round picks: (21) WR Jalen Reagor, (53) QB Jalen Hurts, (103) LB Davion Taylor
Day 3 picks: 127, 145, 146, 168, 190
Parnell Motley played the sixth-most press of any collegiate cornerback in 2019, and he showed great skills on those reps. He allowed only 17 catches on 42 targets in press this past year. While he doesn't have good athleticism, he would be a great value add for the Eagles' secondary late in Day 3.
1st, 2nd, 3rd round picks: (49) WR Chase Claypool, (102) EDGE Alex Highsmith
Day 3 picks: 124, 135, 198, 232
As much as Steeler fans hate to admit it, there is a realistic chance that Ben Roethlisberger comes out in 2020 not even remotely close to the same top-10 quarterback we once knew. And his backups — Mason Rudolph and Duck Hodges – were two of the three worst quarterbacks we saw in 2019 from a grading standpoint. There's value in getting Jake Fromm on Day 3 and having him at the very least be the backup. In 2019, Fromm produced a turnover-worthy play rate that ranked fifth among FBS signal-callers, trailing only Utah's Tyler Huntley for the best in the 2020 draft class and ranking a spot ahead of Joe Burrow. On 98 dropbacks under pressure, Fromm had just one turnover-worthy play — a feat only two other FBS quarterbacks accomplished. 
1st, 2nd, 3rd round picks: (14) DI Javon Kinlaw, (25) WR Brandon Aiyuk
Day 3 picks: 156, 210, 217
The 'Niners don't have a glaring need on roster, so they should attack depth at the valuable positions on the field in Day 3 (i.e. cornerback and receiver). One prospect who could spark an intriguing competition is defensive back L'Jarius Sneed. He once played cornerback before turning into a safety, but he could very well convert back to cornerback with his athleticism, size and ball skills.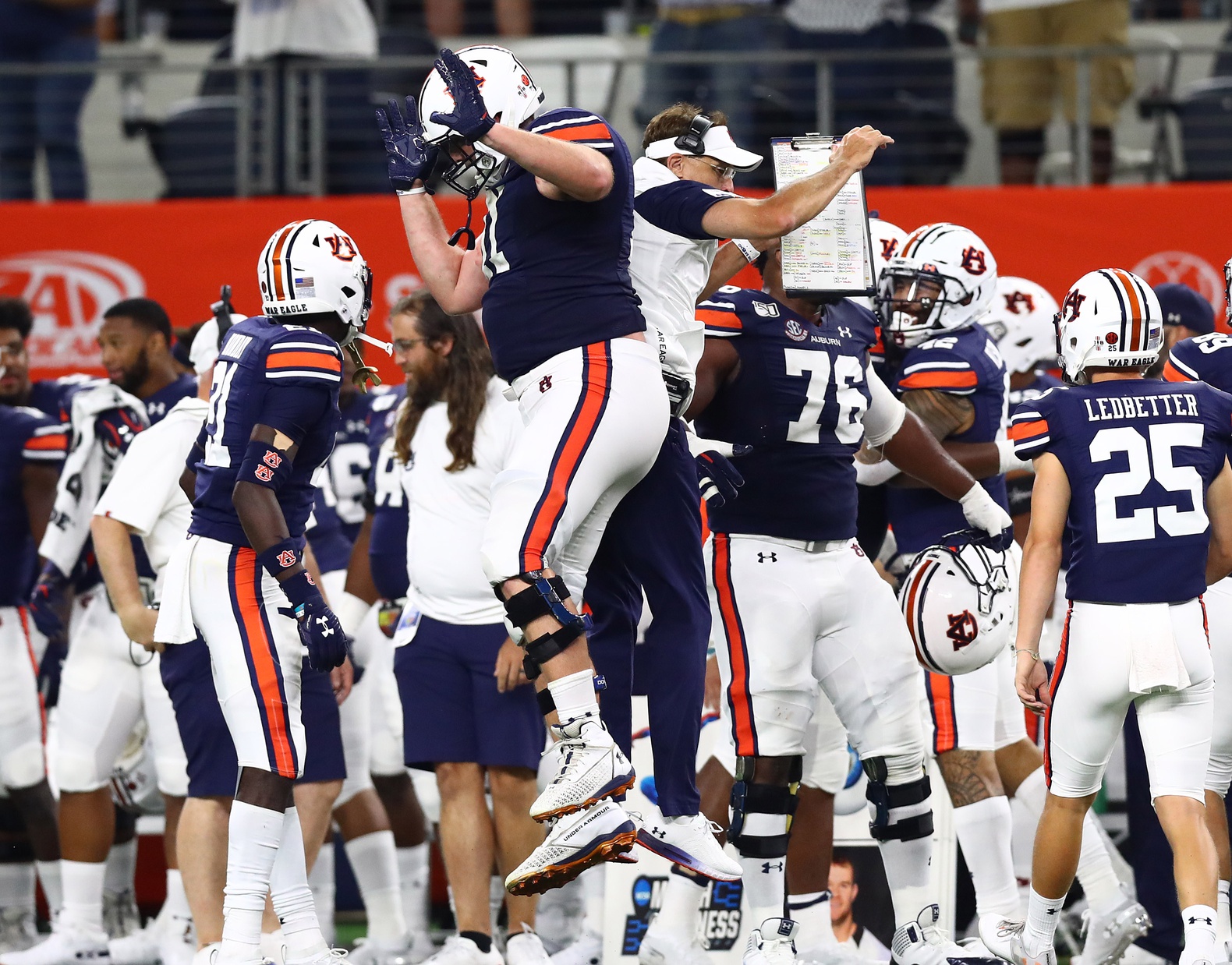 1st, 2nd, 3rd round picks: (27) LB Jordyn Brooks, (48) EDGE Darrell Taylor, (69) iOL Damien Lewis
Day 3 picks: 133, 144, 148, 214
Even after taking Damien Lewis, there is still work to be done on Seattle's offensive line. Driscoll has the athleticism and technique to thrive at tackle in the NFL and would be a great get by Seattle. His play strength is worrisome, but he has managed to post back-to-back years among the top-20 tackles in PFF pass-block grade. 
1st, 2nd, 3rd round picks: (13) T Tristan Wirfs, (45) S Antoine Winfield Jr., (76) RB Ke'Shawn Vaughn
Day 3 picks: 161, 194, 241, 245
This is really just a depth/sit-and-develop type of pick to make, as the Buccaneers really have no pressing needs. Tampa has young, rising cornerbacks in Jamel Dean, Carlton Davis and Sean Murphy-Bunting, but there isn't much after that. Darnay Holmes had a down year in 2019, seeing his PFF coverage grade drop from 80.3 in 2018 to 61.8 in 2019. As PFF's Mike Renner noted in the PFF Draft Guide, he'll likely move to the slot because of his size, but he has the athleticism to thrive there. All-in-all, Holmes has tools worth investing in and developing.
1st, 2nd, 3rd round picks: (29) OL Isaiah Wilson, (61) CB Kristian Fulton, (93) RB Darrynton Evans
Day 3 picks: 174, 224, 237, 243
Tennessee is in need of a backup quarterback, and an intriguing one in this class for them is Jake Luton of Oregon State. He is a sharp decision-maker. This past season, Luton had a turnover-worthy play rate that was the 12th-best in college football. He was charged with only four pressures all season long, which was the third-fewest among starters, and he was among the few who didn't have a single fumble. Standing at 6-foot-7, Luton has a solid arm and deserves more looks than he is currently getting. 
1st, 2nd, 3rd round picks: (2) EDGE Chase Young, (66) RB Antonio Gibson
Day 3 picks: 108, 142, 162, 216, 220
Terry McLaurin and Antonio Gibson are great weapons for Dwayne Haskins, but he needs a few more. What better receiver to add than one of his favorite targets at Ohio State? K.J. Hill has been a reliable slot receiver for the Buckeyes throughout his career, dropping only nine of his 266 targets and generating an explosive play on well over a quarter of his catches from the slot. He's not going to kill you with speed, but he can do damage on underneath routes, where he has averaged 8.6 yards after catch per reception and broken nine tackles on 46 such catches since 2018.