The 2018 National Championship will be remembered for a couple of missed kicks and some youthful performances for the ages by Alabama quarterback Tua Tagovailoa, but after the dust had settled, some of the top performers on the evening were indeed those who should hear their names called in April.
The outcome of this one aside, several big-name prospects left their mark one final time on the college football world. With eyes toward the 2018 NFL Draft, here's the top-graded draft-eligible prospects, and how they performed in the season's biggest game.

DT Da'Ron Payne, 96.4 overall grade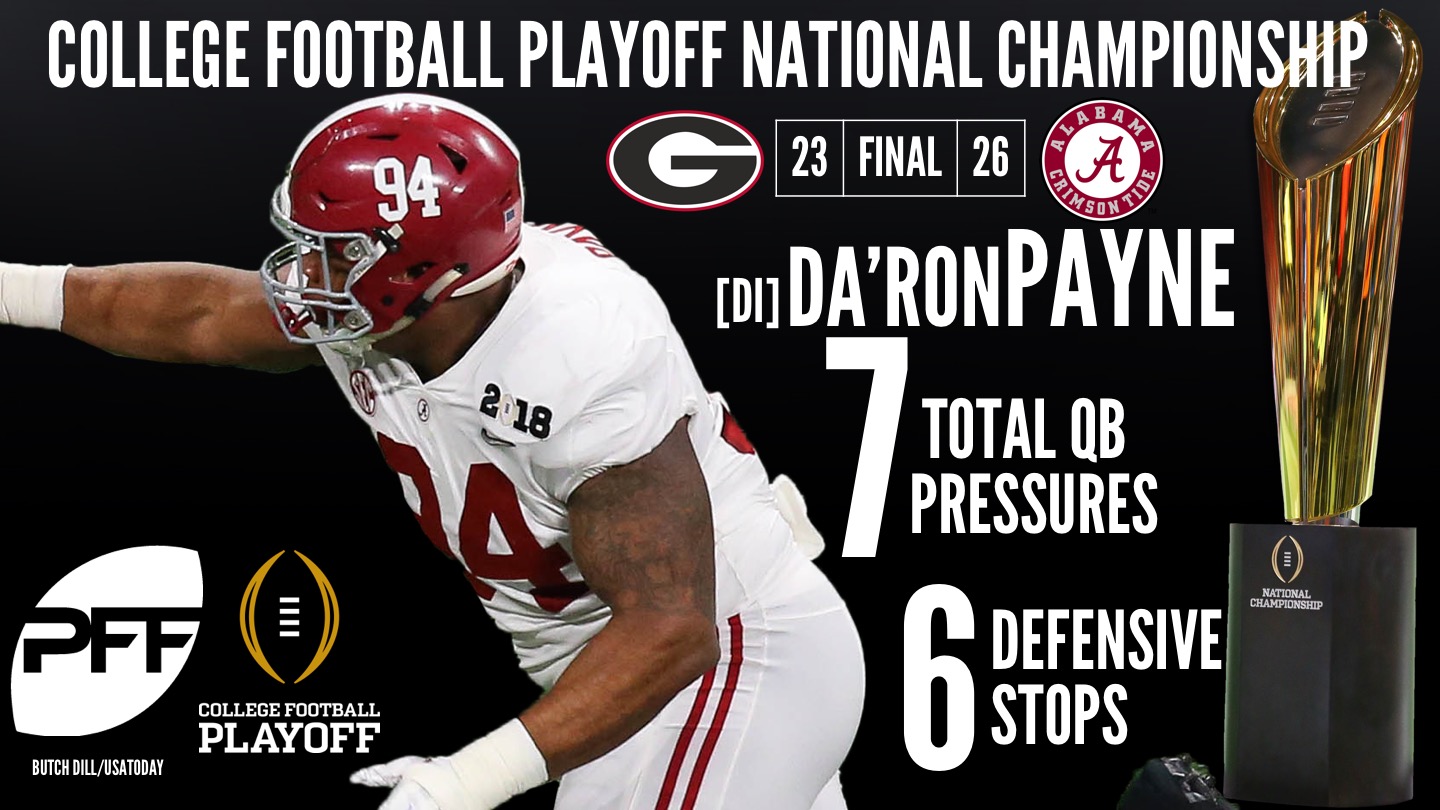 Payne was a monster all game, both against the pass and the vaunted Georgia rushing attack. On 35 pass-rushing snaps, Payne brought in seven total QB pressures, constantly pushing the interior of the Georgia offensive line back. Although he didn't record a sack in the contest, he affected freshman QB Jake Fromm on multiple occasions, and that may not even be where he was most effective on the evening. On 32 snaps in run defense, Payne brought in a ridiculous six stops on nine total tackles. Running between the tackles yielded the Georgia rushing attack just 3.23 yards per carry, as Payne was a key cog to stopping the Bulldogs running backs. Likely his last season in Tuscaloosa, Payne put the exclamation point on his career with two strong performances in postseason play, and should almost certainly hear his name called on the first day of the 2018 NFL Draft.
Georgia CB Deandre Baker, 86.0 overall grade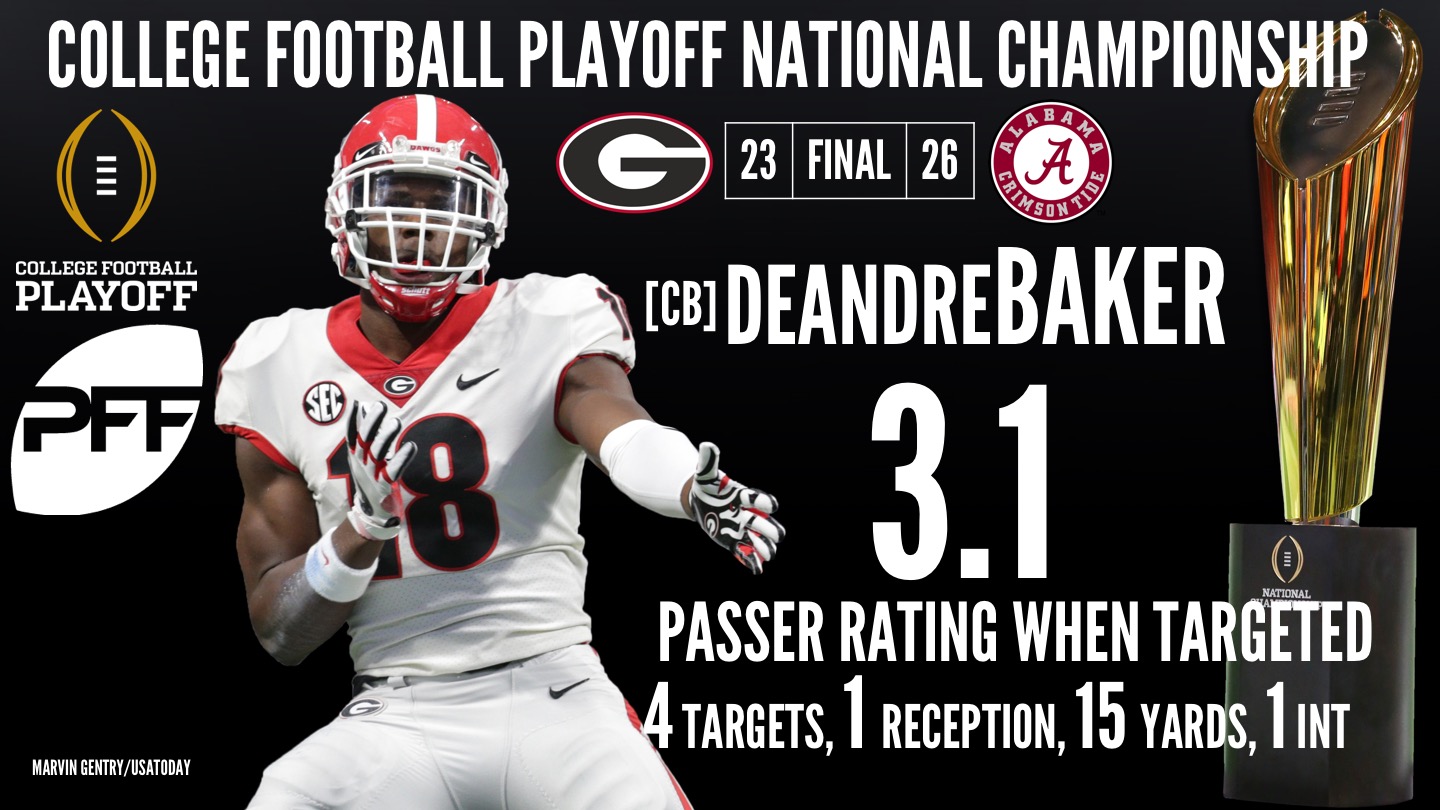 Baker was absolutely stifling in coverage against Alabama, especially in limiting WR Calvin Ridley to zero catches on two targets in Baker's coverage. On the evening, Baker was targeted a total of four times, allowed just one reception for 15 yards and brought in an interception. All told, he fielded just a 3.1 passer rating on throws into his primary coverage, or simply par for the course on the season. On the year, Baker did not allow a touchdown despite seeing 60 targets, of which he allowed just 38.3 percent to be caught (23) and registered three interceptions and 10 pass breakups. His production in coverage this season will surely make him an interesting prospect to place, if he declares for the draft early.
Georgia LB Roquan Smith, 86.0 overall grade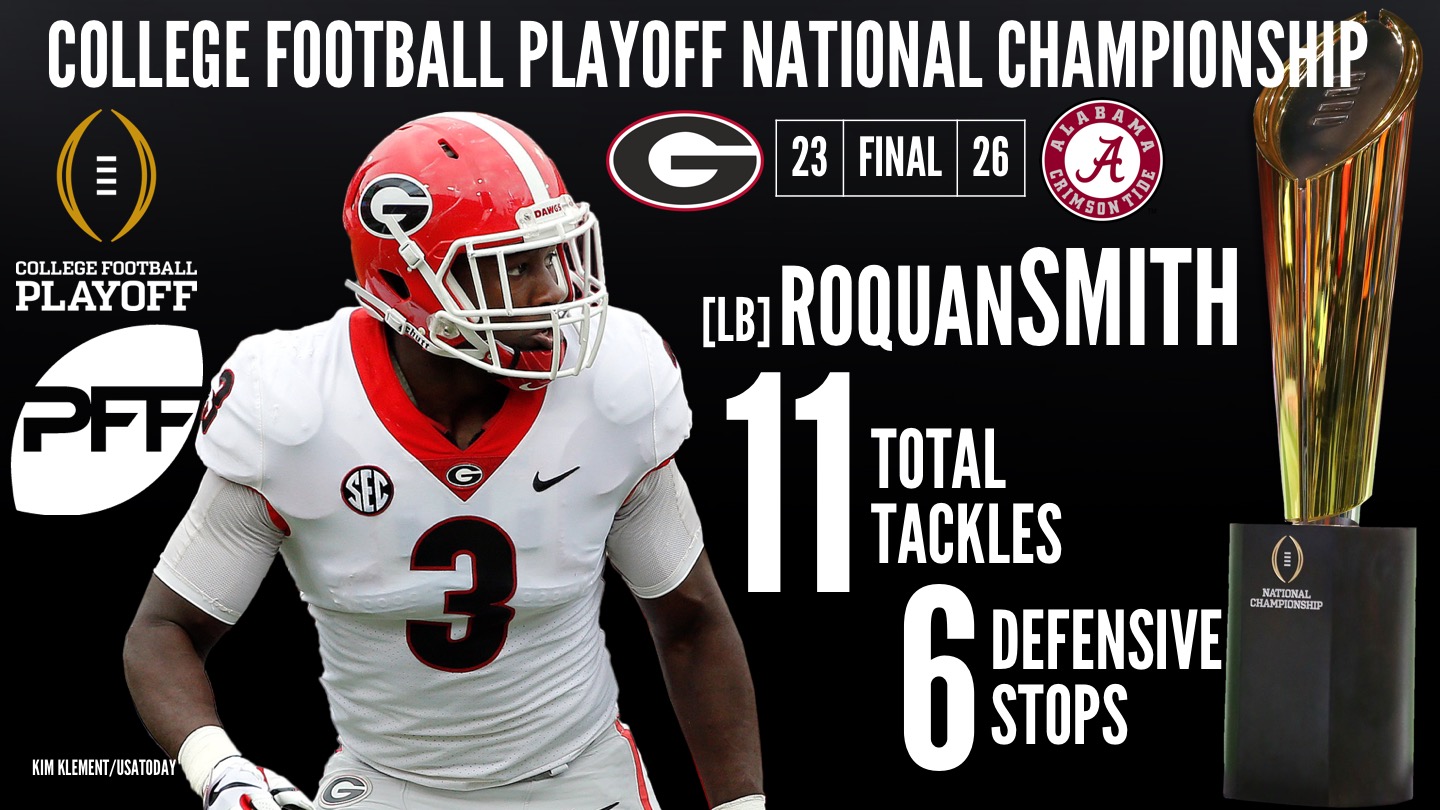 Smith, like the aforementioned Baker, was absolutely stifling all over the field against the Crimson Tide. He rushed the passer just four times, but recorded a sack and a hurry, brought in 11 total tackles including six stops and in 37 snaps in coverage, was targeted just once and allowed just one yard on the reception. Smith is arguably the most all-around talented linebacker in the country and all of his skills were on display on the biggest stage, further cementing his claim to possibly be the first linebacker drafted in April.
Alabama CB Minkah Fitzpatrick, 82.0 overall grade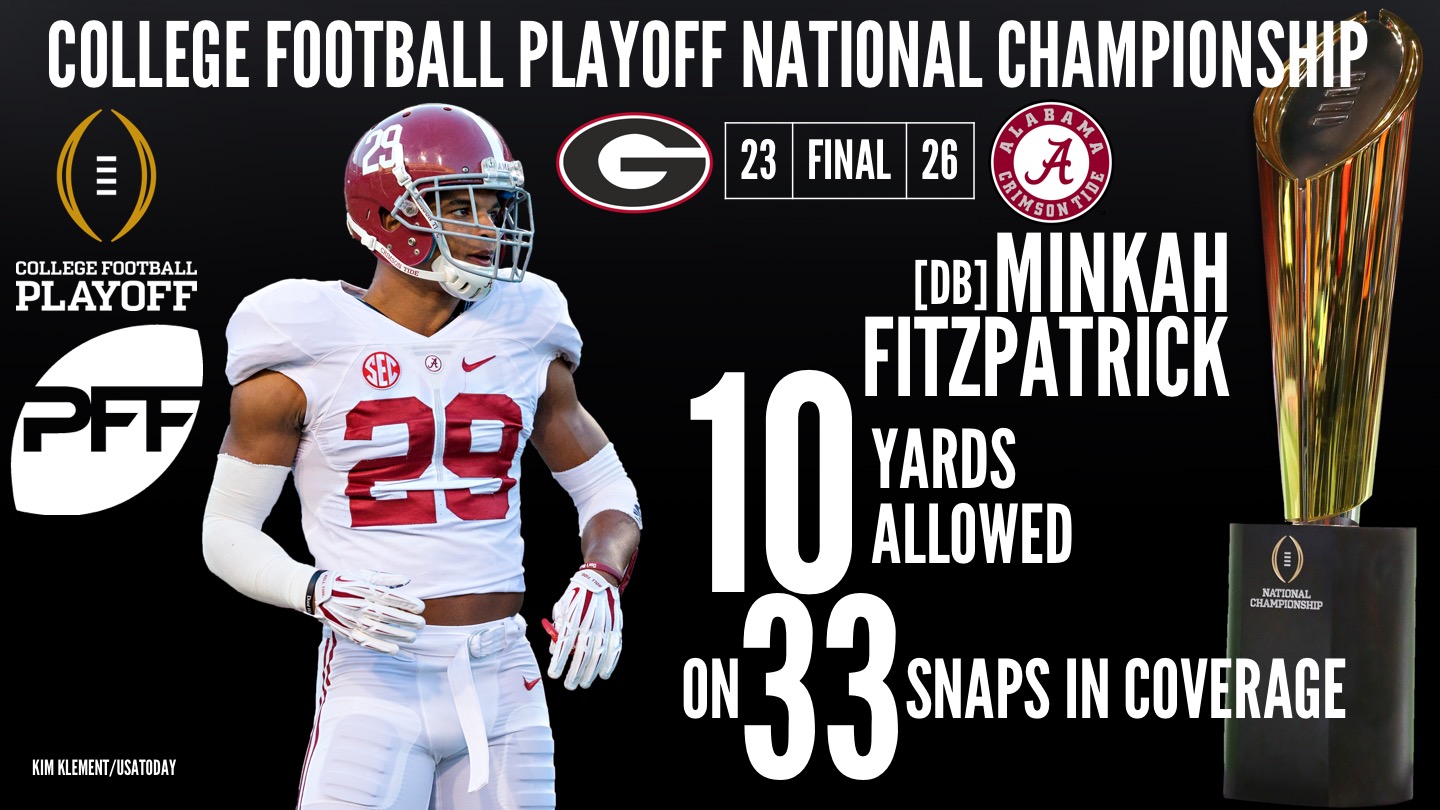 Fitzpatrick, the nation's Jim Thorpe winner, spent 33 snaps in coverage against Georgia, and was targeted just three times. Most impressively, he limited the Bulldogs' top receiver Terry Godwin to just 18 yards on two receptions allowed while dropping talented freshman D'Andre Swift for an eight-yard loss on another play his way. All told, Fitzpatrick proved to once again be a talented force for the Crimson Tide defense, registering three defensive stops and was in close coverage seemingly all game. Chalk him up as another member of the defenses on display in this game that will hear their name on the first day of the NFL draft.
Georgia RB Sony Michel, 81.4 overall grade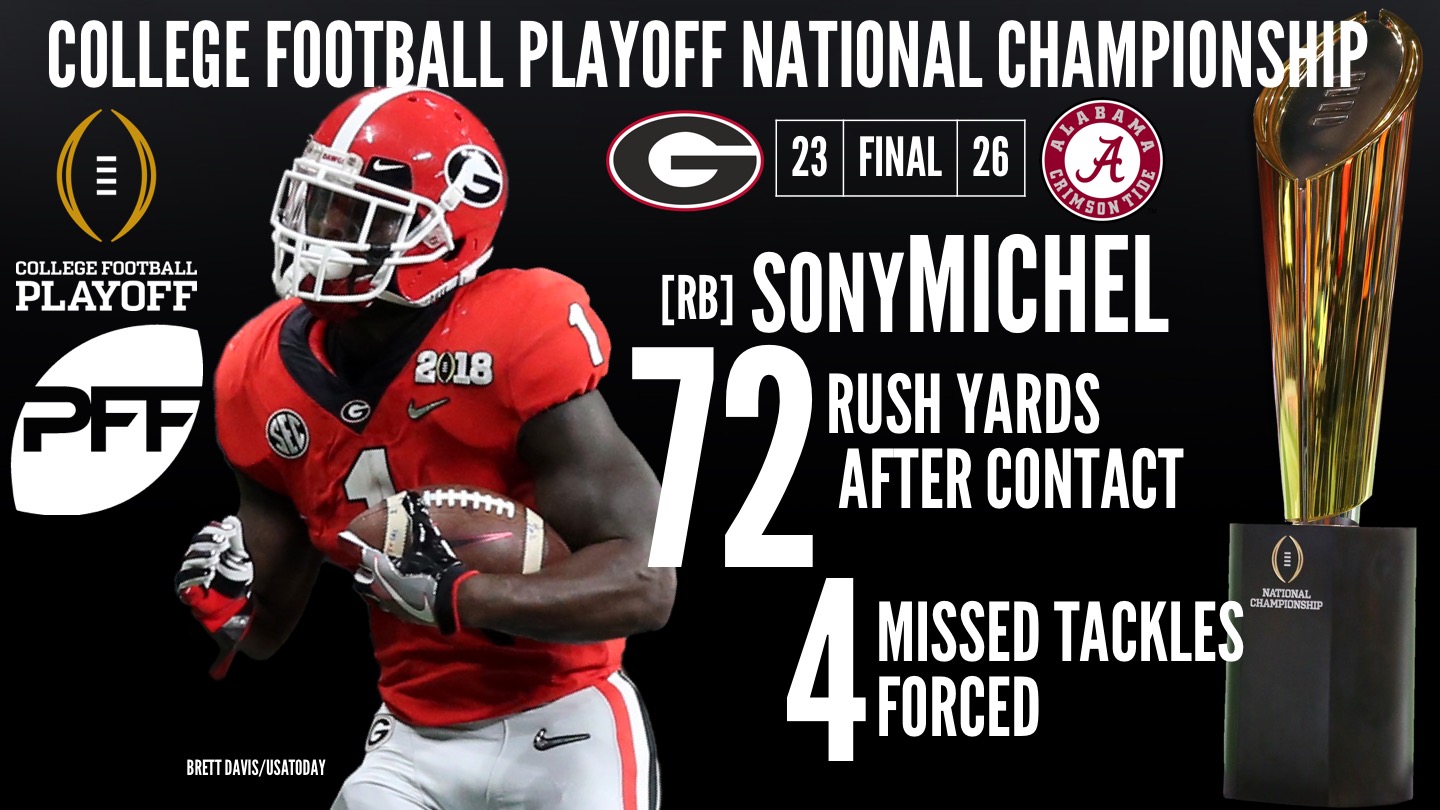 Michel found much more success against Alabama than fellow running back Nick Chubb, gaining a game-high 98 yards on 14 carries. He accumulated 72 of those yards after first contact with a defender and forced another four missed tackles. He couldn't quite get the ball moving in the passing game like he did in the Rose Bowl, but that can be attributed elsewhere in this contest, and Michel finished his fourth year in Athens with his highest career grade and a career-high 3.8 yards after contact per attempt this year.
Georgia LT Isaiah Wynn, 86.2 overall grade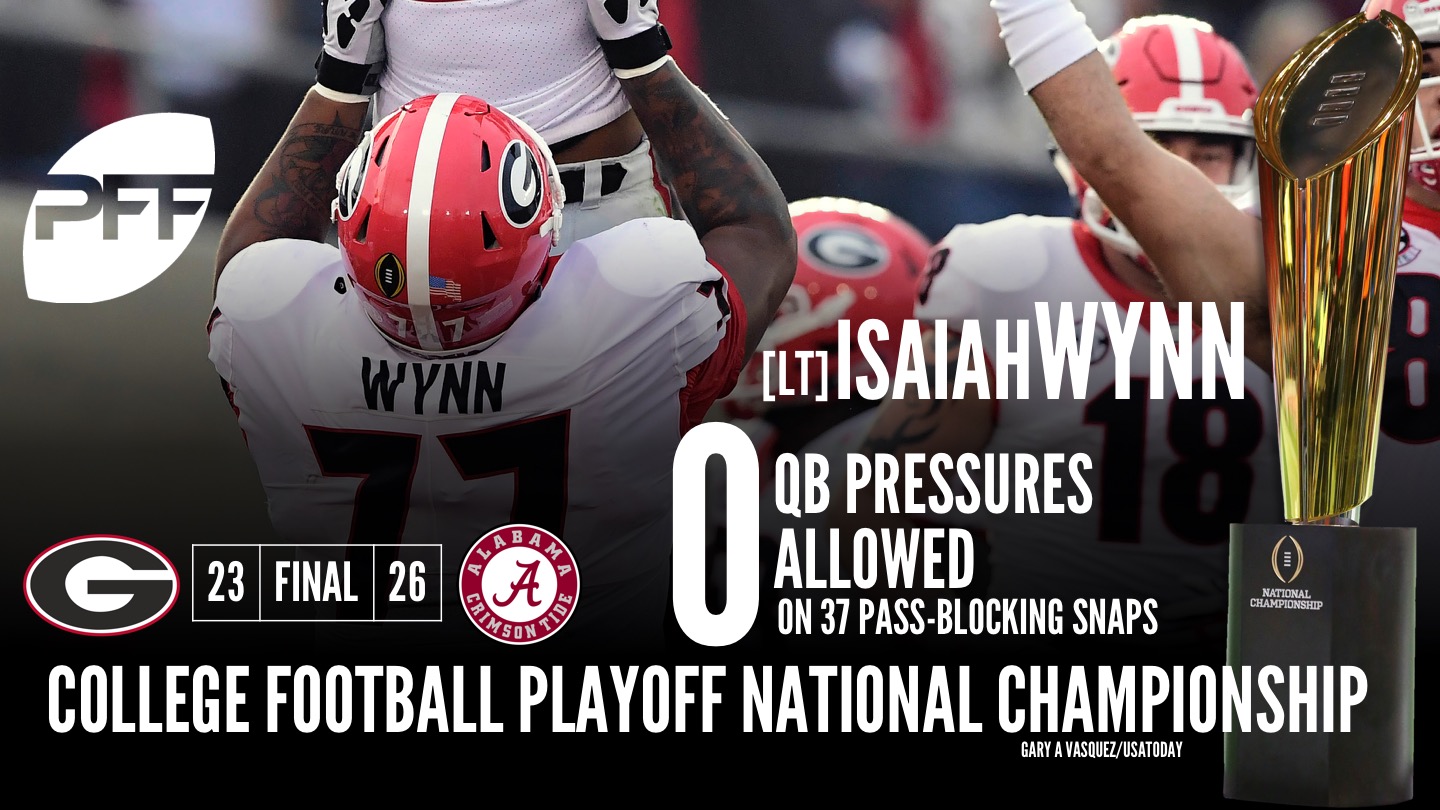 With much to-do about the Alabama pass-rush in this game, that much more to-do can be said about Wynn's performance in pass protection. On 37 pass-blocking snaps, Wynn kept QB Jake Fromm clean from pressure and now, something he's certainly used to doing. On 1,104 career pass-blocking snaps, Wynn has allowed just 26 career QB pressures, including 11 games this season in which he did not allow a single pressure.
Alabama C Bradley Bozeman, 80.5 overall grade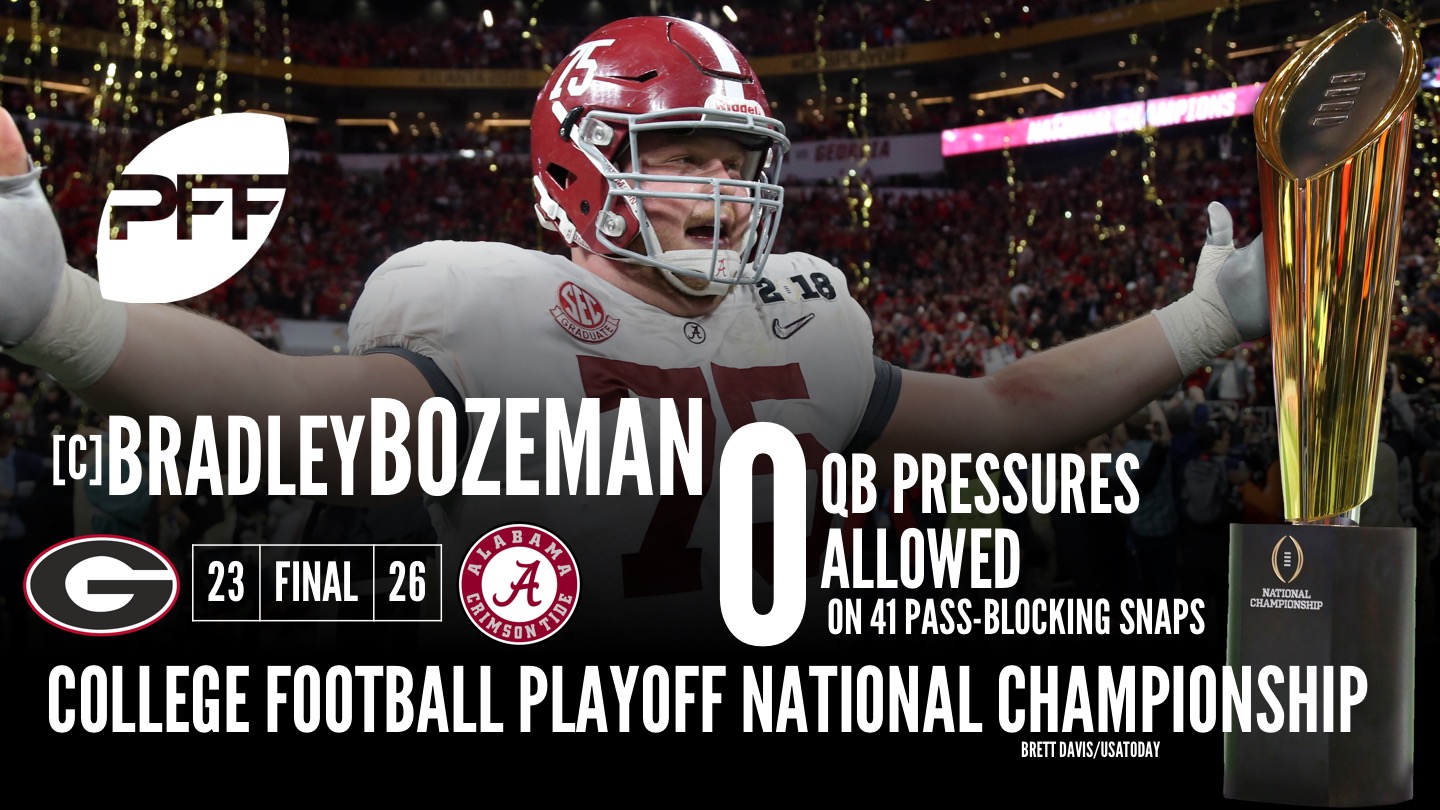 His most noteworthy moment may have been after the contest when he proposed to his then-girlfriend, but Alabama's center handled the Georgia pass-rush very well on the evening, keeping both Crimson Tide quarterbacks clean from pressure. On 41 pass-blocking snaps, Bozeman did not allow a single pressure, while also grading positively in run-blocking. Over his career, Bozeman allowed just 11 total QB pressures on 1,055 snaps in pass protection and had 10 games this season in which he kept a clean sheet.