· Bet Dolphins WR Tyreek Hill o5.5 receptions (-136 FanDuel): His aDot sits at 10.0 on 29 targets, but only 24.1% are considered deep targets.
· Bet Dolphins RB Chase Edmonds u8.5 rush attempts (-103 Caesars): Miami's preferred receiving back, Edmonds logged only 27.3% and 33.3% of carries since Week 1.
• New users who bet $10 or more at BetMGM will receive a free year's subscription to PFF+ — a $79.99 value.
Estimated reading time: 4 mins
---
• Our prime-time previews pull all the key modeling numbers and simulated outcomes from PFF's betting tools, including PFF NFL Greenline and the player props tool, which use top-down machine learning models backed by PFF's exclusive data to derive value when compared to the betting market.
• Let's dive into the Week 4 color rush between the Miami Dolphins and Cincinnati Bengals.
---
GAME LINES
· Tua Tagovailoa's expected playing status pushed the total up a full point from where it sat Wednesday: And it also caused some retread on the spread. The lookahead line was down to Bengals -1.5 and reopened this week at -2.5 before continuing to drift in the Bengals' direction. Tua's initial questionable status had some impact, but there are also travel and short-week considerations for the Dolphins, especially after playing 90 snaps on defense Sunday.  Still, the only correct side of the spread appears to be on the Dolphins, but neither PFF Greenline nor the play-by-play simulation show any value at the current number of -3.5.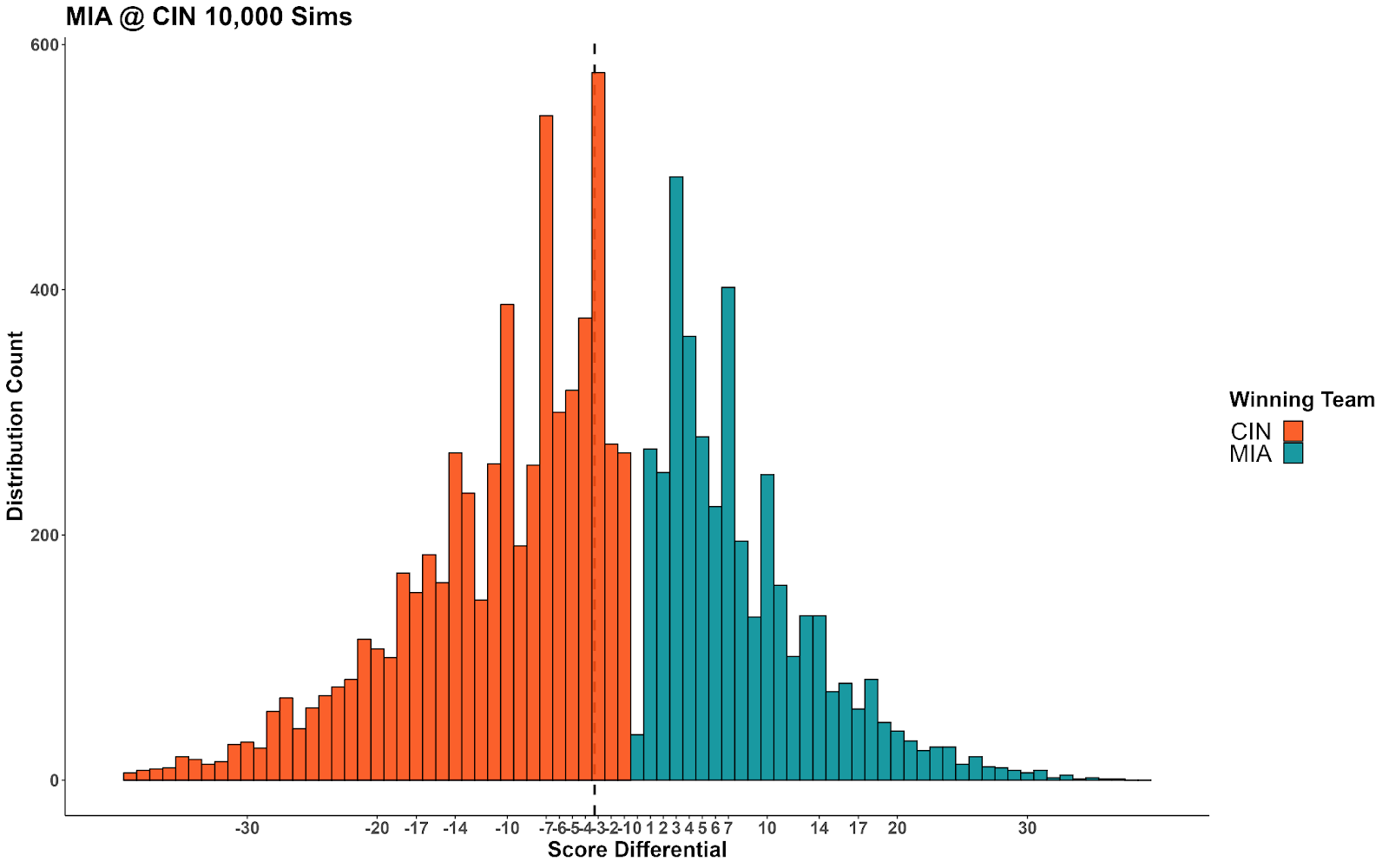 The total hit a high of 48.5: Before retreading back to the initial opening number of 47 then retesting the 48.5 after Tua's status was no longer in doubt. This isn't the best of the number, but given the explosive nature of both offenses, it still feels like a game that could easily sail over.  Miami ranks fifth in yards per reception, with the highest yards per route run of any team in the NFL so far in 2022. Cincinnati hasn't exactly broken out the big play ability in 2022, but with little turnover from their 2021 roster, the Bengals should rediscover their explosiveness once again. Bet on that happening Thursday night with this total coming home quickly.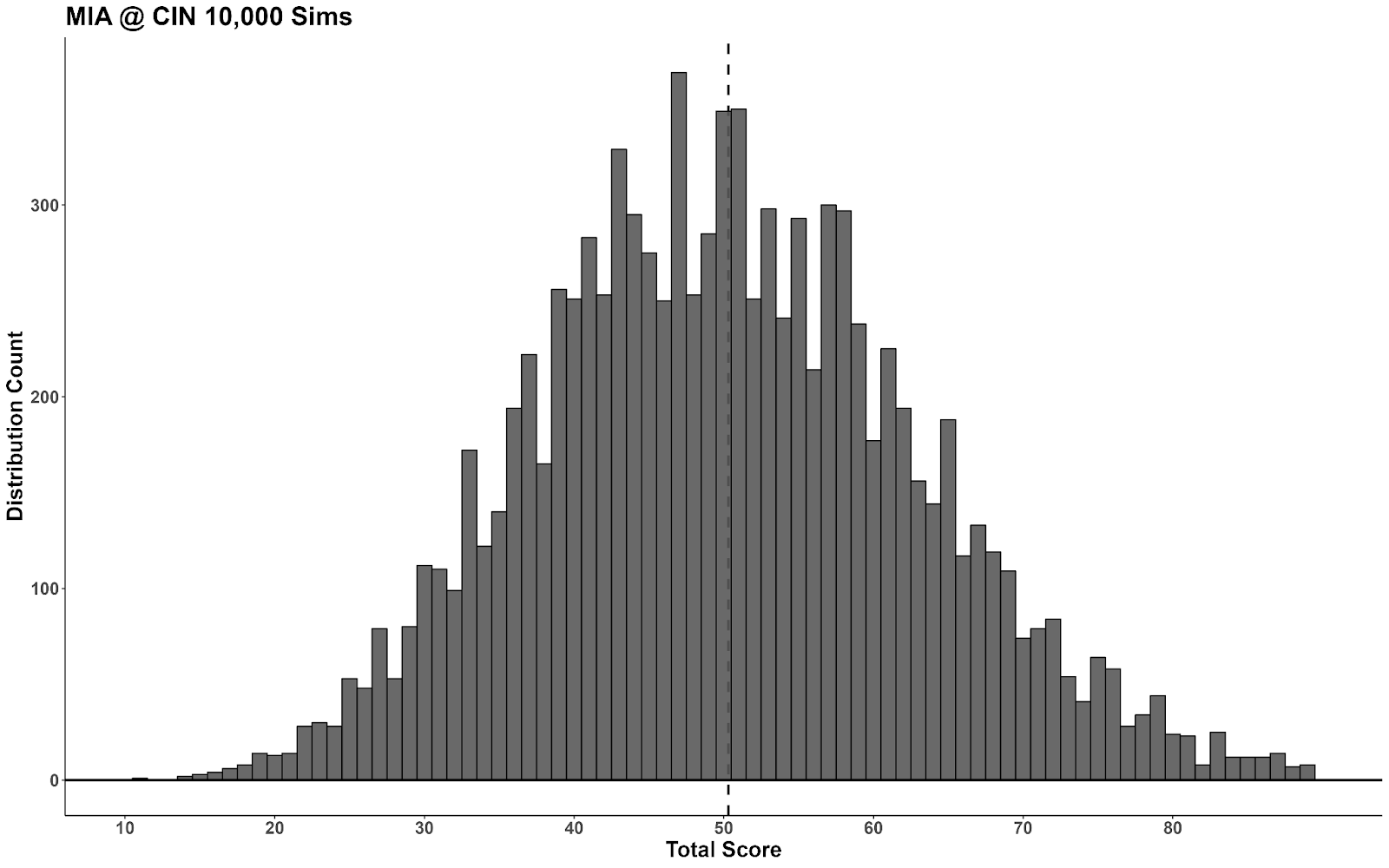 BET: O 48.5 total points (-110 FanDuel)
PLAYER PROPS
· Player props continue to grab a bigger share of bettors' attention: And they're one of the easiest transitions into sports betting, as fantasy applications are helpful for evaluating betting opportunities. 
· For historical context, unders are by far the most profitable angle to bet: They could have been blindly bet toward the under on passing, rushing and receiving yardage props and been profitable. Props are priced for a player's median stat projection in a simple, over-or-under, two-sided market.
· This season started off somewhat as expected, with rushing yards and receptions finishing heavily toward the under: Somewhat surprisingly, pass attempts continue to see a positive ROI for overs. Team's seem to be shifting their run/pass splits, resulting in higher attempts but also more negative outcomes because of the higher volume. There is also a macro trend related to average depth of target, with quarterbacks not pushing the ball downfield like in years past. This has led to fewer big-time throws and fewer touchdowns, which has caused Unders to be the correct spot to target in the game market.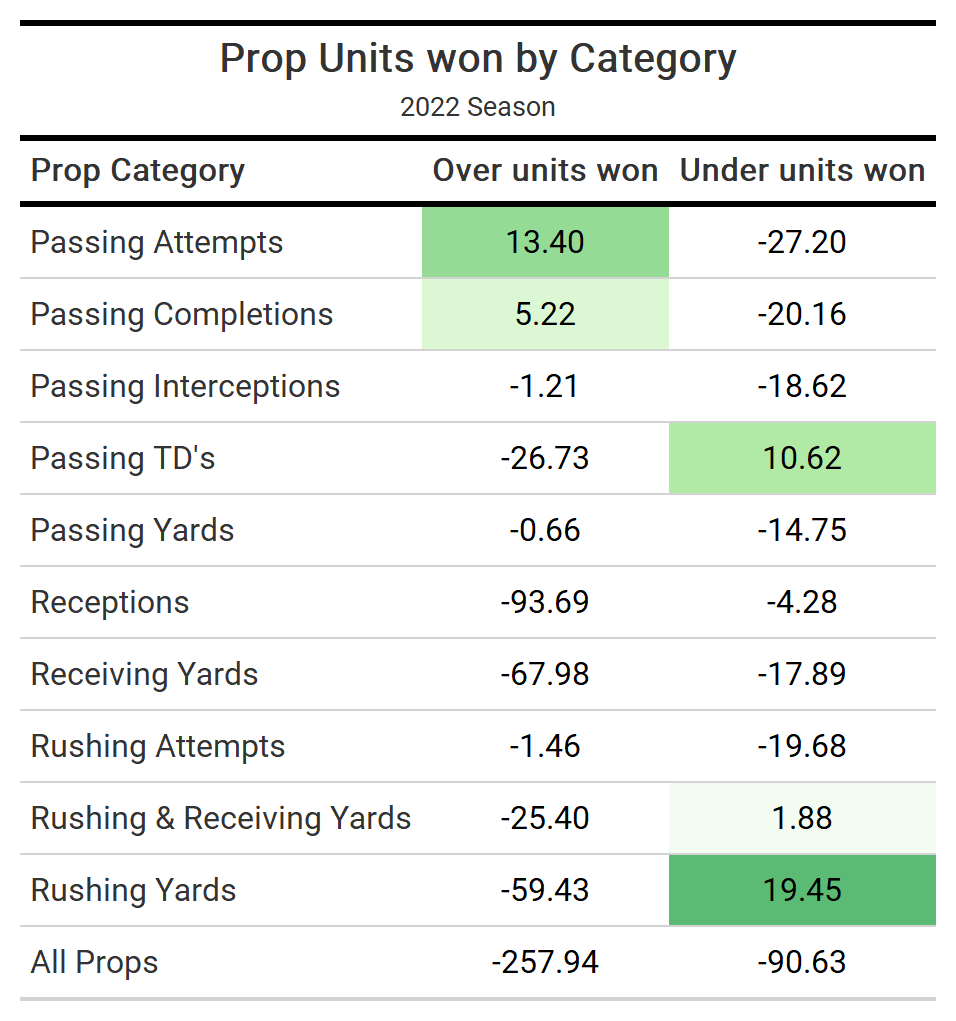 · One way to consistently find defined edges: Without blindly betting unders is by utilizing PFF's player props tool. The ability to adjust both number and price means you are always certain of the expected value for each prop bet. Let's dive into the best player props to bet for the NFL Thursday night kickoff game. 
Bet: Dolphins RB Chase Edmonds u8.5 Rush Attempts (-103 Caesars)
· Miami's backfield usage so far this season has been tough to nail down: Chase Edmonds and Raheem Mostert have essentially split snap percentages (52.7% and 49.7%, respectively). Digging in a bit further, Edmonds has been the preferred player in the passing game, with Mostert seeing a slightly higher number of rush attempts. This has been even more pronounced after Week 1 — when Edmonds logged 52.2% of the carries — but he's been at 27.3% and 33.3% the next two weeks, respectively. With his rushing usage trending in the wrong direction, now looks like the perfect time to press on Edmonds' under, with the expectation that his involvement comes more in the passing game againThursday. Additionally, if the Dolphins are coming from behind, we should also see their total team rush attempts drop off.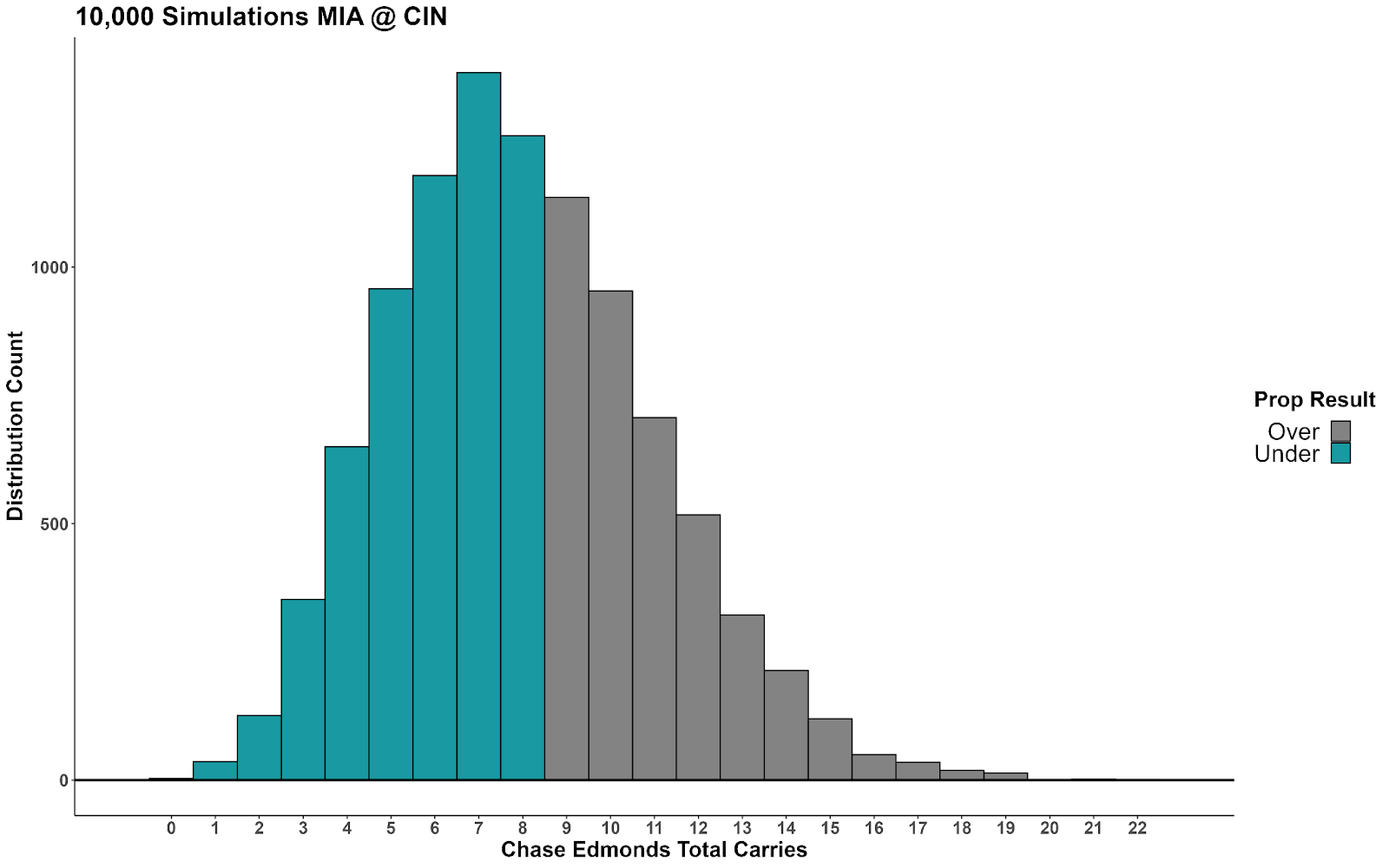 Bet: Dolphins WR Tyreek Hill o5.5 Receptions (-136 FanDuel)
· Hill's odds continue to climb with the Tua news: After opening at 5.5 receptions at -114 on FanDuel, it jumped out to a -136 price across the board with more books adding it as an option. 
· PFF's player prop tool finds 4.3% value at the current price: With the expectation that Tyreek Hill continues to operate mainly underneath. His aDot sits at 10.0 on 29 targets, but only 24.1% are considered deep targets. Meaning he is getting the occasional deep shot but is mainly being used close to the line of scrimmage. 
· PFF's play-by-play simulation a little less bullish: On Hill's over, but it still finds a little value based on him receiving those manufactured targets underneath. With game script also working in Hill's favor, expect him to once again lead the Dolphins in target share and easily eclipse this reception prop number on Thursday night.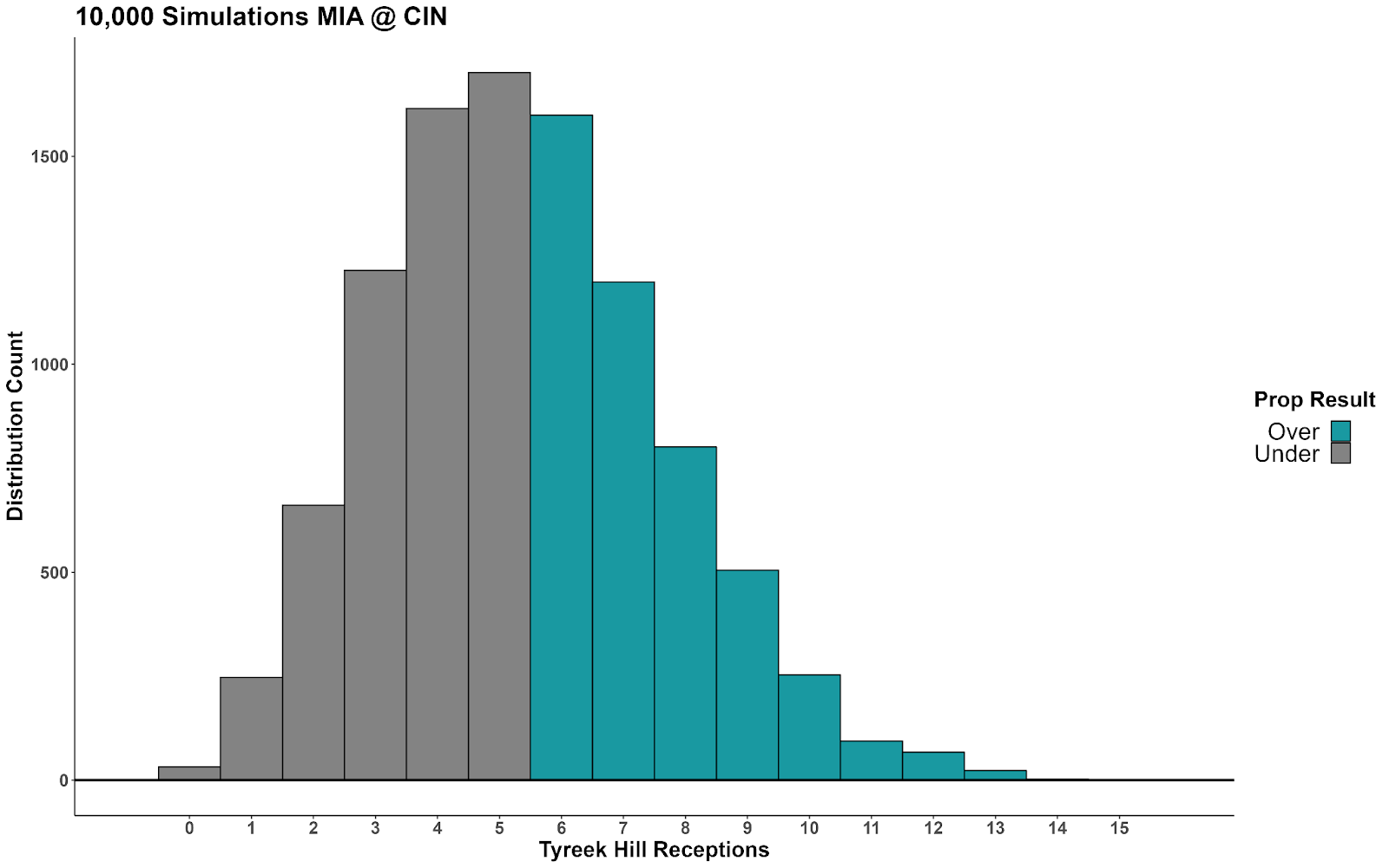 DERIVATIVE BETS & SAME-GAME PARLAY 
· Both our model and play-by-play simulation point toward: The most likely game script being the Dolphins playing from behind in a similar game as their Week 2 comeback victory against the Ravens. 
· In this scenario, a total that crept up will fall quickly: As both teams generate explosive plays through the passing game. Miami will have more incentive to throw if playing from behind and should feature Hill underneath, with Jaylen Waddle taking the top off the defense. With an uptick in target volume, Hill will eclipse his reception total and could also find pay dirt as the focal point of this offense.
· All four of our parlay legs offer some correlation: And if the game plays out close to expectation, this single-game parlay can easily come home for a +900 payout. 
SGP Build (+900 Caesars)
· Total Points Over 48.5
· Tyreek Hill Anytime TD Scorer
· Tyreek Hill Over 5.5 Receptions
· Chase Edmonds Under 8.5 Rush Attempts
---
· Ben went 1-8 in Week 3 prime-time previews, bringing his overall season record to 16-25 (-6.16 units).
· PFF's newest tool is a play-by-play simulation that uses a bottoms-up prediction approach backed once again on PFF data and state-of-the-art machine learning models.