"I have to navigate my way through the caves and back channels to make my way through Alabama these days. They aren't happy to see me, but it's all good. It's a good problem." – Clemson head coach Dabo Swinney on SiriusXM. 

For four straight years, the Alabama Crimson Tide and the Clemson Tigers have faced off in the College Playoff: three times in the National Championship and once in the Sugar Bowl. The series is dead split at 2-2  in those games (Clemson won two of the three national titles), and consequently, Alabama and Clemson have become one of the greatest rivalries in college football. Two dynasties going head to head: it doesn't get much better than that right?
The two historic programs will continue to have success in 2019, and that's no debate. However, one will ultimately have a better season than the other, and that begs the question: Who has the better roster this season? Using PFF's database, here is the answer to that question.
Tua Tagovailoa v. Trevor Lawrence
In terms of just passing performance, the highest-graded returning Power 5 quarterback is Alabama's Tua Tagovailoa, at 90.7. The second highest-graded returning Power 5 quarterback is Clemson's Trevor Lawrence, at 90.6. In other words, these two are far and away the two best quarterbacks in all of college football and are in a tier by themselves. With Tua being draft-eligible following the 2019 season (Lawrence isn't for another two years) and Kyler Murray in the NFL, the debate is increasing as to who is actually the better quarterback.
When it comes to evaluating quarterbacks, their performance in a clean pocket is perhaps the most telling of how talented they are. Both Tua and Lawrence passed the test here. When kept clean, Lawrence came away with a 92.1 passing grade, 8.3 yards per attempt, a 14.5% uncatchable-pass rate, a 6.7% big-time throw rate and a 1.2% turnover-worthy play rate. As for Tua, he posted a 91.3 passing grade, 11.3 yards per attempt, a 15.8% uncatchable-pass rate, a 7.2% big-time throw rate and a 2.4% turnover-worthy play rate.
Along with clean-pocket performance, how a quarterback performs on a throw-for-throw basis on passes of 10-plus yards tells a lot about their abilities, and to no surprise, both Tua and Lawrence were among the nation's best last season. On those throws among returning college football quarterbacks, Tua ranked first in passing grade, second in passer rating and had a big-time throw (BTT) to turnover-worthy play (TWP) ratio of 31:8. Lawrence ranked second in passing grade, first in passer rating and had a BTT to TWP ratio of 27:4. So then, it's safe to say these two are easily in a class by themselves, as we alluded to previously.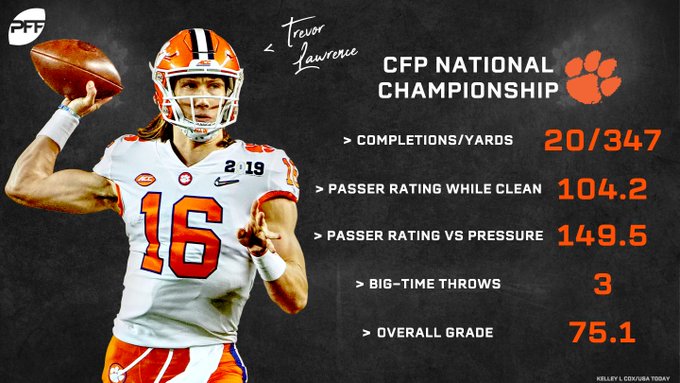 There is, however, a few data points that separate the two — making one the top dog heading into 2019. To start, let's examine the two when throwing to receivers in tight coverage. In those situations, Lawrence was the fifth-highest-graded quarterback among returners in college football (and the highest among arguably the three best conferences in the ACC, Big Ten and SEC) and had just a 3.9% turnover-worthy play rate. Tua, on the other hand, ranked just 20th in passing grade and had a 6.0% turnover-worthy play rate. Moreover, only 28% of Tua's attempts were targeted at a receiver with tight separation, the lowest mark among returning quarterbacks by a full percentage point (Lawrence was at 32.5%).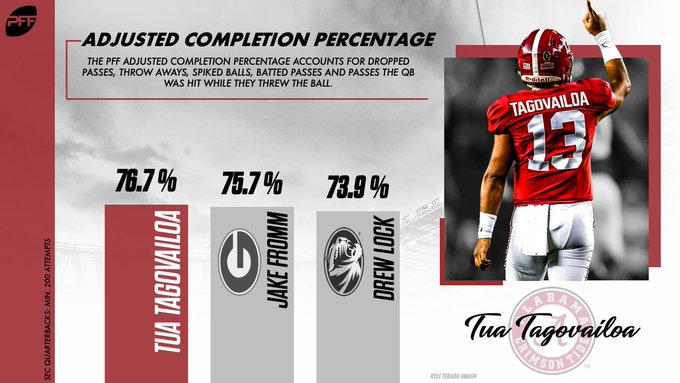 Tua dominated against nickel defense, recording the highest passing grade among returners at 91.7. While Lawrence was still a lot better than most, he came in at 11th at 82.0. Though against base and dime packs, it was a different story. When facing off against base or dime, Lawrence ranked fourth in passing grade at 89.6, while Tua ranked 24th at 73.6.
Third-down play is the one scenario that everyone wants to know about, and what people most often pay attention to — the clutch gene is real, after all, no question. As for these two, one proved he has while the other still has some work to do. On third down last season, Lawrence posted the highest passing grade among all college quarterbacks at 92.0, and he put up a turnover-worthy play rate that was less than one percent and the best in the country. Tua didn't find as much success in this situation, recording the 24th-best passing grade at 81.9.
Subscribe to PFF Edge to continue reading
Already have a subscription? Sign In