The Penn State Football team has quickly developed an impressive roster of underclassmen that will be back in 2019 for head coach James Franklin and his staff. While this season is far from over, it's worth taking a look at the players who will likely be making a difference next year for the Nittany Lions. The defense, in particular, could take a huge step forward next year with a bevy of young talent gaining experience this season.
Offense
KJ Hamler – PFF Grade 73.1
Penn State's highest-graded pass-catchers are all freshmen or redshirt freshmen, starting with Hamler who has quickly taken over as the lead receiver for the Nittany Lions and leads the team with 65 targets and 624 yards. He has 300 yards more than the next closest receiver on the team (who is also a freshman). Despite his size, Hamler is a tough receiver that has caught 19 of his passes and three touchdowns over the middle this season.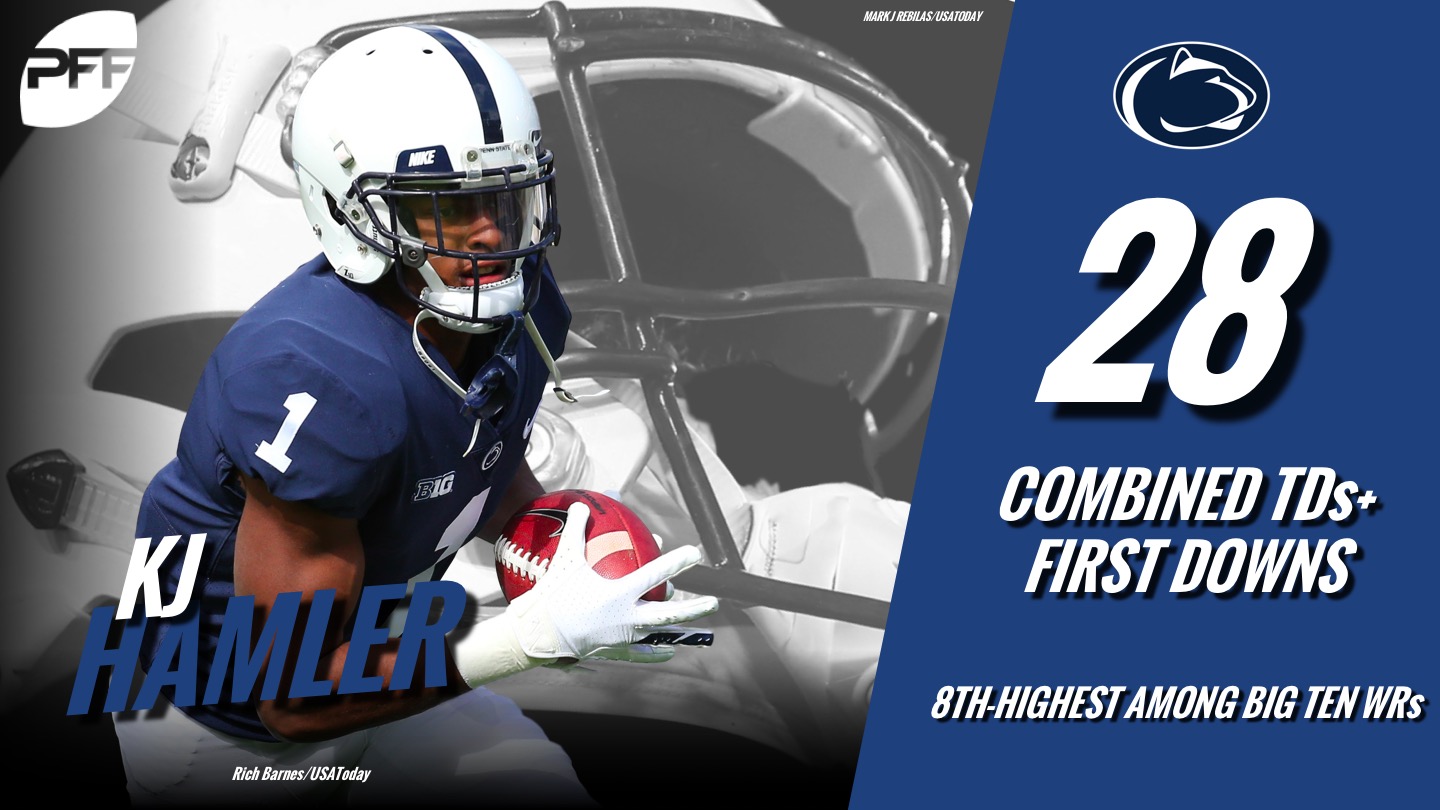 Pat Freiermuth  –  PFF Grade 64.8
The big-bodied tight end leads the team in touchdown catches with six, and is second on the team with 38 targets. He also has the highest passer rating when targeted at 123.1 this season. Freiermuth has hit a bit of a freshman wall the past month, with three sub 60.0 grades vs Iowa, Wisconsin and Rutgers, but still came through with two touchdown catches in his most recent outing. He's been a capable blocker as well, posting run and pass blocking grades for the season that are just shy of 70.
Jahan Dotson – PFF Grade 71.1
Franklin had planned to redshirt Dotson, but injuries, ineffective play and Dotson's ability forced him into the lineup. He's already been targeted 15 times in six games and has eight first downs on 11 receptions.
Ricky Slade – PFF Grade 48.0
Slade showed plenty of promise early in the season but has seen less time as the season has gone on. Fumbles have been a huge problem for Slade who has three on only 30 attempts. That shouldn't diminish his potential, however, as Slade has a breakaway percentage of 52.1 and can be an explosive weapon for the offense going forward.
Promising stars in limited action
Justin Shorter – Shorter is a former five-star recruit that was hurt in camp and had some setbacks early in the season. He's played 40 snaps so far this season.
Daniel George – Has only played in two games this year but will see time in the next two (including the bowl game) as a part of the new redshirt rule. He's a physically impressive receiver who has shown massive amounts of potential. He already has the longest catch in Penn State history under his belt.
Sean Clifford – Clifford has had 'wow' moments while in games going back to the spring game. It's way too early to tell and his sample size is too small, but he also has a 94.0 passer rating in three games of action. Clifford has yet to throw an incompletion in college (5-of-5) and two touchdowns.
Journey Brown – Has seen 24 snaps on offense in five games. If Miles Sanders decides to enter the NFL draft, he will be in the mix to replace him as the starter. Brown was a state champion track athlete and has the physique to be a complete back.
Defense
Ellis Brooks – PFF Grade 79.4
Brooks is the second-highest graded defender this season for the Nittany Lions and as a reserve, he's only had one game that has been graded below a 60.0 all season long. His run-stop percentage of 8.1% is second on the team behind only Micah Parsons.
Micah Parsons – PFF Grade 74.0
Despite a position switch from high school to his time at Penn State, his tackling and run defense have been his strengths this season. He has missed two tackles all season long and has the best tackling efficiency of any linebacker this year for Penn State at 20.5. His run-stop percentage of 13.5% is best in the Big Ten among linebackers and is top 15 in the nation.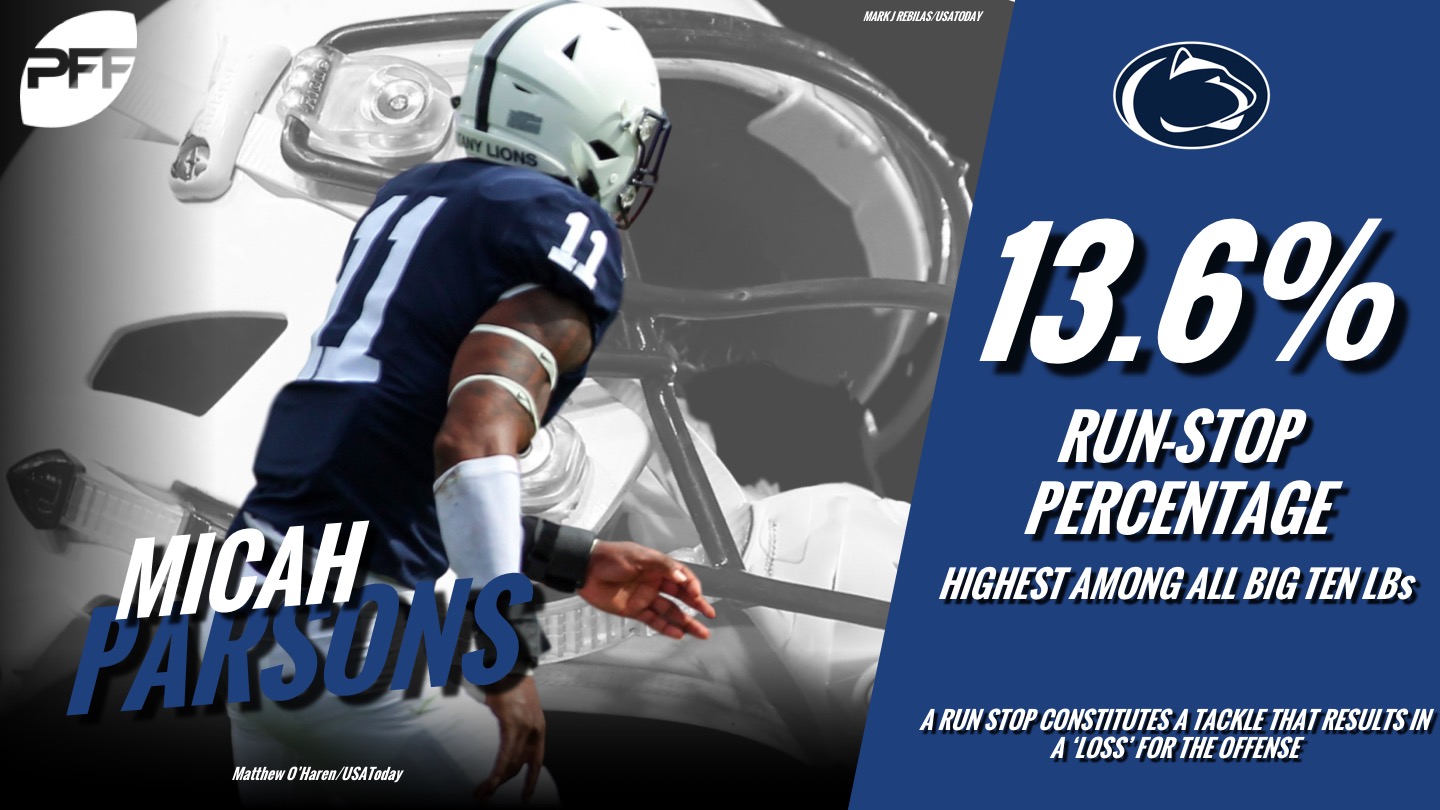 Tariq Castro Fields – PFF Grade 72.1
Castro-Fields filled in for the injured John Reid for the first part of the season admirably and has gone back into a rotational role at corner for the Nittany Lions. He hasn't allowed a touchdown this year and has a rating of 62.2 when targeted this season.
Yetur Gross-Matos – PFF Grade 72.3
The sophomore defensive end has turned a corner in the past month. Since the game against Michigan State, Gross-Matos has 15 of his 19 pressures and six of his eight sacks.
Jonathan Sutherland – PFF Grade 68.3
Oft-compared to former Penn State safety Marcus Allen, Sutherland has a run-defense grade of 80.0 over 81 run snaps and a tackling grade of 90.0. If his coverage grades improve to the level of his run defense, he will be a valuable piece for the Penn State secondary.
Antonio Shelton and PJ Mustipher – PFF Grade 66.1, 64.7
Shelton has only had one sub 60.0 performance over the last five weeks in run support while Mustipher's last two games have been solid as well and the two should form a very good interior tandem heading into next year.
Promising stars in limited action
Jayson Oweh: He may be the most physically talented pass-rusher that the Nittany Lions have but is 'very raw' according to coach Franklin. Oweh only has 27 pass-rush snaps in three games but has three pressures, including two sacks. He'll likely play more in the bowl game and should be a breakout candidate for 2019 if he can continue to develop.