Every week here at PFF, we update our ranking of the 10 best quarterbacks in college football, based on our grading of every FBS player on every play of every game. There's quite a bit of movement this week, even though our No. 1 QB remains in the top spot.
Here is our ranking of the top 10 QBs in the country:
1. Lamar Jackson, Louisville Cardinals
Jackson earned his lowest game grade of the season in the Cardinals' 24-14 win over Duke, as he struggled through the air, completing just 2-of-9 attempts of 10 or more yards downfield. But it didn't matter, as he was once again dynamic as a runner, ripping off 146 yards and a touchdown on 20 carries, including 69 yards after contact and four forced missed tackles. He has been college football's most unstoppable force so far this year.
2. Baker Mayfield, Oklahoma Sooners
Since the Sooners' 1-2 start, with losses to Houston in Week 1 and Ohio State in Week 3, Mayfield has been on a roll, earning excellent grades during Oklahoma's three-game winning streak over TCU, Texas and Kansas State. For the second year in a row, he has established himself as one of the nation's best QBs when the opponent's pass rush disrupts him, as he ranks first in adjusted completion rate under pressure at 77.4 percent.
3. Deshaun Watson, Clemson Tigers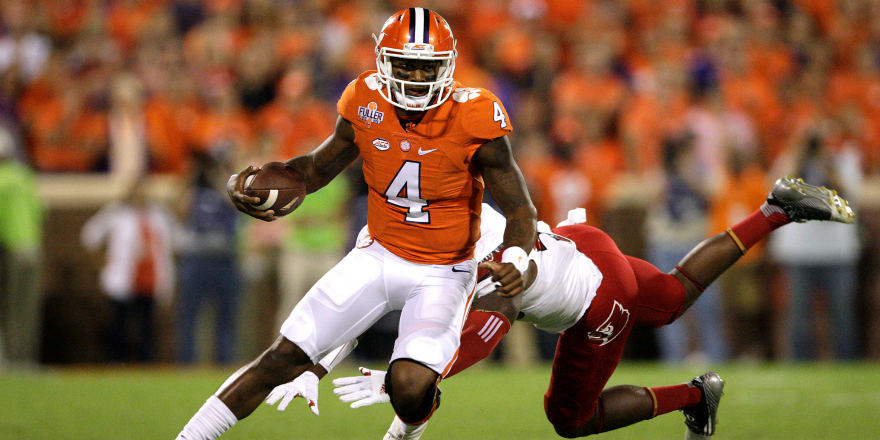 We are moving Watson down a spot this week, because even though he made enough plays to lead the Tigers to an overtime win over NC State Saturday, it hasn't been a perfect start to the season for him. He earned a passer rating of just 68.3 when facing pressure against the Wolfpack, and throughout the season he hasn't had nearly the same impact as a runner as he did a year ago. He is still one of the nation's best, but he hasn't yet played up to the level of his preseason Heisman expectations.
4. Jake Browning, Washington Huskies
Browning and the Huskies had a bye last week, but he remains at No. 4 after his very strong start to the season. He owns the nation's No. 1 passer rating at 137.9 (out of a possible 158.3), and has been effective throwing to all areas of the field during Washington's undefeated start. He'll continue to gain Heisman buzz if he plays this well the rest of his true sophomore season.
5. Greg Ward Jr., Houston Cougars
Ward continues to climb in these rankings after grading very well in Houston's close win over Tulsa last week. He earned his highest rushing grade of the season so far, forcing an absurd 13 (!!!) missed tackles en route to his 142-yard rushing day. He has also displayed improvement as a passer this year, performing particularly well in the intermediate range.
6. Patrick Mahomes II, Texas Tech Red Raiders
Mahomes earned by far his lowest grade of the season in the Red Raiders' blowout loss to West Virginia last week, struggling with his accuracy and creating pressure where there shouldn't have been on occasion by wandering in the pocket. He'll have to straighten things out the rest of the way to avoid falling off this list altogether, but he has the tools to turn things around as one of the nation's most dynamic dual-threat QBs who has shown some good improvement as a passer so far this year.
7. Austin Allen, Arkansas Razorbacks
Allen won the battle of the two highest-graded SEC quarterbacks Saturday night, as the Razorbacks edged out Ole Miss 34-30 and Allen graded considerably better than the Rebels' Chad Kelly. Allen ranks third nationally in adjusted completion rate on deep pass attempts, at 51.4 percent, and he has thrived despite being under pressure on a nation-leading 46.7 percent of his dropbacks.
8. Mitch Trubisky, North Carolina Tar Heels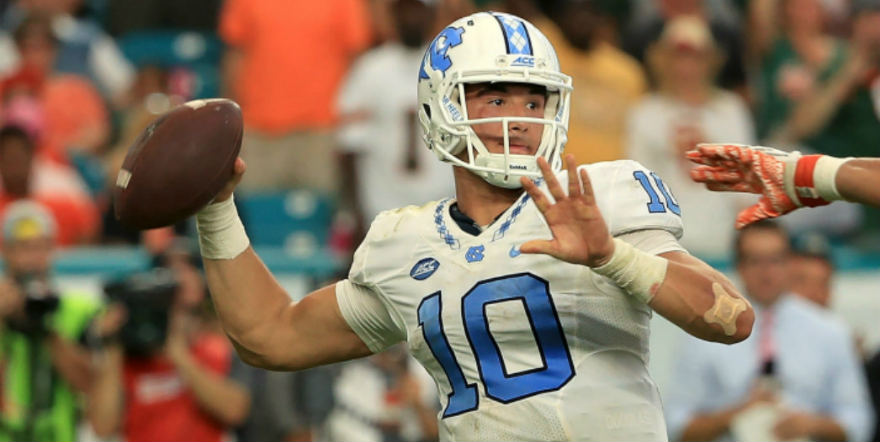 Trubisky bounced back from his lowest-graded performance of the season two weeks ago – a rain-drenched, blowout loss to Virginia Tech – by posting a 104.7 QB rating in the Tar Heels' win over Miami (FL). If not for that poor performance against the Hokies, Trubisky would be right at the top of PFF's QB grades so far this season, and even so, he measures out as one of the best passers in the country. His adjusted completion rate of 71.1 percent when under pressure ranks fourth nationally.
9. Chad Kelly, Ole Miss Rebels
As mentioned above, it was a rough outing for Kelly in the Rebels' loss to Arkansas. He entered the game leading the nation in adjusted completion rate on deep throws, but he went 0-for-8 with an interception on such attempts against the Razorbacks. He still belongs in the discussion of college football's best passers, however, and with 66.4 percent of his yards coming in the air (as opposed to after the catch), the third-highest rate in the country, he has proven the ability to make challenging downfield throws at a high level.
10. Jalen Hurts, Alabama Crimson Tide
This one might come as a surprise, and it could be tough for Hurts to maintain his spot here (it was a tough call leaving off Cal's Davis Webb for the second straight week), but the true freshman quarterback has been a big reason behind Alabama's success this season. He has provided an excellent balance of taking care of the football (he has produced just six turnover-worthy plays all season) with big-play ability. His deep adjusted completion rate of 40 percent ranks in the top 20 nationally, and as a runner he has been great both on scrambles and designed runs, earning the highest rushing grade on the team so far while totaling 480 yards and eight touchdowns on 70 carries (including 134 yards after contact and eight forced missed tackles). For more on how Hurts has been driving Bama's success on offense, click here.