The first week of college bowls was a success for us, as we went 2-0 backing Tulane (-3.5) and Fresno State (-4.5, which ended up all the way out to -6.5). Discretion was also the better part of valor, as Middle Tennessee (+6.5/+7) was a pick we were considering, but in the process of writing up the point and counterpoint, we (smartly, given the benefit of hindsight) decided to stick with two games. It's Christmas season and we think there are some more games with value to be had, starting with Thursday night. Buckle up!
As we do each week, our pick(s) of the week will get the point/counterpoint analysis, and the rest of our picks printed below. A reminder that you can follow us on twitter at @BrownBenjamin22 and @PFF_Eric and listen to the PFF Forecast with Eric Eager and George Chahrouri here.
Marshall versus USF (+3)
Prediction: USF 27-26 (USF covers)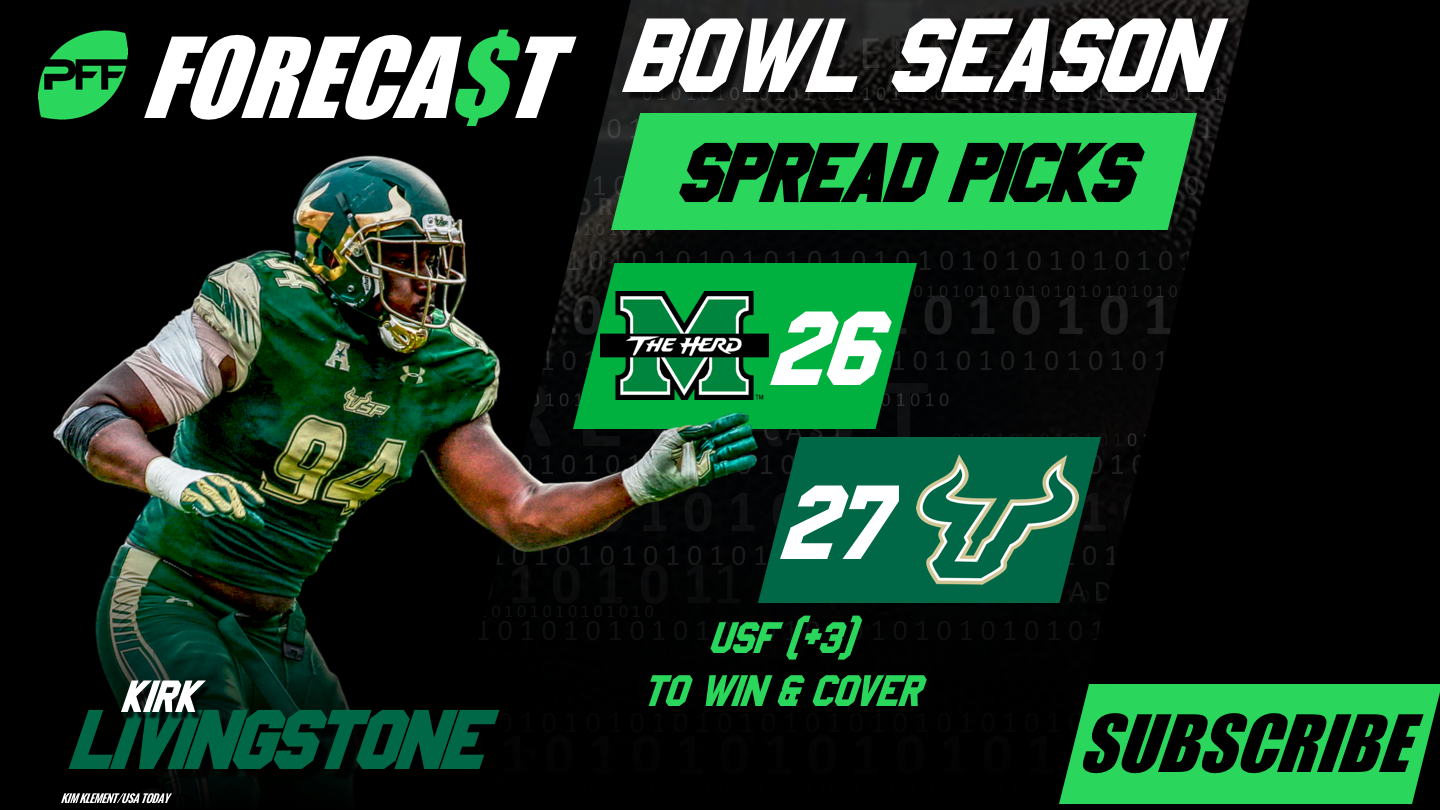 Point (Eric Eager): We think the wrong team is favored here, as USF's PFF ELO rating is roughly 45 points better than Marshall's, having played in a surging AAC versus Conference USA. Blake Barnett has not had great statistics (only an 82.6 passer rating overall, and 89.7 from a clean pocket) but has graded better than that in our system, offering some value if you're inclined to back USF. The USF offense is generating +0.07 and over a 45% success rate on early-down runs offensively, so if Barnett's statistics regress to the mean and their offense continues to be effective rushing the ball, they should be able to score enough points to make this work given what's going on on the other side of the ball. Marshall's defense, granted, has has been very good, allowing less than -0.10 EPA on both early-down passes and early-down runs, but have put up similarly (bad) numbers on the offensive side of the ball. USF's defense has been fine against the pass (-0.15 EPA allowed on early downs, third in the AAC), so back USF as the dog in this spot.   
Counterpoint (Ben Brown): In a matchup of two talented defensive secondaries, the team that finds the most success on early-down pass attempts should emerge victorious in a tightly-contested game. Marshall's Isaiah Green doesn't have the best PFF grades but does boast an above average passer rating when kept clean. His big-time throw percentage of 5.1 shows the ability to generate plays downfield as does his average depth of target as over 10. 0% of his attempts have been 20-plus yards downfield and he has a passer rating of 122.6. With a defense that is just as stifling as USF, if Green loosens up the Bulls defense with some long completions, Marshall could easily cover the three points in the Bad Boys Mower Bowl.
Army (-3.5) versus Houston
Prediction: Army 33-28 (Army covers)
Point (EE): This is a game we likely would have not touched prior to the injury to Houston quarterback D'Eriq King. His replacement, Clayton Tune, was able to muster only a 77.1 passer rating from a clean pocket against a Memphis team that allowed 56 points to a backup quarterback when they played UCF. He struggled when throwing from a pressured pocket (4-of-12), meaning that if Army's solid defense can generate a pass-rush, Houston's offense should be more limited than they have been the rest of the season. On the other side of the ball, Army wins on the ground, and while the Cougars have been solid there on early downs (-0.10 EPA allowed, 38.8% success rate allowed), it was as a member of the AAC, not against teams like the Black Knights. Give me Army (again).
Counterpoint (BB): Houston is one of the toughest teams to project in this bowl championship season with the loss of Cluster 1 quarterback D'Eriq King. The spread offense that the Cougars employ is a quarterback's best friend as quick reads based on multiple-receiver looks is the norm. Since coming to Houston, Major Applewhite has had consistent success coaching the quarterback position. In 2018, his pass-catchers had the lowest average yards after the catch per attempt of any season with Applewhite as a coach. The average depth of throw for the Cougar offense has risen dramatically in 2018 which has more than made up for the loss of yards after the catch. Tune filling in for King has actually thrown the ball down the field more often but with very little success. Expect Houston to try and get Tune comfortable early with some high percentage passes near the line of scrimmage to rely on the Cougar pass-catchers to generate yards after the catch. With Army's pass defense allowing 46.8% of early-down attempts to be successful, it is within the realm of possibilities that Tune plays well enough to cover 3.5 points with the help of Applewhite and Kendal Briles.