The wide receiver position continues to be one of the deepest and most exciting positions to evaluate at the college level, and it's thanks to players like these who put on a show for the fans week after week. Through three weeks of the college football season, these 10 wide receivers have the highest overall PFF grade among all FBS players at the position with 100 or more offensive snaps.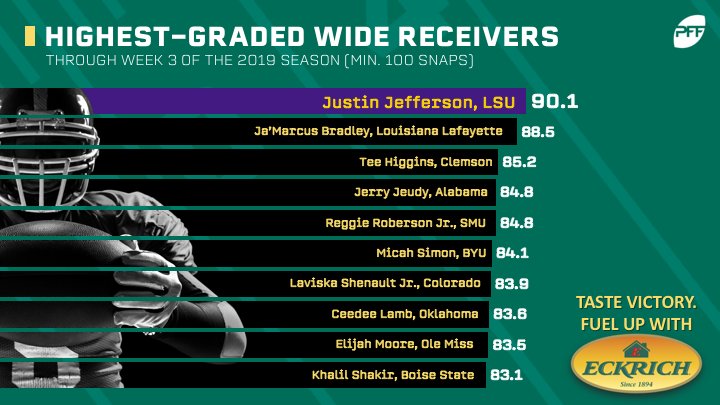 Justin Jefferson, LSU – 90.1 overall grade
After coming in on last week's list as the second-highest graded wide receiver, Jefferson continued his stretch of dominant play with another stellar performance against a vastly overmatched Northwestern State. On 27 routes run, Jefferson was targeted six times and brought in five of those passes, all of them for first downs. On the season, Jefferson has caught 100% of his contested catch opportunities, has forced seven missed tackles after the catch and is averaging well over three receiving yards per route run (3.82). If he keeps stringing together performances like he has so far, Jefferson's draft stock will remain on the rise. 
Ja'Marcus Bradley, Louisiana Lafayette – 88.5 overall grade
In a game that the Ragin' Cajuns won by 71 points, Bradley didn't have to do a whole lot in their Week 3 matchup against Texas Southern – playing just 14 snaps and running only six routes – but he did enough to improve his overall grade to 88.3 and rank to second on this week's list. His two Week 3 receptions, both of which went for first downs, brings his stat line on the season to 14 catches on 20 targets for 233 yards and two touchdowns. He already has five receptions of 15 or more yards, and that number should only continue to rise throughout the season.  
Tee Higgins, Clemson – 85.2 overall grade
Higgins' NFL comparison in the first edition of the 2020 NFL Draft Guide – released before the season – was Kenny Golladay, and with performances like the one he had this past Saturday, it's easy to see why. He hauled in seven catches for 150 receiving yards against Syracuse, showing off his ability to bring in contested catches downfield with his 6-foot-4 frame along with his speed on a 50-plus yard sprint through the Orange defense. For the season, Higgins is averaging 4.36 yards per route run, which is the third-highest mark among wide receivers with 50 or more routes. 
Jerry Jeudy, Alabama – 84.8 overall grade
By his standards, Jeudy's Week 3 performance was pedestrian. He tallied six receptions on eight targets for 68 yards with an overall grade of 64.0. That dropped him down from first on last week's list of the nation's top-graded receivers to fourth in this iteration, but make no mistake about it: Jeudy is still the top wide receiver that college football has to offer. Dating back to last season, he has been the most efficient wide receiver on a per route basis. Jeudy's 3.33 yards per route run average since the start of 2018 is tops among all active college players with 300 or more routes run over that span. Expect his name to be called early come April. 
Reggie Roberson Jr., SMU – 84.8 overall grade
The box score numbers – four receptions for 68 yards and no touchdowns – don't pop out at you on Roberson Jr.'s most recent performance against Texas State, but they don't tell the same story that his 84.3 overall grade does. Roberson had several impressive receptions, most notable of which was a toe-tapping short gain along the sideline for a first down. When you take his whole season into account, Roberson's numbers do jump off the page with 21 receptions for 342 receiving yards, which is a top-10 mark among all FBS wide receivers. As his top-five overall grade would suggest, those aren't empty numbers. 
Micah Simon, BYU – 84.1 overall grade
Simon remains on the list after his heroics in Tennessee two weeks ago following a solid performance in yet another overtime victory for the Cougars, this time against USC. The highlight of the game for Simon came on a reception off of jet motion that he took down the sideline for 30 yards, using his speed to race past multiple defenders. For the season, Simon is averaging over three yards per route run (3.13), has two contested catches and three broken tackles after the catch. 
Laviska Shenault Jr., Colorado – 83.9 overall grade
Laviska Shenault Jr. came into the 2019 season with lofty expectations, coming in at WR3 on the preseason PFF 2020 Big Board. Even though Colorado came away with a loss, Shenault certainly delivered on those expectations against Air Force with eight receptions for 124 yards and a touchdown to pair with a touchdown on the ground. Whether it is as a receiver, rusher or returner, getting the ball into Shenault's hands is never a bad idea because more often than not, he is going to make the most of it. Colorado will continue to feed him throughout the season. Don't be surprised when he continues to call this list home.  
Ceedee Lamb, Oklahoma – 83.6 overall grade
The Sooners' offense has been so dominant to start the season that Lamb hasn't been asked to do a whole lot. He has run just 57 routes and seen 11 targets, but every time the ball gets into his hands, it is must-see television. Lamb has a perfect passer rating when targeted of 158.3 while averaging an absurd 25.4 yards on his nine receptions to this point in the season. When you watch him reverse field to gain the edge on a punt return against Houston or track a contested ball downfield against South Dakota, it becomes clear why many view him as a first-round talent. 
Elijah Moore, Ole Miss – 83.5 overall grade
Another returner on the top-graded wide receiver list, Moore turned in a seven-catch, 88-yard performance in last week's contest against Southeastern Louisiana. Moore's speed and elusiveness make him a handful to deal with inside in the slot, and he continued to make plays over the middle as he has all season. Moore's 3.52 yards per route run when lined up in the slot ranks fourth among all FBS wide receivers with 50 or more slot routes this season. He looks to be among the next group of talented wide receivers to cycle through Ole Miss. 
Khalil Shakir, Boise State – 83.1 overall grade
Speaking of wide receivers that call the slot home, Shakir cracks the top-graded wide receiver list for the first time at 10th overall. It's hard to forget his impressive grab in the corner of the end zone late in their opener against Florida State, but that hasn't proven to be a one-time occurrence. Shakir has made several difficult contested catches down the sideline through his first three games, going three for four on his contested opportunities overall. For the season, he has 17 receptions on 21 targets for 237 yards and 13 first downs.