After grading and analyzing every player on every play of every game during the 2018 college football season, it's time we unveil the 2019 Preseason PFF All-Pac 12 first team, second team and honorable mention for every position on offense and defense as well as for the first time ever, specialists.

The Preseason All-Pac 12 list may differ a bit from any year-end look back at the previous season as we project to the 2019 season ahead of us. Find out which of these athletes made the PFF All-American team as well.
First-Team Offense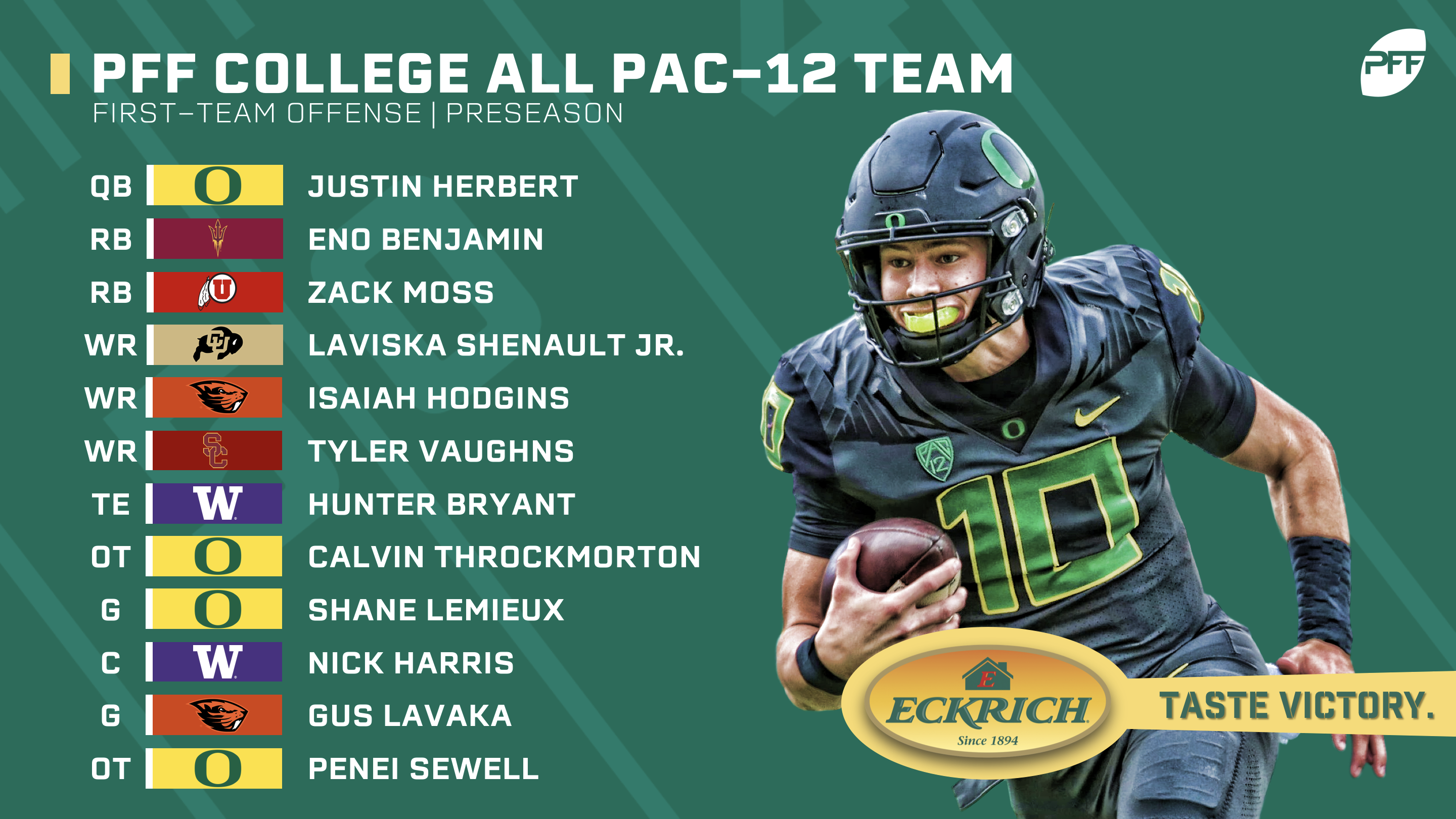 QB
Justin Herbert, Oregon
Second-Team: K.J. Costello, Stanford
Honorable Mention: Khalil Tate, Arizona
RB
Eno Benjamin, Arizona State
No returning running back forced more missed tackles on the ground than Benjamin last year as his 84 paces the nation's running backs.
Second-Team: Joshua Kelley, UCLA
Honorable Mention: J.J. Taylor, Arizona
RB
Zack Moss, Utah
Before an injury, Moss was a tackle-breaking machine, forcing 53 missed tackles on just 179 carries while averaging 3.54 yards after contact per carry.
Second-Team: Jermar Jefferson, Oregon State
Honorable Mention: CJ Verdell, Oregon
WR
Laviska Shenault Jr., Colorado
Shenault averages 7.4 yards after the catch per reception and has churned out a career 3.71 yards per route run as the Colorado offense runs through him.
Second-Team: Amon-Ra St. Brown, USC
Honorable Mention: Michael Pittman, USC
WR
Isaiah Hodgins, Oregon State
Hodgins whipped up an impressive 14.8 yards per reception a season ago and churned out 45 combined first-down and touchdown receptions on his 59 catches.
Second-Team: Trevon Bradford, Oregon State
Honorable Mention: K.D. Nixon, Colorado
WR
Tyler Vaughns, USC
Vaughns broke nine tackles after the catch last season and saw a healthy 101.5 passer rating when targeted, much better than his quarterback's overall passer rating.
Second-Team: Aaron Fuller, Washington
Honorable Mention: Dezmon Patmon, Washington State
TE
Hunter Bryant, Washington
Missing the majority of the season rehabbing an injury, Bryant exploded during the final half of last year and his two-year grades are the tops of the position.
Second-Team: Colby Parkinson, Stanford
Honorable Mention: Cole Fotheringham, Utah
OT
Calvin Throckmorton, Oregon
Throckmorton holds the nation's top pass-blocking grade since 2017 and has allowed just three sacks + hits on 862 pass-blocking reps in that two-year span.
Second-Team: Abraham Lucas, Washington State
Honorable Mention: Austin Jackson, USC
OG
Shane Lemieux, Oregon
The highest-graded returning guard, Lemieux is strong in both pass protection as he is in run-blocking while the latter leads all guards. He allowed just 11 pressures on nearly 500 pass-blocking snaps in 2018.
Second-Team: Dallas Warmack, Oregon
Honorable Mention: Liam Ryan, Washington State
C
Nick Harris, Washington
Harris holds top-10 marks in pass protection and in run-blocking as he's the Power-5's fourth highest-graded center returning.
Second-Team: Jake Hanson, Oregon
Honorable Mention: Frederick Mauigoa, Washington State
OG
Gus Lavaka, Oregon State
Lavaka holds the Power-5's 10th-highest grade in the run grade among active guards and has allowed just 10 sacks+hits on 1,074 career pass-blocking snaps.
Second-Team: Cody Creason, Arizona
Honorable Mention: Valentino Daltosa, California
OT
Penei Sewell, Oregon
Sewell's 84.0 overall grade for the season is the third-highest among active tackles and he allowed just eight total pressures on 215 snaps in pass protection.
Second-Team: Trey Adams, Washington
Honorable Mention: Jared Hilbers, Washington
First-Team Defense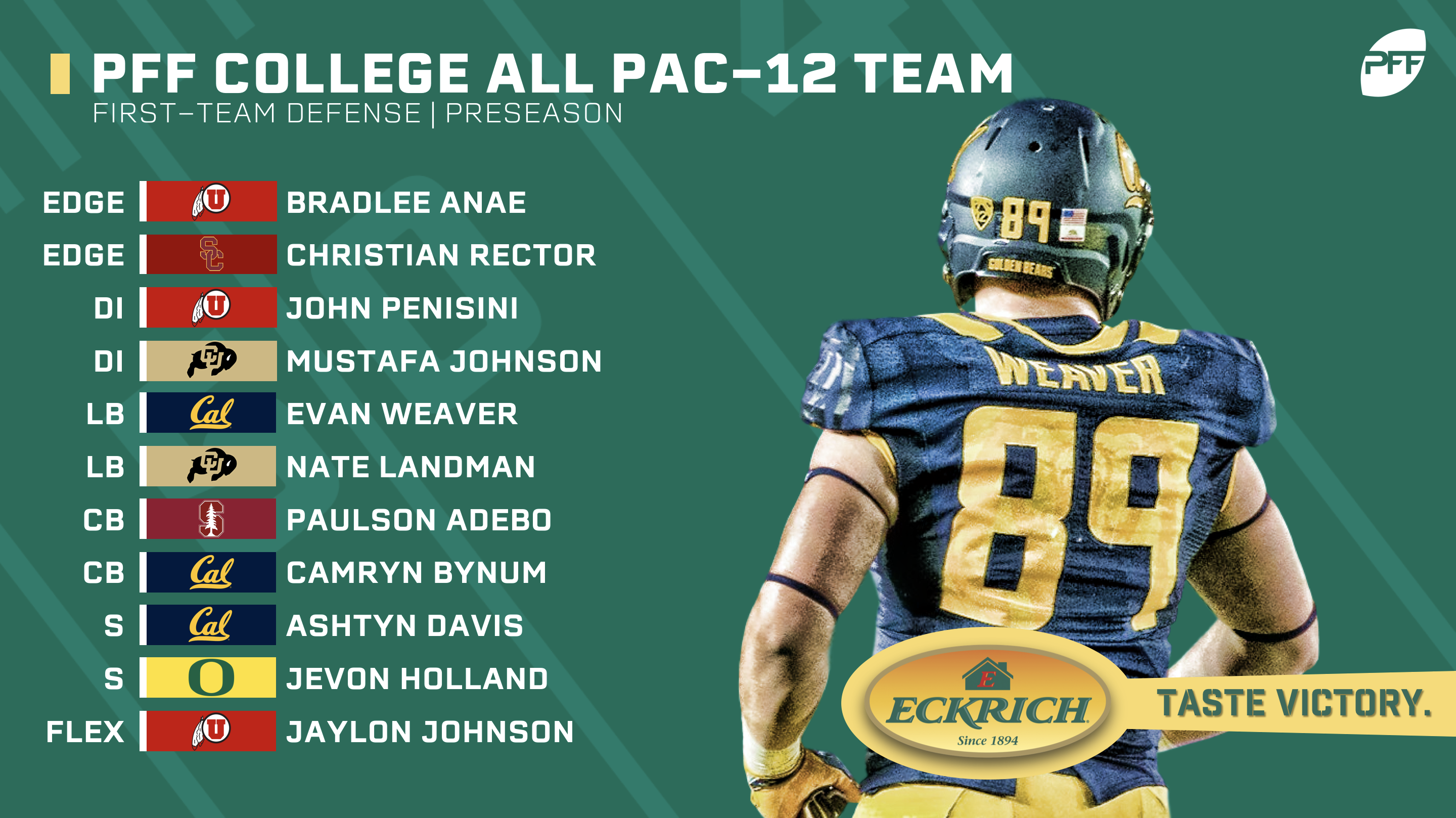 Edge
Bradlee Anae, Utah
Ranking fourth among the Power-5 edge defenders, Anae brought in 55 total QB pressures last year including 11 sacks and eight more QB hits.
Second-Team: Willie Taylor III, Washington State
Honorable Mention: Ryan Bowman, Washington
Edge
Christian Rector, USC
Rector's 39 total QB pressures ranked 13th among returning Power-5 edge defenders while his run-defense grade of 78.9 is a top-25 mark in the same group.
Second-Team: La'Mar Winston Jr., Oregon
Honorable Mention: Benning Potao'e, Washington
DI
John Penisini, Utah
Penisini had a dominant year a season ago for the Utes, finishing with 34 total QB pressures and 24 defensive stops. He has top-20 grades among Power-5 interior defenders in both run defense and pass-rush.
Second-Team: Levi Onwuzurike, Washington
Honorable Mention: Jay Tufele, USC
DI
Mustafa Johnson, Colorado
No returning interior defender had more QB pressures than Johnson did a season ago, racking up 50 total with 10 sacks, eight hits and 32 more hurries.
Second-Team: Jordon Scott, Oregon
Honorable Mention: Luc Bequette, California
LB
Evan Weaver, California
In coverage, Weaver's a top-four graded linebacker. On the pass-rush, he's in the top 25 among all linebackers. When stopping the run, he's a top-five graded guy. Overall, he currently possesses the highest overall grade among linebackers from last season.
Second-Team: Troy Dye, Oregon
Honorable Mention: Colin Schooler, Arizona
LB
Nate Landman, Colorado
Landman's 55 defensive stops showcase just how dominant he was all over the field for Colorado as they're the fifth-most among Power-5 linebackers.
Second-Team: Jahad Woods, Washington State
Honorable Mention: Davion Taylor, Colorado
CB
Paulson Adebo, Stanford
On 78 targeted passes a season ago, Adebo recorded four interceptions, 19 pass breakups and allowed no reception longer than 28 yards.
Second-Team: Myles Bryant, Washington
Honorable Mention: Traveon Beck, California
CB
Camryn Bynum, California
With the Power-5's 10th-highest run-defense grade to his name, Bynum was no slouch in coverage either. He recorded nine plays on the ball and allowed a 76.1 passer rating on throws into his coverage.
Second-Team: Darnay Holmes, UCLA
Honorable Mention: Deommodore Lenoir, Oregon
S
Ashtyn Davis, California
With 412 snaps in coverage played a year ago, Davis limited quarterbacks to just a 59.1% completion percentage while making nine total plays on the ball (4 INT, 5 PBU) on just 22 targeted passes.
Second-Team: Jaylinn Hawkins, California
Honorable Mention: Nick Pickett, Oregon
S
Jevon Holland, Oregon
Holland holds the Power-5's third-highest coverage grade, breaking up six passes and intercepting another five in a dynamic true freshman season.
Second-Team: Scottie Young Jr., Arizona
Honorable Mention: Malik Antoine, Stanford
Flex
Jaylon Johnson, Utah
Terrific in coverage, Johnson allowed a long reception of 42 yards and made four interceptions, five pass breakups and a 57.6 passer rating into his primary coverage.
Second-Team: Julian Blackmon, Utah
Honorable Mention: Thomas Graham Jr., Oregon
First-Team Specialists
K
Jet Toner, Stanford
Toner missed just one kick a season ago and made all 34 extra point attempts. He was perfect from inside 30 yards and even made his three attempts of at least 40 yards.
P
Oscar Draguicevich III, Washington State
Draguicevich's 41.0 net punt average is the sixth-best among returning Power-5 punters and he knocked nearly 50.0% of his punts inside the 20-yardline a year ago.