As evaluations of position groups dot nearly every publication, there is one group that is being underrated, criminally. The Oregon State Beavers return potentially one of the nation's most talented and most under-appreciated group of pass-catchers in 2019.
A group headlined by Isaiah Hodgins and Trevon Bradford, there is a wealth of skilled players behind the star-studded duo, a proven two-sport threat at tight end and the best situation a veteran QB has ever entered a season with.
This story is brought to you by Eckrich, the Official Smoked Sausage of the College Football Playoff.
Hodgins, the big-framed receiver at 6-foot-4, 208 pounds, headlines the group as he finished with a team-high 84.1 overall grade last season. In fact, his 84.6 receiving grade is the second-highest in the Pac-12 behind All-World Laviska Shenault. Hodgins hauled in 59 receptions for 876 yards and 221 coming after the catch. He saw a 130.0 passer rating when targeted and was a sure-handed target for Jake Luton, dropping just two of the 61 catchable targets thrown his way. He and Bradford became quite the 1-2 punch in terms of deep threats last season as the year went on.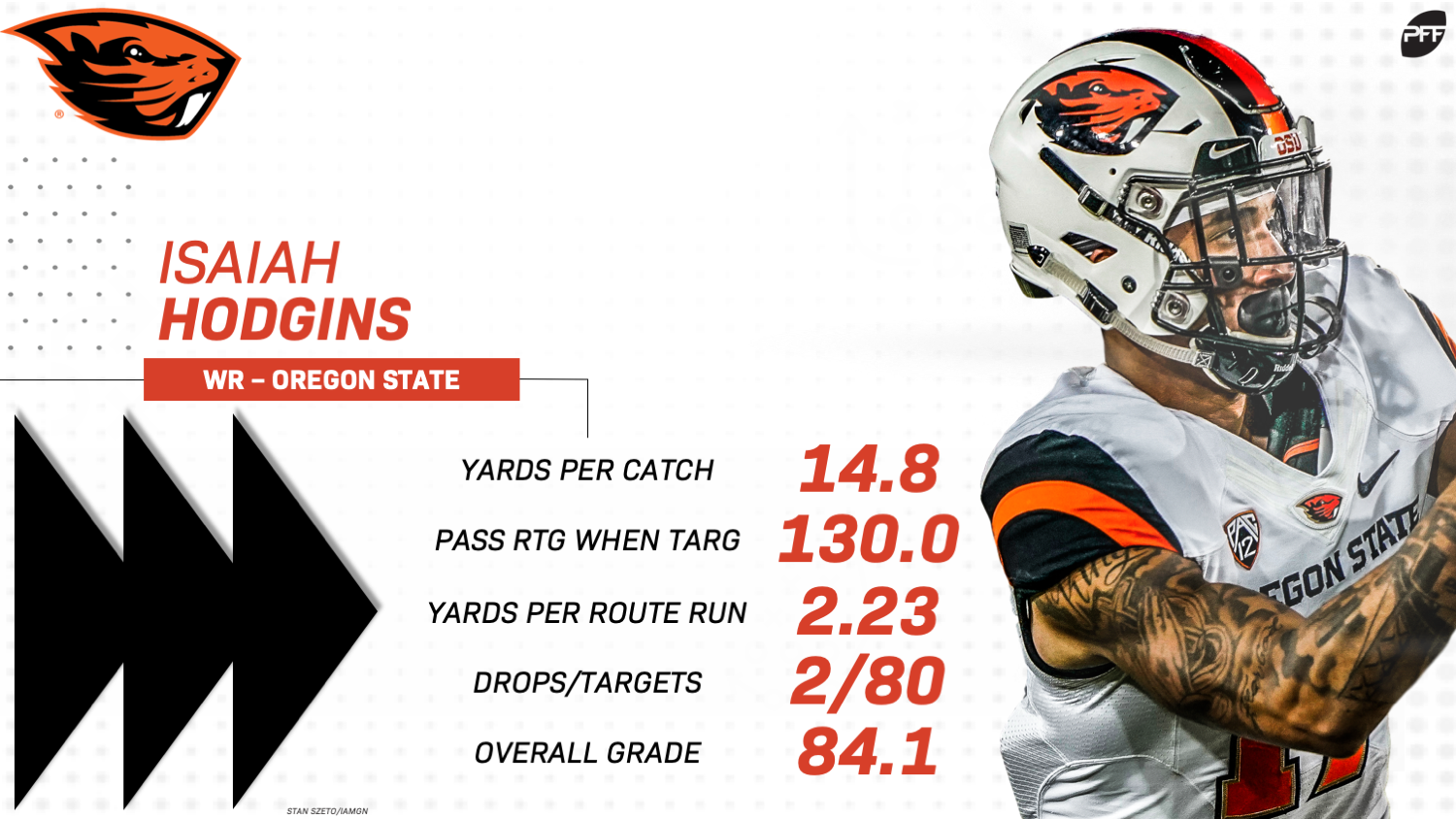 Hodgins hauled in eight deep receptions (targets at least 20 yards downfield), on just 12 targets including four receptions that came on contested situations. Bradford also hauled in eight deep receptions and two touchdowns on such throws as the duo rank third and fourth, respectively, among returning Pac-12 receivers in deep receiving grade.
Bradford also excelled all over the field last year and enters the year as the third highest-graded receiver in the conference, just behind Hodgins with a 79.5 receiving grade. He was also a safe target with just one drop to his name last year against 56 receptions and an impressive 108.7 passer rating when targeted.
Hodgins and Bradford should be known commodities at this point, so how could a group head into a year underrated with the second- and third-graded receivers? Simple. They just don't receive the national publicity that their respective grades deserve. That and the rest of the country doesn't know who they have behind their star-studded duo.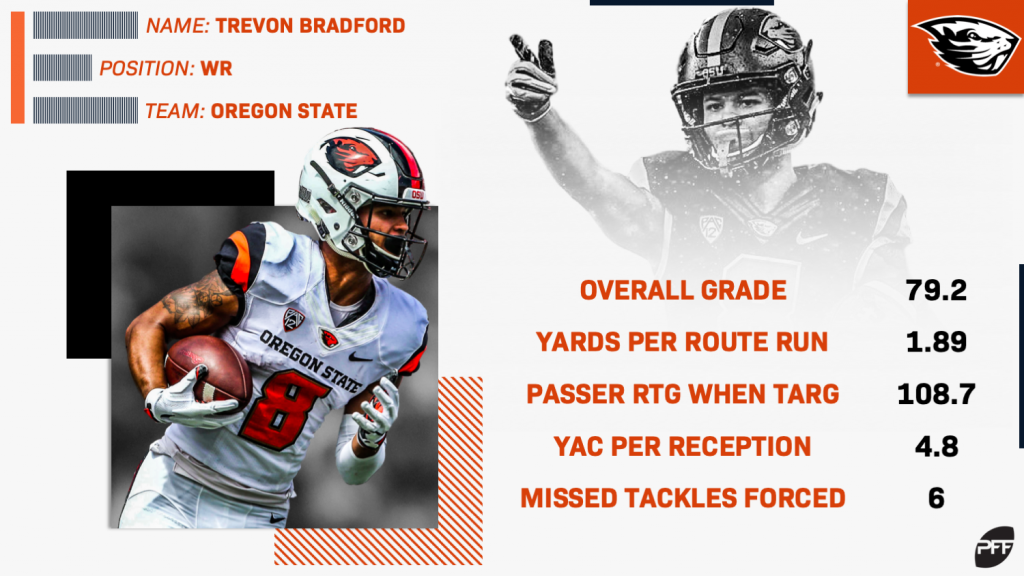 The cast of characters behind Hodgins and Bradford are plentiful and begin with Nebraska transfer, Tyjon Lindsey. A former 4-star recruit, Lindsey hails from the highly acclaimed Bishop Gorman High School in Nevada and was the 50th-ranked prospect in the country in 2017 by our friends at 24/7. At 5-foot-9, 192 pounds, Lindsey could very well fit perfectly into a slot role for the Beavers in 2019. On limited snaps with the Cornhuskers, Lindsey showed his after-the-catch ability, forcing four missed tackles on just 14 career receptions.
After Lindsey, it's a who's who of similar-statured receivers with Champ Flemings and Jesiah Irish also set to see targets. Flemings is a stout kick returner and also an apt receiver with the ball in his hands. He averaged 17.0 yards per reception last year while Irish is fresh off a redshirt season. Despite the redshirt, Irish still played in four games and hauled in two passes with a missed tackle forced after the catch. What makes Irish special is that he was a first-team player at receiver, returner and athlete as he played six different positions during his high school career in Washington.
Rounding out the top of the receiver depth chart before fall camp begins, Kolby Taylor returns, bringing with him his 4-star pedigree and former No. 1 WR ranking in the state of Arizona. He hauled in just seven passes but moved the chains for a first down on five of those receptions and could become a viable fourth receiver threat. Aaron Short has bounced around during his college career but finally has found a home in Corvallis. Now in his third season with the Beavers, has all the tools to be a deep threat if he can stay on the field. After all, he was a sprinter in high school where he was all-league in the 100-, 200- and 400-meter sprints.
So how about that proven two-sport athlete at tight end? Noah Togiai returns for his fifth year at Oregon State where the hopes are that he can return 2017 form that saw him haul in career-highs in targets, receptions, yards and first downs. If he can limit the drops and work on his contested-catch abilities, his ability to post up defenders from his days as a 3-star basketball player may come in handy. Togiai could turn into Luton's red-zone threat opposite Hodgins now with multiple offseasons together under the belt.
Isaiah Smalls enters the fold as the second option at tight end, having recorded 80 of his 118 receiving yards after the catch.
The quarterback
Every group of pass-catchers needs a quarterback capable of getting the ball their way, and the Beavers enter the season with Jake Luton at the helm, fresh off receiving a sixth year of eligibility in January. Luton enters the 2019 season in perhaps the best situation of his career, expected to play in the same offensive system in consecutive years for the first time in his college career. After bouncing from Idaho in 2014, he set Ventura College records in yards and touchdowns and now has three years of productivity with Oregon State. A full year of healthy football from the 6-foot-7 quarterback and these pass-catchers listed above could feast.
And that's something that we at PFF will certainly be looking forward to when they open the season against Oklahoma State on August 30. Perhaps they won't be as underrated after that Week 1 matchup.