Widely recognized as the most important position on the football field, quarterbacks and quarterback play seemingly headline most games across the country week in and week out. This weekend, fans far and wide will be treated to several marquee matchups from quarterbacks who are either having tremendous starts to the 2018 season or who have shown the penance to perform well under the national spotlight.
This Week 6 preview is brought to you by Eckrich, the Official Smoked Sausage of the College Football Playoff.
The Week 6 of action gets started on Thursday, so let us break down which quarterback duels should take priority on your television sets this weekend.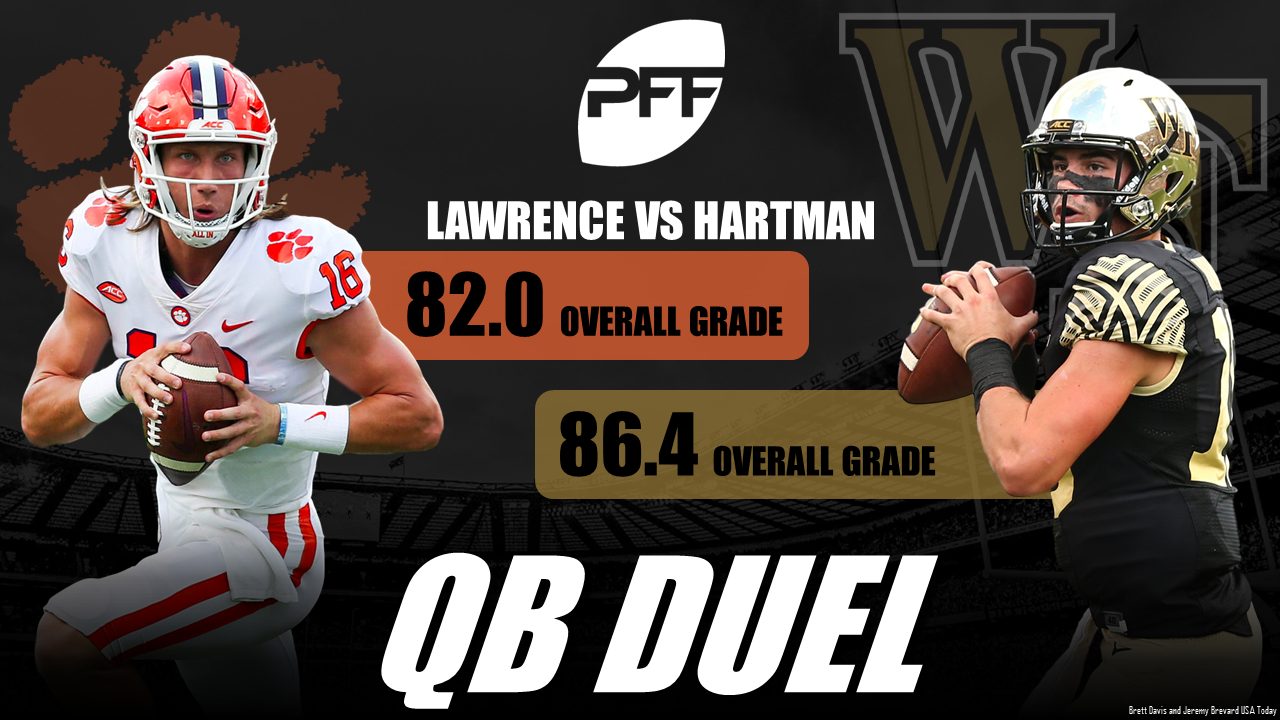 Clemson vs Wake Forest
Trevor Lawrence vs Sam Hartman
Would you have picked this game to have a big-time quarterback matchup at the start of the season? Be honest, probably not. Last year, we didn't get to see quite the QB matchup we all wanted to as John Wolford missed the 28-14 Clemson victory due to an unspecified injury. This game also looked to be in doubt of having the matchup we all wanted when Lawrence exited last week's contest against Syracuse with an apparent head injury. With his return likely as announced by head coach Dabo Swinney, Lawrence vs Hartman is the battle we'll receive and may see for quite some time.
The dueling true freshman quarterbacks have started their respective careers a bit differently as Hartman was named the starter before the season kicked off and the Kelly Bryant / Trevor Lawrence saga came to an end just days before the Week 5 game against Syracuse. Despite splitting time over the first four weeks with Bryant, Lawrence outplayed his counterpart by a significant margin and is actually the fourth-highest graded quarterback in the conference. Hartman ranks third among ACC QBs as he shook off a two-game skid with a strong outing, or perhaps a tune-up, against Rice.
Lawrence has fielded a 75.0% adjusted completion percentage, fourth in the conference, while Hartman is currently third with 1,015 yards from a clean pocket, where he has shown great success. If the Demon Deacons can keep their freshman signal-caller clean and perhaps force a mistake or two from Lawrence, this game may come down to a few throws and as it stands now, Hartman has the advantage.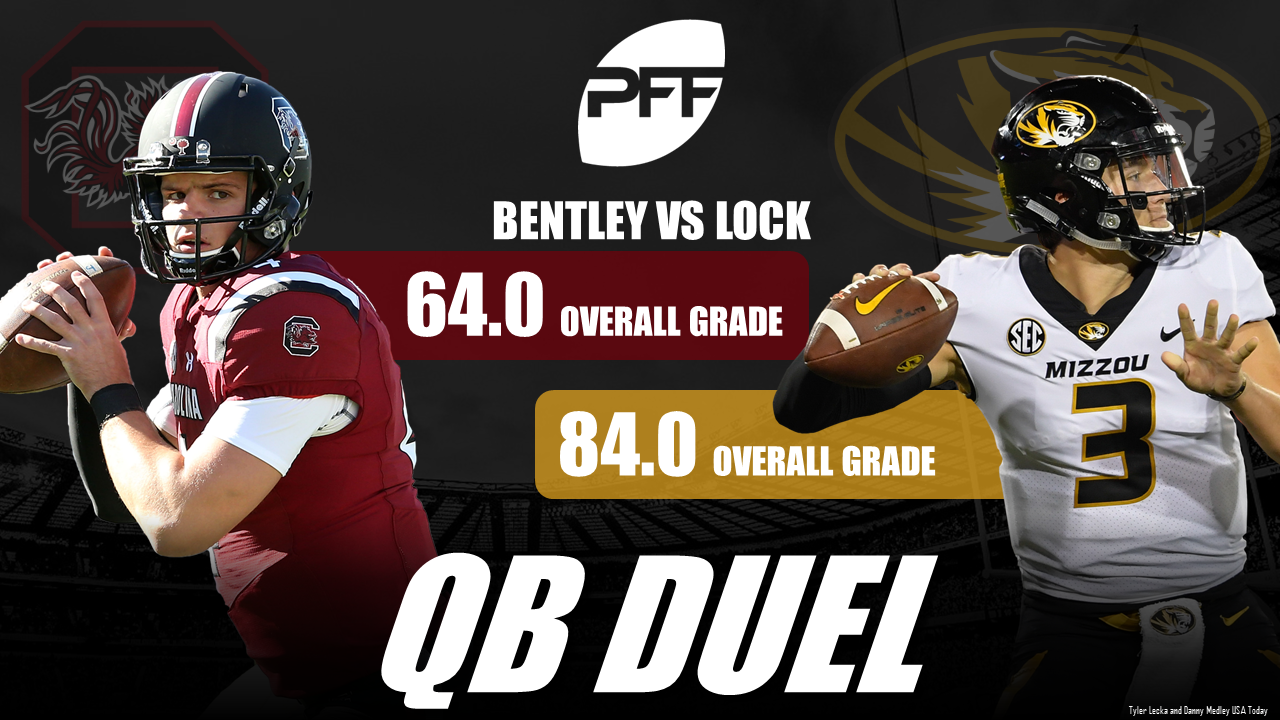 South Carolina vs Missouri
Jake Bentley vs Drew Lock
Don't let the grade this year fool you, Bentley has shown his ability in big games and big moments. This game against Missouri is seemingly a must-win for South Carolina as they currently sit at 2-2 and are fresh off a lackluster performance against a surprise Kentucky team. Bentley is in the middle of the worst season of his three-year career yet, he's not getting nearly the amount of help he's used to seeing. He already has nine dropped passes this season compared to the 11 he had in 2017 and in 2016 for an entire season's worth of work.
Lock, on the other hand, has also had some bad luck from his supporting cast with eight dropped passes of his own but also had to deal with the limited action of star wide receiver Emanuel Hall to injuries. Lock can vault himself right back into the Heisman conversation with a monster performance against South Carolina while the Gamecocks can right the ship with a win. Either way, one of these quarterbacks will need to step up to get the W.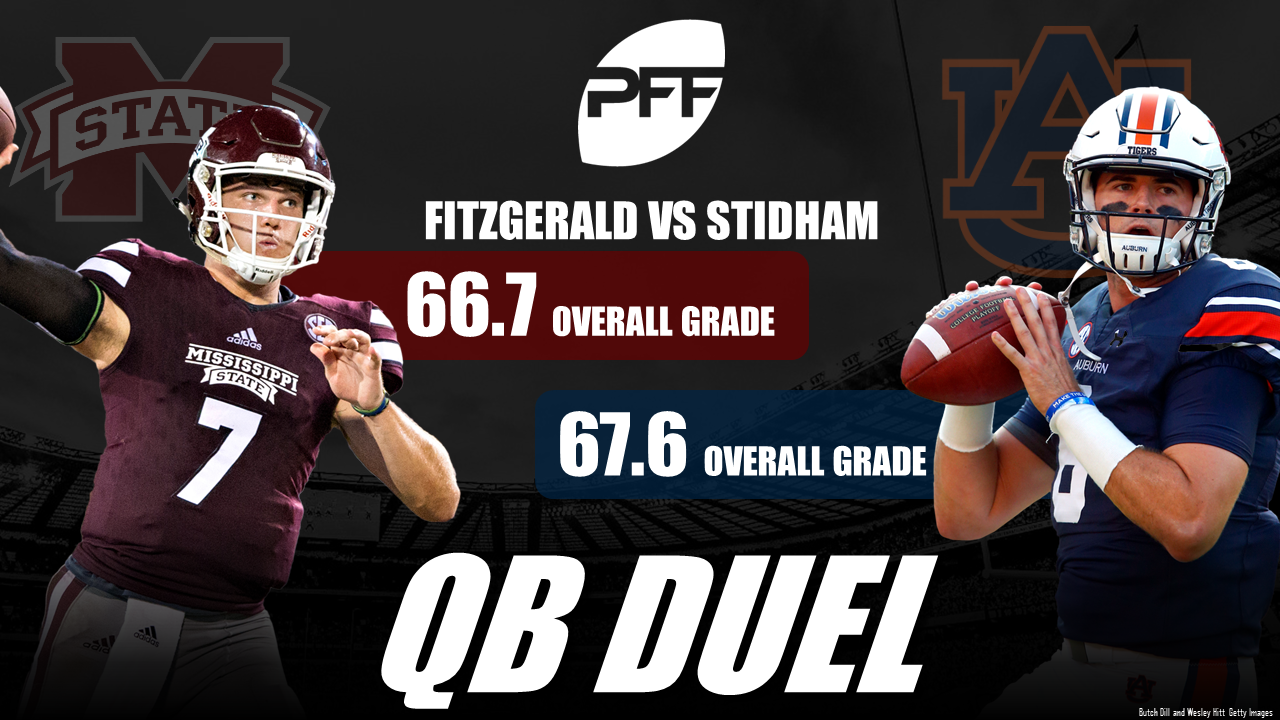 Mississippi State vs Auburn
Nick Fitzgerald vs Jarrett Stidham
Speaking of crossroads, Fitzgerald enters the Auburn game as the SEC's 10th-graded quarterback just a mere 0.9 points below Stidham, who sits at No. 9. Fitzgerald has been pressured on 40.3% of his dropbacks this season, the most in the SEC and that pressure has really affected his game. He currently has completed just 10-of-35 pressured attempts for 126 yards, one touchdown and two interceptions. Stidham, on the other hand, has the conference's third-highest adjusted completion percentage, throwing a catchable pass on 75.8% of his attempts.
With a lot riding on this one for both teams, one of these quarterbacks is bound to not only produce enough to win the game, but the hopes are also that they'll each start to hit their stride as we reach the mid-way point of the season.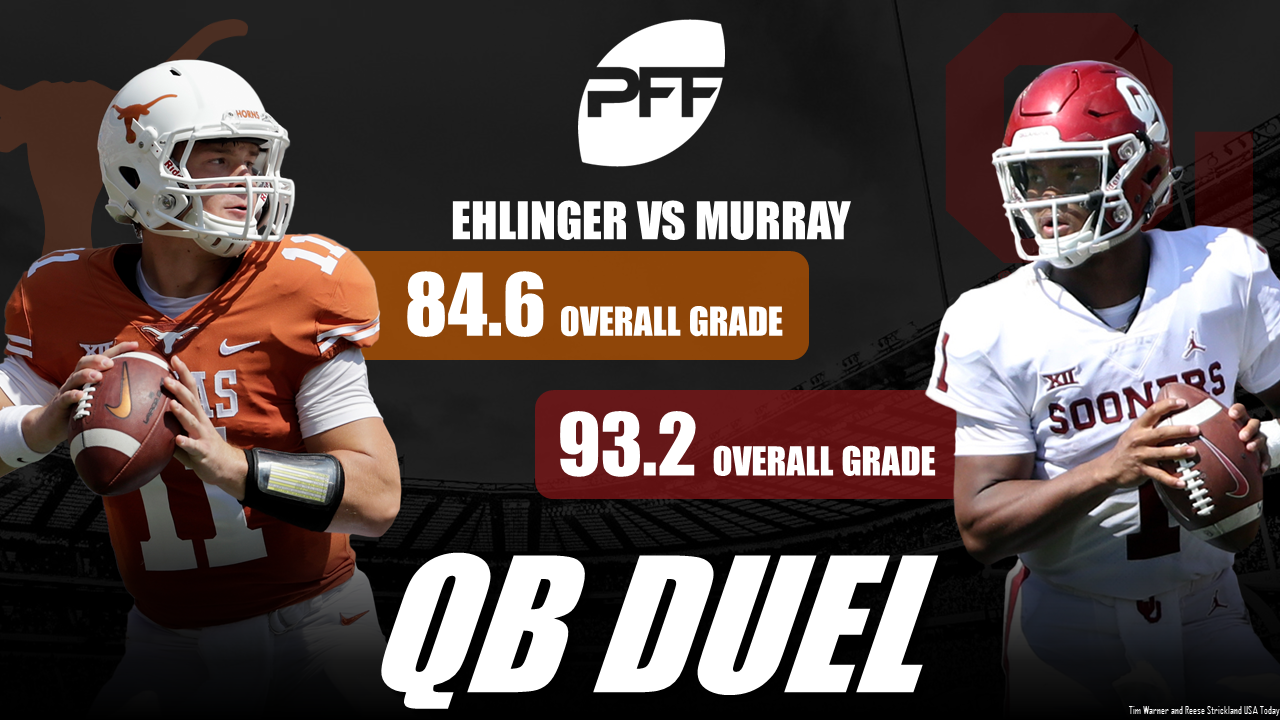 Texas vs Oklahoma
Sam Ehlinger vs Kyler Murray
There was no way we could go without mentioning this one as Murray is the nation's third-highest graded quarterback and Ehlinger's 2018 season to date is the highest-graded Texas QB that we've ever graded. Collectively, these two have been kept clean from pressure on 79.1% and 67.7% of their respective dropbacks and each had their moments when kept clean. They do it in different ways, but they each get the job done as Murray holds the Big 12 conference's second-highest passer rating when free of pressure and Ehlinger holds the third.
Murray has completed 69 attempts from a clean pocket for 1,305 yards and 17 touchdowns, averaging 18.9 yards per completion. Ehlinger has completed 120 attempts from a clean pocket for just 894 yards, averaging 7.5 yards per completion. Ehlinger has not thrown an interception when kept clean, something he did three times a season ago.
While we'd like to think this one will be a shootout like the days of old, this has all the makings of the big-play Oklahoma offense hitting their moments while Ehlinger and the Texas offense will attempt to keep them off the field as much as possible. One side will wear down the other and we're in for a real treat with both quarterbacks playing at a high level entering this one.
Arizona State vs Colorado
Manny Wilkins vs Steven Montez
Entering the season with real NFL hopes from both sides, Wilkins and Montez have each had their moments so far in 2018 but have yet to have a true standout performance. Montez is currently enjoying Laviska Shenault's breakout year before defenses can figure out how to stop him while Wilkins and the Sun Devils offense currently ranks first in run grade on the backs of Eno Benjamin's breakout in his own right.
Wilkins stands as the fourth-highest graded quarterback while Montez is right behind him in fifth. Statistically speaking, each of these defenses rank in the bottom half of the conference in pass coverage grade, so look for one of these two (or both) to have a big game in an important matchup for the race to the Pac-12 South crown.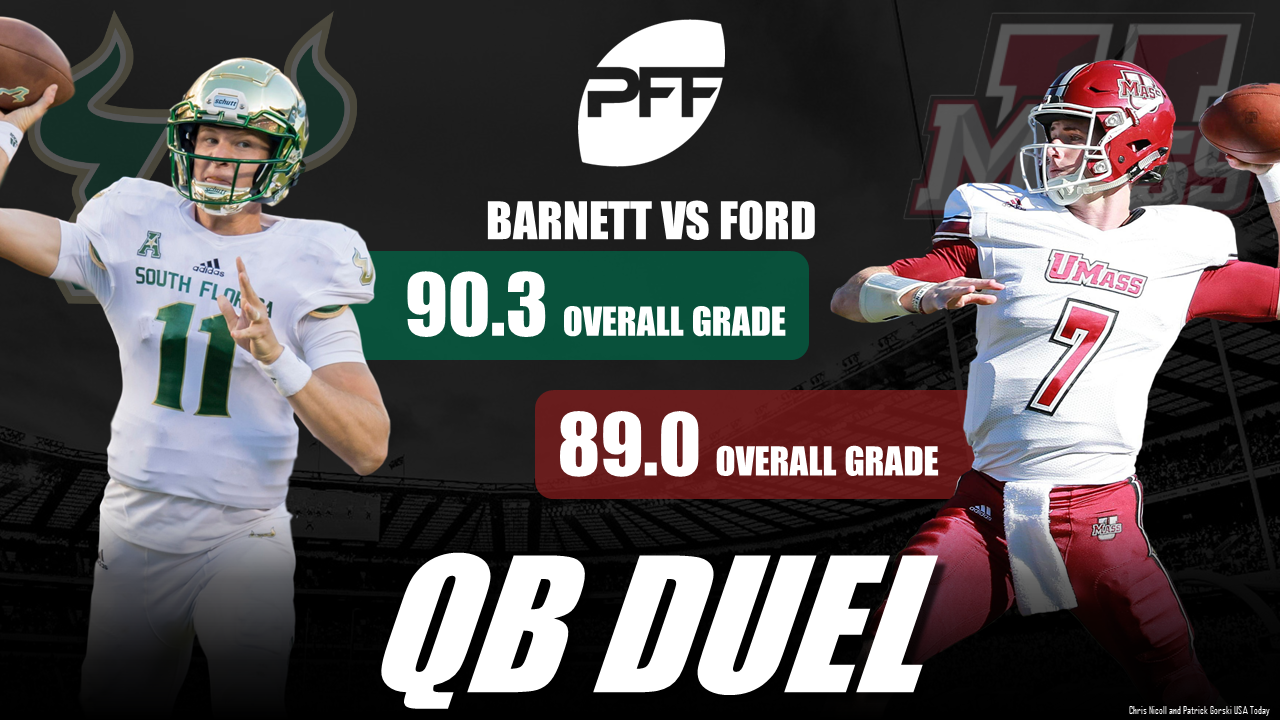 USF vs UMass
Blake Barnett vs Andrew Ford
You think we'd come this far and only talk Power-5 quarterback matchups? Guess again. The Group of 5 quarterback duels are headlined easily by this contest, pitting together the former heavily-recruited Barnett against the lesser-known Ford. Barnett has finally found what made him one of the most recruited quarterbacks in recent memory, albeit on his third team. He is currently the second-highest graded Group of 5 quarterbacks at 90.3 overall while Ford himself ranks fifth among that group, if you factor in independent schools.
Barnett gets it done with both his arm and his legs as he's thrown for over 1,100 yards and run for 78 yards on 20 designed carries. He has an additional 83 yards on 13 scrambles and has accounted for four touchdowns and four first downs on rushes. Ford completes passes at a high rate as he fields the sixth-highest adjusted completion percentage of 72 quarterbacks in the Group of 5 or independent schools, at 78..0%.
Ford enters the game hot on the heels of one of the top performances from a quarterback last week as riding that momentum will be key to keeping pace with the Bulls.