After Mecole Hardman outran seemingly every South Carolina Gamecock defender and Georgia dominated both lines of scrimmage last weekend, the Bulldogs return home to face Conference USA's Middle Tennessee State Blue Raiders as the last game before seven straight SEC games. Outside of Hardman establishing himself as one of the top playmakers in college football (perfect 158.3 passer rating when targeted and averaging 16.5 yards after the catch per reception) and Jake Fromm being his normal calm and accurate self (84.8 percent adjusted completion percentage, No. 1 in FBS with minimum of 39 dropbacks), what has stood out for PFF's No. 3 ranked team through two weeks?
PFF's feature on Georgia is brought to you by Eckrich, the Official Smoked Sausage of the Georgia Bulldogs.
Let's examine further:
Dominating the Lines of Scrimmage
Even though they lost a first-round pick along the offensive line in left tackle Isaiah Wynn, the experience and, more importantly, depth of talent appeared to be a strength heading into 2018.  That has shown itself to be true through two games. Georgia's offensive line has combined to allow only five total quarterback pressures for a pass-blocking efficiency of 95.5, a tie for 13th best in the FBS. Last week alone, they only allowed two combined pressures against South Carolina.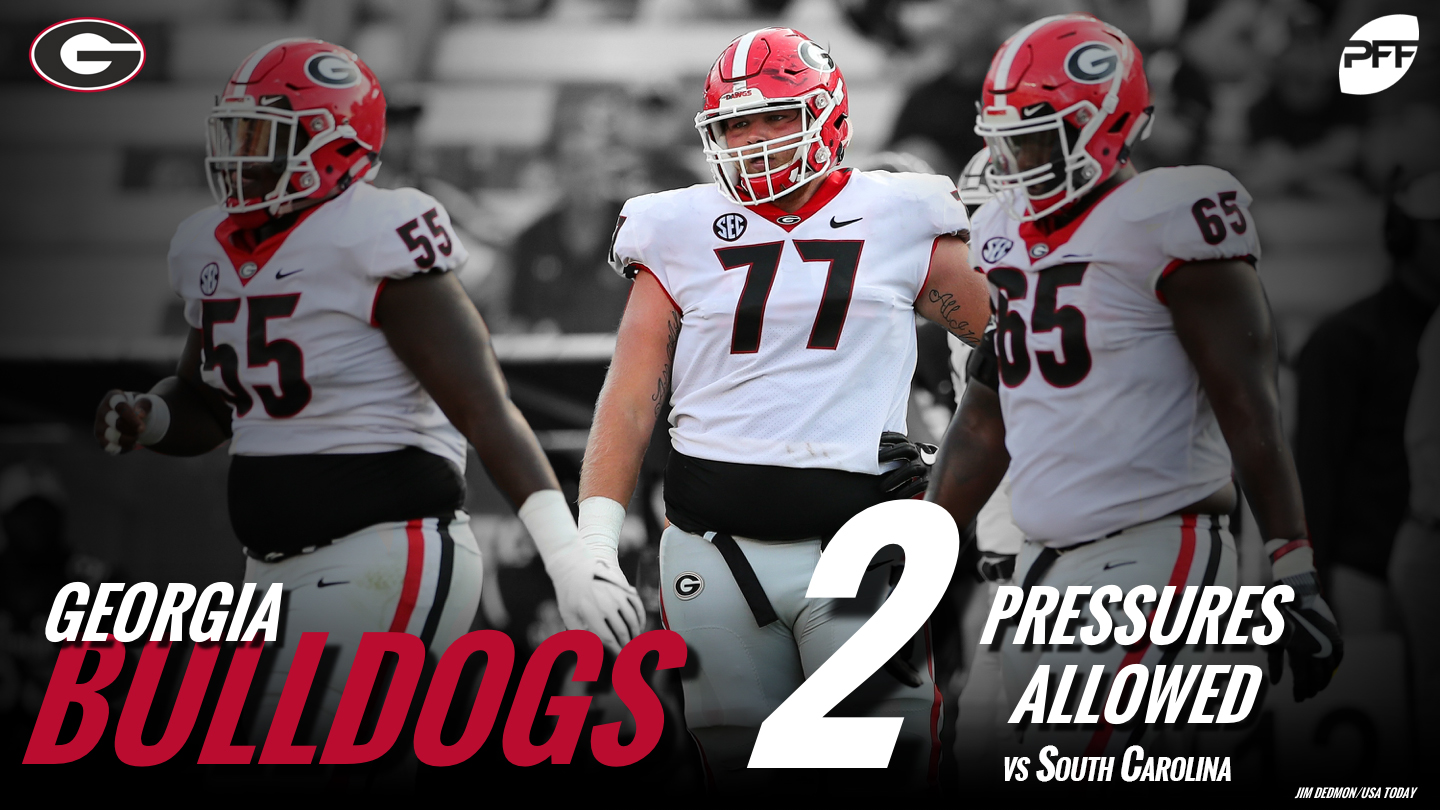 Also, as an overall group, their run-block grade of 82.9 is sixth in the FBS. Georgia's backs have not had to create much on their own, as only 39 percent of Georgia's rushing yardage to this point is after contact. Thus, 61 percent of the Bulldogs' rushing yardage production has come before even being touched. Contrast that to the other teams in PFF's current top four whose backs have to help themselves more often:
No. 1 Alabama: 62.6% of rushing yards after contact
No. 2 Wisconsin: 60% of rushing yards after contact
No. 4 Oklahoma: 53% of rushing yards after contact
Sophomore left tackle Andrew Thomas is currently the third-highest graded tackle in the FBS (92.0) and looks like a prototypical NFL-level left tackle. Georgia's line depth was on display this past weekend as Thomas exited with an ankle injury in the third quarter and was replaced by five-star true freshman Cade Mays, who graded out well (79.3) and did not allow a quarterback pressure in his 40 total snaps.
Defensively, our overall ninth-highest graded defense only gave up an average of 2.95 yards per rushing attempt and 5.88 yards per passing attempt against South Carolina. Georgia has used double-digit players along the defensive line in each of the first two games, keeping players fresh and leading a run defense graded 13th overall in the FBS. While UGA has not put consistent pressure on the quarterback yet (only 11 total QB pressures in two games), they are tackling (fourth-highest grade in FBS and only nine missed tackles) and covering (11th-highest grade in FBS) at elite levels.
Coverage
Speaking of coverage, this was one of Georgia's questions coming into 2018. While Deandre Baker returned as our No. 1 ranked cornerback in the nation, it was the youthful replacements for three lost seniors that led to those questions. Baker (74.6) was his normal ball-hawking self against the Gamecocks, with an interception, two pass breakups and a 39.8 passer rating allowed into his coverage, but the entire secondary has thus far stepped up these first two weeks.  As we found out in our PFF ELO rankings this week, they have only allowed a successful pass on 28.6 percent of attempts.
The other holdover, safety J.R. Reed (83.2), is currently the defense's highest-graded player and sixth-highest graded safety in the nation. Reed's new partner on the back end, sophomore Richard LeCounte (81.0), is the second-highest graded Georgia defender and 10th-ranked safety in the FBS, making the Bulldogs the only team with two in the top 10.
Does @FootballUGA #Dawgs have the best safety duo in the nation?

They are the only FBS team with two of the top 10 graded safeties.

– J.R. Reed (83.2) – 6th
– Richard Lecounte (81.0) – 10th@PFF_College

— Brent Rollins (@brollinsphd) September 12, 2018
Both are excellent tacklers and have combined to only allow 33 yards in the passing game. Five-star true freshman corner Tyson Campbell (63.0) struggled against South Carolina, allowing six receptions on eight targets for 105 yards and two touchdowns, but it's clear he has the necessary physical tools and should continue to develop throughout the season.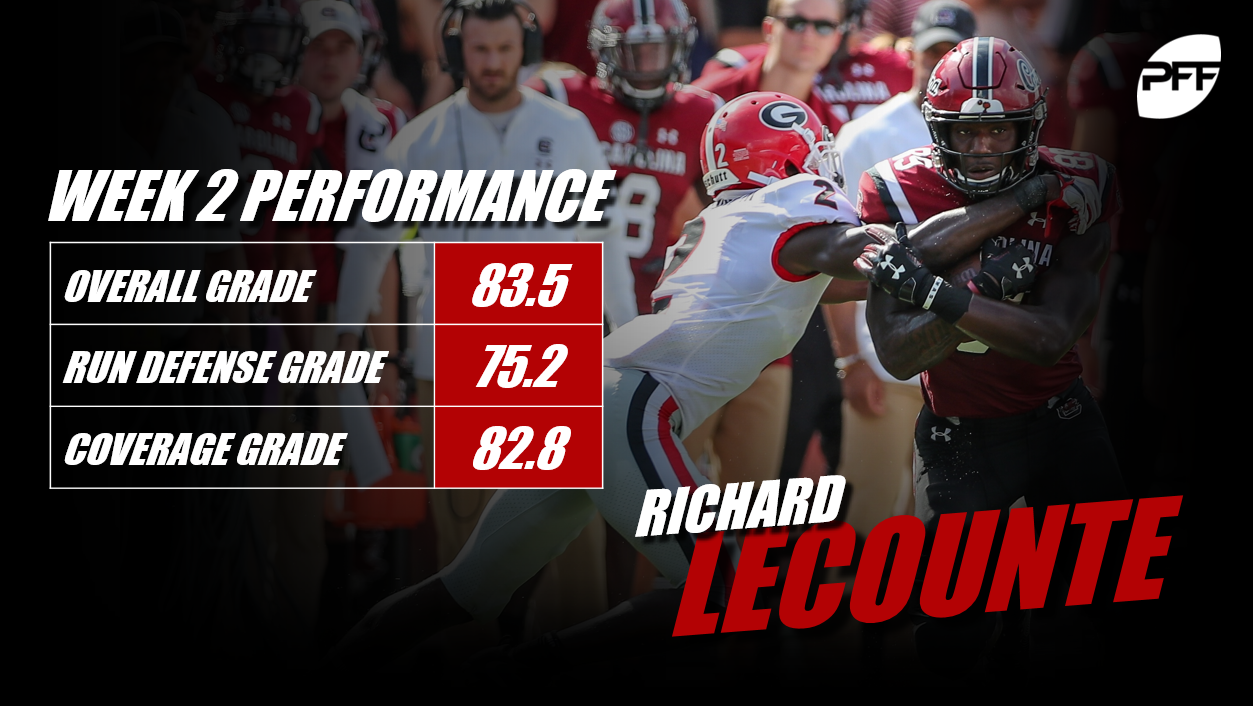 Moving Forward
Getting pressure on the quarterback and helping those coverage players will need to become a more prevalent piece of Georgia's defense given the upcoming schedule and season's ultimate goal to return where they finished last season. This week it's Middle Tennessee's Brent Stockstill who gets his crack at the UGA secondary. This season, and in his career, Stockstill has been highly graded when not pressured:
2018: 87.5 grade, 84.5% adjusted completion, 132.7 passer rating
2017: 89.1 grade, 73.7% adjusted completion, 109.8 passer rating
2016: 92.4 grade, 77.2% adjusted completion, 111.3 passer rating
2015: 88.9 grade, 76.8% adjusted completion, 106.4 passer rating
Thus, those coverage skills will be tested if UGA is unable to pressure Stockstill and fellow quarterbacks in the weeks ahead. Including this week, three of the next four games are against three of the most experienced quarterbacks in college football in Stockstill, Missouri's Drew Lock and Vanderbilt's Kyle Shurmur, all of whom have been highly graded performers when not pressured.