It's all about the quarterback and the passing game, right? While the answer to that is yes, sometimes in football – like we saw in this past weekend's Ohio State-Penn State game – more often than not, winning or losing comes down to the basic fundamentals taught in the very beginning phases of practicing and playing this great game at every level: blocking and tackling.
At PFF, with our grading of every player on every play, we can also look at how groups (e.g., offensive lines) and teams perform on these specific metrics. This week, we examine those who are the most fundamentally-sound teams from a blocking (both run and pass) and tackling perspective through five weeks of football.
Further, while some teams excel in one phase, such as pass-blocking, the teams below, most notably our No. 1 and No. 2 ranked Alabama and Georgia teams, excel in all three areas – run- and pass-blocking and overall tackling. Not shockingly, these teams are currently a combined 14-0.
The list of most fundamentally-sound teams is brought to you by Eckrich, the Official Smoked Sausage of the College Football Playoff.
Run Block – 86.3 (No. 1)
Pass Block – 91.1 (T–No. 4)
Tackling – 92.9 (No. 1)
While No. 2 in our overall rankings, the Bulldogs are blocking and tackling better than anyone in college football up to this point. Even with an injury to initial starting RG Ben Cleveland (83.0), the Bulldogs are getting above-average to elite play across all five offensive line positions (lowest-graded starter at 74.5 grade). The group is led by left tackle Andrew Thomas, who has only given up four total QB pressures and has the highest overall (92.9) and run-block grade (92.0) among all FBS offensive lineman with at least 150 snaps. As a group, the Bulldogs' offensive line is 25th in pass-blocking efficiency (PBE), only giving up 17 total QB pressures (three sacks).
It's the running game, though, where they are at their best. After finishing fourth in team run-block grade in 2017, Georgia has elevated that even more this season. Bulldog running backs have gotten slightly over half (50.2 percent) of their yards before contact. It's not just the offensive line or tight ends helping in the running game either, as four of their five top receivers from a snap count perspective have a run-block grade of at least 71.3, led by Tyler Simmons 83.3 run-block grade.
In terms of tackling, Georgia is also the best in the business thus far. Through five games, the Bulldogs have only missed 23 total tackles and only miss a tackle on 7% of opportunities, tied for the best in FBS. For comparison purposes, the average FBS team has missed 41 tackles through five weeks and misses them at a rate of 15.5% of opportunities. Our top-graded cornerback, Deandre Baker (90.4), has yet to miss a tackle and only allowed 14 yards after the catch on 12 receptions.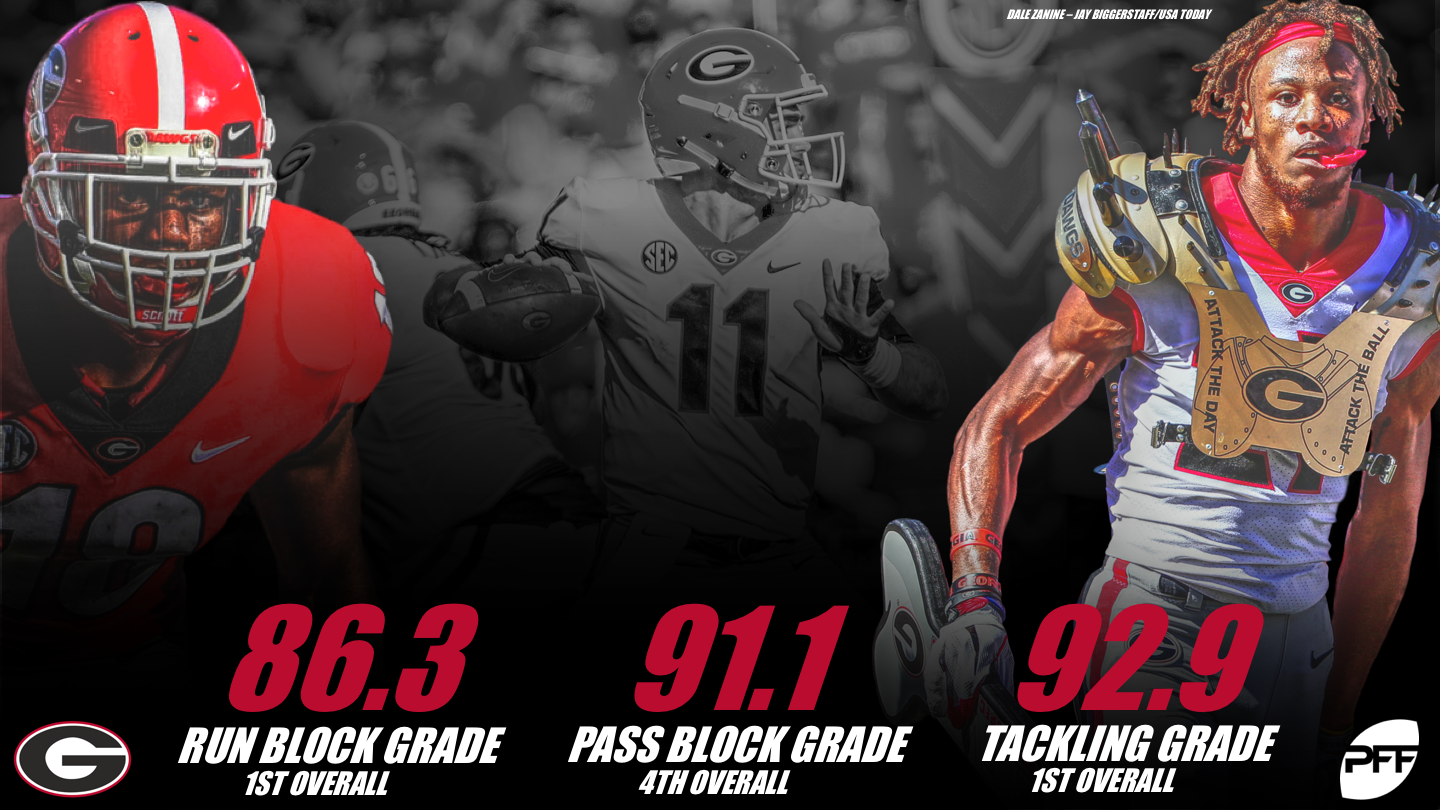 Run Block – 71.2 (No. 18)
Pass Block – 91.1 (T–No. 4)
Tackling – 90.1 (No. 14)
Our PFF ELO rankings are higher on the Wolfpack than the polls, as they check in at No. 16 this week for us compared to a high of 23rd in the AP Poll. Their highly-graded fundamentals play a big part in that, especially pass-blocking. The entire team has given up only 23 pressures (two sacks) as QB Ryan Finley (92.6) is pressured on 18.1% of his dropbacks (fifth lowest in FBS). The offensive line's PBE (94.1) is ninth nationally as 18 of the 23 total pressures have been attributed to them. The line is led by redshirt senior Terronne Prescod, who was recently highlighted by us as the best guard in college football up to this point. He has only allowed two QB pressures and his overall grade (88.5) and run-block grade (89.1) are second only to Thomas among linemen with at least 150 snaps. In addition, Garrett Bradbury (83.4) is the third-highest graded center and only given up one QB pressure. Their run-block grade is 18th nationally and second in the ACC and as a team, the Wolfpack have missed just 19 total tackles at a rate of 9.0% (tied for 18th best nationally).
This isn't a blip or big improvement either, as they were No. 3 overall in tackling grade in 2017 as well (93.0). Their current highest-graded defender, safety Jarius Morehead (82.7), has missed just two tackles this season and only 10 total in over 1,200 snaps in his career.
Run Block – 77.0 (No. 6)
Pass Block – 83.8 (No. 30)
Tackling – 85.5 (No. 27)
The Alabama dominance train is rolling right along in 2018, as our No.1 team in the PFF Top 25 has handled every opponent mightily on the scoreboard this season. From a blocking perspective, the Crimson Tide have always excelled in the run game, finishing in the top 10 in each of the previous two seasons in run block grade (10th in 2017 and seventh in 2016). This season is no different, as they are led by LT Jonah Williams (84.5), our third-highest graded tackle both overall and in run-block grade (79.6). They are also getting great blocking on the edge as WR Devonta Smith (83.6) and TE Irv Smith Jr. (74.8) have two of the top four run-blocking grades on the team. In the passing game, the Tide are not as strong as the other two we've highlighted, but still, have the third-highest pass-block grade in the SEC.
They have surrendered 29 total QB pressures as a team (three sacks) and QB Tua Tagovailoa has been pressured on 24% of his dropbacks. Defensively, the Tide has missed 31 total tackles at a rate of 12%. While safeties Deionte Thompson (92.7) and Xavier McKinney (79.6) have combined to miss eight tackles, the Tide's top four cornerbacks have combined for 38 tackles while only missing two.