Redemption.
That is the sole word that has been etched into the hearts and minds of the individuals surrounding and entrenched in the Florida Gator's football program. After an abysmal 4-7 campaign in 2016-2017, the Gators made many changes. The most notable change came when Dan Mullen was lured away from Mississippi State and handed the reins of the Florida Football program. Now that Mullen has been with the program through the summer and has secured his transitional recruiting class, we can start to see where some success may be found on the field.
You don't have to look far to find answers.
PFF's feature on Florida is brought to you by Eckrich, the Official Smoked Sausage of the Florida Gators.
The running back room at Florida is a crowded one but one that is packed with potential. Let's start at the top with expected lead-man Jordan Scarlett. Scarlett was suspended for the entirety of the 2017 season with involvement in a credit card fraud scandal. Having decided Scarlett met the stipulations to return, athletic director Scott Stricklin and Mullen reinstated Scarlett earlier this year. Last season's suspension aside, Scarlett has done well while at UF. He totaled 889 rushing yards in 2016, averaged 3.70 yards after contact per attempt and achieved a 79.4 rushing grade. Scarlett was a load to bring down as well, as evidenced in his 88.1 elusiveness rating, which ranked fourth in the SEC among running backs with at least 100 attempts back in 2016. If Scarlett can channel his inner-2016 form, he could be one of the top running backs in the SEC.
Next in the expected pecking order is Malik Davis who is coming off an injury to his right knee suffered against Georgia. It is unclear if he will be ready for the season opener, although Mullen remains confident he will be. Davis burst onto the scene his freshman year in Week 3 against Tennessee where he had four attempts for 94 yards and an absurd 15.00 yards after contact per attempt. Additionally, Davis hardly let just one tackler bring him down a season ago: He posted a 126.6 elusive rating, avoiding 23 tackles on a combined 86 touches, which ranked second in the SEC behind Damien Harris, all of which led to a 79.5 overall grade. He also averaged 4.95 yards after contact per attempt for the season, which was second in the SEC as well (min. 50 attempts). It still remains to be seen how Davis returns from his knee injury, but he is expected to see a heavy workload for the Gators when healthy.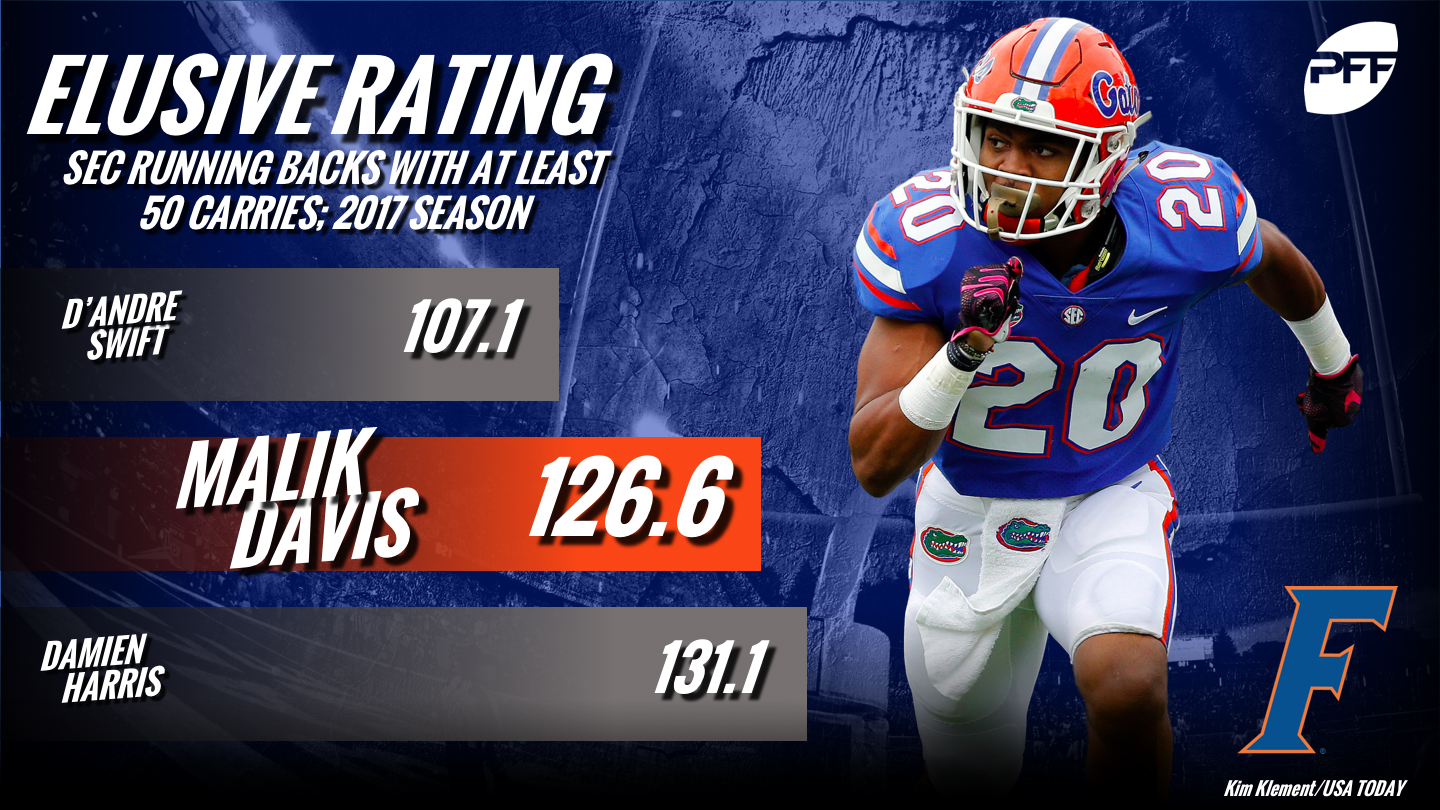 The third back expected to see significant work is Lamichal Perine who was the Gators' leading rusher in 2017 with 552 yards on the ground. He likely plans to see a lot of work through the air as he established himself as a good pass catching running back. Although it was a small sample size, Perine caught all nine of the catchable passes thrown his way in 2017 and averaged 9.5 yards after the catch per reception for a 127.3 passer rating when targeted.
The last two players expected to see action this year are Dameon Pierce and Adarius Lemons. Lemons saw very limited action last year and posted a 71.8 rush grade on only 19 carries but averaged 7.2 yards per attempt. He saw his main bit of action on special teams. Pierce, the true freshman from Bainbridge, Georgia, was a highly-rated prospect and received four stars from 24/7 Sports. Pierce is an extremely strong runner (listed at 5-foot-10, 216 pounds) and will punish defenders at the point of attack, however, may be waiting for his turn in the rotation. These five running backs are expected to make contributions in different ways this season, but Mullen has made it clear to each of them that his offense will utilize running backs in multiple ways.
The importance of the run game under Mullen cannot be emphasized enough. Setting up the running game off of play action and run pass options has been a staple in Mullen's offense. Nick Fitzgerald, Mullen's last quarterback at Mississippi State, started 25 games for Mullen under center, tallying a 14-11 record. In the 14 wins, Fitzgerald utilized play action on 45.5 percent of his dropbacks, which translated to a team average of 283.3 rushing yards per game. In 11 losses, Fitzgerald utilized play action just 41.8 percent of the time and Mississippi State rushed for an average of 183.8 yards as a team. That is a difference of 99.5 yards per game on the ground.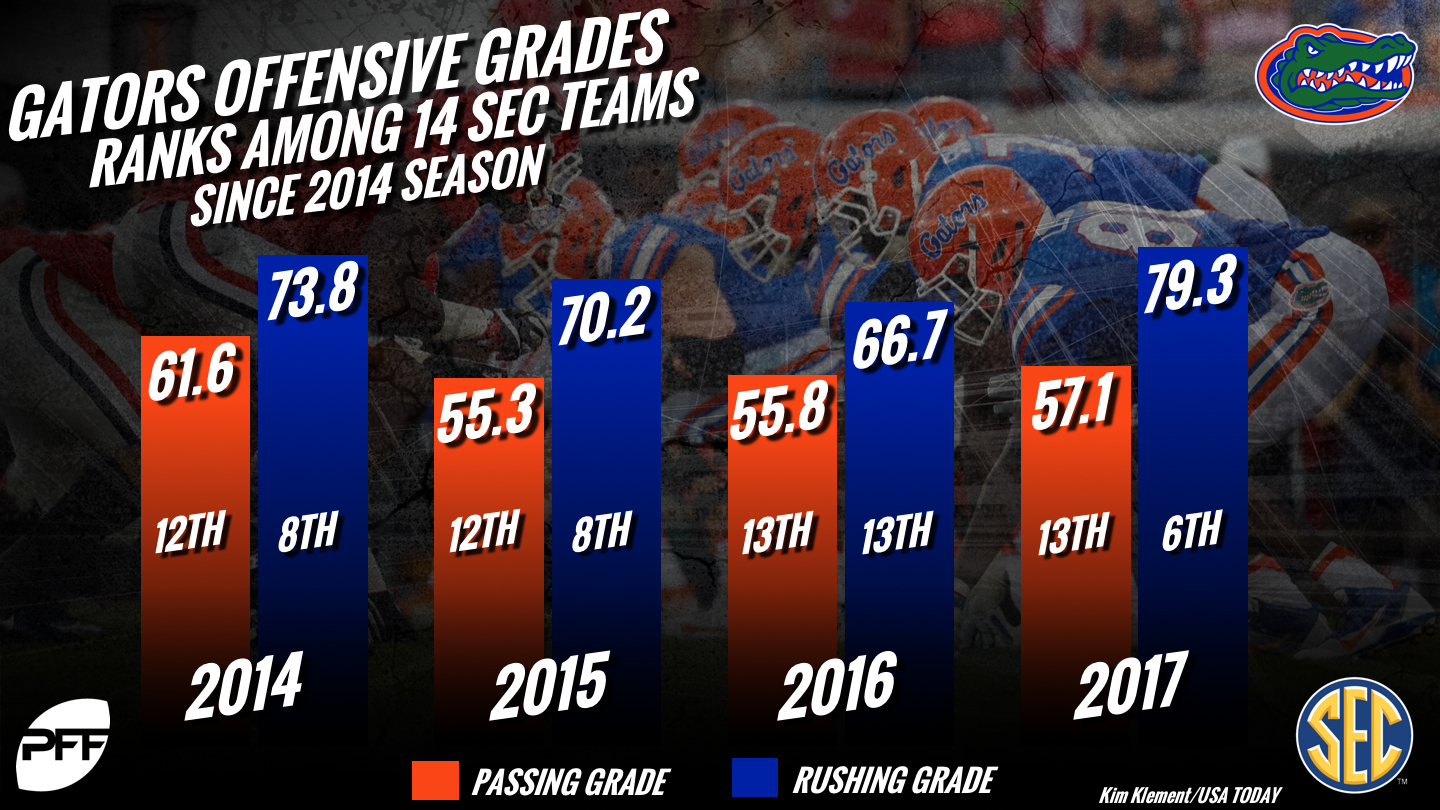 Mississippi State exceeded 250 yards rushing 12 times in those two seasons. Florida? They rushed for at least 250 yards just three total times in two seasons. Mississippi State exceeded 300 rushing yards four times as well in two seasons (Florida had zero). Mullen also had a 1,000-yard rusher six times in nine seasons while Florida has had two 1,000-yard rushers in the same time-span (Kelvin Taylor, 2015 and Mike Gillislee, 2012).
Why is this important? The most unstable thing in Gainesville hasn't been the coaching staff or defensive play, but the play of the quarterbacks. The quarterback position has been a revolving door post-Tebow and fans still wonder if the answer is on the roster. Feleipe Franks, the strong-armed redshirt sophomore, carries a stark resemblance to Nick Fitzgerald in size and athleticism (6-foot-6, 240 pounds). Many around the program believe he can be made in the same mold of Fitzgerald at the hands of Mullen.
Franks has plenty of room to improve, as he finished with a 50.4 overall grade and a 38.4 rush grade. The best thing Mullen can do for Franks? Get the run game going early and often.
Take a quick peek at what a strong running game gets: a chance at a National Title. In the first four years of the College Football Playoffs, only one team (Clemson) has made it to the CFP Final and ranked outside of the Top 20 rushing offense. Furthermore, the winners have been ranked inside the top 10 in three of the first four years, and if form holds true that trend will continue.
For Franks (or whoever the starter may be) to have a reliable stable of backs to hand the ball off to when the going gets tough will be a luxury some teams don't have. Mullen likes to play smash-mouth, downhill football and Gator fans better get used to seeing that. This plethora of backs can certainly get the program back to where they feel they should be. How quickly that happens remains to be seen, but so far, Florida is on the right track to return to national prominence.