The college football season is off and running and we're deep enough into the season to draw conclusions from preseason projections. While labeling teams with the proverbial 'bust' title can be fun, today we take the more positive approach and look at those teams who have surprised so far in 2018.
These teams, although maybe projected to be undefeated National Champions by their own home fanbases, did not enter 2018 with national title aspirations. They did not kick off the 2018 season with Heisman Trophy hopefuls. These teams didn't enter fall camp with players who were projected to be the best at their respective positions.
However, here we are, five weeks into the season and the five teams below have any combination of the aforementioned criterion, all leading to them being our biggest surprise teams of the 2018 season.
This list of surprise teams is brought to you by Eckrich, the Official Smoked Sausage of the College Football Playoff.
Kentucky
The Wildcats entered head coach Mark Stoops' sixth season with optimism of competing in the SEC in 2018. Five weeks in and this team is not only competing, but they're also off to their best start in years and already equaled or surpassed the win totals of Stoops' first three seasons at the helm. Leading the charge is running back Benny Snell. The junior from Westerville Central, Ohio has quietly produced strong rushing numbers over his first two seasons for Kentucky, forcing 44 missed tackles on carries in each his freshman and his sophomore seasons. This year, however, he's already forced or avoided 23 tackles on 115 carries and is in serious discussion for the Heisman Trophy.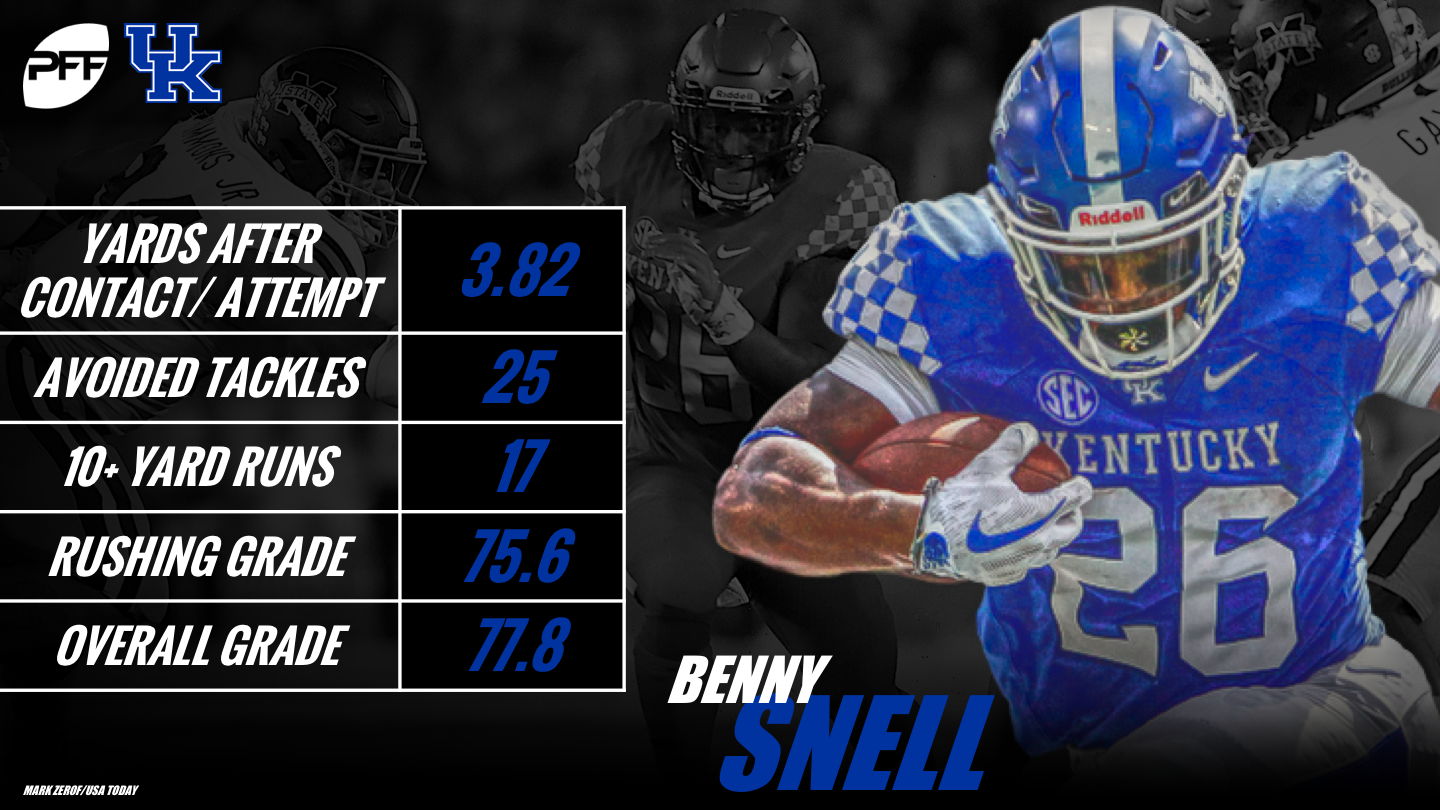 Combine the fact that this team has the nation's best edge defender on their roster in Josh Allen,  and you have a legitimate contender in the SEC. Allen is third in the country with 29 total QB pressures while he's racked up 16 defensive stops and done so without missing a tackle.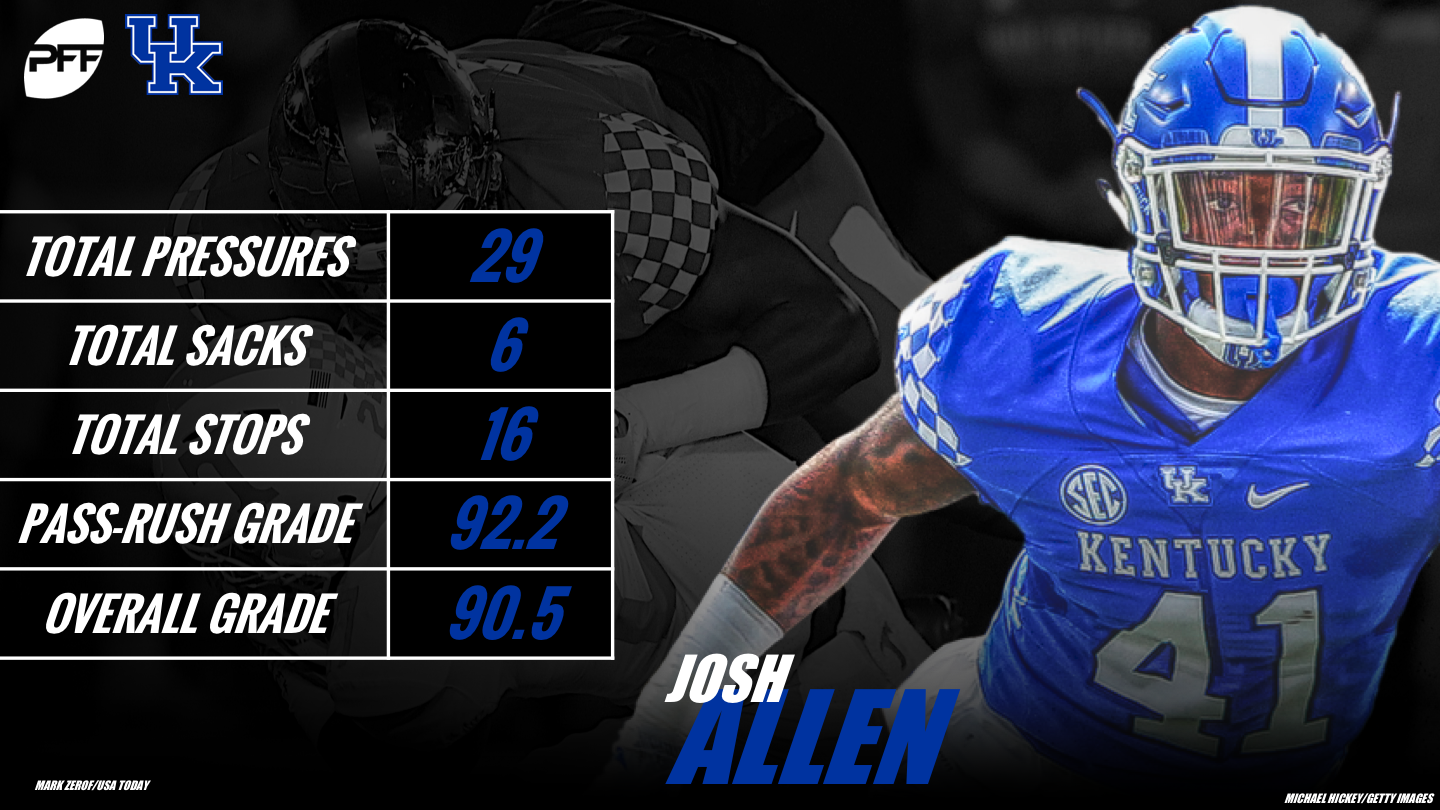 They've withstood some stiff challenges already to sit at 5-0 including beating Florida in Gainesville for the first time in decades while they also manhandled Mississippi State and South Carolina. With a big game looming as they head to College Station to take on Texas A&M, there's a very real chance that they could make it to their Week 9 matchup with No. 2 Georgia as an undefeated top-10 team who wouldn't be much of a surprise anymore.
LSU
The Tigers' success may not be that much of a surprise to those in the Bayou or given their pedigree but the way they've gotten to 5-0 this season may surprise some. With transfer-quarterback Joe Burrow leading the charge, LSU crushed Miami in Week 1, went into Jordan-Hare Stadium and watched Burrow march down the field for the game-winning field goal as time expired to defeat Auburn and then convincingly walked right by Ole Miss on Saturday.
Despite that, neither their offense nor their defense ranks in the top 25 in terms of overall grade this season, meaning they're getting just enough play on a weekly basis to remain undefeated. If Burrow can repeat what he did against Ole Miss (91.0 overall grade, 158.3 passer rating when kept clean) week-in and week-out and the defense can continue to stifle opponents as they did to the Rebels, a win against Florida and Georgia in consecutive weeks doesn't seem that far-fetched.
Notre Dame
The Fighting Irish have passed their proverbial 'eye tests' to be a legitimate contender for the College Football Playoff but did anyone really expect a team who switched quarterbacks in the middle of the season to really beat Michigan to start the season, handle the high-flying Wake Forest offense or beat a Stanford team by three touchdowns? You'd be lying if you said you thought they'd switch from Brandon Wimbush to Ian Book and never look back.
Book has produced at a high rate so far this season, currently sitting with a 90.0 overall grade that ranks 13th in the country. He's thrown seven touchdowns and no interceptions while his adjusted completion percentage of 86.4% is the best figure in the nation among signal-callers with at least 45 attempts. He has been helped significantly by a defense that ranks eighth in overall grade, second in pass-rush grades and 14th in coverage grade. With Book at the helm, Notre Dame has not only looked the part, but they've also acted every bit the part of a top-10 team.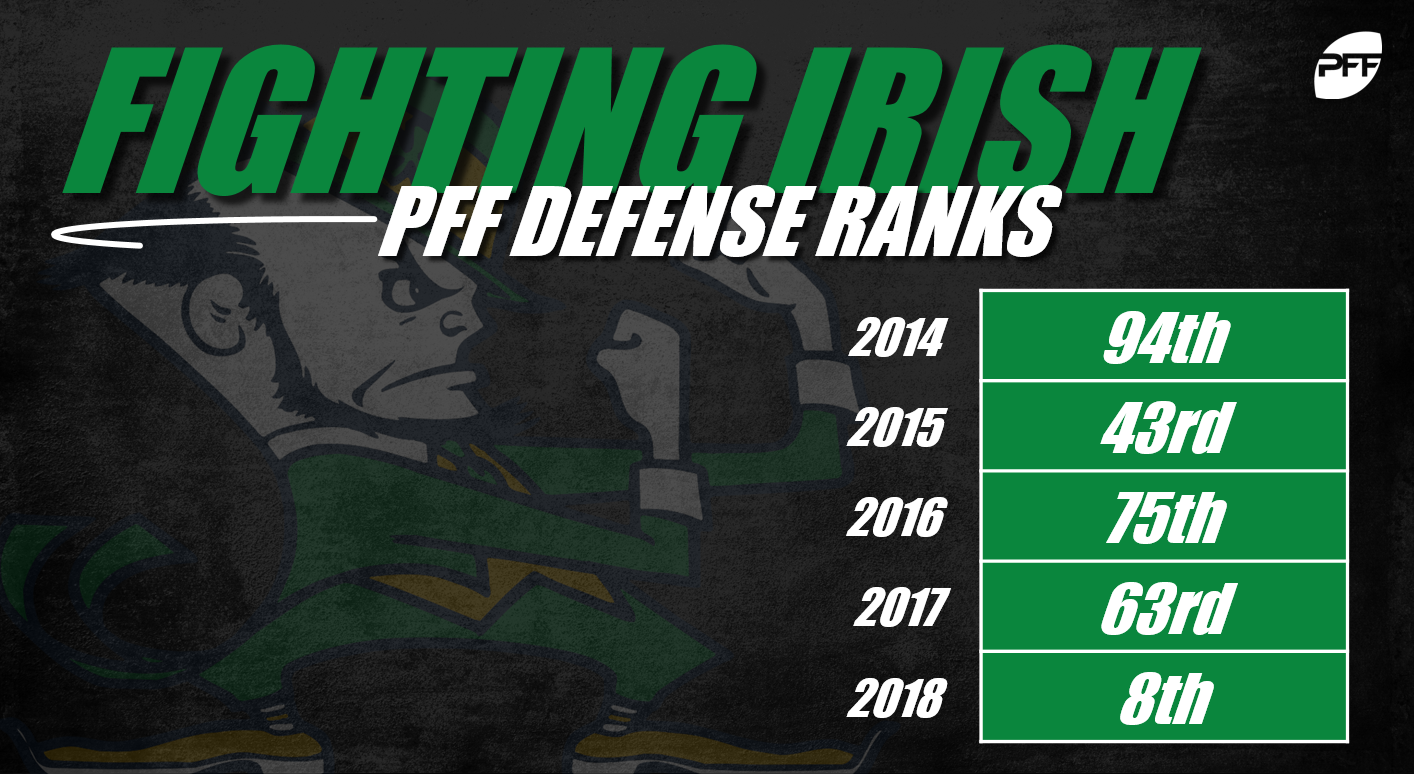 With one ranked team remaining on their schedule right now, a trip to the CFP would not be surprising come Week 15, but up to this point, their success surely is.
Texas
The Longhorns are back and even Bill Snyder himself with all his wisdom couldn't thwart Texas' surprising 2018 season. With the meat of their Big 12 schedule still to play, head coach Tom Herman has his team in position to contend with the top aerial assaults of the country by fielding the conference's second-best coverage unit, the best tackling unit in the Big 12 and by our metrics, the third-best defense by total grade in the conference this year as they approach the Red River Showdown against Oklahoma this Saturday. True freshman safety Caden Sterns leads the charge on defense as he's the eighth-highest graded safety in the country at 86.5.
Heading into the season with a quarterback controversy, Sam Ehlinger has ended that with his surprise play, giving the Longhorns their best overall quarterback grade since we began grading college football in 2014 at an 84.6 overall (22nd). He's taken much better care of the ball this season than he did in 2017, seeing a 9:2 touchdown-to-interception ratio through five games, compared to the 11:7 mark he finished last season with.
If Ehlinger can continue to take care of the ball and lean on his defense, there's a real shot Texas not only shakes the surprise moniker off their backs but also wins some Big 12 games in the process.
Colorado
4-0 and lighting up the scoreboards, the Colorado offense has paved the way to their surprise undefeated start in 2018. The Steven Montez everyone wants to see is here, having completed 75.8% of his passes through four games as he's also received arguably the best supporting cast play of his three seasons of quarterback the Buffaloes. Manning the charge is the nation's top receiver in Laviska Shenault, a man who should also be in the Heisman Trophy conversation. Shenault has hauled in 39-of-43 passes thrown his way to lead the nation with his 90.7% catch rate as he and the rest of the Colorado receivers have dropped just two of the 97 catchable passes thrown their way this year.
Colorado receivers are averaging 7.9 yards after the catch per reception all leading to big plays and explosive action from the Buffaloes offense. Combine that with a secondary that's only given up three touchdowns in coverage (the most important aspect on defense), and we've got ourselves the surprise of the West Coast that should have East Coast football fans paying attention.