Only nine undefeated teams remain in college football after Oklahoma State lost to Iowa State in Week 8. Two of them — Michigan and Michigan State — are set to face off this weekend in Week 9's premier matchup, but before we get there, it's time to update my top 25.
---
Click here for more PFF tools:
Rankings & Projections | WR/CB Matchup Chart | NFL & NCAA Betting Dashboards | NFL Player Props tool | NFL & NCAA Power Rankings
---
Below is how I'd order the top-25 teams after Week 8. Please note this top 25 is not the same as PFF's Power Rankings.
1) GEORGIA BULLDOGS (RECORD: 7-0, ATS: 5-2, RANK CHANGE: -)
Georgia's historic defense has been the talk of the town — and rightfully so — but lost in its dominance has been the passing offense's growth under quarterback Stetson Bennett. Offensive coordinator Todd Monken has raised his offense's play-action pass rate 16% year-over-year to a top-10 rate in the Power Five (41.2%) while also playing with a far higher rate of heavy personnel packages. This has helped open up throws downfield on play-action passes, and Bennett has excelled, owning a 90.4 passing grade on play-action passes. Georgia has the most efficient offense in the Power Five on play-action passes.
UGA's dominance on D has everyone overlooking the success they've had on O as of late.

Todd Monken calling a lot of downfield play-action passes out of heavy personnel & Stetson Bennett is hitting.

Bennett on 10+ yd PA throws: 16/21, 506 yds, 5 TD ⬇️ pic.twitter.com/JtS0uLTVdq

— Anthony Treash (@PFF_Anthony) October 18, 2021
This Bennett-led pass offense isn't much of a concern anymore. Now the question is: Will Kirby Smart stick with Bennett as the go-to starter with JT Daniels now healthy? Smart hinted at a two-quarterback system last week, but he wouldn't give any details. Given what was outlined above, this should be Bennett's job until he proves otherwise.
2) ALABAMA CRIMSON TIDE (RECORD: 7-1, ATS: 5-3, RANK CHANGE: -)
Alabama pulled away and covered its 25.5-point closing spread against Tennessee Saturday night, but that's not to say there weren't some mistakes made that showed that the Crimson Tide have some kinks to work out before that presumed SEC title game against Georgia. The pass-protection wasn't the best once again, allowing an above-average pressure rate (28.3%) to bring them to a season-long rate that is second-to-last in the SEC. On defense, the secondary gave up two 50-plus yard touchdowns — just the third time in the PFF College era that a Bama defense did that in a single game. The Tide can't allow that against Georgia, or else they'll be watching the College Football Playoff (CFP) from home.
3) OHIO STATE BUCKEYES (RECORD: 6-1, ATS: 4-3, RANK CHANGE: +2)
Ohio State's CFP hopes were on life support after an underwhelming start to the 2021 season, as it escaped a Week 1 scare at Minnesota before losing at home to Oregon. Things were fine with the wide receiver room, backfield and offensive line, but new quarterback C.J. Stroud struggled to pull his weight. He was tossing inaccurate throws to wide-open receivers and giving the opposing defense too many chances to make a play on the ball. That all changed after Stroud took the Akron game in Week 4 off. Since then, he's been accurate, hasn't produced a single turnover-worthy play and is now on a run of three straight elite-graded games after posting a 93.7 mark against Indiana in Week 8.
4) OKLAHOMA SOONERS (RECORD: 8-0, ATS: 4-4, RANK CHANGE: -1)
Caleb Williams' first-half passing performance paired with poor coverage on defense put the Sooners in a hole just shallow enough to climb out of. The true freshman quarterback earned a 53.6 passing grade in first half, leading Oklahoma to -0.28 EPA per pass. Just as we saw in the Red River Showdown, Williams kept passing up open receivers in the flat or at the sticks in favor of risky downfield throws. It worked out for him virtually every time in the win against Texas, but he wasn't quite as lucky in Week 8. However, Oklahoma still pulled away because of his impact on the ground. The Sooners quarterback earned an 83.9 rushing grade for the night, featuring three explosive runs of 10-plus yards and three broken tackles on six attempts. All three of those big runs came in the last eight minutes of the game, including this one on a pivotal fourth down that ended in a 40-yard touchdown that bolstered Oklahoma's win probability by 13 percentage points:
CALEB WILLIAMS HOUSE CALL????#CFB

— PFF College (@PFF_College) October 23, 2021
5) CINCINNATI BEARCATS (RECORD: 7-0, ATS: 5-2, RANK CHANGE: -1)
Cincy's offense performing as badly as it did against one of the 10 lowest-graded-defenses in college football (Navy) last week is a little bit of concern. Quarterback Desmond Ridder went back to his old form. He hit the underneath concepts but missed some throws downfield and finished with a poor passing grade on throws of 10-plus yards. He and running back Jerome Ford failed to replicate the efficient rushing offense they fielded against UCF, as they finished 87th in the FBS in EPA per run play for the week. The Bearcats need to find some consistency over the next few games before their big showdown with an undefeated SMU squad on Nov. 20.
6) MICHIGAN WOLVERINES (RECORD: 7-0, ATS: 6-1, RANK CHANGE: -)
Michigan blew out Northwestern as expected in Week 8 and did so in its typical fashion. The Wolverines finished top five among Power Five programs for the week in rushing grade and team-defense grade but had the 13th-least efficient passing offense. The lone concern with this team in 2021 is quarterback Cade McNamara's performance, as he earned a 37.9 passing grade on passes thrown 10-plus yards downfield last weekend.
7) OLE MISS REBELS (RECORD: 6-1, ATS: 5-2, RANK CHANGE: -)
Ole Miss managed to piece together the 15th-most efficient Power Five passing offense in Week 8 despite quarterback Matt Corral finishing with his lowest grade of the season while dealing with poor pass-protection and a depleted wide receiver room. The offensive line could have a problem this weekend against an Auburn pass-rush that is generating pressure at the seventh-highest rate in the Power Five this season. The good news is Corral is one of the better running quarterbacks in the country and is fantastic at evading sacks under duress.
To no surprise, the highest-graded quarterback of the week was none other than Wake Forest's Sam Hartman, who helped the Demon Deacons to 70 points in a shootout win over Army. Hartman got through his progressions and made the right decisions in the true dropback passing game. He also tore Army up on Wake's patented run-pass options and delivered accurate and anticipatory throws downfield. The redshirt sophomore completed 11 of his 15 10-plus-yard throws for 382 yards and four touchdowns. On run-pass option (RPO) pass attempts, he went 8-of-10 for 177 yards and a score. In all, Wake Forest generated 1.37 expected points added (EPA) per pass — the third-highest mark in a game since 2014.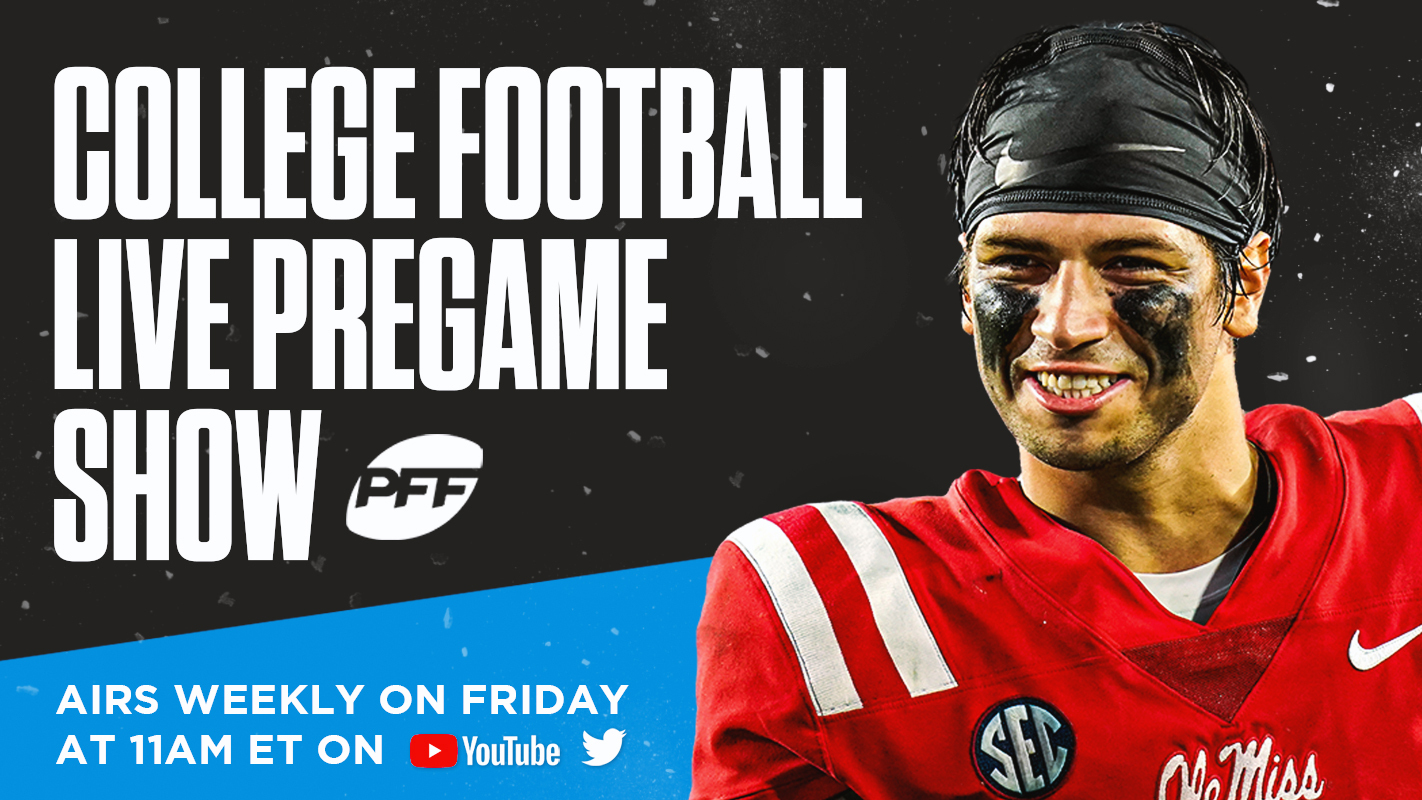 9) IOWA HAWKEYES (RECORD: 6-1, ATS: 5-2, RANK CHANGE: -)
Iowa's offense performed poorly in its upset loss to Purdue a couple of weeks ago. The Hawkeyes produced the fourth-least efficient passing offense in the Power Five that week, but that wasn't much of a surprise. What was a surprise was how badly the defensive unit got shredded by the Boilermakers. Iowa entered the week second in the country in both coverage grade (94.1) and EPA per pass allowed (-0.35), but it ended up posting a 59.0 coverage grade and 0.52 EPA per pass allowed versus Purdue. Some of this had to do with Riley Moss' absence, but it was mostly because of Iowa's defense failing to adapt.
Purdue struggled on first down all game, as it reached the first-down marker on only four of its 32 first-down plays against Iowa and ranked 35th in the Power Five in first-down efficiency. Still, when the Boilermakers found themselves in a short-yardage situation, the Hawkeyes stuck to their standard off-zone coverage. So, of course, Purdue took what Iowa gave them, exploiting Iowa underneath and in the zone coverage holes downfield.
Iowa's defense is still great and worthy of a top-10 ranking, but it just goes to show how unsustainable it is to be reliant on strong coverage play every week.
The Spartans survived a close call against Indiana a couple of weeks ago, as the offense generated negative EPA per play for just the second time in seven games and produced a season-low 33.3% success rate. Running back Kenneth Walker III was unable to break tackles and grind out yards after contact like his normal self, and Michigan State's play-action-centric passing attack fell flat. Luckily, the Spartans benefitted from Indiana starting its backup quarterback, who couldn't get the Hoosiers offense to do anything and gifted Sparty a pick-six. They'll be eyeing an offensive bounce-back this week with a home game against in-state rival Michigan on Halloween weekend. Given the Wolverines' defense, it won't be easy.
11) TEXAS A&M AGGIES (RECORD: 6-2, ATS: 5-3, RANK CHANGE: -)
Texas A&M's defense terrorized South Carolina in its blowout win in Week 8. The Aggies finished with a top-five graded defense among Power Five programs for the week and generated pressure on the quarterback on 43% of their pass plays. Winning consistently in the pass-rush department had been an issue for A&M prior to this outing, as it entered the week 59th in the Power Five in team pressure rate (25.1%). It'll need that strong pass rush to come back after its Week 9 bye, when the Aggies face the Auburn Tigers.
12) KENTUCKY WILDCATS (RECORD: 6-1, ATS: 6-1, RANK CHANGE: +1)
Kentucky's 54.8% successful run rate on running back carries entering Week 7 ranked first in the Power Five, but the Wildcats turned in a 17.6% successful run rate on running back carries against Georgia prior to last week's bye. Georgia limited the opposition to 0.1 yards before contact per attempt — as it didn't allow a single explosive run of 10 or more yards — and five of UK's 16 running back runs resulted in no gain or a loss of yardage. Kentucky then found itself in a situation where it had to throw the ball over 80% of the time. Most of those throws were quick and around the line of scrimmage, as this Georgia defense gives quarterbacks minimal time to throw and rarely allows an open receiver downfield.
This performance was yet another example of how special Georgia is on defense. Kentucky has a good, well-rounded team, but it doesn't have the horses to hang with the Bulldogs.
13) OREGON DUCKS (RECORD: 6-1, ATS: 2-5, RANK CHANGE: +2)
Oregon topped UCLA this past weekend, and edge defender Kayvon Thibodeaux's performance played a significant role. Thibodeaux recorded double-digit pressures for the second consecutive week and won 14 total reps Saturday. Three of his 10 pressures ended with the QB on the ground — one of which was a strip-sack. He finished the day with a 91.2 pass-rush grade, marking the third time in four games — where he's rushed the passer at least 10 times — he has recorded an elite mark above 90.0. He is a game-wrecker.
Notre Dame's offensive line finally was able to piece together a sound performance in Saturday's big win over USC. The Irish ranked sixth among all FBS offensive lines in PFF grade for Week 8. The group combined for only four pressures allowed, and quarterback Jack Coan consistently delivered accurate throws underneath when he was kept clean. Coan completed all 17 of his pass attempts less than nine yards downfield for 157 yards.
15) SMU MUSTANGS (RECORD: 7-0, ATS: 4-2-1, RANK CHANGE: +6)
SMU quarterback Tanner Mordecai has been one of the best quarterbacks in college football. The Oklahoma transfer has earned a PFF grade above 75.0 in each of his seven starts as a Mustang, paving the way for a 91.4 overall mark for the season that ranks seventh in the FBS. This week will be his toughest test to date, as he faces a Houston defense that is strong at every position on defense and ranks eighth nationally in team defense grade. 
16) PITTSBURGH PANTHERS (RECORD: 6-1, ATS: 6-1, RANK CHANGE: +6)
Not much was expected from Pitt quarterback Kenny Pickett in his fifth year, especially after posting PFF grades of 60.6, 75.0 and 69.8 over his first three years as the starter. Pickett silenced the doubters to open the year, posting a Power Five-leading 92.9 passing grade over his first six starts. The one question mark hovering over that hot streak was the fact that the opening slate was the third-easiest in the Power Five, making Week 8's matchup against Clemson yet another chance to prove critics wrong.
Despite the team's struggles in 2021, Clemson still has one of the top defenses in the country, as it entered the week ranked top five in the Power Five in both explosive pass play rate and yards per play allowed. The Tigers have also been a defense Pickett has struggled against in the past.
Pickett broke that trend on Saturday, recording a 77.0 passing grade in Pitt's win over Clemson. Not only was that Pickett's best performance against Clemson in his career, but it was, by far, the best of any quarterback who has faced the Tigers this season.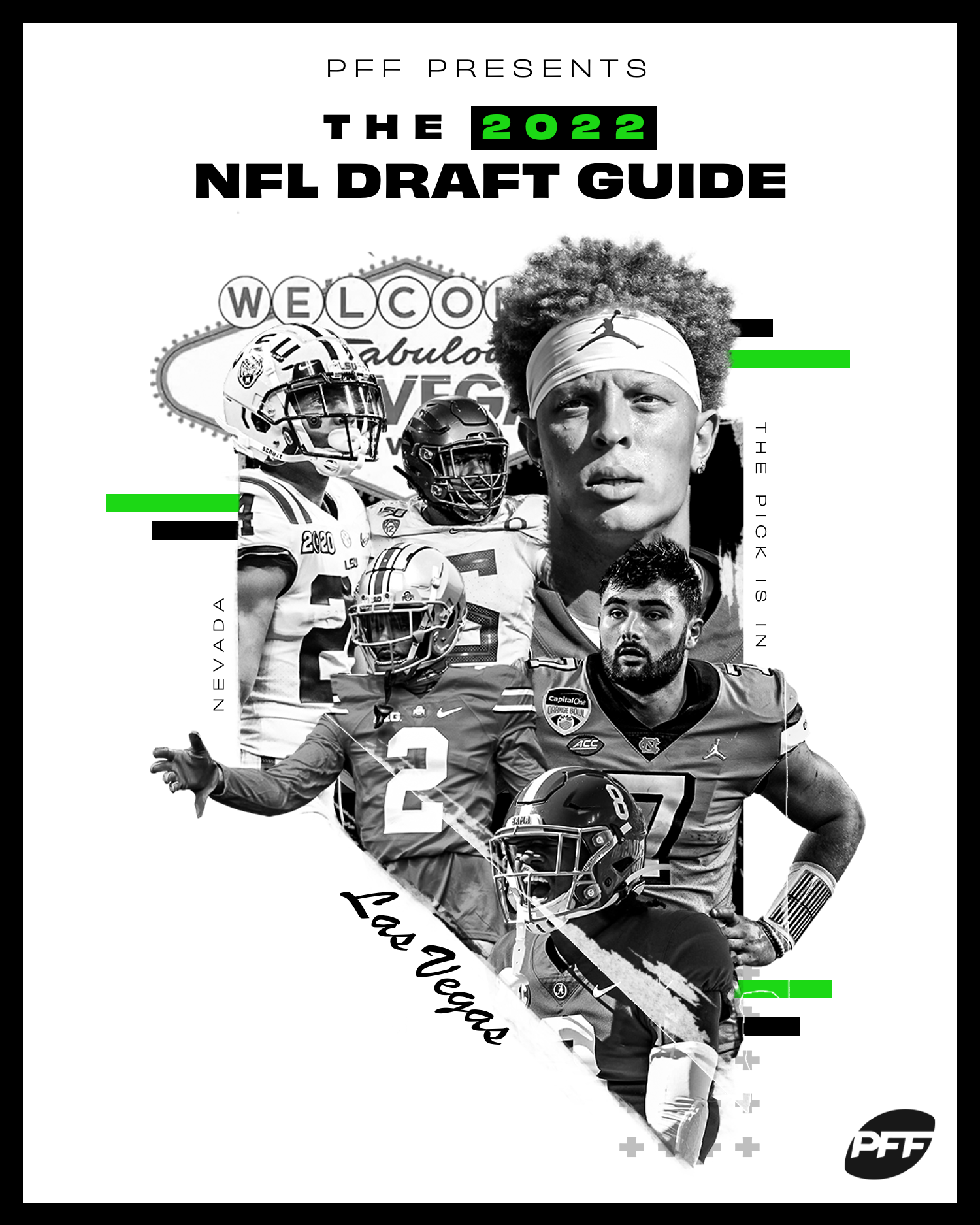 17) AUBURN TIGERS (RECORD: 5-2, ATS: 4-3, RANK CHARGE: +1)
Auburn is coming off a bye week after a big win over Arkansas. The Razorbacks went away from their normal drop-eight dime package and decided to play nickel against Auburn. They struggled to get pressure on Bo Nix even with one more pass rusher than usual, and their coverage was not up to snuff. Nix took advantage of the clean pockets, but the game-changing plays came when he was under pressure from blitzes. He completed two deep balls under pressure for 111 yards and two touchdowns.
18) BAYLOR BEARS (RECORD: 6-1, ATS: 5-2, RANK CHANGE: +2)
Baylor offensive coordinator Jeff Grimes' wide zone offense helped the Bears beat BYU — where he ran the same exact offense in 2020 — in Week 7. Baylor has now generated a successful play on 52.2% of wide zone runs in 2021 — the highest in the Power Five. Quarterback Gerry Bohanon has run play-action off a wide zone concept 57 times this season (most in the FBS) and has averaged 11.0 yards per attempt.
19) IOWA STATE CYCLONES (RECORD: 5-2, ATS: 3-4, RANK CHARGE: +5)
Iowa State needed quarterback Brock Purdy to take care of the ball while continuing his hot streak of accurate and timely passing against Oklahoma State. Purdy pulled through, posting no turnover-worthy plays and just a couple of uncatchable passes on 32 attempts en route to a 71.0 passing grade. His receiving unit pulled its weight, too, averaging 7.7 yards after the catch. The in-sync group led the Cyclones to the highest successful pass play rate among Power Five programs for the week.
20) SAN DIEGO STATE AZTECS (RECORD: 7-0, ATS: 5-2, RANK CHARGE: +5)
SDSU's defense impressed in Week 8 against the Air Force's option attack, holding the Falcons to a 27.7% success rate on offense — the third-best by any FBS defense for the week. This week, San Diego State will have its pass coverage tested, as the Aztecs face a Fresno State offense that ranks 18th nationally in successful pass play rate.
21) OKLAHOMA STATE COWBOYS (RECORD: 6-1, ATS: 5-2, RANK CHANGE: -2)
Oklahoma State's offense got exposed this past week against Iowa State. After being reliant on big third-down plays — which isn't a sustainable way to win over the course of the whole season — in the first six outings, the Pokes couldn't get anything cooking on those late downs (converting just 2-of-11). Their defense did a really good job shutting down running back Breece Hall and the Iowa State rushing attack as a whole, but the offense's lack of consistency finally came to bite them.
Coastal Carolina had an off night in its narrow loss to App State last week. The Mountaineers completely shut down the Chants run game, limiting them to only two explosive runs of 10-plus yards (their fewest in a game since 2020). Quarterback Grayson McCall orchestrated an efficient passing attack per usual and finished with a 91.4 passing grade for the game, but Coastal's lack of big plays from the ground game paired with its coverage unit allowing the third-worst explosive pass rate in the FBS for the week (31%) rendered that moot. We've seen enough from Coastal to know this is likely an outlier performance, so they are still worthy of a top-25 spot despite the hiccup.
23) UTSA ROADRUNNERS (RECORD: 8-0, ATS: 7-1, RANK CHARGE: -)
UTSA gets some time off with a Week 9 bye before entering its final four outings. The Roadrunners join Cincinnati as the only teams to rank sixth or higher among Group of Five programs in expected points added (EPA) per play generated on offense and EPA allowed per play on defense.
24) NC STATE WOLFPACK (RECORD: 5-2, ATS: 4-3, RANK CHARGE: -7)
Wolfpack quarterback Devin Leary did everything he could in last week's upset loss to Miami, earning an 86.4 PFF grade while turning in four big-time throws and zero turnover-worthy plays. Leary endured five crucial drops and managed to take only one sack on a whopping 18 pressured dropbacks. The receiving unit missing some passes hurt but so did the defense's performance against the pass. The Wolfpack produced the 12th-worst coverage grade among Power Five teams for the week. NC State entered the week as the seventh-highest-graded coverage unit in the Power Five, so there's plenty of reason to believe a bounce-back is in order.
25) OREGON STATE BEAVERS (RECORD: 5-2, ATS: 5-2, RANK CHARGE: NR)
Oregon State has fielded a high-quality offense when Chance Nolan is leading the way at quarterback. He's had his bad games, but overall, Nolan has led the Beavers to the second-best offensive success rate in the Power Five in 2021. Nolan has been excellent when operating from a clean pocket, as he owns a 90.7 passing grade and is averaging 9.7 yards per attempt on such plays, which ranks 11th and 10th among Power Five passers.